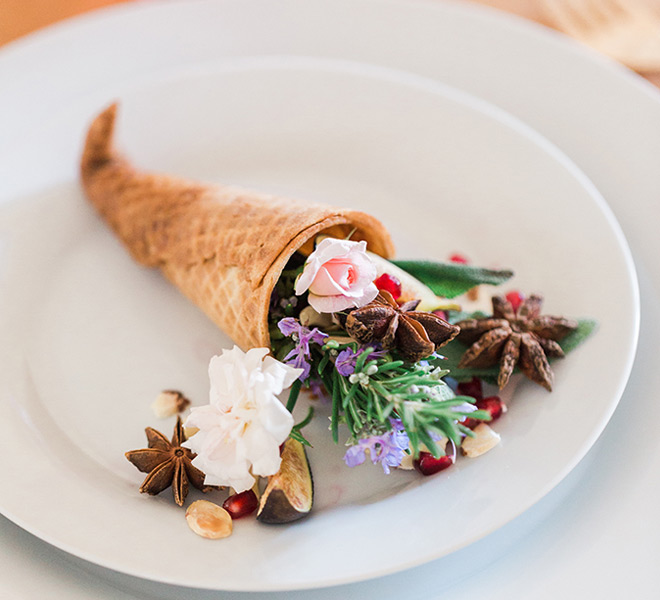 While I do make a mean butternut squash risotto, when it comes to Thanksgiving, my true forte lies not in the kitchen, but with the holiday décor. At my family's Turkey Day dinner, I'm usually called on to do floral arrangements, create a tablescape, or whip up some other DIY touch. This year, I decided to put my skills to the test by whipping up not just one, but two place card options. Each of these DIY designs makes for an adorable decorative accent at each guest's place setting. And if you're having assigned seating, you have the option to attach a name card too! Read on to hear how to make Ice Cream Cone Cornucopias and Mini Rosemary Wreaths…


Ice Cream Cone Cornucopias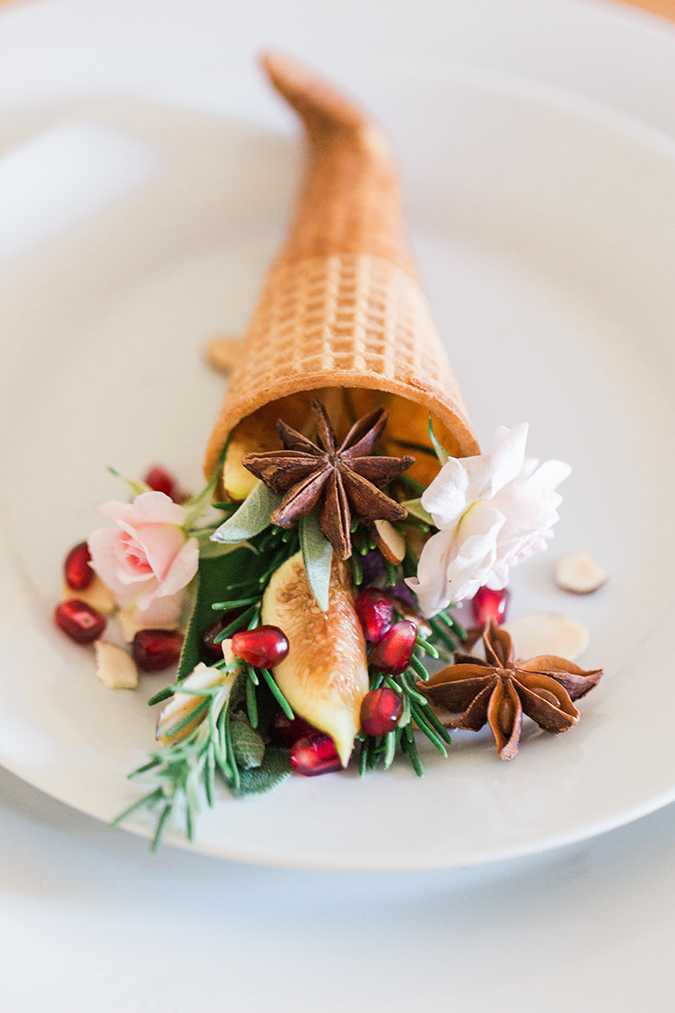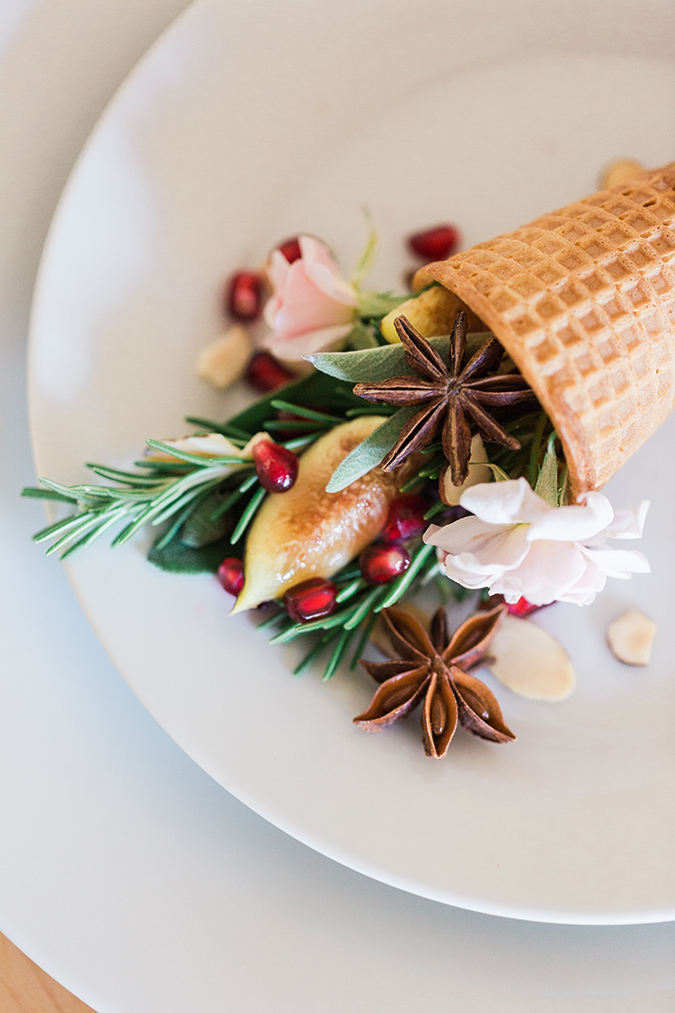 Here's what you will need:


sugar cones
cup of hot water
pen or pencil


mini roses
rosemary
sage
lavender
figs, sliced
star anise
pomegranate seeds
slivered almonds or other mixed nuts


1. Start with a mug of hot water. Dip the end of your cone (about 2 inches) into the water for 20 seconds. Then place the cone in the microwave for 20 seconds to make it even more soft and pliable.


2. Carefully remove the cone from the microwave, and gently wrap the soggy end of your cone around a pen or pencil to form the cornucopia curve.


3. Slide the cone off of the pencil and set on a paper towel to dry. Repeat steps 1-3 for as many cornucopias as you would like to make.


4. Once they are fully dry, set each cornucopia on a plate and fill your cornucopia so that it is overflowing with goodies. Note: You can use the suggested filling in our supplies list above, or feel free to get creative! Just be sure that all of your fillings are non-toxic or edible if they will be sitting on a dinner plate (even if the cornucopia itself is just meant to be decorative). Click here for our guide to some of the prettiest edible flowers.


Mini Rosemary Wreath Place Cards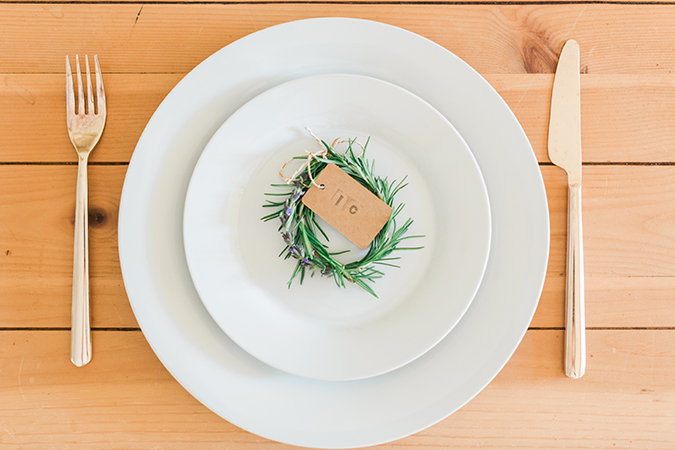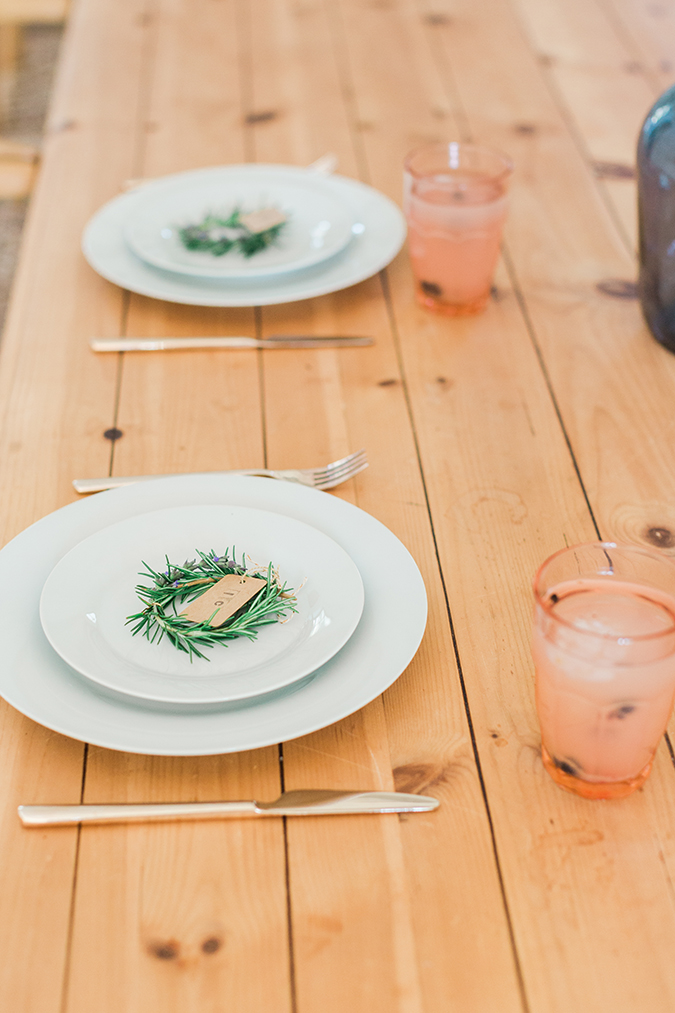 Here's what you will need:
a sprig of rosemary for each wreath (look for long, pliable stems)
twine
sprigs of lavender
thin, gold wire
small gift tags
alphabet rubber stamp set


1. Loop your rosemary around to form a circle. Tie it in place with twine.


2. Work in some smaller sprigs of fresh lavender to add some color to your wreath, using the gold wire to secure it to the rosemary.


3. Use your alphabet stamp set to add each guest's initials to a gift tag. Tie on the tags to the wreaths to make for the most adorable place cards.


Which one of these DIY décor ideas is your favorite?


Please let me know if you decide to make them this year by tagging @laurenconrad_com in a photo on Instagram!