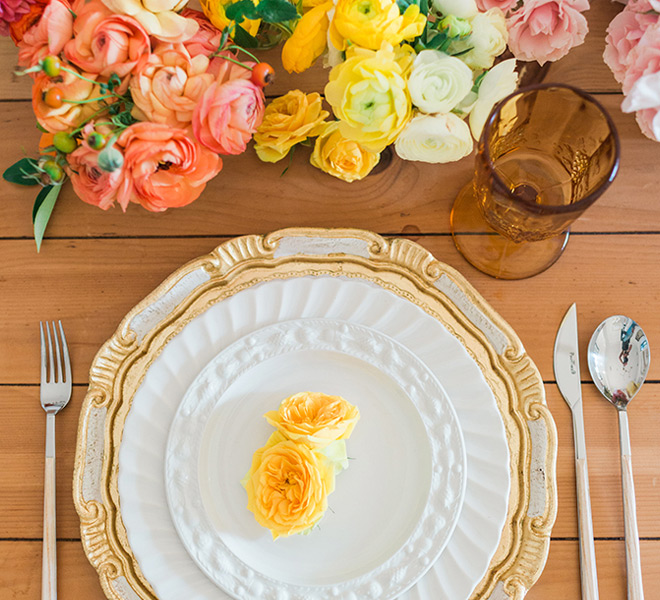 'Tis the season for entertaining. Now that it's November, it feels like every upcoming weekend is filled with dinner parties, holiday gatherings, Friendsgiving feasts, and beyond. If you're anything like us, you probably spend weeks planning your perfect fall menu for any gathering you're hosting. Before Halloween even hit, we were busy recipe testing Spinach Gruyere Pretzel Stuffing, Mini Pumpkin Mousse Pies, and other tasty fall dishes. But with so much focus on the food, it's easy to forget about one other very important component: the tablescape. Let us be the first to tell you that you should never underestimate the power of a beautiful table. We'd swear that a truly amazing table setting can even make the food taste better! It is the first impression your guests will get, and it sets the tone for the entire meal. (Is your dinner a formal multi-course meal? Is it a comfortable family-style feast? Will the food be traditional or inventive? Your tablescape is a great way to let your guests know what to expect.)
So with all of that in mind, today we wanted to inspire you with an ombre tablescape design by our friend and prop stylist Kate Martindale. Whether you choose to recreate this to a T or simply use it to get your creative juices flowing, we think you're going to love every little detail of this colorful design. Read on for more photos and a few tips from Kate on recreating this amazing ombre tablescape…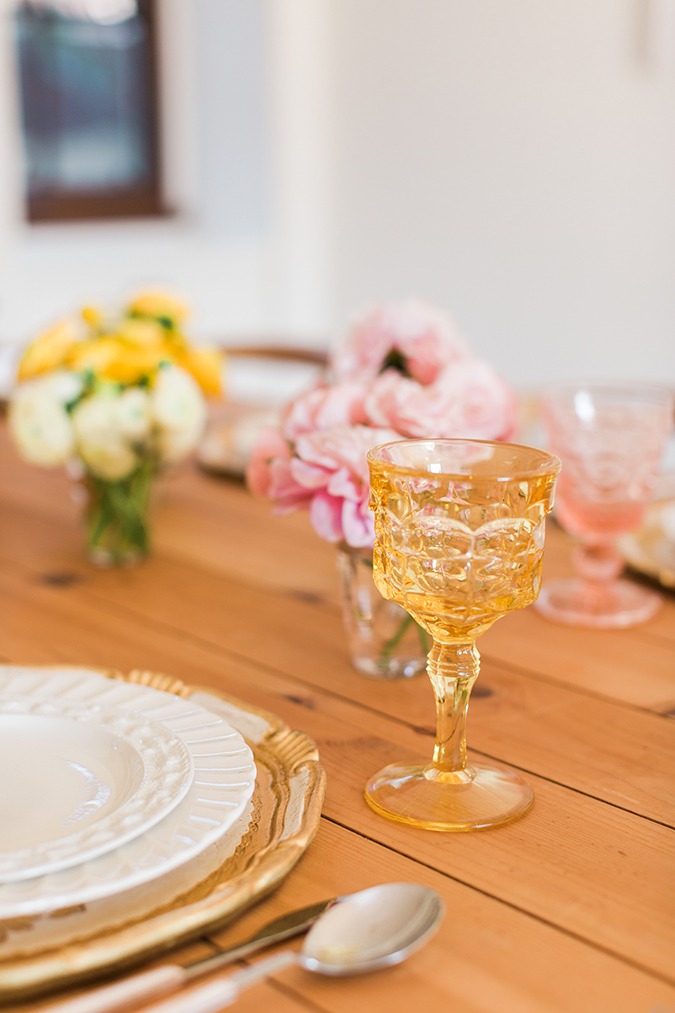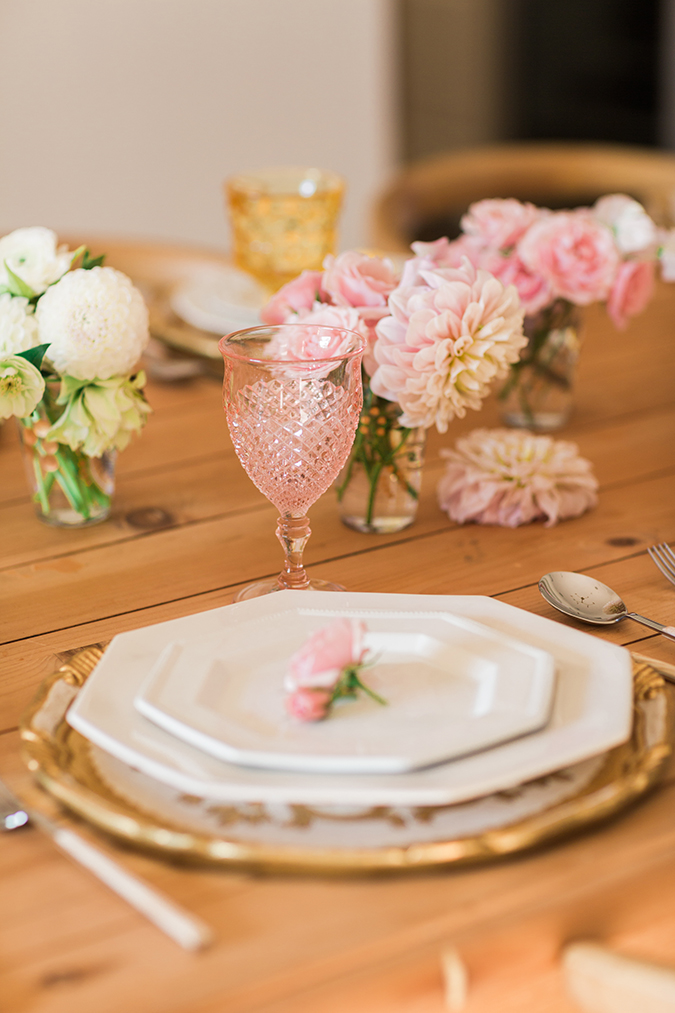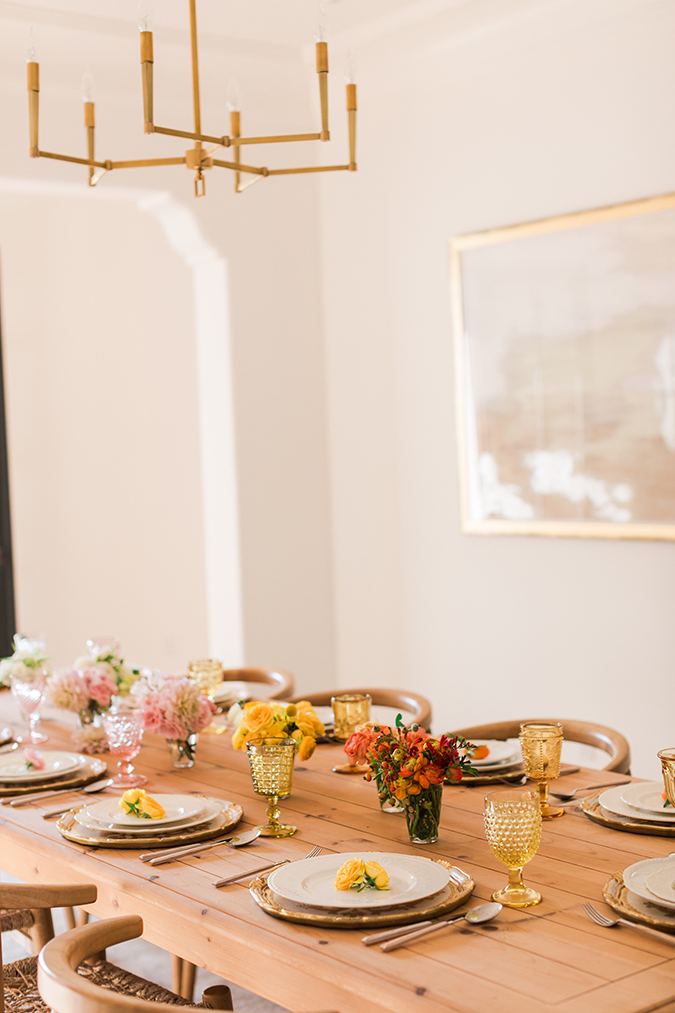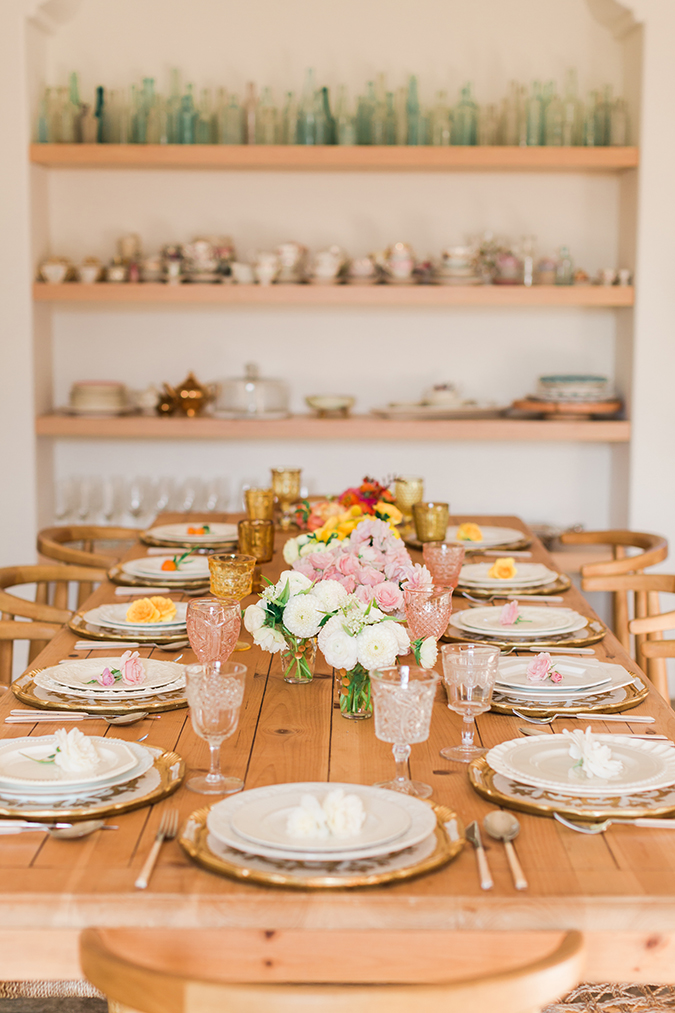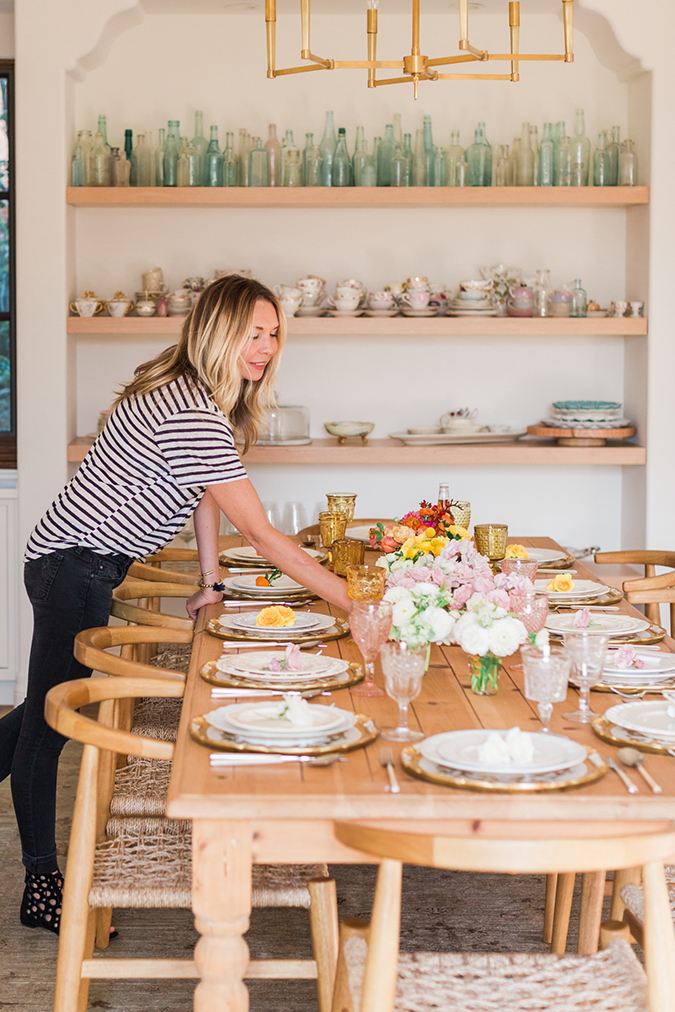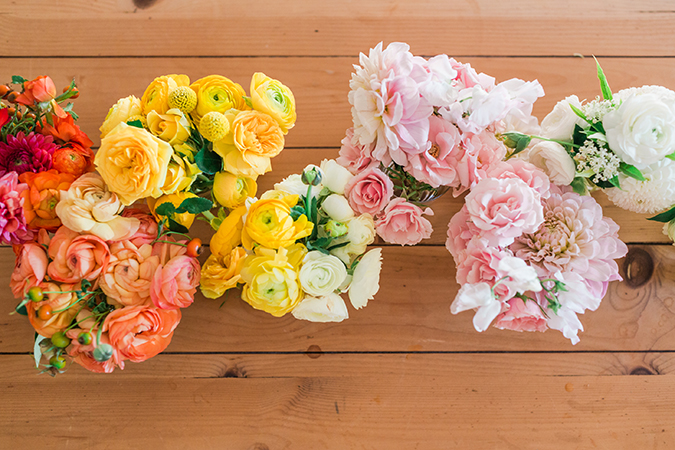 1. First Come Floral Arrangements.


For an ombre table, it's all about watching the flowers progress in color. I love this idea for using color to make even the most simple flower arrangements into something interesting. The best tip for creating a monochromatic arrangement is to really layer textures. Make sure you are not just using one type of bloom to create the look. Start with white, then move into light pink, yellow, corals, oranges, reds, and deep reds.
I loved using ranunculus for these arrangements because these particular flowers always come in a wide range of colors and shades. I then layered the ranunculus with other flowers in those colors for a bit of height and texture. Note: The ombre design can also be created in a low box container instead of individual vases.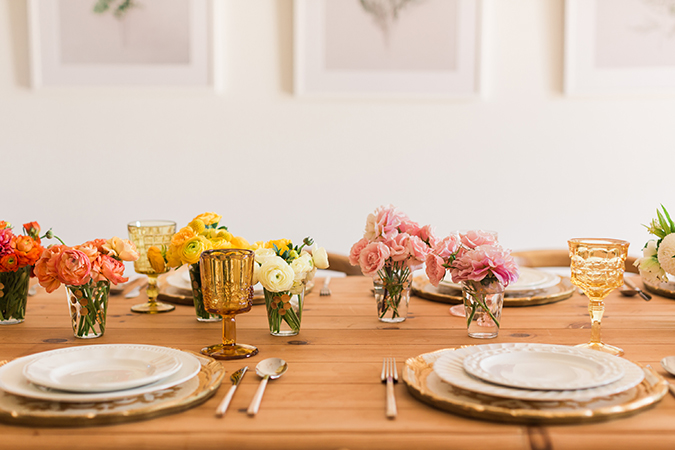 When looking for dishes to coordinate with your ombre floral arrangements, you have a couple of choices. One simpler option (which is what I did in these photos) is to source colored glassware to coordinate with the flowers, but keep the plates all in white. But if you're feeling really ambitious, you can collect plates to match the florals and glassware as well. I rented the beautiful plates and glasses from Casa de Perrin. Plates and glassware can also be collected at flea markets or on Etsy if you love vintage. If you want to purchase ombre plates without flea market or Etsy shopping, keep in mind that not all tableware has to come from the same store. Lastly, don't forget your napkins! You can use a colored ribbon on white napkins to coordinate with the plates, or purchase colored napkins to match each plate. If you are really motivated, you can buy a good quality white napkin and hand dye it to match your flowers. I love doing this because you can control the darkness of each napkin. (Note: Just remember to use vinegar in your washing machine to set the color permanently!)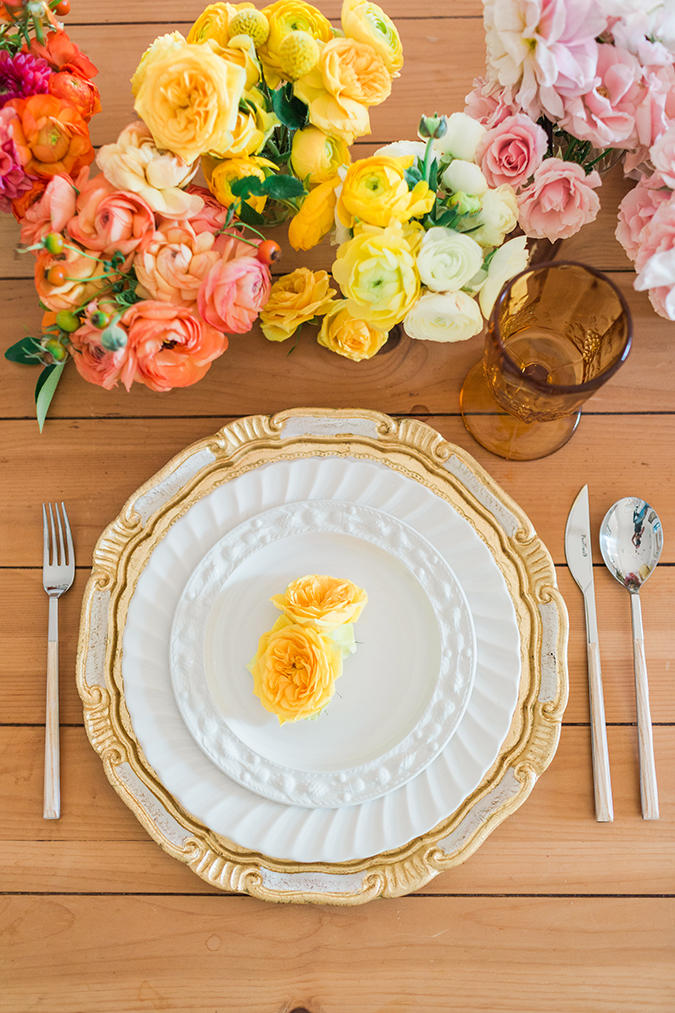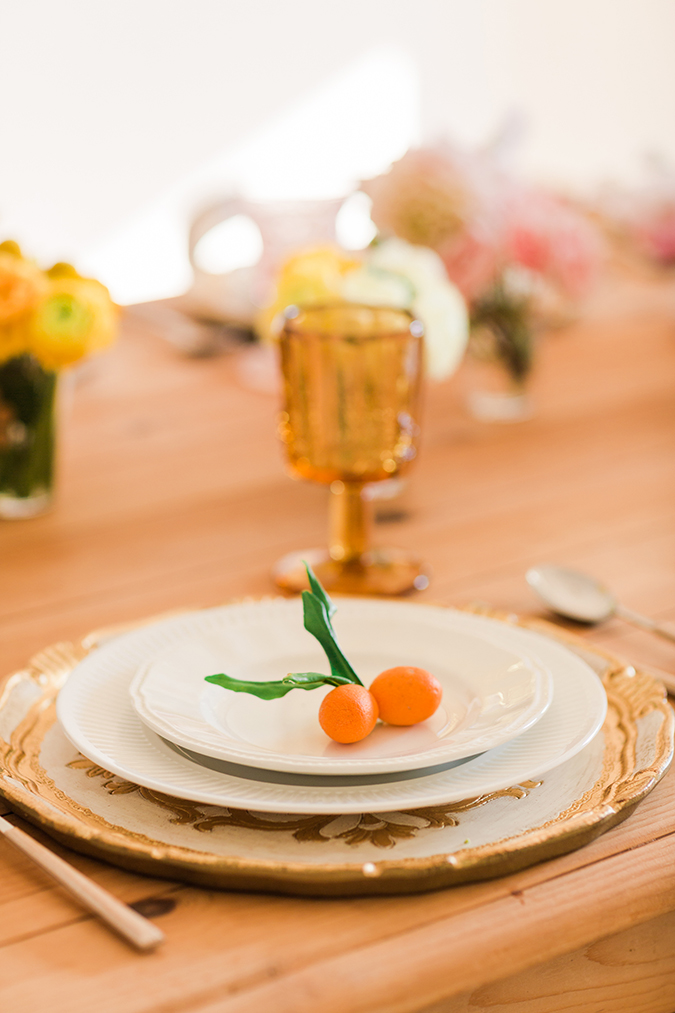 3. A Floral Finishing Touch


Lastly, place a flower on each plate that coordinates with the ombre colored plate (just make sure it's an edible or nontoxic type of bloom!). This continues the ombre effect and adds a special touch for each guest.  Have fun creating a very special table, but don't save it for just special occasions! This is well deserving of any dinner party.


Are you going to give this ombre tablescape a try?