Going Green Challenge: Green Your Dry Cleaning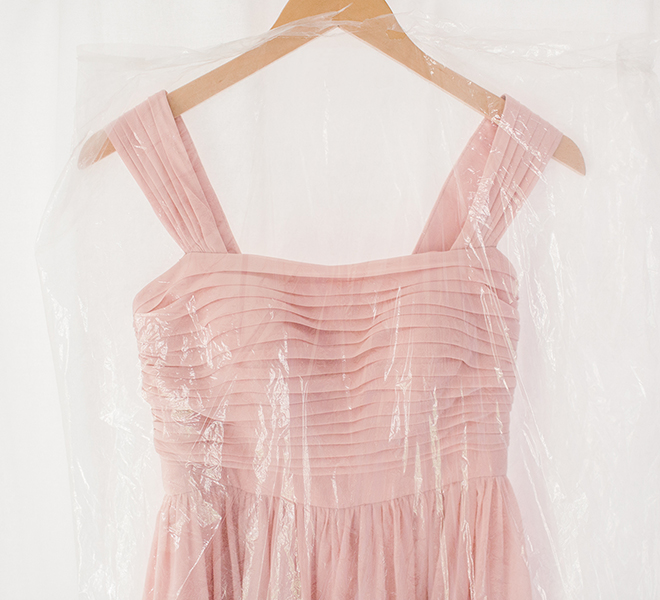 Earth Day may have come and gone, but we're as motivated as ever to keep greening our routines. Last month we made a conscious effort to create as little waste as possible as we wrote about greening our groceries, saying goodbye to plastic straws, and opting to buy biodegradable products. One topic we have yet to touch on? Environmentally friendly errands such as dropping off your dry cleaning. With our Going Green Challenge still in full effect, we figured we'd add one more part of our daily routine to the list of ways to stay eco-friendly. To our surprise, taking your clothes to the dry cleaners can be both wasteful and harmful to the planet and your clothing. Since we've recently taken the vow to green our dry cleaning, we thought it would be useful to share what we've learned with our readers as well. Keep scrolling for a little food for thought…


Leave the wire hangers behind.
We can't count how many times we've used the metal dry cleaning hangers one time and tossed them out. Since this has happened one time too many, we've decided to either leave them behind at the dry cleaners, or simply returned them the next time we popped in. That way the cleaners can reuse them instead of us creating more waste at home.


Go to an eco-friendly dry cleaner.
Most dry cleaning businesses use harmful chemicals. While our clothes may be clean when we pick them up, we hate knowing that the products used to do so can harm the environment. If you're as concerned about this as we are, we recommend researching local eco-friendly dry cleaners.


Picking up your dry cleaning always results in taking your clothes home in a thin plastic bag. Like we mentioned in this post, keeping your clothes in the dry cleaning bag traps the harsh chemicals in there too. This can result in damaged goods, plus a non-recyclable plastic bag going to waste. The next time you pick up your clothes why not ask for them sans plastic bag? We know we will!


While it can be easy to simply drop clothes off at the dry cleaners and have them remove stains, we encourage you to look at the clothing labels and see if you can wash the clothing yourself. If a fabric is very delicate or you fear washing an investment piece, you should absolutely take it to the dry cleaner. However, take a peek at this post and see if you can gently wash your clothes at home. The less you take your clothes to the dry cleaner, the less waste you ultimately create.


These may not be groundbreaking ideas, the little things you do to green your routine certainly add up!


Will you be taking this Go Green Challenge with us?


Let us know your thoughts in the comments!


Affiliate links may have been used in this post.