Oh Baby: The Complete Diaper Bag Packing List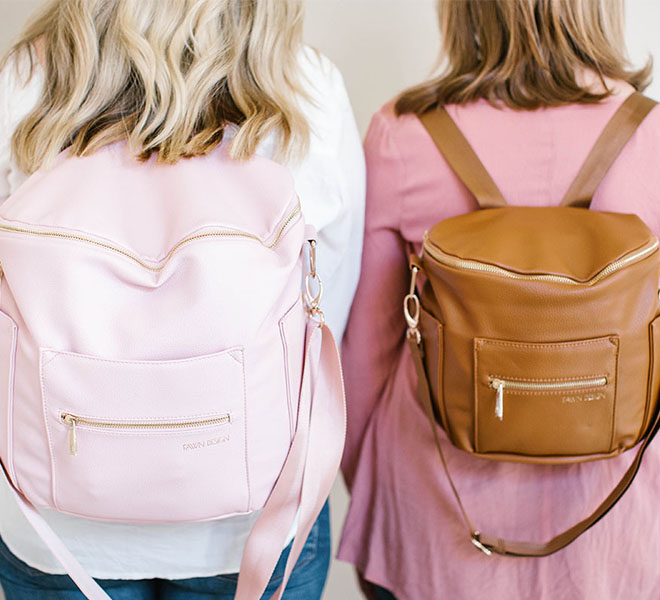 Before having a baby, I never really understood what the need was for a dedicated diaper bag. I would see mothers hauling around their oversized backpacks and totes, and wonder what exactly was inside them that couldn't be thrown in a purse. But once I became a mama myself, I quickly realized that having a special bag for baby truly is a must in most cases. There's no way around it; babies do need a lot of stuff. Plus, some of that stuff gets messy, and you don't want soiled clothes or spilled snacks rolling around your designer handbag. It will make your life so much easier and give you peace of mind to know that you have all of baby's stuff in one place, ready to go at a moment's notice. But it's also not completely necessary to lug around a giant diaper bag all the time. So that's why I'm sharing two diaper bag packing lists today—one for the mother who likes to be fully prepared for whatever a long day will throw at her, and one for the minimalist mama who likes to pack light. Take a peek below, and then bookmark this post as a checklist for whenever you are restocking your own baby bag.


Fawn Design Blush Bag | Doddle & Co is The Pop Pacifier | Honest Company Diapers | Copper Pearl 5-in-1 cover
Aim to have at least one diaper for every 1.5 hours you're out of the house, plus a couple extras (although I like to start with even more so that I don't have to restock my bag as often.) Never leave the house without at least three diapers, even for quick outings. You never know when you will end up going through three diapers in a single hour.
I find that I go through the tiny travel packs rather quickly, so I like to carry a slightly larger pack when I have my big diaper bag. Even though we typically use Honest Company or Water Wipes at home, Babyganics makes a 40-count wipes package that is really great for this purpose. I also recently discovered Noodle & Boo wipes and they've become my favorite for wiping sticky hands and faces. They feel way more moisturizing and cleansing than any other baby wipes I've used.


Changing pad. Many diaper bags come equipped with changing pads, but if you need to buy one separately these Gathre leather baby changing mats are a chic option.


Diaper disposal bags. If you're out in public and need to dispose of a dirty diaper, you'll want to place it in a plastic bag first as a courtesy to everyone around you, so that it doesn't stink up the trash can. You can also use these bags to transport soiled clothes home in.


Bottles or cups. If you're bottle-feeding, don't forget your bottles of pumped breast milk or formula and your cups for older babies or toddlers.


Hand sanitizer. This is a must to keep germs at bay. I love The Honest Company's convenient 2 oz. hand sanitizer sprays—they smell good and aren't at all sticky.


If your little one is over 6 months of age (sunscreen isn't recommended for younger infants), be sure to have sunscreen packed to shield your baby from harmful UV rays. My favorite baby-safe sunscreens are Alba Botanica (our whole family uses this one), Babyganics Mineral Based Sunscreen (the 2 oz. tube is especially convenient for diaper bags), and the Babyganics Pure Mineral Sunscreen Stick (perfect for quickly applying sunscreen to an active kiddo's face).


Diaper rash cream. It can help to have some on hand if you have room for it.


Lip balm. I'm obsessed with Erbaviva's Organic Lip & Cheek Balm. It's meant for baby, but it's also my new favorite beauty product. This chunky stick is perfect for healing chapped lips, cheeks or hands in dry or windy weather. It smells divine and is incredibly soothing, with lavender and chamomile extracts.


If your little one takes a paci, you'll want to make sure you pack a spare. Natursutten pacifiers, which are made from 100 percent natural rubber, are top of the line when it comes to pacis. Another great option—especially when you're out and about—is The Pop—which has an ingenious design where the nipple pops into a protective bubble when it's dropped.


Whether you have a drooler or a messy eater, a cute bib is a must for protecting baby's clothers.


A weather appropriate outfit change for baby (or two!). Because blowouts happen to the best of us… So if you receive some clothes as a gift that you're not crazy about, you don't necessarily have to return them. Keep a couple of these less desirable outfits on hand as "backup clothes."


A hat for baby. I pack a sunhat for summer and a knit hat in the winter. Briar Bonnets are my favorites for both seasons.


A spare shirt for yourself. In the event that baby spits up all over your shirt, you'll be glad you have something to change into.


Nursing pads. If you are breastfeeding and need them.


A 5-in-1 cover. Copper Pearl's multitasking 5-in-1 cover can be used as a car seat cover, a nursing cover, a shopping cart cover, a high chair cover, and an infinity scarf.  Plus, it comes in so many cute prints.


Muslin swaddle. I always pack an Aden and Anais swaddle that I use for everything from laying baby down at the park to shielding baby from the sun in the stroller.


Receiving blanket. If I have room for it, I also like to pack a slightly thicker swaddle or receiving blanket to have with me on outings for added warmth or padding at the park. Simple cotton or modal blankets like Max + Moose or Solly Baby swaddles work well.


Baby carrier. I always pack a wrap or sling in my bag no matter where I am going. Wearing baby makes errands so much easier and is also often the only way I can get him to nap while we are out and about. I am pretty loyal to Solly Baby wraps as far as comfort and compactness goes, but I've also recently gotten into ring slings for quick pit stops since they are a bit faster and easier to get baby in and out of (I love both WildBird and Sakura Bloom slings).


Rule No. 1 of parenthood: never leave the house without snacks for both you and baby! My go-to for me is RxBars and for baby it's always a good idea to have a squeeze pouch on hand (Baby Brezza's reusable food pouches are a much more eco-friendly option.)


If you like to eat out a lot, you'll want to keep one of EZPZ's adorable Mini Mats packed in your bag. It's an all-in-one placemat and plate that suctions to the table, making mealtime a lot less messy.


It's nice to be able to keep your little one entertained, wherever you are.


You'll still want to have at least one diaper for every 1.5 hours you're out of the house, plus a couple extras.


Travel wipes. The travel packs will be your best friend for packing a more compact bag. WaterWipes and Honest Company both make 10-count packages.


Changing pad


Diaper disposal bags


Bottles or cups


Hand sanitizer


I purchased a pack of Babyganics sample-sized tubes of sunscreen for my smaller diaper bag and purse. (A single tube will usually last me through 2-3 applications for a baby or child, even though they call them 'single-use.')


Lip balm


Pacifier


Bib


A weather appropriate outfit change for baby


A hat for baby


Nursing pads.


A 5-in-1 cover. It's truly a must for packing a minimalist bag. If you have one of these, you can get away with leaving your other blankets and your spare shirt behind.


Baby carrier. The Solly Baby Wrap is definitely my go-to for a small bag as it's the most compact. They are small and lightweight enough that you can tuck one into your diaper bag at all times without even noticing it's there.


Snacks


Diaper rash cream.

It's probably not necessary to pack this unless you're currently dealing with a diaper rash.



A spare shirt for yourself.

This is nice to have, but not 100 percent necessary for the minimalist mama. Worst comes to worst, you just temporarily cover up your soiled shirt with the 5-in-1 cover.



Muslin swaddle.

You can ditch the blankets if you're trying to really keep your bag on the lighter side.



Receiving blanket.




Toys. I keep a single, small, paperback book and a sheet of stickers in my small bag. A ton of toys aren't necessary when you are trying to pare down what you pack.


Did you find this list helpful?


Let me know what else you would pack.


Affiliate links may have been used in this post.