My Busy Mom Beauty Routine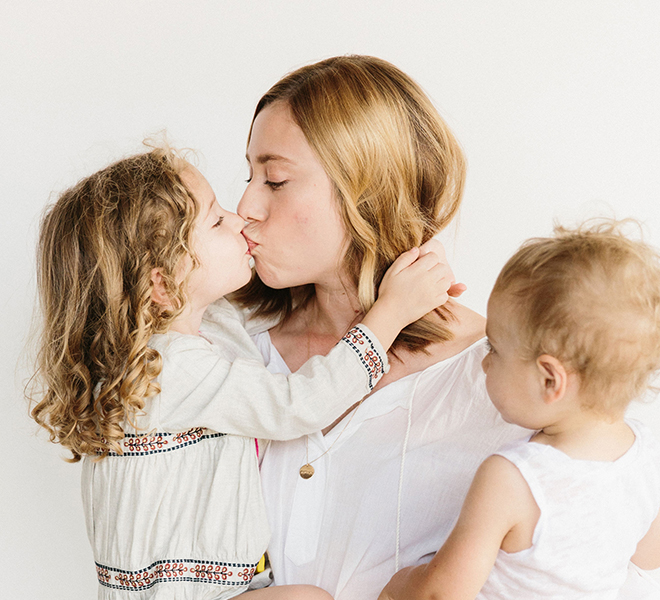 It's January, and the "New Year, New You" mantra is fresh on everyone's mind. Self-care is a big buzzword these days and it's certainly been on my own personal list of resolutions. But as a mama of two little ones, my "me time" is much scarcer than it used to be. For a fashion and beauty editor, my beauty routine was already notoriously low maintenance. Now that I have kids, my low maintenance philosophy has only intensified. I recently added some highlights to my hair for the first time, and while I was excited to boost my blonde, my primary instructions to my stylist were, Low maintenance! I cannot commit to a salon visit more frequently than every 6 months! When it comes to beauty treatments, I won't do it unless it's subtle and natural looking, the effects are long-lasting enough to justify the time spent in the salon.
So in an effort to make self-care sustainable all year long, I've focused in on a few things that will streamline my beauty routine and actually make my mornings easier. It's just not in the cards to take a relaxing bubble bath every night when there are lunches to be packed and clothes to be set out. But by treating myself to a beauty treatment every few weeks, I feel taken care of without using up what precious little free time I have on a daily basis. Whether you're a fellow mom or a busy professional who can't be bothered with a long morning routine, I thought my tips might be helpful. So without further ado, here is my 'busy mom beauty routine'…
Half of our office has microbladed brows at this point, and it's for a good reason! This semi-permanent beauty treatment will give you perfect brows without ever having to shape them or fill them in when you do your makeup. After your initial appointment and follow-up 6-12 weeks later, you can go a year or two between touchups. Brows really do make such a difference on your face, and even without any makeup on, I feel so much more put together than before I invested in microblading.
I love the feel of smooth skin, but often can't be bothered to keep up with shaving. A couple years ago I invested in laser hair removal for my underarms and bikini areas, and it's cut down on shower time as well as razor burn. I plan on doing my legs next for truly low-maintenance hair removal.
While I don't get my lashes done year-round, these are beauty treatments that I definitely recommend if you have special events or travel coming up. I've experimented with both lash extensions and lash lifts in the past year. Lash extensions were a dream—long, fluffy lashes without so much as a swipe of mascara. But you will need to get them touched up every month or so and they do come with a hefty price tag. A lash lift won't give you quite as dramatic of an effect (you can skip the curler but may still want mascara some days), but it still did wonders for my naturally stick-straight lashes. According to Sugarlash PRO founder Courtney Buhler, a lash lift is low maintenance beauty at its finest. The 1-hour treatment curls and lifts lashes for up to 6-8 weeks, no upkeep required.
My skin has been the biggest hurdle to nixing makeup most mornings. Since having my first baby five years ago, my formerly blemish-free complexion has turned acne prone. When I get busy and skip out on my full skincare routine, my skin undoubtably ends up breaking out. When I am able to invest in facials every few weeks, my skin stays a lot clearer. It's hard to find time for regular facials, but prioritizing skincare means I'm more comfortable leaving the house without makeup on, saving me time later on.
At first look, this list may seem extensive and somewhat high maintenance. But not one of the treatments on this checklist has to be done more than once a month. Every item on my list allows me to leave the house without makeup most days and still feel put together. By spending some time on myself every few weeks, my day-to-day beauty routine is really rather simple and streamlined.
Do you have any time-saving beauty treatments you swear by?
Affiliate links may have been used in this post.