Beauty Note: Everything You Need to Know About Microblading Your Brows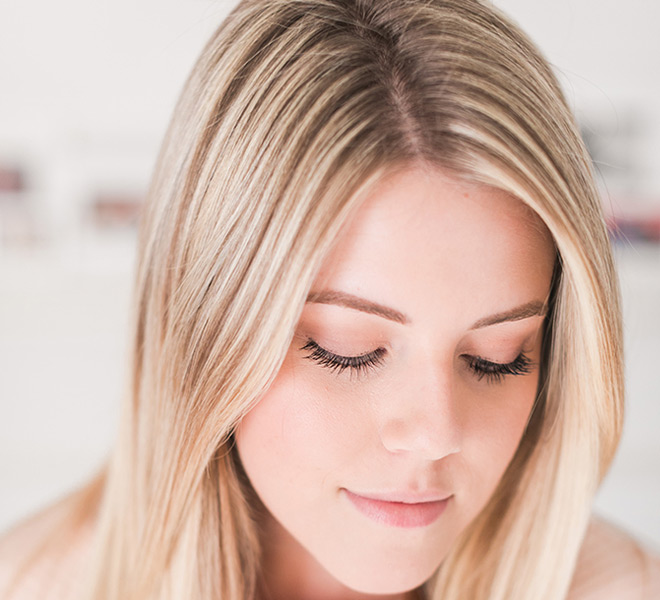 With all of the ever-changing beauty trends coming and going, it can be hard to decide what is worth trying for yourself and what to say "maybe not" to. We on Team LC are often among the first to volunteer when it comes to trying new things, and when a couple of our editors heard about eyebrow microblading, they didn't hesitate to give it a shot. So whether you've heard about this treatment before, or you're thinking "micro-what?" don't worry, because we're sharing everything you need to know about the procedure, straight from two of our editors' personal experiences.
To give you a quick lesson in Microblading 101, it is a semi-permanent cosmetic treatment using a small blade dipped in pigment to create hair-thin strokes that blend in with and enhance your natural eyebrows. Because each stroke is done by hand, the artist can create the perfect color, density, and brow shape for each individual client. It is generally a two-step process, and after the final touchup the client will walk away with full and natural-looking brows that will last anywhere between 1-3 years! Sound too good to be true? Keep scrolling to see our editors' before-and-after photos and decide for yourself…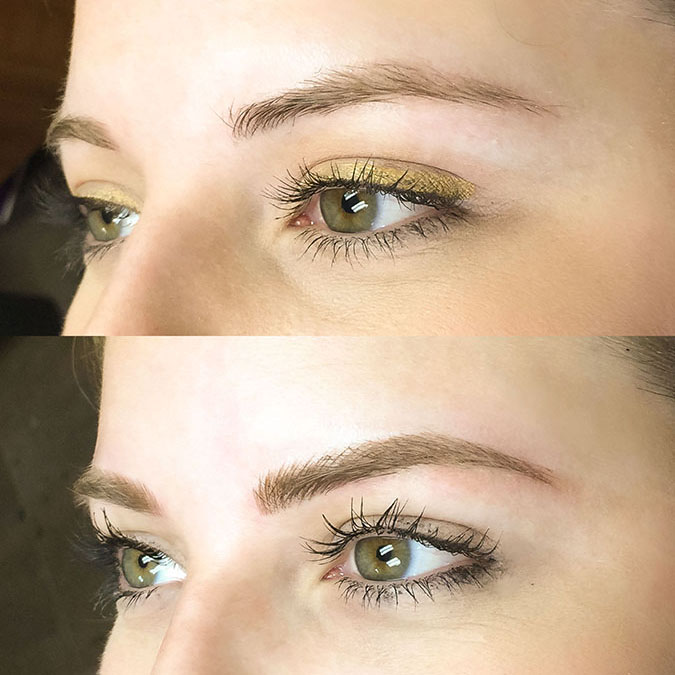 "When asked about my experience with microblading, it's difficult knowing where to start. Let's just say I'm hooked for life, and I'll tell you a variety of reasons why. First off, I went to school to get my Master Esthetician's license in 2013, and the day I began was the day I became 'that girl' who has to try any and every beauty treatment.
While microblading wasn't a skill taught in school, my interest was immediately piqued when I heard about the process. I had spent much of my schooling learning about brow shaping, waxing, and tinting, and have been on the quest to perfect my own brows ever since. To give you some background, my eyebrows aren't 'bad' per se, they never have been—they've always just needed a bit of a boost. Patchy spots here and there, and the irreversible results of some uneven tweezing from my teenage years left my brows lacking—and microblading turned out to be my hero.
I spent weeks and months scrolling endlessly down different microblading artists' Instagram feeds and researching the process, and finally made an appointment with Alyssa Johnsen. She owns her own business called Ero Edge (located near Salt Lake City, Utah) and is an angel. She made me feel comfortable by answering literally any and every question I had, and she spent at least the first half hour deciding on the right shape and pigment color with me, so I knew exactly what I was getting. Alyssa put some numbing cream on my brows, let it set in, and then microbladed away! The next question is obviously about the pain, right? Trust me, watching the process makes you cringe, but the pain is totally tolerable. She reapplied numbing cream safe for broken skin throughout the process, until all I felt was a mild scratching sensation. I would describe the feeling as more 'annoying' than 'painful,' and even then 'annoying' is a strong word to use.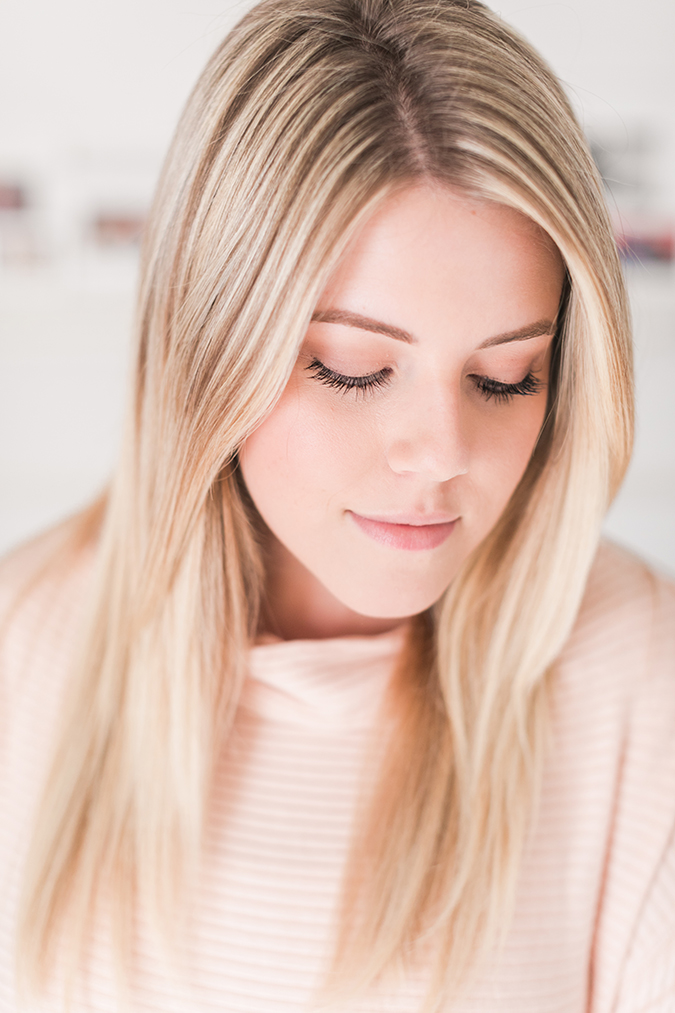 About an hour and a half and two comfortably numb eyebrows later, they were finished! The result was amazing, and I was converted. Long story short, there is no competition between the pain and the results. She told me I couldn't get them wet for at least 24 hours, and to avoid eyebrow makeup during the healing process. All I had to do was apply a healing balm 2-3 times a day for about a week, and swear not to touch or scratch them during that time. Simple as that! I came back 6 weeks later for my color boost, and once more to have them touched up before my wedding and I was set.
I didn't think microblading was a necessity for me before I got it done, but after seeing the results I'll never go back. (My mom even jumped on the bandwagon after seeing mine.) Every day I wake up with full, symmetrical brows, and even when I go fresh-faced and makeup-less, I don't feel undone. If any of you are on the fence, do your research, find an incredible artist that is certified, and book your appointment ASAP." –Tessa Scott, Editorial Assistant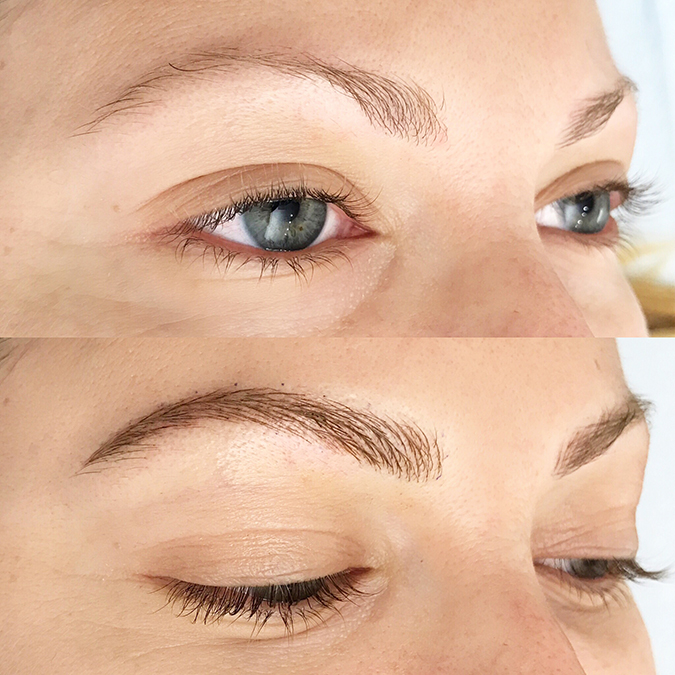 "Honestly, microblading has been one of the best decisions I have ever made. I over-plucked my already thin eyebrows in high school, and the little bit of hair I had never grew back. And since then, I've tried everything. I didn't touch them, I applied serums and creams and everything under the sun that was supposed to make your eyebrows grow in. I found the best brow artist in LA, but unfortunately she just didn't have anything to work with because my brows weren't growing. I was told that my only real option was eyebrow transplants, which sounded insanely extreme to me and I never even considered it. I kind of gave up hope on ever having the eyebrows I wanted, until I heard about microblading and found Studio Sashiko on Instagram.
The work they did was incredible, and I couldn't believe how realistic it looked. Then, I had a couple of friends try it out, and after seeing their results I made up my mind. I HAD to get my eyebrows microbladed! Audrey Glass was recommended to me by a friend who went to her, and it just so happened that she was one of the co-owners of Studio Sashiko and had opened an LA studio. (By the way, she is INCREDIBLE and I cannot recommend her enough. She is an artist and this is totally her calling.) I made an appointment, and waited patiently for the day that I would have the brows I always hoped for!
The process was a tiny bit painful, but worth every single second of it. By the time Audrey had finished my brows, I couldn't feel anything thanks to the numbing cream. I'm not kidding when I say that I screamed with excitement when Audrey showed me the finished product.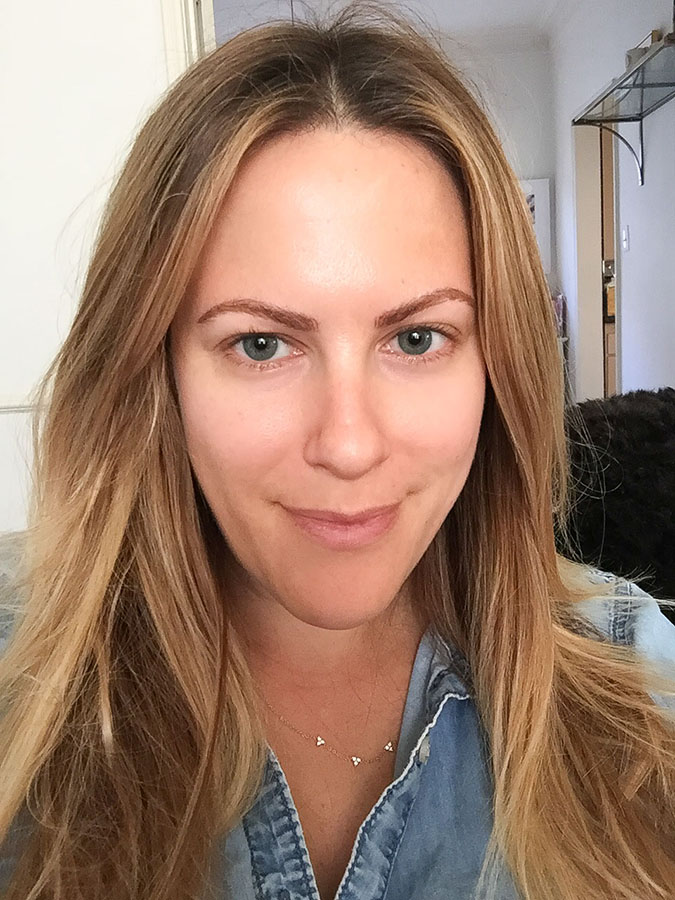 That was about two weeks ago, and I'm still in the healing process, which hasn't been that bad. You can't workout for a week in order to avoid sweating, which was tough for me, and you can't put any product or wear makeup on your brows for two weeks. Other than a few awkward days when my brows were flaking, it's been a breeze.
If you've been penciling in your brows forever, and they won't grow no matter what you do, I highly recommend finding a talented microblading artist near you and trying it out. I plan on getting mine touched up for the rest of my life (since they only last a year or two), and feel beyond lucky that I found Audrey who gave me the brows I always wanted!" –Rachel Rosenbloom, Managing Editor
We don't know about you, but we're pretty sold on this treatment. It may cost a pretty penny (in the $500 – $900 range) and be a bit nerve-wracking at first, but in our opinion, if you find the right artist and your brows are begging to be rescued, it is well worth the investment. See more work from our brow artists by following them on Instagram here and here.


What do you guys think? Would you make the jump to try microblading for yourself?


Let us know in the comments!