Tuesday Ten: Our Winter Reading List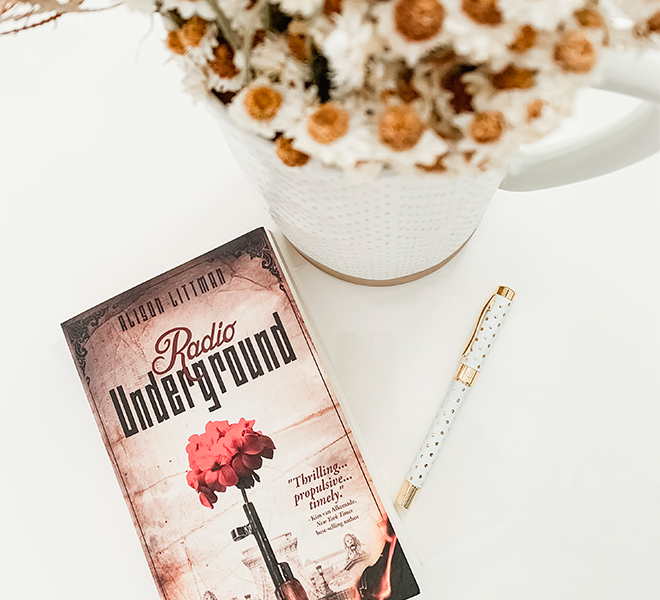 If you ask us, we could do with a little more cold weather here in sunny SoCal… if only to give us an excuse to stay inside and read all day! There's something about the shorter days and chillier weather that calls for a good book, and luckily we have an office full of readers with lots of great suggestions. If you're looking for a gripping mystery, or if a moving family drama is a little more up your alley, keep scrolling to see which books have earned their places on our nightstands this winter…
1. Educated by Tara Westover
If you're in the mood for an inspiring true story, mixed with some gritty backcountry survivalism, this is the book for you. Tara Westover describes her unconventional, school-free childhood, all the way to studying at Harvard and Cambridge University.
2. Radio Underground by Alison Littman
If you are looking for a powerful piece of historical fiction, this one is a must-read. Set in Cold War Hungary, the plot for Littman's debut novel came to her while fishing around in the archives at Stanford University, where she found a stack of letters written by young people in Hungary secretly listening to rock 'n' roll during the Cold War. Radio Underground tells the story of a mother and daughter ripped apart by revolution, illuminating a time when news, rock 'n' roll and underground journalism forever changed the lives of those living behind the Iron Curtain.
3. Children of Blood and Bone by Tomi Adeyemi
This YA hit has been called the "African Harry Potter" and it more than lives up to the hype, with 24-year-old Adeyemi signing one of the largest ever debut book deals before the first novel was even released. Be sure to pick this one up before the movie adaptation hits theaters!
4. The Great Alone by Kristin Hannah
If you loved Kristin Hannah's first book, "The Nightingale," you'll want to pick up this moving saga of a young girl struggling to find her place, and protect her family from her father's rage, in the savagely beautiful Alaskan wilderness.
5. Americanah by Chimamanda Ngozi Adichie
Part love story, part reflection on assimilation and immigration, Americanah chronicles Ifemelu and Obinze, who are separated for years by borders and their own secrets, only to reunite in their Nigerian homeland years later.
6. Girls Burn Brighter by Shobha Rao
Some books stay with you long after the final page, and this gut-wrenching story of Poornima and Savitha, best friends growing up in poverty in India, is no exception. The story tracks the girls across time and continents, as they remain resilient and true to each other despite the seemingly insurmountable obstacles thrown at them.
7. You Will Know Me by Megan Abbott
Spooky mystery lovers, this one's for you! After a violent death rocks a tightly knit gymnastics community, a mother is forced to reckon with the price she is willing to pay for her own daughter's success.
8. The Dog Stars by Peter Heller
In the wake of an apocalyptic virus, a lonely man named Hig has given up all hope of life outside his tightly controlled world, until a voice over the radio leads him to leave behind everything he knows and track down its source.
9. The Poisonwood Bible by Barbara Kingsolver
This epic family drama follows Nathan Price and family as they venture into the Belgian Congo in 1959, spurred by Nathan's missionary zeal. The end result will change not only the Price family, but will also alter their concept of nature and our human relationship to it.
10. Cutting for Stone by Abraham Verghese
For anyone looking for a little history with their reading, "Cutting for Stone" tracks the rising tide of revolution in Ethiopia, as twin surgeon brothers move across the world but never lose their connection to each other.
What books are you adding to your reading list?
Give us your suggestions in the comments!

Affiliate links may have been used in this post.