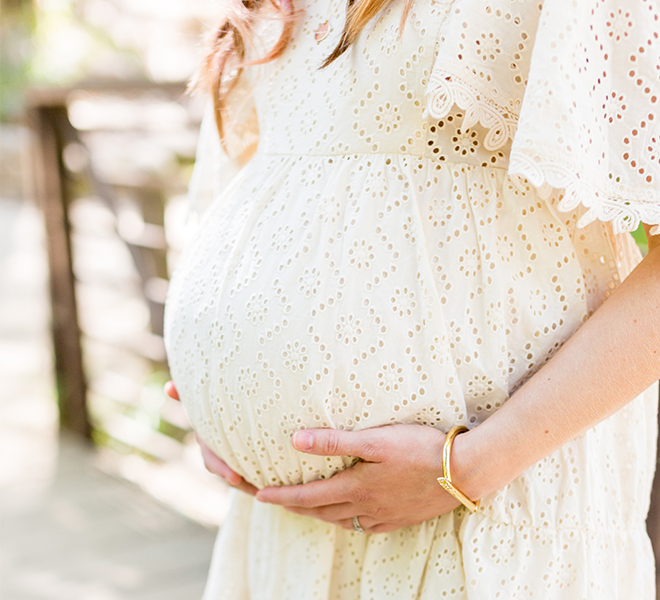 From furnishing your nursery to building out a baby registry, there is a lot to do when you're expecting a new addition to the family. But I would argue that stocking your freezer with premade meals is one of the most important ways you can prepare. Those first few weeks with a new baby are a real whirlwind—and when you're caring for a newborn 24/7 there truly may not be much time to shower, sleep, or even feed yourself. So having delicious, healthy food on hand really is one of the greatest acts of self-care you can strive for.
When each of my two babies was born, we had many well-meaning relatives come bearing lasagnas, pasta dishes, and other carb-and-cheese-laden casseroles. And while everyone loves lasagna every once in a while, it also feels good to nourish your newly postpartum body with more nutritious fare. To balance out the heavier dishes people brought us, I also made sure I had a freezer full of healthy meals before I went into labor. Whether you're pregnant yourself or you're one of those friends who wants to come bearing food when you visit a new baby (aka the best kind of friend), here are six healthy and filling ideas below…


Casseroles are a popular make-ahead meal for a reason—they are one of the easiest dishes to prepare, freeze, and reheat whenever you're ready (with minimal cleanup, too!). But many casseroles tend to be pretty heavy carb and meat focused meals. Yet when I started researching recipes, I was pleased to find a handful of healthy casseroles that incorporate lean proteins and fresh veggies too. As a vegetarian, two of my very favorite freezer meals are this vegan lentil loaf (with lots of kale and mushrooms) and this 1-hour vegan shepherd's pie (I sub in cauliflower for half the potatoes). I made both of these dishes during my third trimester, doubling the recipes so that I could freeze half for after baby was born.


Soups and stews are another perfect pick for the freezer. Even if your baby is born in the spring or summer months, many cultures believe in the benefit of eating warming foods during the postpartum period. When I was pregnant, I made and froze a couple of the soups from The First Forty Days: The Essential Art of Nourishing The New Mother (I highly recommend this cookbook for any mama-to-be). You can divide your soup between several quart or gallon-size freezer bags, and defrost in those smaller portions during the first few weeks with baby.


While warming foods are often recommended postpartum, there's also something to be said for a meal or snack that you can drink one-handed while simultaneously rocking or nursing a baby. It's easy to take pretty much any smoothie recipe you like, toss all the ingredients (sans liquid) into a baggie, and then store it in the freezer until you're ready to add liquid and blend it up. If you don't have time to pre-package smoothie ingredients yourself, I'd also highly recommend a service like Daily Harvest that does all the legwork for you.


I had never thought to freeze muffins until recently, but they actually reheat surprisingly well. When I was pregnant this last time, I made and froze these healthy pumpkin muffins and these blueberry baked oatmeal muffin cups. (Both recipes are gluten-free, refined sugar-free, and dairy-free!) When I was ready to eat them, I would just stick the frozen, fully cooked muffins in the toaster oven on bake for 10-15 minutes, and they would taste just as if they were freshly made.


Another thing you may never have thought to freeze before are homemade energy balls like these healthy no-bake cookie dough bites we featured on the site a while back. I made a couple of batches of these same bites when I was pregnant, and snacked on them frequently during the first couple of weeks after my baby was born. They defrost rather quickly once you take them out of the freezer—no cooking or heating required. They taste like a true treat, but the oats and healthy fat from the cashews is great for keeping your energy high and your milk supply up if you happen to be nursing.


One other easy freezer meal I made was a big batch of "protein porridge." It was a mixture of steel cut oats, chia seeds, quinoa, and flax seeds, cooked together until they reached a porridge like consistency. I froze it in muffin cups, and then popped those out and transferred them to a plastic baggie to store for longer. When I was ready to eat them, I would heat one or two in a saucepan in coconut oil, and then add whatever fixings I was in the mood for, from almond butter and jelly to maple syrup to dried fruit and nuts.


Did you stock your freezer when you were having a baby?


What are your favorite freezer meals?


Photo: Stephanie Todaro Photography
Affiliate links may have been used in this post.