Oh Baby: The Complete Baby Registry Checklist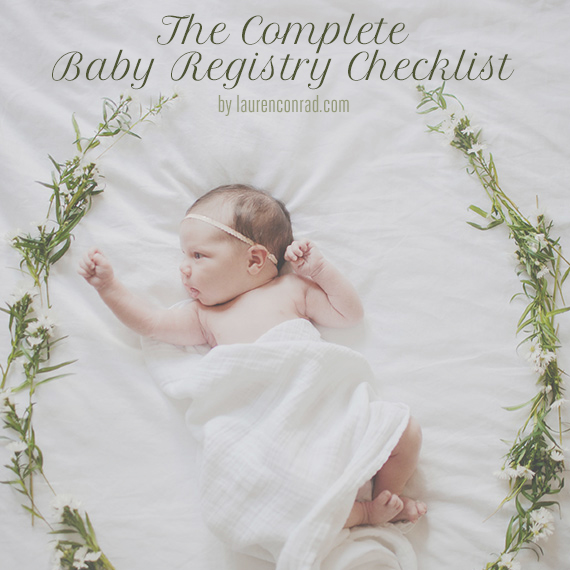 Hi everyone! It's your Team LC editor Ilana with the latest post in my new
Oh Baby
series. I'm expecting
my first
in September, and today I will be sharing a comprehensive baby registry checklist…
A couple weeks ago, I shared a few of my favorite adorable baby gifts in this baby shower gift guide. But as promised, today I am sharing some of the more practical items for new mamas and daddies to consider. What you will actually need depends on many factors like your lifestyle, budget, and where you live. But I find it really helpful to have a comprehensive list in front of me that I can consult and then narrow down if necessary.
I'm also sharing some of my personal product picks below. While I did quite a bit of research (including asking other mamas), I haven't put any of these items to use yet since my due date isn't for another 8 weeks. Once baby comes, I'll have to let you know which items I actually got the most use out of and which items I ended up feeling like I could live without.
Whether you're having a baby or even plan on having a baby someday, you can pin this comprehensive list on Pinterest as a resource. And if you have a friend or family member who is expecting, be sure to pass along the link!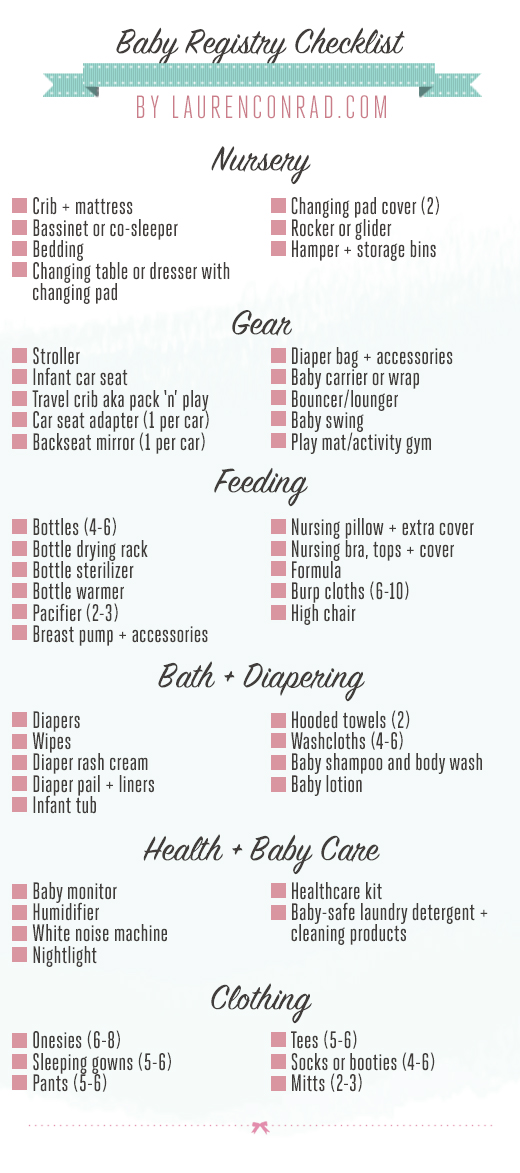 Sleep

Gear

Feeding

Bath and Diapering
Infant Tub. Pretty much every mama friend I asked recommended the Puj Infant Tub. It collapses flat and is made out of a soft, comforting material.
Diapers, Diaper Cream, Baby Shampoo, and Body Wash. For all the baby 'toiletries,' I'm turning to Babyganics and The Honest Company. Using gentle, natural products is important to me and both of these brands are ones you can count on in that respect.
Health + Baby Care

Baby Monitor.
I like the idea of a video monitor instead of a traditional one with only audio. This one from Levana also has an intercom feature so you can talk to baby.
Humidifier.
We have this Crane cool mist humidifier on our registry. It's sleek, modern, and comes in lots of fun colors.
Healthcare Kit.
You can make things easy by buying a whole pre-packaged baby healthcare kit like this one from American Red Cross. But make sure it includes a really good thermometer, baby nail clippers or scissors, and bulb syringe—which are the items you will use most. You may want to supplement your kit by purchasing these items separately.
Clothing
Other than a few inexpensive plain white cotton pieces, you probably won't need to register for any clothing items. This is everyone's favorite item to pick out and gift you with at your shower!
And an etiquette tip… You don't need to put every single item listed on your actual registry for your friends and family to see. Some things (ahem, thermometers that go places other than the baby's mouth) are just better left purchased by the parents themselves.
Mamas: Do you have any must-haves that you'd add to this list?
Let me know in the comments.
xo Ilana
Team LC