Hocus Pocus: Three Best Friend Halloween Costumes You Already Have in Your Closet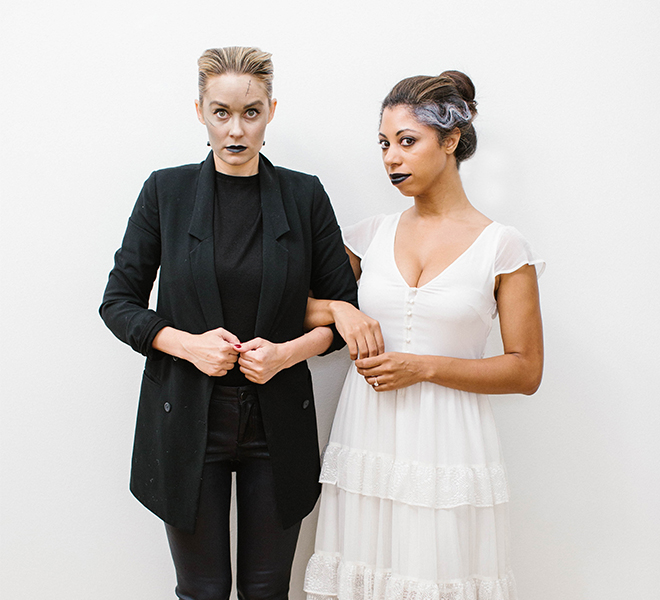 There are few posts we love more than our annual Halloween costume posts here on LaurenConrad.com (did you catch Lauren's costume reveal last week?). And while there are certain years where we have plenty of time to plan our crafty costumes out a month in advance, other years are more of a scramble-to-find-anything kind of costume process. If this Halloween is the latter for you, then we have just the trick. All you'll need is your bestie and a few items from your very own closet. Yep, you read that right: You really don't need to spend a dime to recreate these easy best friend costumes. Here's how to put them together…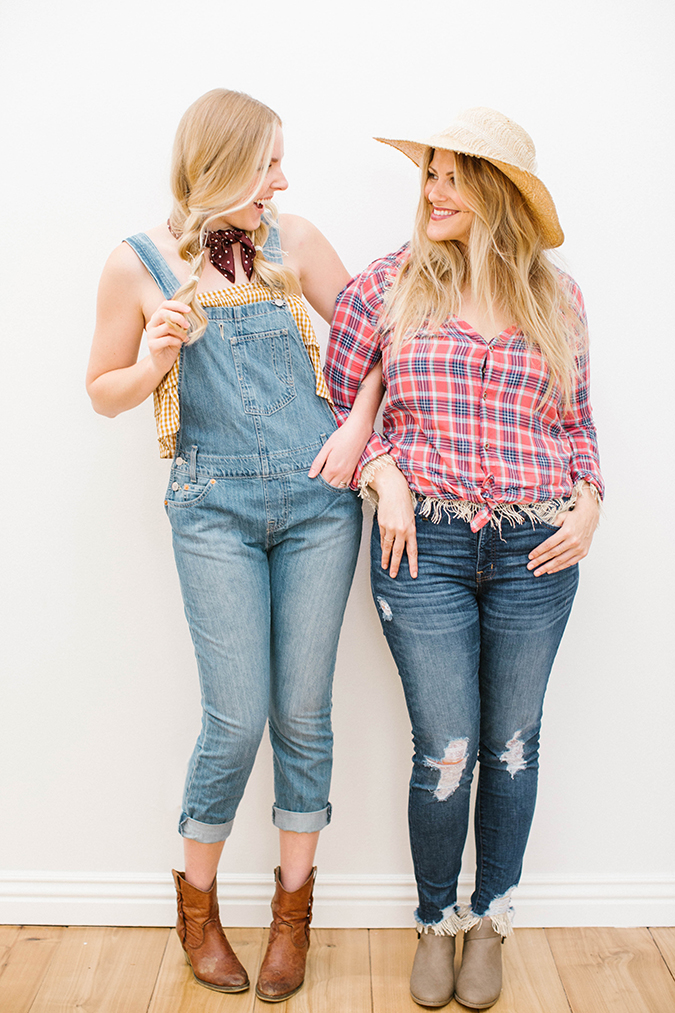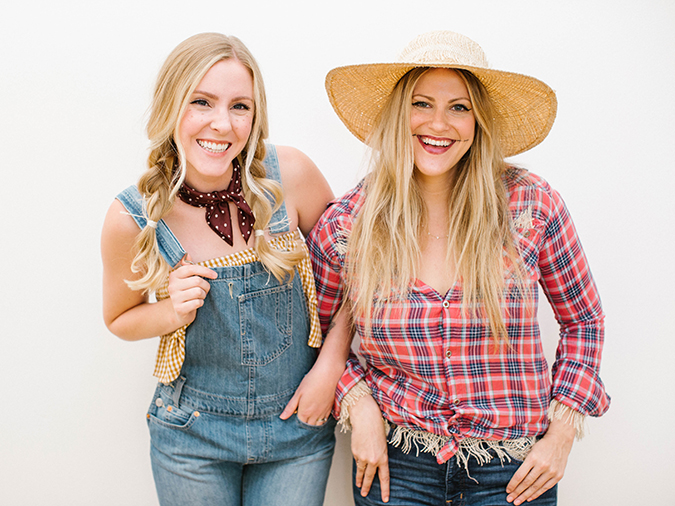 With a pair of overalls, some burlap or twine, a straw hat, and your favorite pair of booties, you can put together this complementary costume in just a pinch!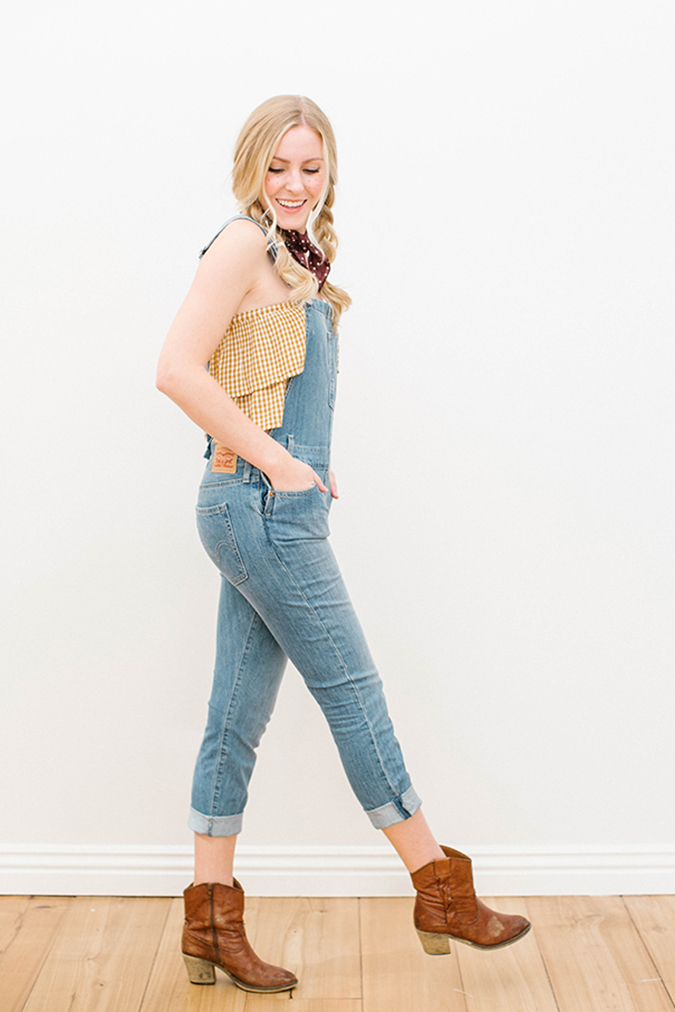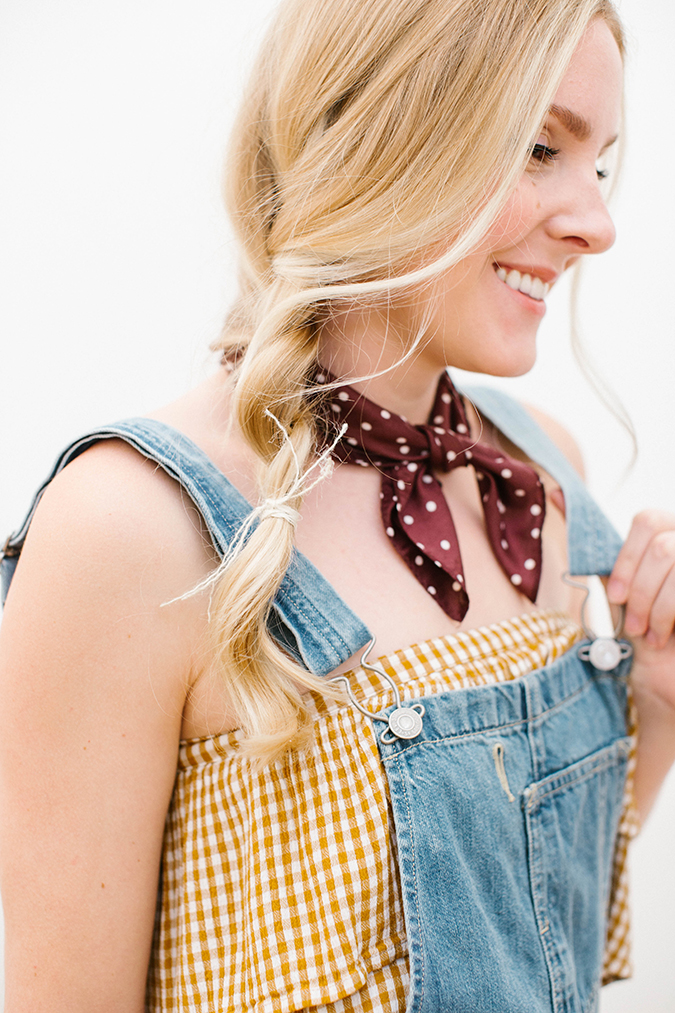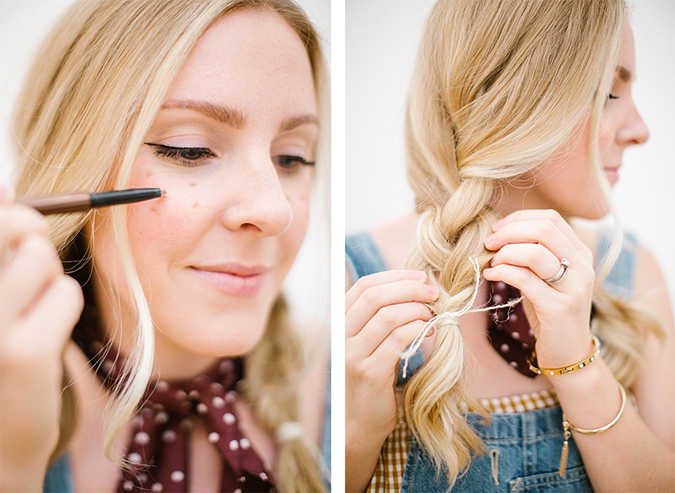 overalls
plaid top or flannel
booties
neckerchief
brown eyebrow or eyeliner appointment for freckles
twine to tie off braided pigtails


Costume Tip: For that extra touch, use your eyeliner or eyebrow pencil to draw freckles on your cheeks and nose. Then, tie off your braided pigtails with a piece of rustic twine.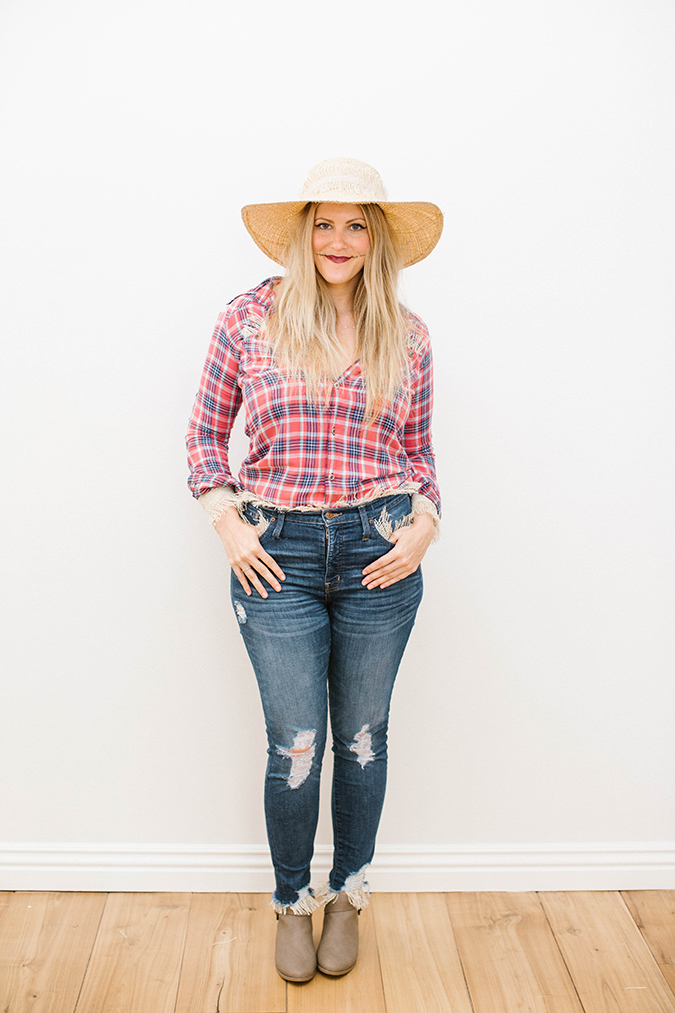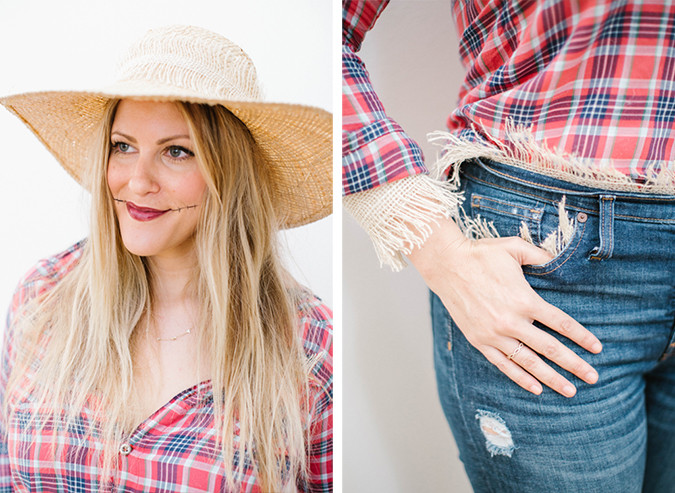 plaid, flannel or chambray top
blue jeans
booties
straw hat
black eyeliner pencil for scarecrow makeup
burlap material or straw for jeans pockets


Costume Tip: To create the scarecrow straw effect, we used burlap ribbon and cut the edges so that they created a fringe. We added them to the top hem of Rachel's jeans, her sleeves, and the bottom hems of her jeans. You can create the same look by using actual straw, too. Don't forget to draw a scarecrow mouth (and a nose, if you'd like!) with a black eyeliner pencil.


Karl Lagerfeld and Anna Wintour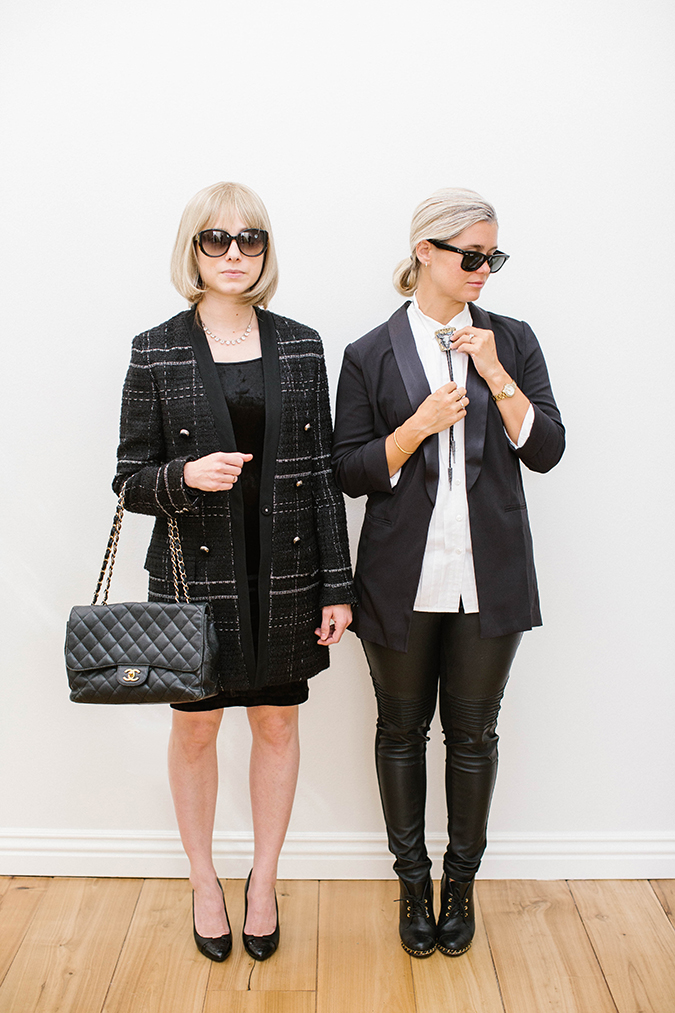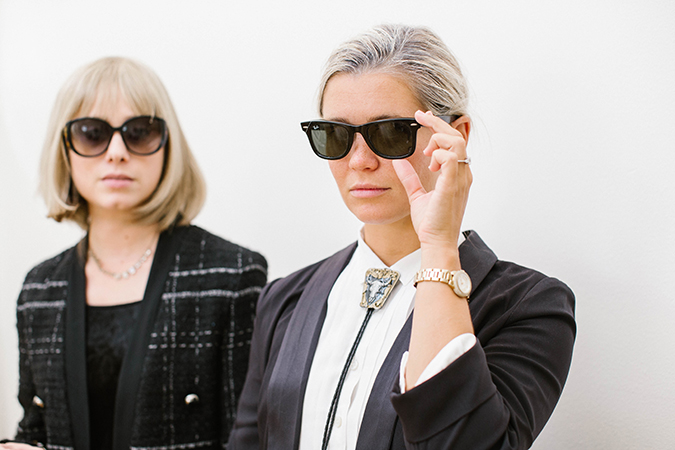 Arguably the two most famous figures in modern day fashion, this pop culture duo is sure to be a crowd pleaser. With a little white hairspray here and a tweed blazer there, you'll be looking like you walked right out of the offices of Vogue. Bonus points if you have a white kitten stuffed animal on hand to use as Choupette!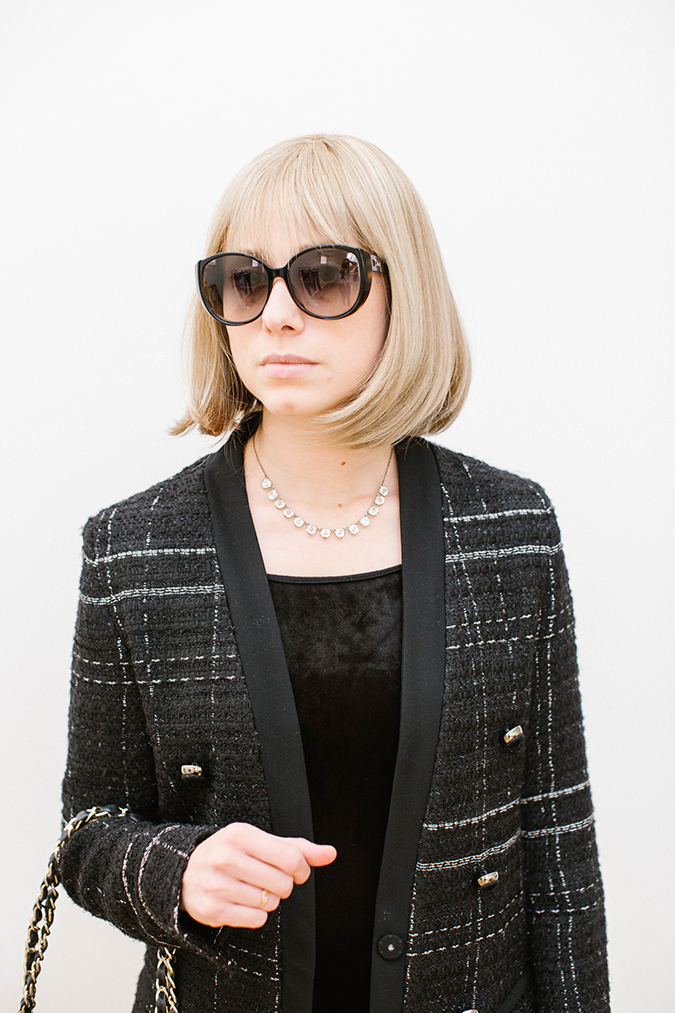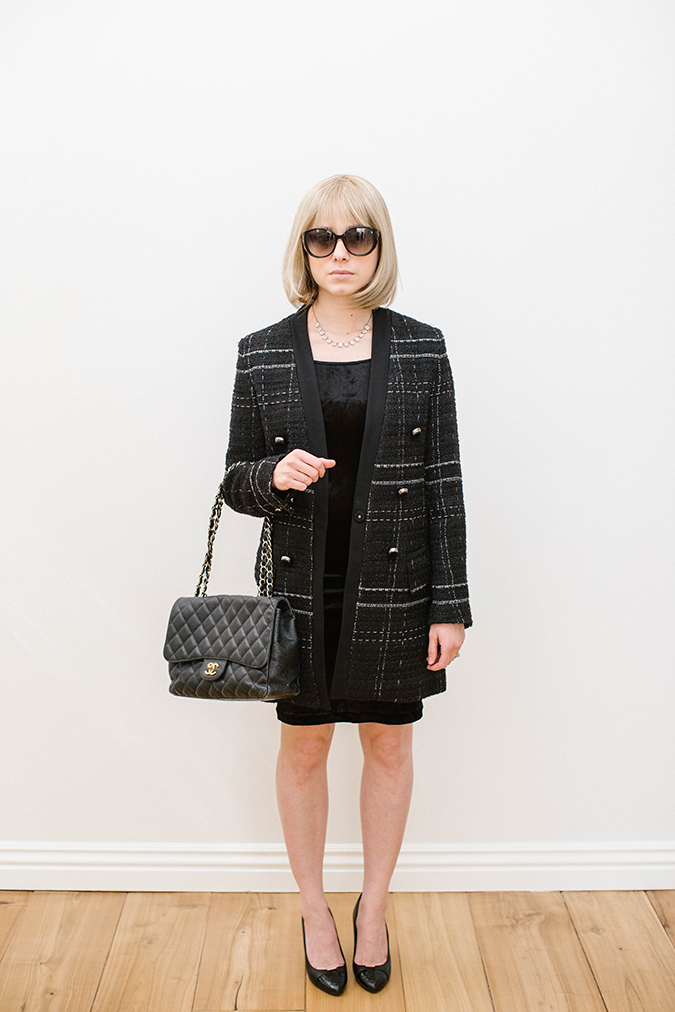 This costume is incredibly simple and a guaranteed crowd pleaser, if you can pull it off! Grab your sunnies, pearls, and your favorite black handbag… And your Anna Wintour poker face, of course.


large sunnies
tweed jacket
designer handbag
black shift dress
pearl necklace
black pumps
wig (optional)


Costume Tip: If you don't have a bob haircut or a wig on hand, you can try to "fake it" by tying your hair into a bun and tucking the bun underneath and fanning the rest of your hair around your face.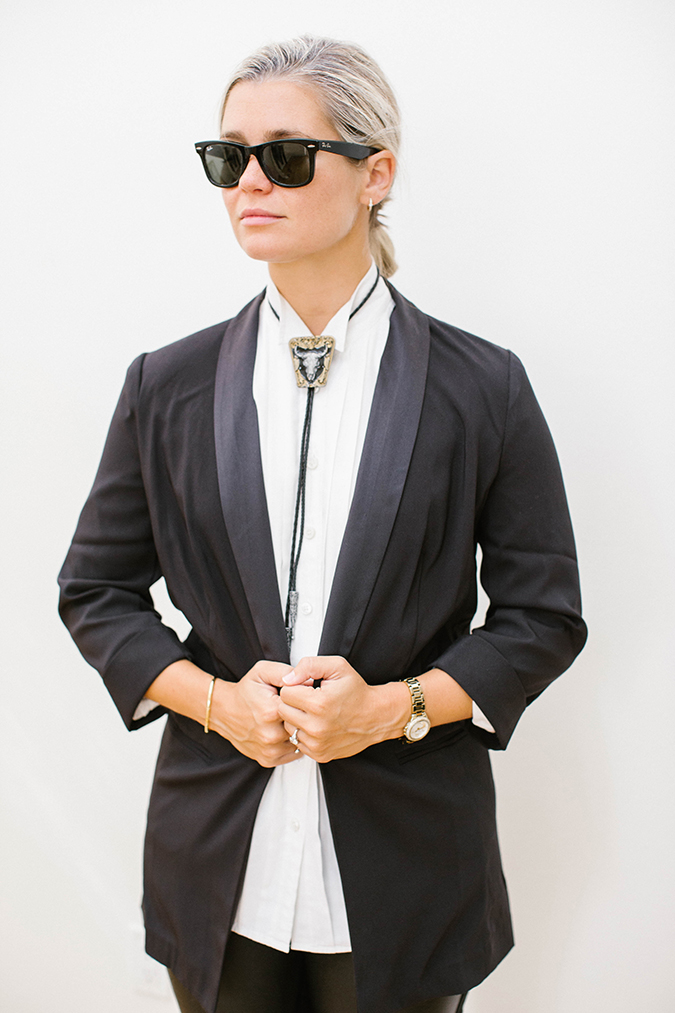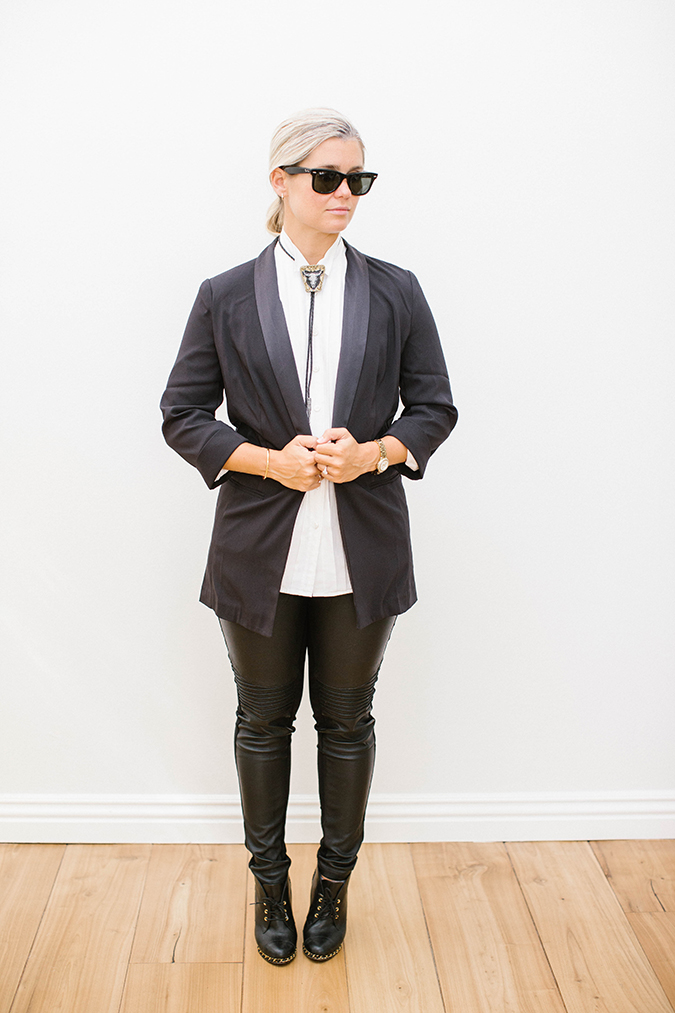 Your chicest items will do the trick when it comes to putting together this look. Think black satin, bolo ties, tuxedo shirts, leather leggings, and structured sunglasses.


black blazer
white tuxedo shirt
black bolo tie
structured sunnies
white shampoo-out hairspray
leather leggings
black leather heeled booties
black leather cut-out finger gloves


Costume Tip: We used shampoo-out temporary white hairspray to get the white Karl Lagerfeld pouf look… Which is a great and easy option if you have it on hand! Going the wig route is great too if you are able to find a Karl-esque wig.


Frankenstein and Bride of Frankenstein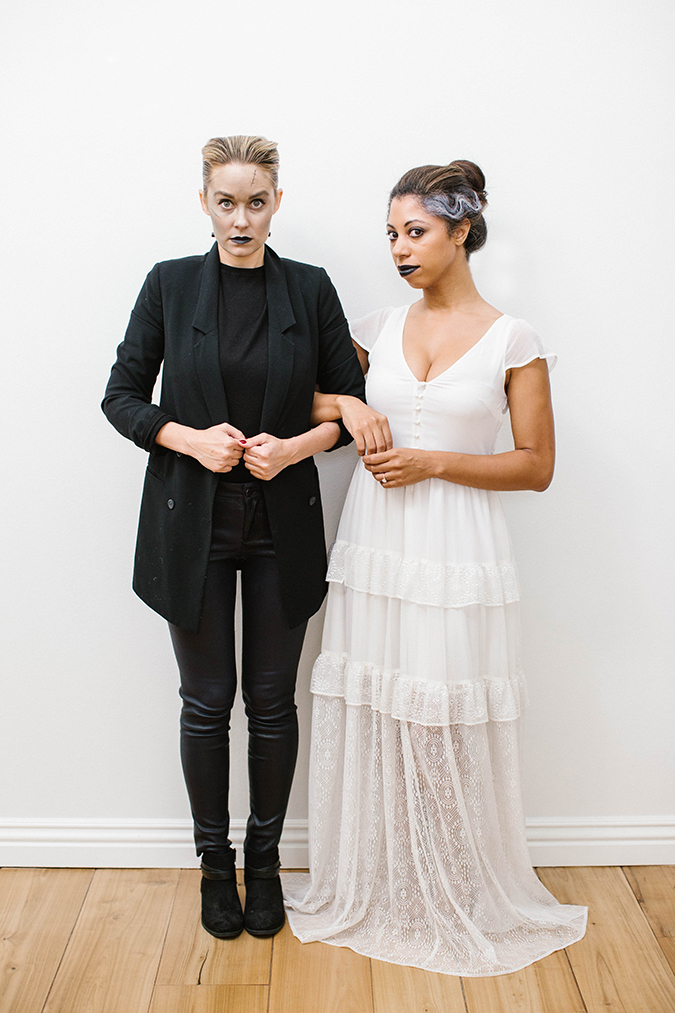 A Halloween classic, Frankenstein and his bride are a great nod to old school spooky costumes. And, we bet you didn't think you could put both ensembles together so easily! Make sure you have green makeup, white hairspray and some ear plugs (an unique DIY item but a great costume trick!) on hand.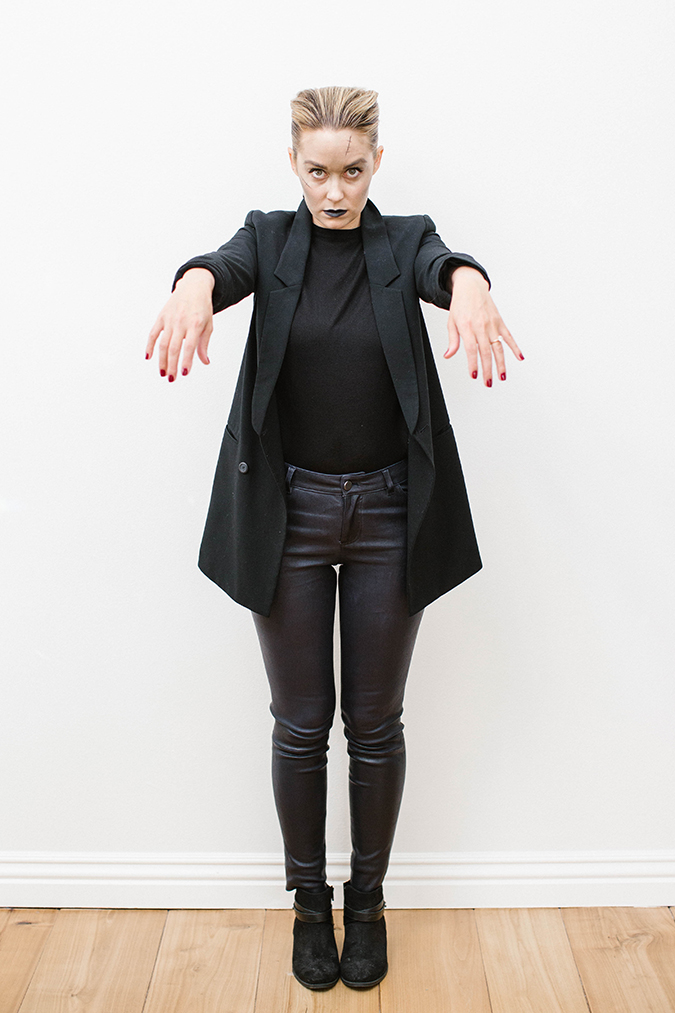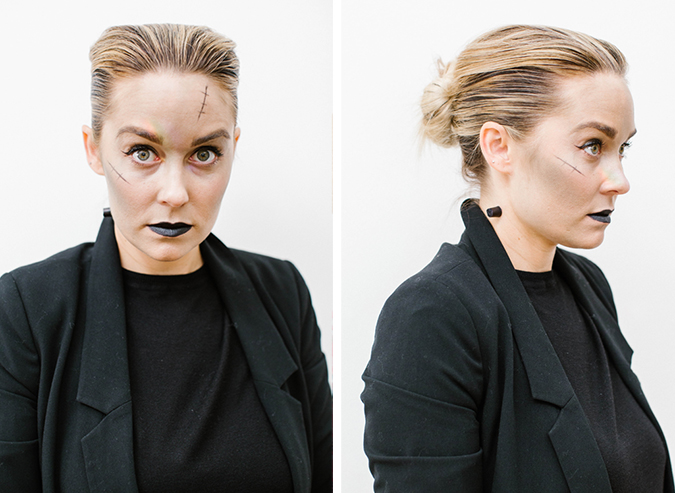 Boo! Lauren mastered the at-home Frankenstein makeup with a touch of green here and some black lipstick there. The clothing for this look is extremely simple—just wear black! 


black blazer
black T-shirt
black leather leggings
black booties
black lipstick
black liquid eyeliner
green eyeshadow
gray eyeshadow
teasing comb
volumizing hair spray
1 set of ear plugs
black sharpie


Costume Tip: To achieve this spooky makeup look, Lauren dusted green and gray eyeshadow across her cheekbones and on her forehead. She added a swipe of black liquid liner, and used that same liquid liner pen to draw stitches on her cheek and forehead. Get Frankenstein's signature square hairdo by teasing your hair at the sides, poofing it up to create "corners", then tying it off in the back with a bun. Last but not least, to create the Frankenstein bolt, just take a pair of ear plugs and draw on them with a black sharpie until they are fully black. Then stick with tape or adhesive to each side of your neck.


For Bride of Frankenstein: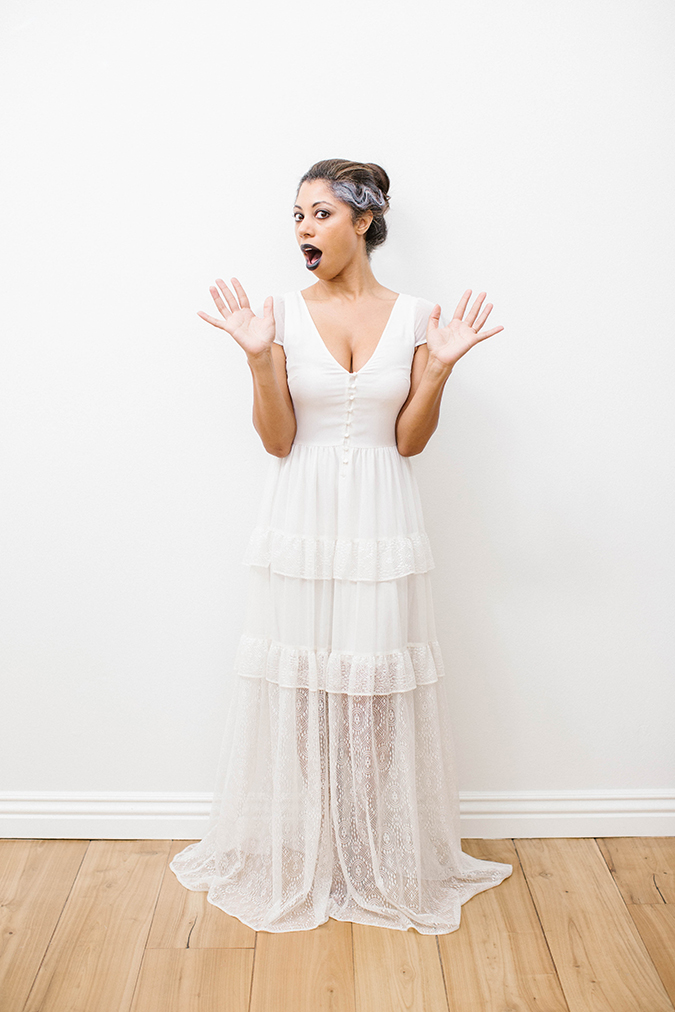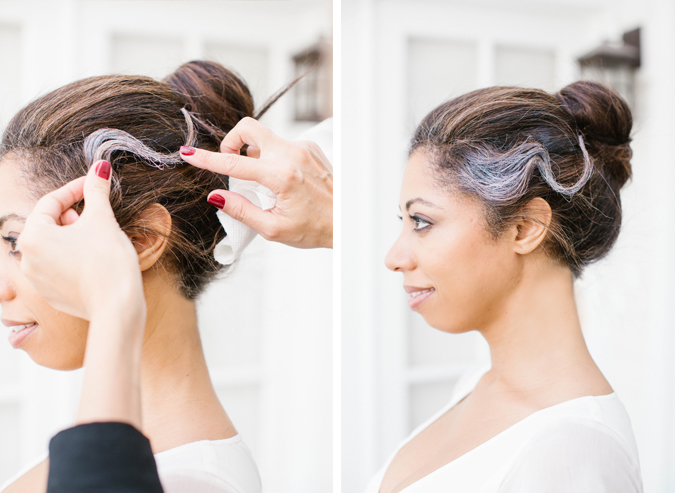 …Because what good is Frankenstein without his bride? Grab a lacy white maxi dress, black lipstick, and white shampoo-out hair spray to get this look. Simple as that!


white lacy maxi dress
white shampoo-out hair spray
white ballet flats
black lipstick


Costume Tip: To get the iconic Bride of Frankenstein white wave, we separated a piece of hair in the front and sprayed it with white shampoo-out hairspray, holding a paper towel over the rest of the hair so we didn't get it white too. Repeat on the other side then just clip it in to a sleek bun.


Which of these duo costumes will rock with your best friend this year?


Let us know if you have any other ideas in the comments below—we're always looking for costumes to put together next year here on the site!


Affiliate links may have been used in this post.