Edible Obsession: Snowmen Cream Puffs and Rudolph Donuts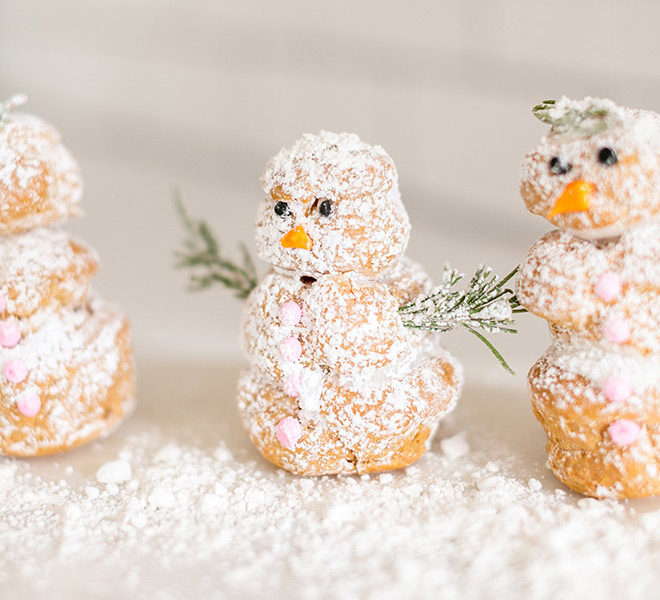 This week has sure been a sweet one here on LaurenConrad.com. But then again we allow ourselves to indulge a little during the month of December—we won't tell if you do too! Within the last few days we've introduced you to some of our new favorite holiday desserts including cookies in a jar, cranberry wreath cupcakes, gingerbread man mug toppers. And, believe it or not, today we have two more sweet treats for you. We couldn't think of a better way to incorporate winter staples like snowmen and reindeer and our favorite baker Lauren Lowstan made our dessert dreams come true. Say hello to snowmen cream puffs and Rudolph donuts! Keep scrolling to whip up a winter wonderland in your own kitchen…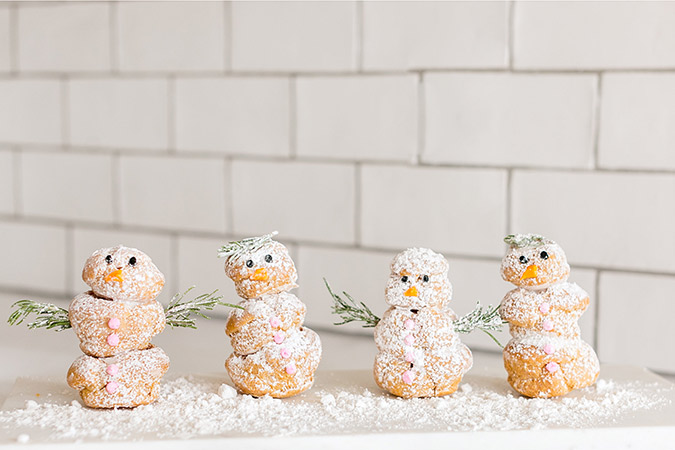 1/2 cup unsalted butter, cut into pieces
1/2 teaspoon salt
1 cup all-purpose flour
1 cup water
5 large eggs
1 cup heavy whipped cream
3 tablespoons powdered sugar
1/2 teaspoon vanilla
fresh rosemary sprigs
powdered sugar
pink, orange and black food coloring
toothpicks


1. Preheat the oven to 375 degrees and line two baking sheets with parchment paper.


2. In a saucepan over medium-high heat, combine the butter, salt and water.


3. Bring the mixture to a boil and stir in the flour until it thickens.


4. Remove the mixture from heat and let cool until lukewarm.


5. Add 4 of the eggs one at a time until they are completely incorporated.


6. With the last egg, create an egg wash by whisking it with one tablespoon of water.


7. Pour the pate a choux into a piping bag fitted with a 5/8-inch tip. Pipe 1 1/2-inch rounds onto each of your pre-lined baking sheets.


8. Take the egg wash and brush the top of each cream puff.


9. Bake for about 30 minutes or until the cream puffs are golden brown.


1. In the bowl of a stand mixer fitted with a whisk attachment, whisk all 3 ingredients until light and fluffy.


To assemble the cream puffs:
1. Fill a piping bag fitted with a small tip with whipped cream.


2. Pipe the cream into the bottom of each cream puff. Repeat until all of the cream puffs are filled. Tip: You will feel the cream puff getting heavier as the puff is filled.


3. Stack 3 cream puffs on top of one another and attach with 3 toothpicks.
Make sure to push them in so that no points are sticking out!


4. Put a couple of tablespoons of frosting into 3 small bowls. Color each with pink, orange and black food coloring and transfer each into a small piping bag.


5. Cut the smallest amount off of each tip of the piping bags. Pipe the eyes, nose and buttons of each snowman.


6. Stick small rosemary sprigs into the cream puffs as arms.


7. Sprinkle generously with powdered sugar. Enjoy!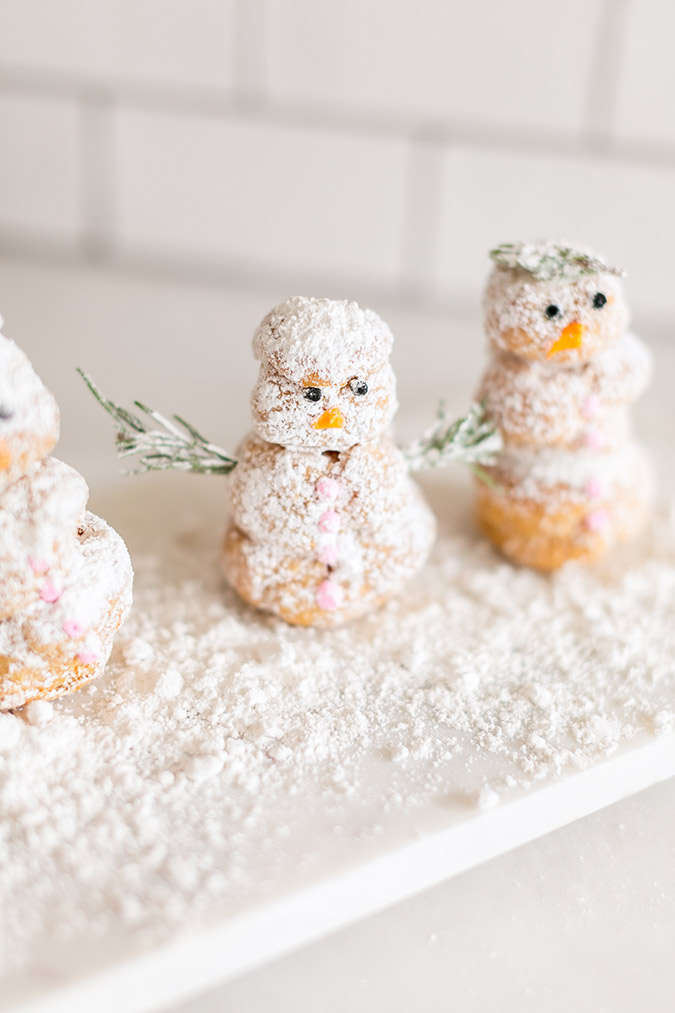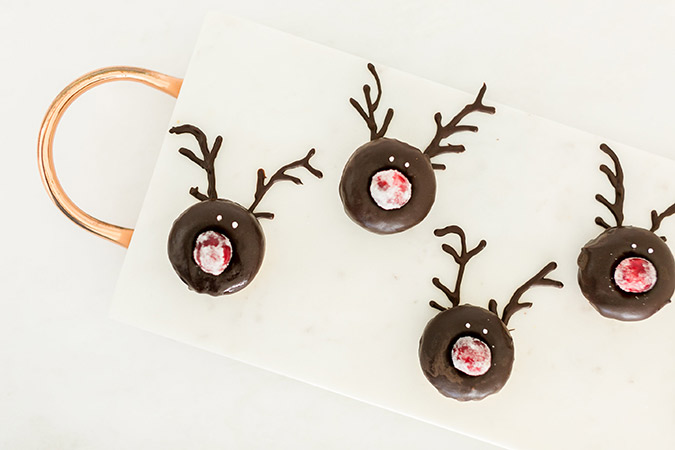 mini donut pan
2 cups cake flour
2 teaspoons baking powder
1 teaspoon salt
1/4 teaspoon nutmeg
1/4 teaspoon allspice
1/4 teaspoon ginger
3/4 cup granulated sugar
3/4 cup buttermilk
2 eggs
1 tablespoon vanilla
1/4 cup melted butter
8 ounces dark melting chocolate
sugared cranberries (find recipe here)
white sprinkles


1. Whisk flour, baking powder, salt and spices in a medium bowl.


2. In a separate large bowl, whisk the sugar, buttermilk, eggs, vanilla and a 1/4 cup butter.


3. Add your dry ingredients into your wet and whisk just until combined. Try not to over mix or else your batter will be tough.


4. Butter or spray your donut pan and preheat the oven to 350 degrees.


5. Add some donut batter into a large piping bag and fill each donut cavity until 3/4 of the way full.


6. Bake the donuts for about 4-5 minutes or until a toothpick comes out clean.


7. Let the donuts cool in the pan for about a minute, then flip onto your work surface and let cool. Repeat until all of your batter is baked.


8. Once your donuts are all baked and popped out of the pans it's time to dip them!


9. Melt the chocolate in a glass bowl. Dip each donut and set right side up on a parchment lined baking sheet.


10. Place the leftover chocolate in a small piping bag.


11. Cut the smallest amount off of the tip of the bag. Pipe antlers onto a piece of parchment paper and let them harden completely.


12. Once your chocolate has hardened, place a sugared cranberry in each hold and place two antlers into the tops of the donuts. Place two sprinkles in place of Rudolph's eyes. Enjoy!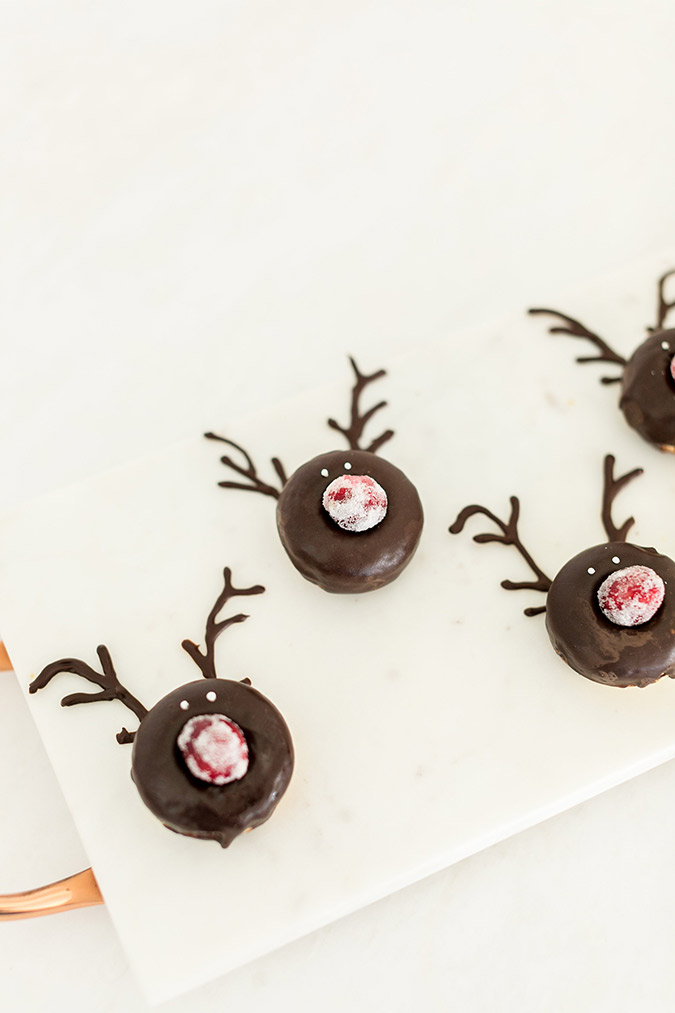 Lauren's kitchen was dusted in powdered sugar snow and chocolate glaze after we got our hands on these desserts! It's hard to believe but these treats are even more delicious than they are cute.


Will you be trying out these recipes?


Let us know if you're planning on baking up a storm in the comments!