Recipe Box: Cranberry Wreath Cupcakes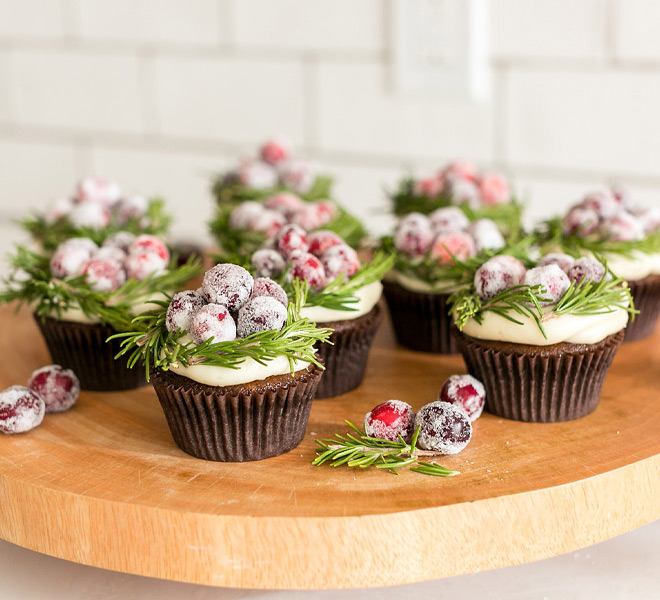 Whenever the end of the year rolls around, we always get super excited for our holiday photoshoots. To paint the picture for you, all of us here at Team LC roll up our sleeves and get our hands dirty—from DIY projects to cooking up a storm and even taste-testing the latest desserts, like this one by our resident baker, Lauren Lowstan. We consider it celebrating the holidays a little early so that we can make sure we're delivering the best content to all of our LaurenConrad.com readers!
Today's delectable treats were one of our favorite desserts that Lauren whipped up during our latest photoshoot. Since decorating for the holidays is such a festive way to celebrate the season, we decided to spread a little Christmas cheer onto our cupcakes too. These cranberry wreath cupcakes were inspired by our favorite piece of holiday décor and we have to admit, they turned out pretty darn cute! Keep scrolling to see how you can make your own batch of these festive cupcakes…


Cranberry Wreath Cupcakes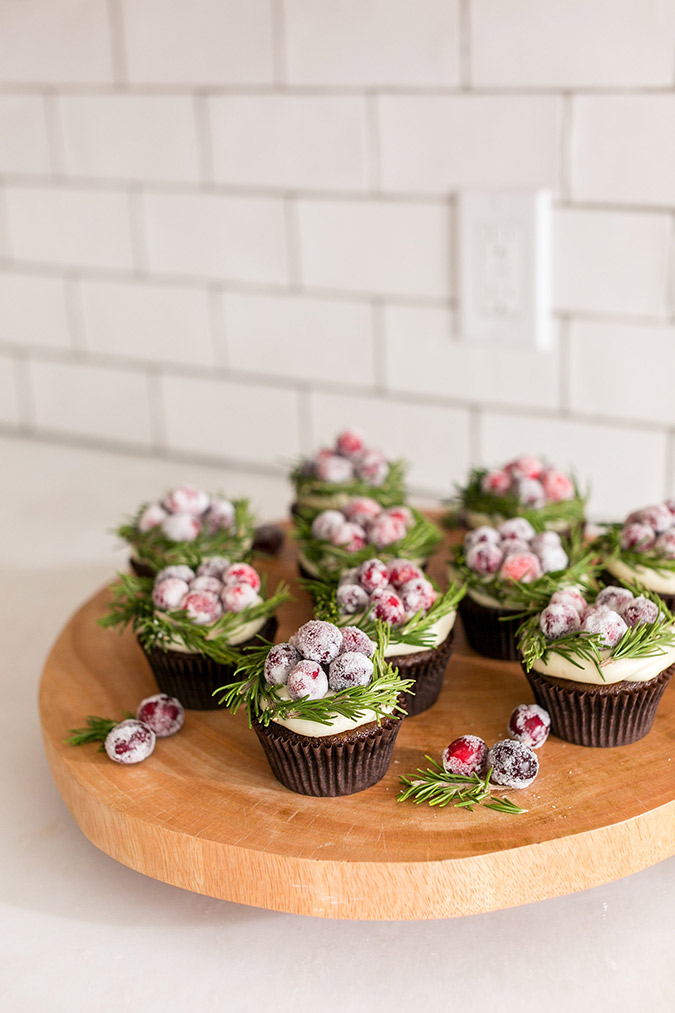 For the gingerbread cake:


¾ cup unsalted butter
¾ cup brown sugar
½ cup granulated sugar
1 ½ cups molasses
2 eggs
2 teaspoons vanilla
1 ½ cups buttermilk
3 ¼ cups flour
½ teaspoon salt
2 ½ teaspoons baking soda
1 tablespoon ground ginger
2 teaspoons ground cinnamon
2 teaspoons unsweetened cocoa powder


4 cups unsalted butter, room temperature
¼ teaspoon salt
10 cups powdered sugar
1 tablespoon vanilla extract
¼ cup heavy cream


fresh rosemary sprigs
1 bag of fresh cranberries
¼ cup water
¾ cup granulated sugar, divided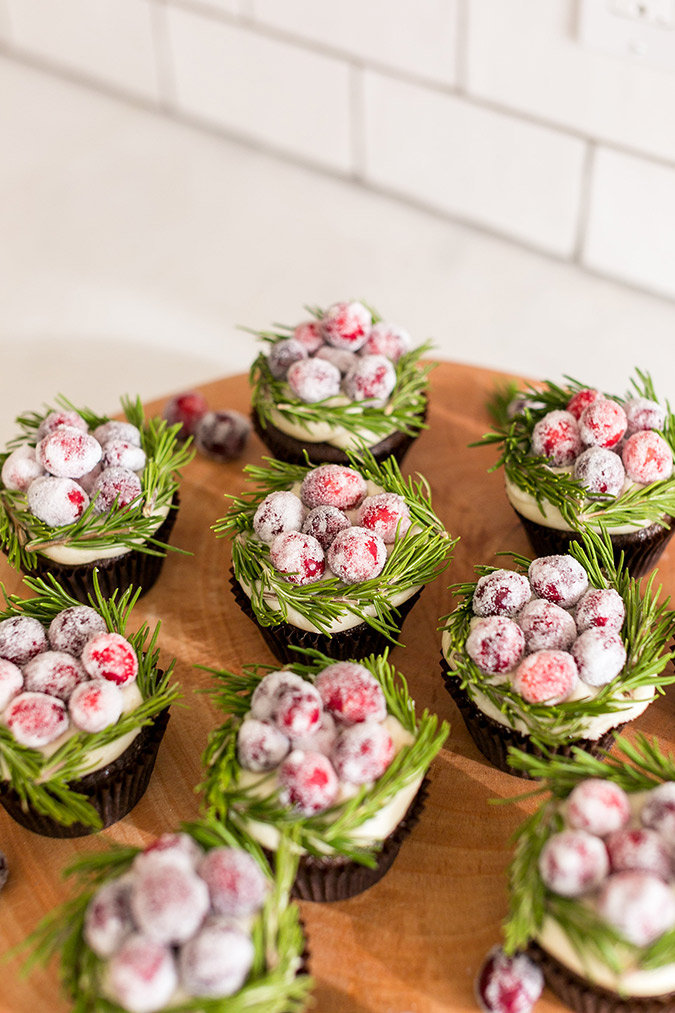 1. Preheat the oven to 350 degrees.


2. In a large saucepan over medium high heat, add the butter, molasses and both sugars. Let the butter melt and the sugar start to dissolve.


3. Take off the heat and add in the eggs, buttermilk and vanilla and whisk by hand until everything is combined.


4. In a large bowl, whisk all of your dry ingredients, from the flour to the cocoa powder.


5. Add in your melted wet ingredients into the dry ingredients and whisk by hand until there are no white streaks remaining.


6. Get a cupcake pan ready by filling each cavity with paper liners. Fill each cavity ¾ of the way full with batter.


7. Bake in your preheated oven for 12 to 15 minutes, or until a toothpick comes out clean.


1. Beat the butter and salt until creamy – for about 30 seconds.


2. Add in half of the powdered sugar and beat for about a minute.


3. Add in the rest of the powdered sugar and vanilla extract. Beat your buttercream for a good 5 minutes until it turns into a nice fluffy color. You'll see a difference in the texture after a few minutes of beating. Make sure to scrape down your bowl a couple of times to get everything nicely incorporated.


4. Set aside until ready to use.


For the sugared cranberries:


1. Add the water and ¼ cup sugar to a glass bowl and microwave on high until the sugar is dissolved. Alternately, you can do this in a saucepan on the stove.


2. Add half of the bag of cranberries into the simple syrup and toss until all cranberries are coated.


3. Place them on a wire rack on top of a baking sheet and let them sit out for 30 minutes.


4. Add the rest of the cranberries into the simple syrup and follow the last step.


5. After about 30 minutes, toss the soaked cranberries in the remaining ½ cup of sugar until all of the berries are coated in pretty white granules.


To assemble the cupcakes:


1. Add some frosting to a large piping bag and pipe a thick border on top of each cupcake (consider it a nice little nest for your cranberries to rest in!).


2. Add 4 to 6 cranberries to the middle of each cupcake and surround them with rosemary. Enjoy!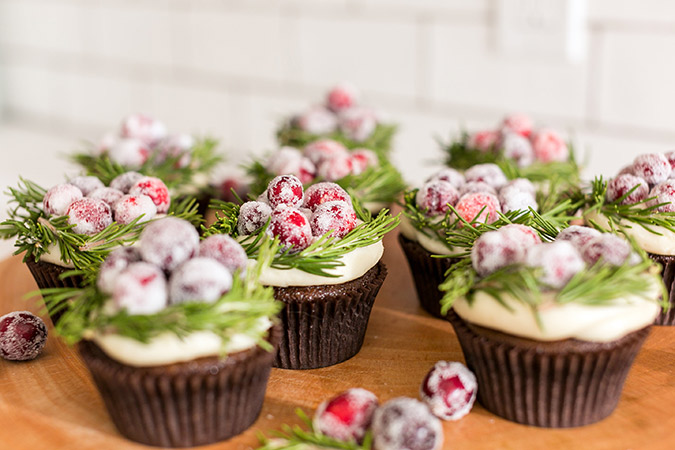 These cupcakes would make the perfect centerpiece on your next dessert table.


Will you be whipping up a batch of these cranberry wreath cupcakes?


Let us know if you do in the comments. And don't forget to tag us on social media so that we can see your creations too!