Lovely Libations: Spicy Mango Margarita Poptails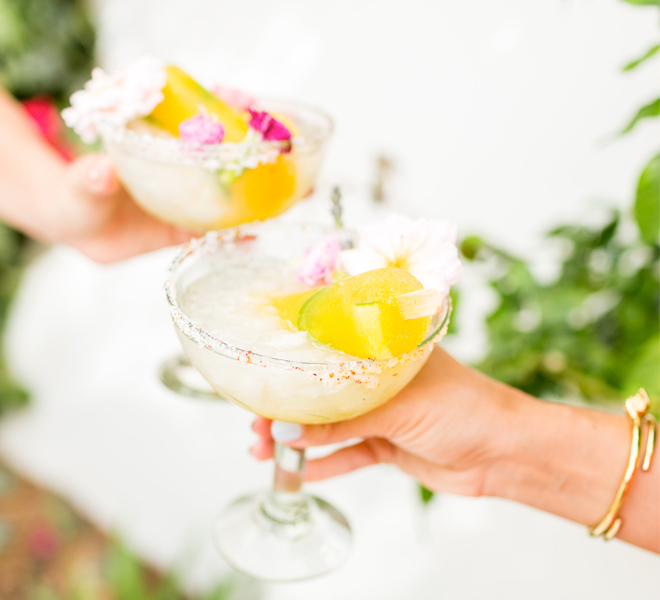 When it comes to dreaming up original and creative recipes in the kitchen, we LaurenConrad.com editors have a tendency to combine two of our favorite things into one new amazing sweet treat. Because, two favorites are better than one, right? Whether that means combining cotton candy with champagne, or roses with cupcakes—cute and edible combinations will always get an A+ in our book. And recently, with summer upon us, we set out to create the ultimate summer cocktail combo: margaritas and popsicles. Let us tell you: The end result did not disappoint! Margaritas are our go-to cocktails all year round, but especially in the summertime. And popsicles are one of the sweetest ways to cool down (not to mention pretty popsicles can make for lovely presentation). With these two ideas in mind, today we present to you our Spicy Mango Margarita Poptails.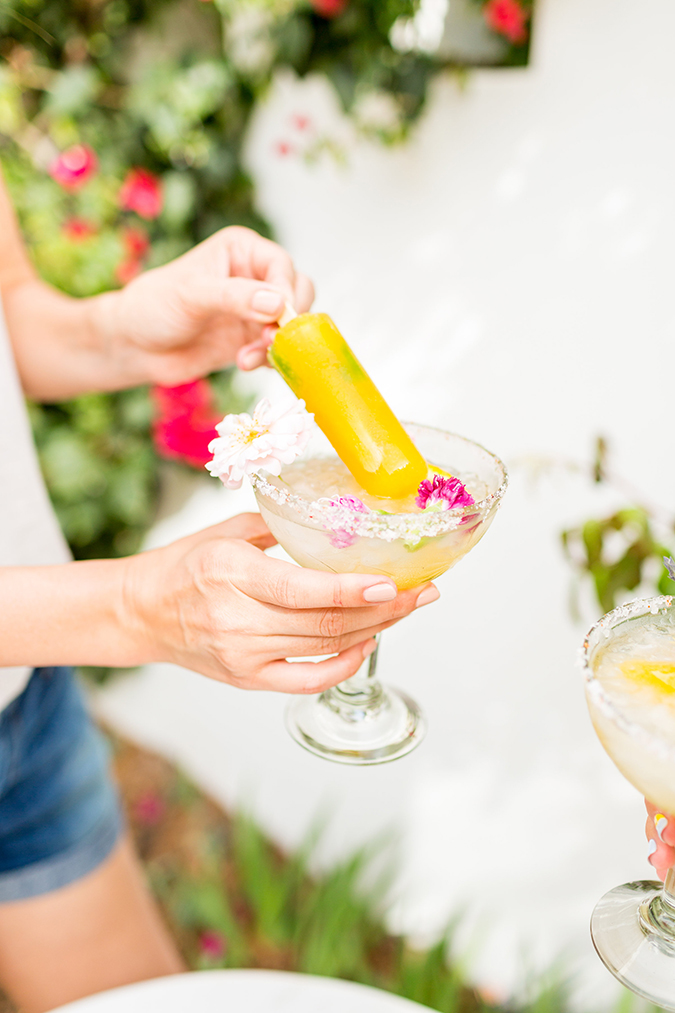 The fun thing about this cocktail is that it isn't complete until you combine both the margarita and the popsicle together. On a warm summer evening, the juice of the popsicle will melt into the tequila in your glass, resulting in a melting-by-the-minute margarita (or, as we like to call it, "pop-tail"). Without further ado, here are the simple steps to make your own poptails for your next summertime soiree…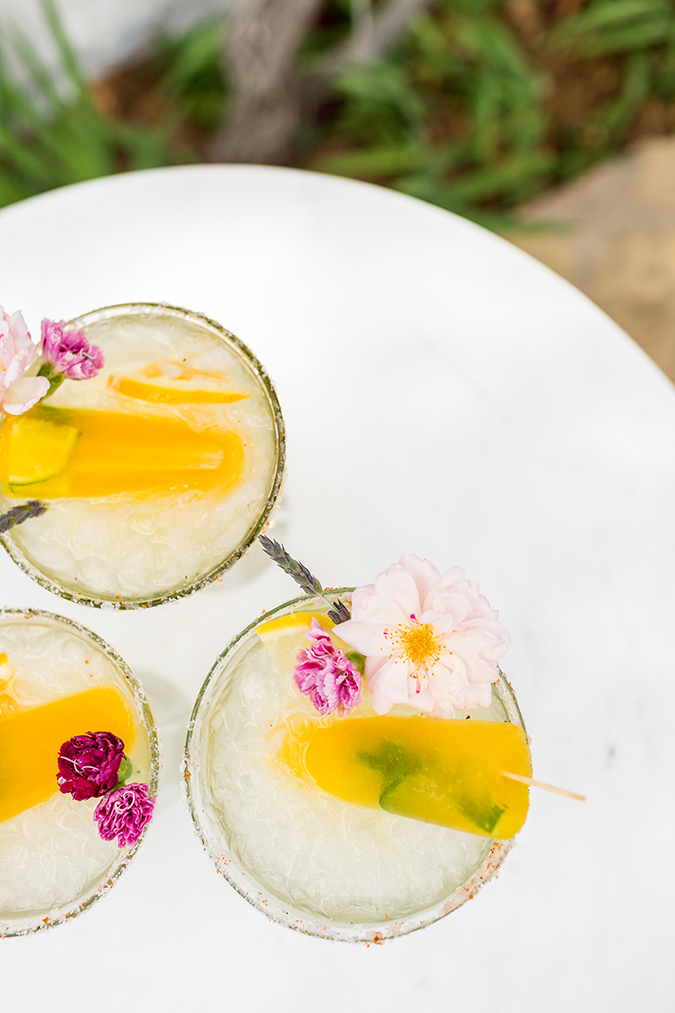 Spicy Mango Margarita Poptails
wooden popsicle sticks
fresh mango juice (orange peach mango juice from the store works too)
1 jalapeño
3 limes
tequila
cointreau
club soda
2 limes, juiced
edible flowers for garnish
salt for the rim of the glasses


1. First things first: Make your popsicles. Since they take 4-6 hours to freeze completely, give yourself enough time to let your popsicles freeze before you plan on serving your drinks. To make the popsicles, pour your mango juice into popsicle molds. Slice your jalapeño into 6 round slices, and add a slice to each mold. Let freeze for 4-6 hours or until completely solid. Tip: For the popsicles to look as pretty as possible, make sure that you place the jalapeño slice close to the edge of the mold. This way, when you take out your frozen popsicles you will see a bit of your jalapeño slice too.


2. Once your popsicles are frozen and ready to remove from the mold, grab six margarita glasses and salt the rims: Slide a lime around the rim of each slide to get it wet, then pour out your salt onto a plate and spread it evenly. Turn your glasses upside down so that the rim is dipping into the salt and twist into salt until each rim is fully salted.


3. Pour one part tequila, one part Cointreau, one part lime juice and two parts club soda into each glass. Slice your limes into wedges and add a lime slice to each glass. Add crushed ice if preferable.



4. Remove your popsicles from their molds (you may need to run under warm water for a few seconds to loosen them up). Then, simply place one popsicle into each margarita glass and viola! As it melts, it will create the perfect spicy mango margarita. Tip: We added small edible flowers and a sprig of lavender to each cocktail for an extra special touch.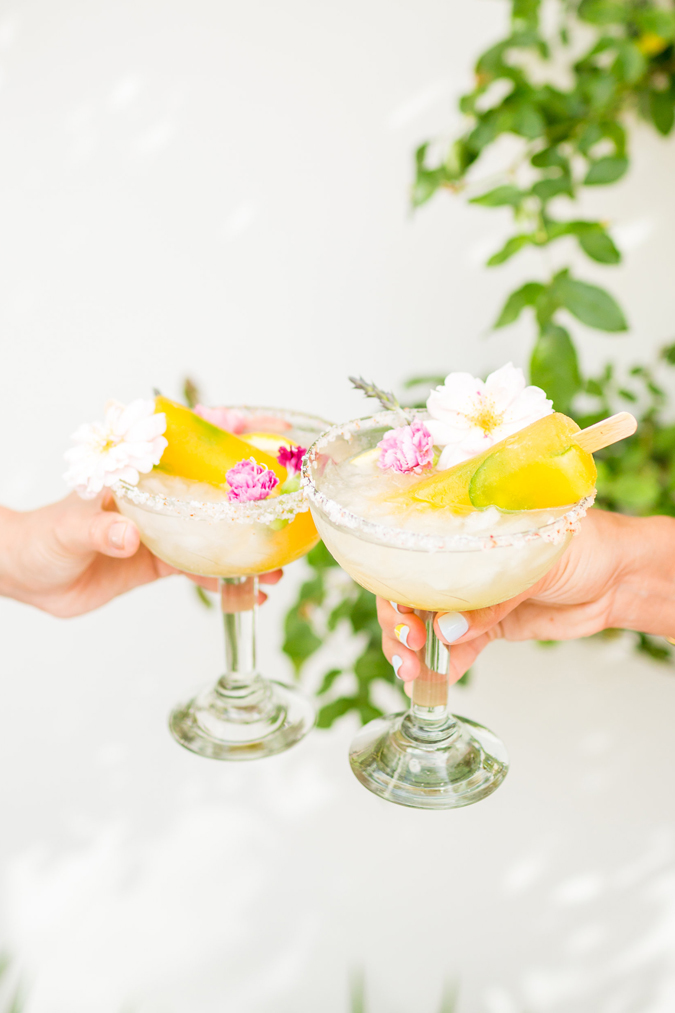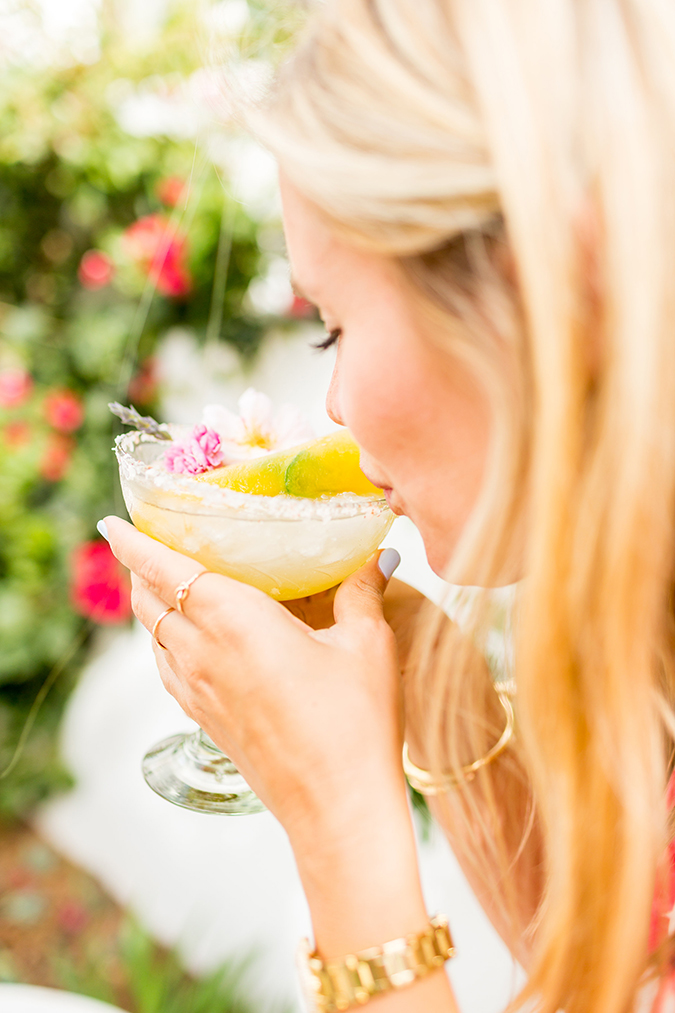 In case you couldn't tell, these cocktails make for pretty amazing presentation, especially when garnished with edible flowers. Ours ended up looking like mini gardens by the time we served them!


What flavors will you add to your margarita poptails?


Let us know if you'll give them a try in the comments below!