Tuesday Ten: Baby Registry Tips from a Second Time Mom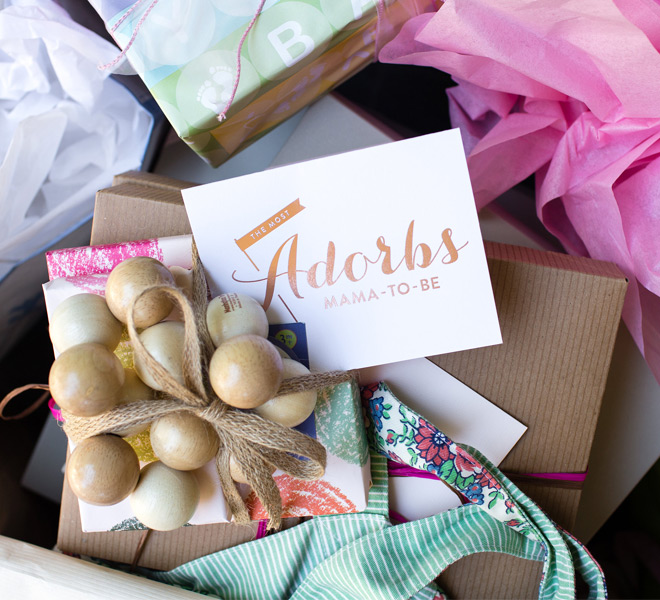 When I was expecting my first baby a couple years ago, I took the business of creating my baby registry very seriously. I put countless hours of research into baby brands and products, and had an exhaustive list of recommendations I'd gathered from my mama friends. I considered myself as prepared as a first-time mother could be. Overall I was pretty satisfied with the products that I chose, but when it comes to baby gear there are some things you just can't know until the baby gets there. So now that I am expecting baby No. 2 (and since Lauren and a few of my other good friends are currently pregnant with their first!), I've been editing my list of must-have products with two years of real-life mama experience under my belt. Of course everyone's experience and preferences are different, but here are a 10 things I would do differently the second time around. My hope is that these tips will help all of the mamas-to-be out there who are currently creating their registries. Check them out below…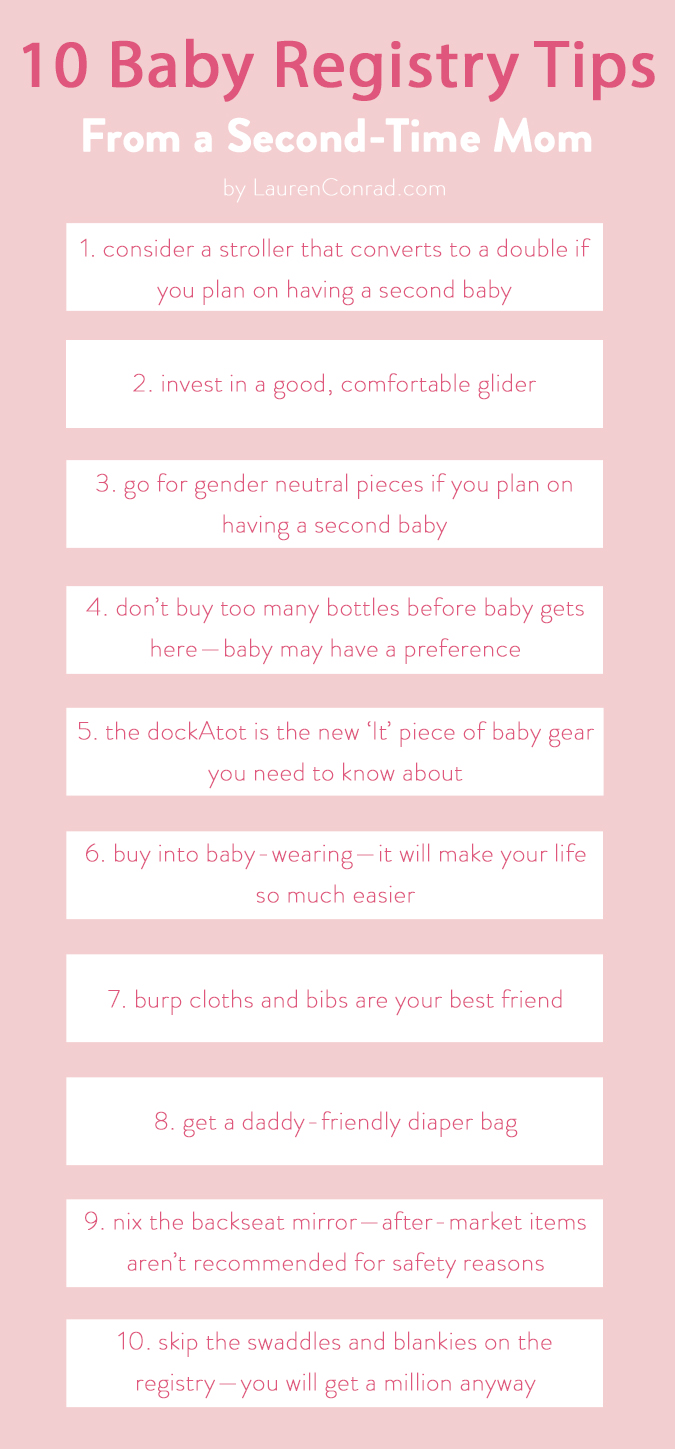 1. Consider a stroller that converts to a double.
We ended up with three different strollers—which might seem totally excessive to all you first-time mamas out there. A little excessive? Yes. But totally excessive? I would argue no, since all three serve different purposes. (It also makes life way easier to store a stroller in each trunk if you are a two-car family or have a nanny or other caregiver helping out regularly.) We started with a Britax stroller that our matching Britax infant car seat easily clipped into without any separate adapters needed. But as my daughter outgrew her infant car seat, we upgraded to the Stokke Scoot stroller that had all the bells and whistles the Britax didn't (like a seat that can be flipped forward or back, a larger cargo area, and a super chic customizable design). We eventually added an Uppababy G-Luxe to the mix since we needed a lightweight umbrella stroller that was easy to travel with. But between those three great strollers, not one of them converts to a double. So now that we're expecting baby No. 2, I'm left wondering if we're going to have to invest in a fourth stroller, which probably would cross the line into totally excessive territory. That's why I'm recommending to all my first-time mama friends that if they think there is even a slight chance they will have a second kiddo within four years of the first, they opt for a stroller like the Stokee Xplory that has an attachable Sibling Board option for an older kiddo to ride on or another stroller that can be converted to a double. They are more expensive, but would have saved me money in the long run.


2. Invest in a good glider.
Before we settled on this comfy glider, we almost considered adding an Eames Molded Plastic Rocker to the nursery. Don't get me wrong—an Eames rocker is a classic piece of furniture you can't go wrong with in the living room. But with the countless hours you will spend in a rocking chair with baby, make sure you get one that is good and cushiony!


We tried to stick to a mostly neutral color palette when it came to decorating my daughter's nursery. Then, when she was born, I couldn't resist lots of cute girly baby clothes and accessories. But now that we have No. 2 on the way, it pains me to think that we might not be able to reuse most of her wardrobe (especially since I'm guilty of spending way too much on baby clothes). So word to the wise: go as gender neutral as you can if you plan on having another kiddo!


4. Don't buy too many bottles before baby gets here.
When I was pregnant with my daughter, I made sure to stock up on plenty of baby bottles ahead of time—and of course I opted for only the best eco-friendly glass bottles and squishy medical-grade silicone that was supposed to mimic breastfeeding. But when it came time to introduce a bottle to my daughter after several weeks of only nursing, she flat-out refused every bottle we tried. After a few very stressful weeks spent trying out six or seven different bottles, we finally got her to take a generic brand plastic bottle right in the knick of time before I started back at work. Knowing now how common bottle-refusal issues can be for breastfed babies, I'm starting off with a bottle sampler pack and waiting to see what this baby's preference will be before buying more.
Tip: The same goes for a baby food maker. We got a ton of use out of our Baby Brezza one-step baby food maker, but I've heard from so many moms that their little ones never eat purees and go straight to finger foods. So, you may want to wait on buying that appliance until you see what your baby will prefer.


The nice thing about being pregnant with your second child is that you already have most of the gear you will need and don't have to do too much shopping the second time around. But, there is one new item I know I'm going to invest in that wasn't around back when my daughter was born. I've heard rave reviews from pretty much every mama who has used the DockATot, a baby "docking station" that cradles baby in to feel snuggly. Knowing what it's like to have a fussy newborn who hated being on a flat surface for more than two seconds, I can totally see why the DockATot works, and can't wait to give it a try.


The number one piece of advice I give my new mama friends is to get comfortable with baby-wearing early on. Many newborns need to be held almost 24/7, and baby-wearing allows you to have your hands free while keeping baby happy. It literally saved me during those early weeks, and even now that she's much more independent, my toddler still loves being worn at times. When you're putting together your registry, I recommend including a soft carrier like a ring sling or stretchy wrap that is easy to throw into a diaper bag in the first few months (Solly Baby is my personal favorite), and a soft structured carrier (aka SSC) that offers more support for longer walks and will last you into toddlerhood.


7. Burp cloths and bibs are your best friend.
They may not be glamorous, but burp cloths are totally essential for at least the first 6 months. I totally underestimated this fact and didn't bother adding too many to my registry. You're going to be cleaning up lots of spills, messes, and spit-up for a while, so you might as well buy a ton of these and avoid doing laundry so often. My personal favorite? The Aden and Anais burpy bib since it can be thrown over your shoulder or snapped around baby's neck.


8. Get a daddy-friendly diaper bag.
When my daughter was born, I was excited to wear my chic handbag-style diaper bag. But my husband wasn't exactly thrilled to have to carry around a big purse whenever he went on a solo outing with baby. We soon converted to a gender-neutral backpack so that we could just switch off whenever we needed to.


9. Nix the backseat mirror.
When I put together this baby registry checklist post back in 2014, I had a backseat mirror listed under 'Baby Gear' so that we could peek at baby in her rear-facing car seat. But when we went to get our car seat inspected by the California Highway Patrol, they recommended against any after-market items including mirrors as they can become a projectile in the case of a car accident. We threw ours away that day—I couldn't even donate them knowing they could potentially be dangerous. I know tons of mamas still use them, but better safe than sorry in my book!


10. Skip the swaddles and receiving blankets.
You can probably skip adding these pieces to your registry—not because you won't use them, but because this seems to be everyone's favorite off-registry gift. We received so many blankies from friends and relatives—from handmade knit blankets and quilts to muslin swaddles and beyond. I've heard the same from a lot of friends, so know that you probably don't have to add too many blankets to your registry as you'll receive them anyway. The exception would be the Miracle Blanket. I'd make sure you add at least two of those to your list as these special blankets make swaddling baby so much easier.


I hope these tips help all my first-time mamas out there!


Do you have any other baby gear questions for me?


I'd love to answer them in the comments or in a future blog post.