A Mother's Day Spread With Strawberry Muffin Loaf, Shallot and Spinach Goat Cheese Quiche, and Rosé Sangria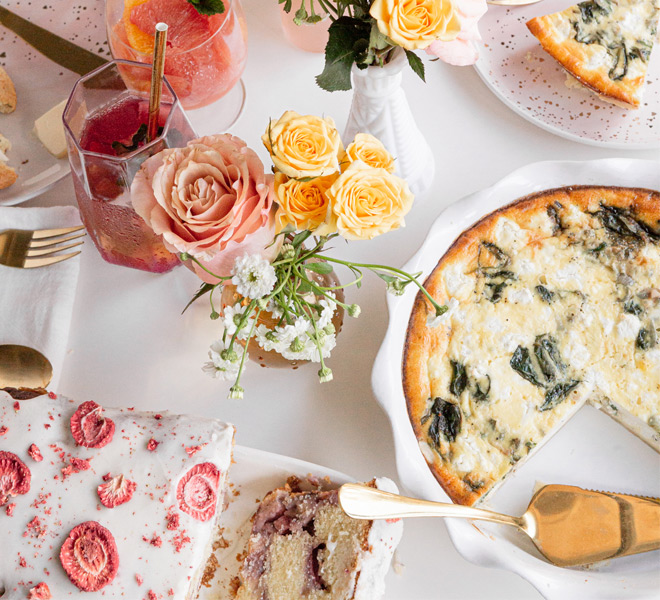 Mother's Day is only a few days away, and with everything happening in the world, celebrations will likely look a little different than usual this year. For those of you doing your part by social distancing, staying home from loved ones can feel difficult to manage, especially on a day that's dedicated to celebrating the amazing moms that manage to do it all. Despite the conditions we're in right now, we're determined to make this day as special as it can be—because every mother truly deserves it. Many of you won't be able to celebrate in-person, so today, we're bringing you a virtual Mother's Day spread, courtesy of baker Amanda Wilens, fit to honor all the moms and moms-to-be out there. Amanda has graciously thrown together a spread fit for a queen, filled with dishes like a Strawberry Muffin Loaf, Rosé Sangria, and Shallot and Spinach Goat Cheese Quiche. Amazing, right? If you're looking for a few recipes for the big day, look no further than the incredibly delicious ones she's put together below. Consider dropping off a spread with your mother if you're within driving distance, or making a FaceTime baking date. Because we could all use a reason to celebrate!
This loaf is perfect for springtime. It's light, fluffy, and incorporates one of the best spring and summer fruits: strawberries. This loaf can be made into individual muffins and is perfect for breakfast or snacking.
These can be made into 12 normal-sized muffins (if so, cook for 24-26 minutes).
If you don't have fresh strawberries, you can use any other berries you have, fresh or frozen. If you're using frozen berries, be sure to toss them in flour to prevent them from falling to the bottom.
Room temperature butter, eggs, and milk are necessary for this loaf to be its fluffiest. If you forgot to let them sit out to reach room temperature, try these tips. For the butter or milk, heat them in the microwave in a bowl for 5-10 second increments until they reach room temperature. For eggs, you can place eggs (in shells) into a bowl of warm (not hot) water for about 15 minutes.
Clear vanilla extract can be used for the icing if you want a purer white color.
If you use milk or milk alternative for your icing instead of heavy cream, be sure to add about 1 Tbsp less to the icing as it is more liquified.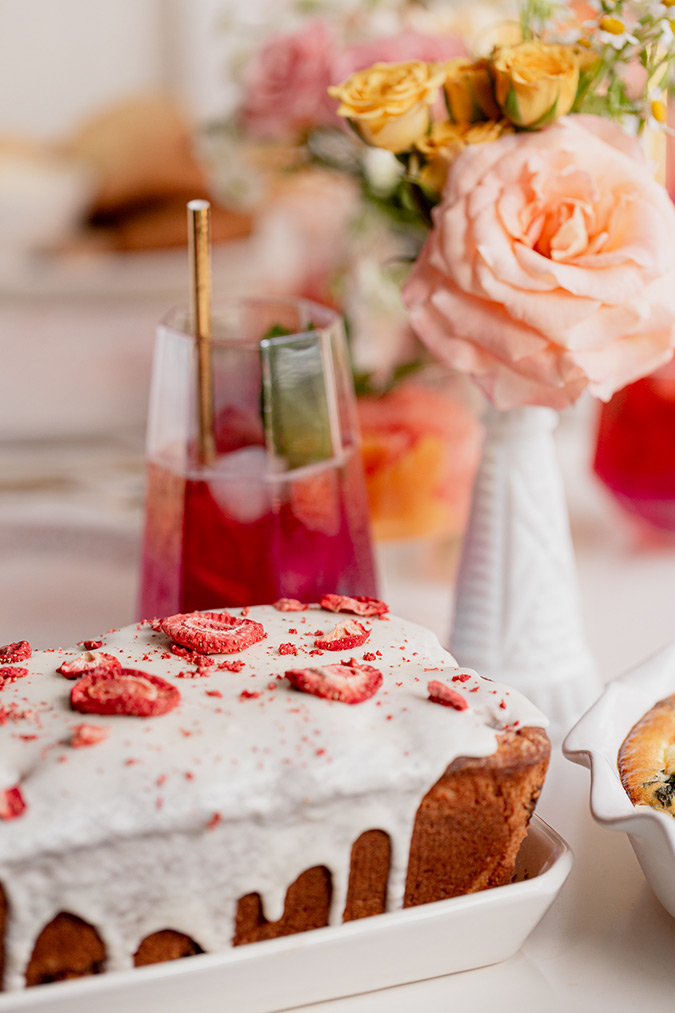 ½ cup butter, room temperature
1 cup granulated sugar
2 eggs, room temperature
1 ½ tsp vanilla extract
2 ½ cups + 2 tsp all-purpose flour, divided
1 ½ tsp baking powder
½ tsp salt
½ cup milk, room temperature
2 cups strawberries, diced (size of blueberries – should be about 10-14 medium strawberries)
1. In a stand mixer with the paddle attachment, cream the butter and sugar together for 3-5 minutes on a medium-high speed until fully combined. You want the mixture to become fluffy. Scrape down the sides of the bowl as needed.
2. Add in one egg at a time, mixing until they've been mixed in completely after each egg. Add in the vanilla extract. Scrape down the sides of the bowl as needed.
3. In a separate medium-large bowl, mix 2 ½ cups of flour, baking powder, and salt. Mix together fully.
4. Alternate pouring the flour mixture and milk into the wet batter. Starting and ending with the dry mixture, you'll add in 1/3 of the dry mixture at a time and ½ of the milk at a time. Mix at a low-medium speed.
5. In a separate small-medium bowl, toss strawberries in remaining 2 tsp of flour.
6. Gently fold the strawberries into the batter. Cover the batter with a dishcloth or paper towel and let sit for 20 minutes or so (to let the dough rise a bit) while you heat the oven, prepare pan, and do a little clean up.
7. Preheat the oven to 350° F. Prepare a loaf pan with oil or butter, greasing the inside entirely, and create a parchment paper sling (line the pan with parchment paper and let it overhang on the sides for easy removal).
8. Scoop batter into the loaf pan. Smooth the top with a spoon or offset spatula.
9. Place some foil or parchment paper over the pan, place the pan in the oven, and bake for 60-70 minutes. After 30 minutes, remove foil/parchment paper. Toothpick should come out clean.
10. Remove from the oven and let the loaf cool.
11. You may need to use a butter knife between loaf and pan where parchment paper is not touching. Pull out loaf with the parchment paper sling.
12. Top with icing, slice, and serve.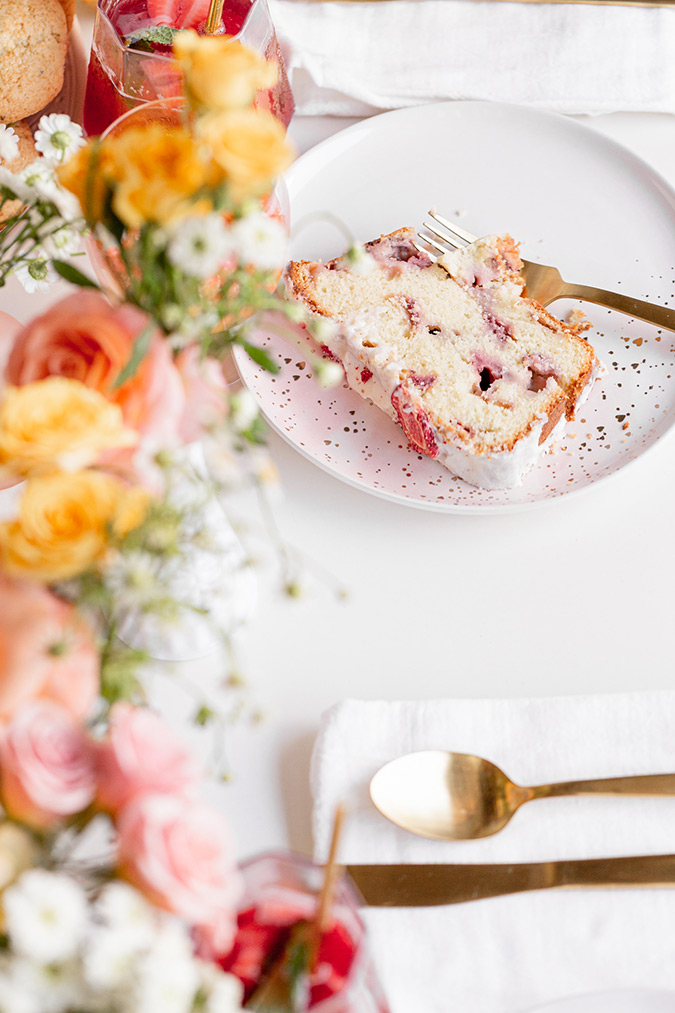 1 ½ cups powdered sugar, sifted
3 ½ Tbsp heavy cream
1 tsp vanilla extract
1. Add powdered sugar, cream, and extract to a small-medium sized bowl. Whisk until fully incorporated.
2. Drizzle on top of loaf.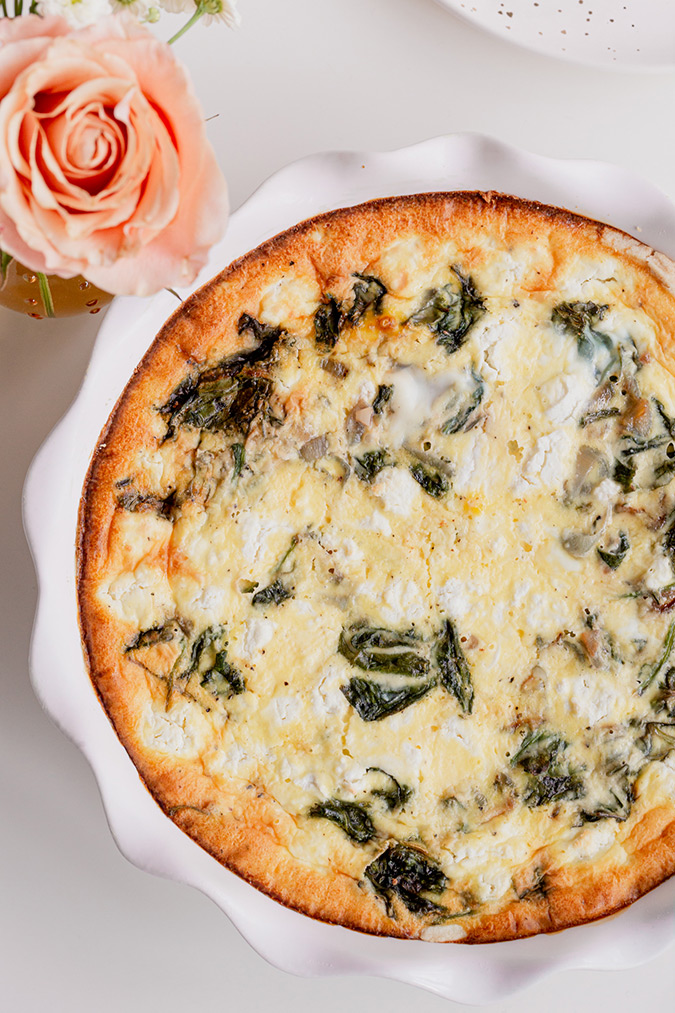 Shallot and Spinach Goat Cheese Quiche
Quiche is the perfect brunch recipe! It's easy, delicious, and can be saved for in your refrigerator days after. Who doesn't love leftovers?
Don't have goat cheese? Feta or really any of your favorite cheeses could work. However, flavor-wise, feta would be the best alternative.
If you don't have shallots, white or yellow onions are a good alternative.
Feel free to play with your herbs depending on what you have dried or fresh.
This quiche can be made in advance and stored in the refrigerator for up to 3-5 days.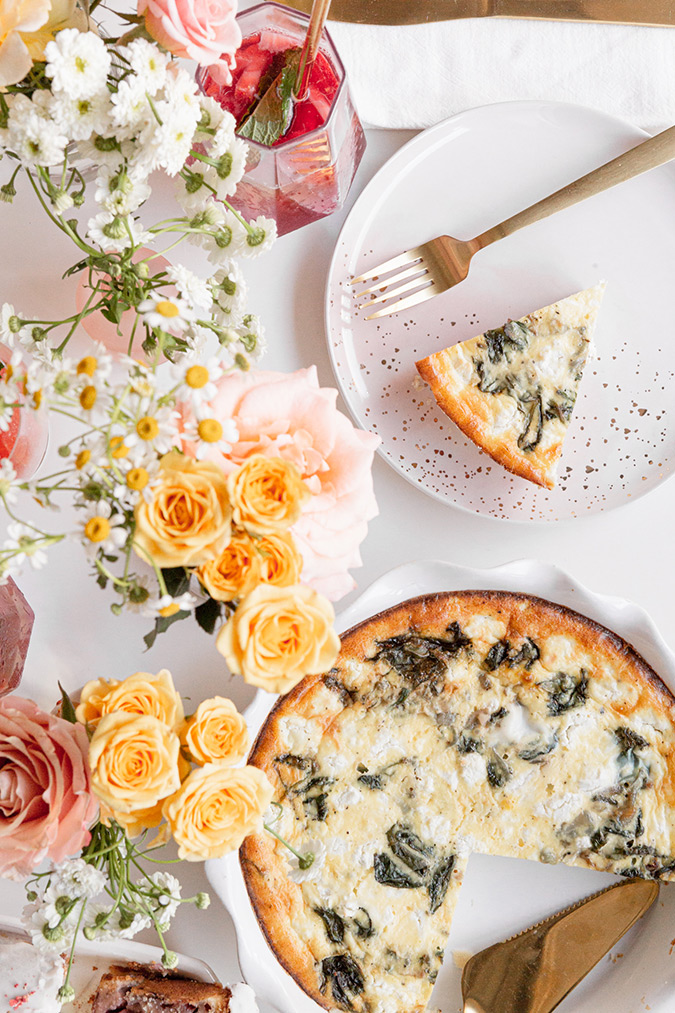 1 pie crust dough (store-bought dough or homemade)
1 tbsp olive oil
2 large shallots, thinly sliced
2 ½ cups of spinach (about 2-3 oz)
2 tsp thyme
6 large eggs
½ cup milk
½ cup heavy cream
¼ tsp salt
¼ tsp pepper
1 cup goat cheese, crumbled (about 6 oz.)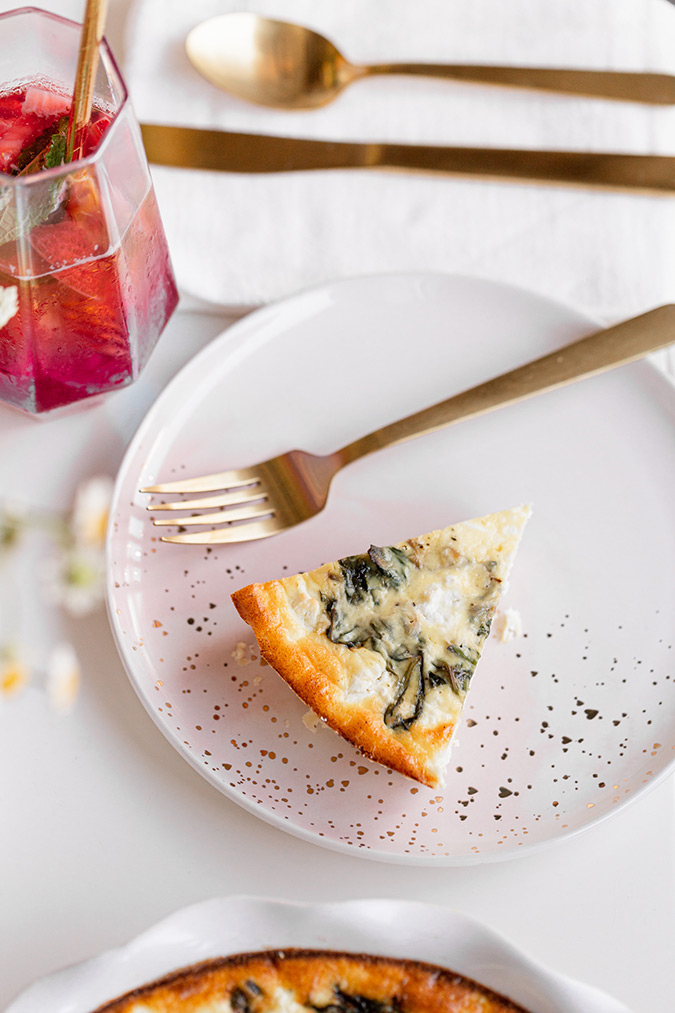 1. Preheat your oven to 350° F.
2. Roll out your pie dough onto a floured surface. You want this pie crust to cover the base of your pie dish and the sides, so roll it about 1/8" thick, then transfer into the pie dish.
3. Blind bake your crust for 9-10 minutes in the oven.
4. Heat the olive oil on the stove on a medium heat in a large frying or sauté pan. Add in the shallots and cook until they are translucent. Then add in the spinach and herbs. Stir over the stove until spinach is just wilted. Don't overcook. Remove from heat.
5. In a separate medium bowl, whisk eggs, milk, cream, and seasoning until well combined.
6. Once the pie dough is pre-baked remove it from the oven and place on a heat-safe surface. Sprinkle half of your goat cheese on top of the dough, then layer on your sautéed veggies. Pour in the egg mixture over the veggies. Then finish with remaining cheese.
7. Bake the quiche for 45-50 minutes or until golden on top.
8. Remove from the oven and allow to cool a few minutes before serving.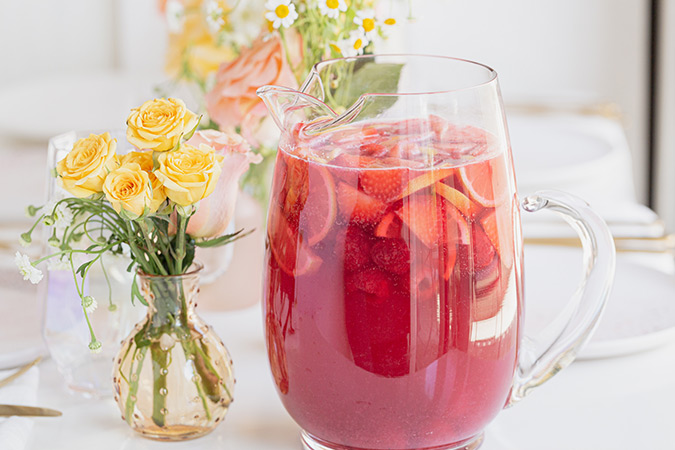 Yields about 8-10 glasses
This recipe was created with the rosé and sangria-loving mamas in mind. You'll likely have a lot of these ingredients lying around, which makes it such an easy recipe to make! It's a drink that just gets better with time, so it can be made in a larger batch and saved in the refrigerator for later use.
Inexpensive wine is the best for sangria as you'll be mixing in a lot of other ingredients.
We used frozen fruit since it's what we had on hand. If you have fresh berries, use that! We suggest using fresh berries for the fruit you'll add directly into the drink.
We used mixed berries, but single berries like strawberries or raspberries would also be great!
We like to cook half of the fruit down into a syrup so you get some great flavors from them. Otherwise, you don't always get the juices and flavor just from sitting in the drink.
To make this into a mocktail version, you can use soda, fruit syrup, lemon, whole berries, ice and garnish.
You definitely want to let this sit for at least an hour, but for the best flavors, make it the night before and let it chill in the refrigerator.
1 cup water
1/4 cup sugar
2 cups frozen fruit (mixed berries)
Take 2 cups of the fruit, water, and sugar in a small saucepan. Place this on the stove until it simmers. Then take a muddler or a wooden spoon and mash the berries. Stir occasionally on simmer for the next 7-10 minutes until nice and syrupy.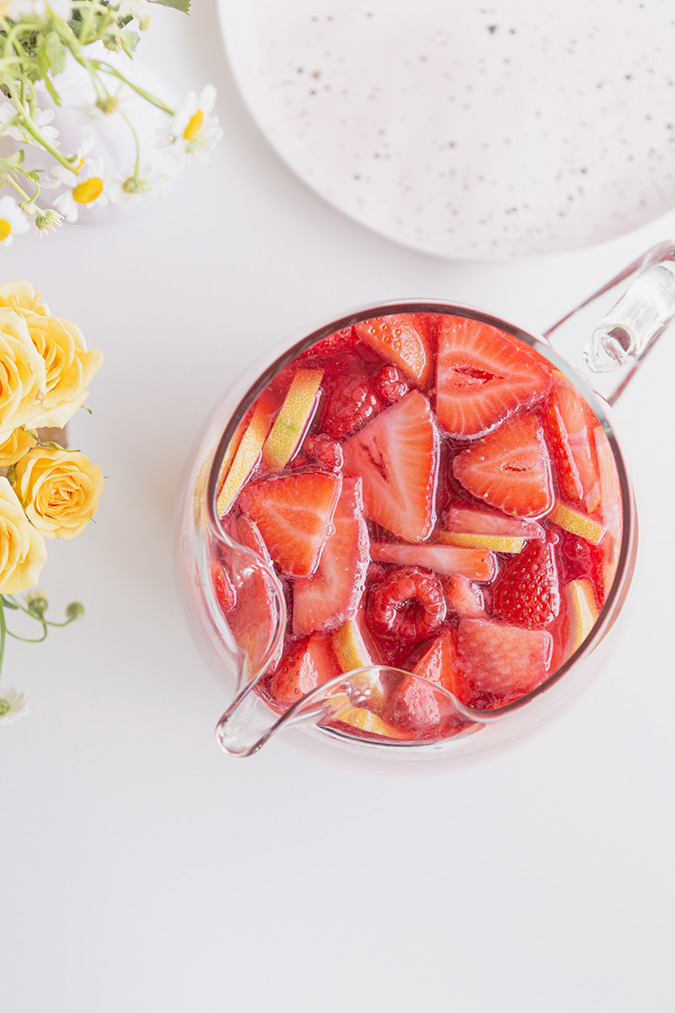 Fruit syrup (from above – about 1 cup)

2 cups fresh or frozen fruit (mixed berries)

3 Lemons, juiced (about ½ cup)

3 cups sparkling water (2 cans)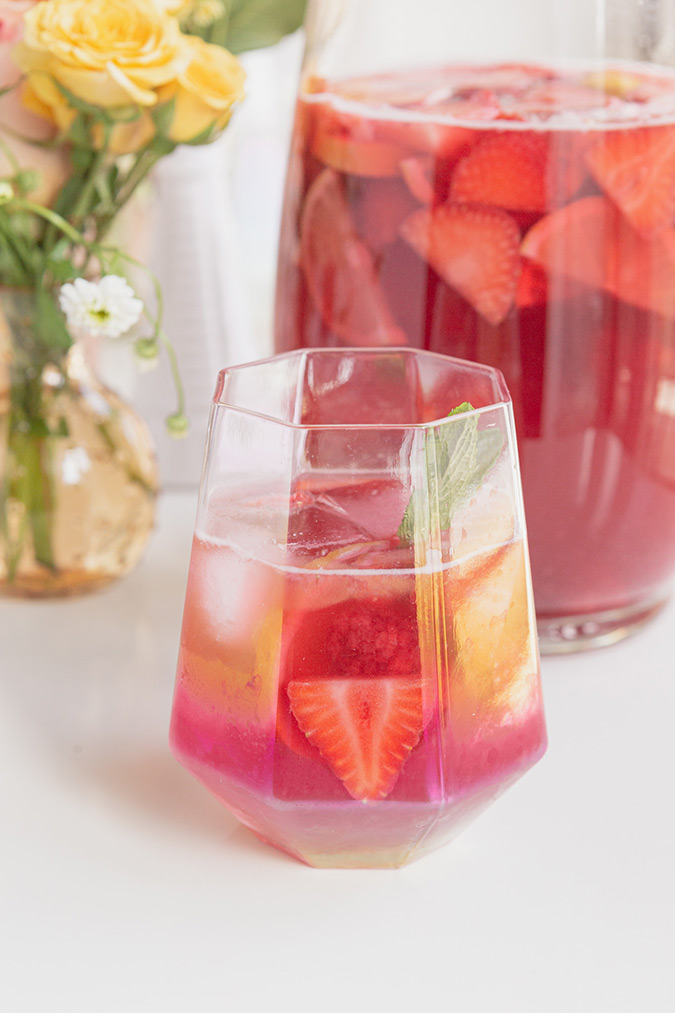 1. In a large jar or pitcher add the fruit syrup, rosé, vodka, fruit, lemon juice, mix.
2. Place in the refrigerator overnight.
3. When ready to serve pour in sparkling water, then add ice if you wish and garnish with mint.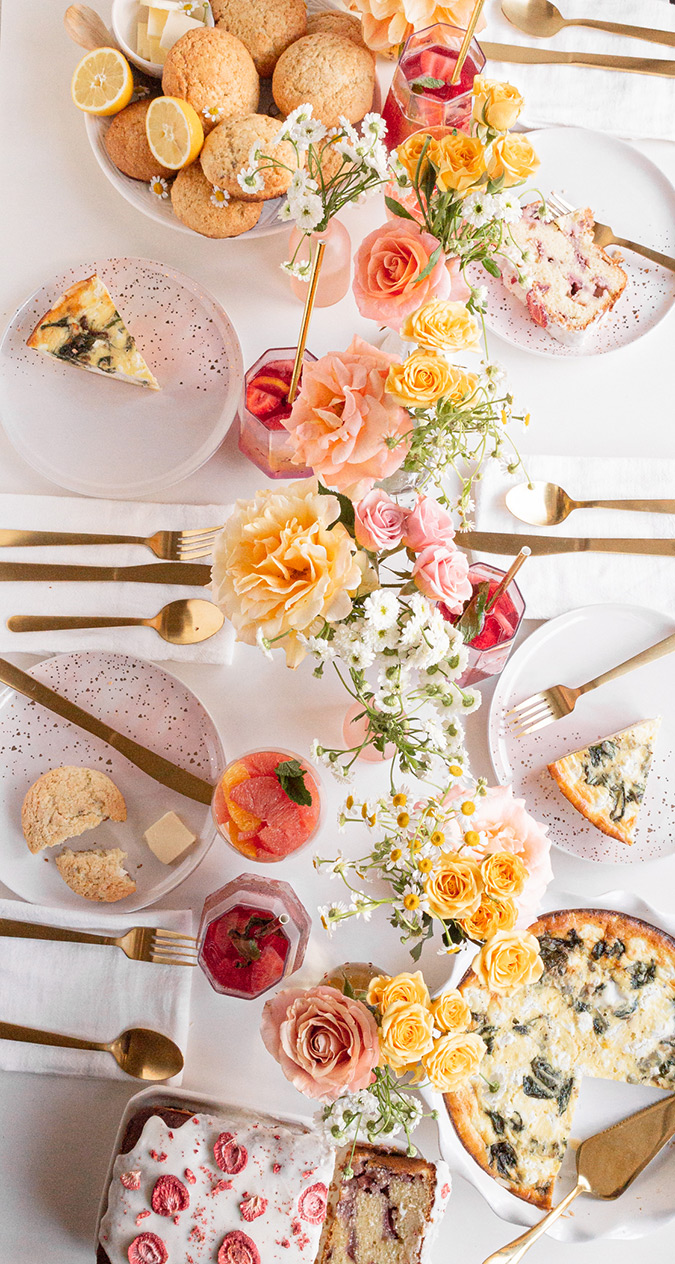 What will you be making this Mother's Day?
Have a Happy Mother's Day! If you'd like to learn how to make the Lemon Lavender Scones and Citrus Fruit Cups also featured in Amanda's spread, you can view the recipes on her website here.

Affiliate links may have been used in this post.