Our Favorite Glitter Makeup Products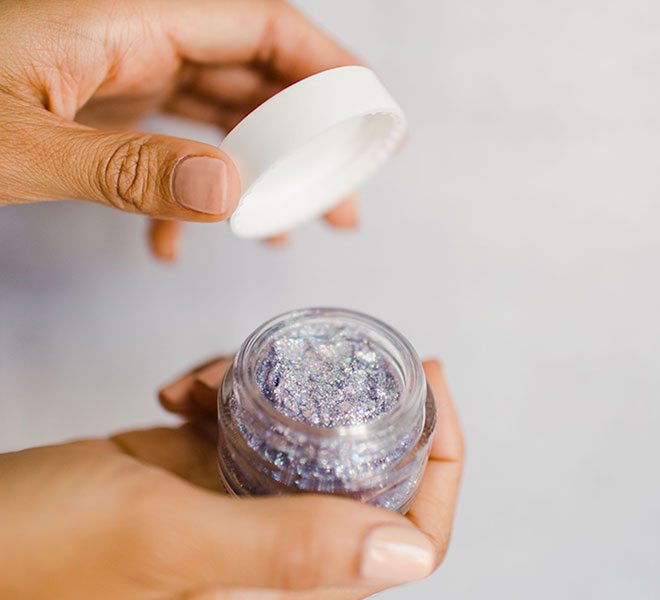 While there are many beauty products in this world that will give you a glow, there's one item in particular that truly makes us shine: glitter. And lots of it. Glitter makeup is trending, and we are here to celebrate it! We think glitter is a fantastic way to integrate a bit of fun and spunk into your daily makeup routine. Who said glitter can't be grownup too? While it can be difficult to work with sometimes, we've included items that make incorporating glitter into your routine a breeze. Whether you want to create a subtle look with a touch of sparkle or celebrate the pageantry of glitter itself with a bold look, there's a product here for you. The sky's the limit, so take a look at the products that make our team shimmer and shine below…
1. Jouer Cosmetics Long Wear Lip Topper in Funfetti, $16
This clear lip topper with opalescent shimmers is a great product to dip your toes into the glitter fountain. Use it over lipstick to add a subtle touch of rainbow shimmer to your everyday routine.
2. Urban Decay Heavy Metal Glitter Eyeliner, $16
The best part about this glitter eyeliner, besides its smooth application and array of color options, is that you can use it not only on your eyes, but also on the rest of your face! Its thin, sleek applicator makes creating different looks easy and precise.
3. Fenty Gloss Bomb in Diamond Milk , $18
Wear this Fenty Gloss Bomb and people might mistake your lips for a glimmering jewel. On top of a creamy consistency, this gloss has a long-wear formula, so you don't have to reapply constantly. After seeing how it makes your lips sparkle, however, you may want to.
4. Fenty Body Lava Body Luminizer, $59
In need of a skin pick-me-up? Fenty's Body Lava gives the skin a dewy finish and sun-kissed glow with a touch of sparkle. It's a great supplement product to spruce up a fading tan or when you need a little extra shine.
5. Lemonhead LA Spacepaste Eyeshadow, $22
Bold, bold, and bold. Lemonhead eyeshadows are the stuff of our glitter dreams. These eyeshadows, which manage to stay on all day and maintain their intense sparkle, are perfect for experimenting with your next bold and daring look. Not to mention, you can even use it in your hair too!
6. Glossier Lidstar, $18
Will Glossier make a product that we don't love? Asking for a friend… This creamy liquid eyeshadow is buildable, so you can apply a light wash or amp up the volume and add more drama with multiple layers. Not only does it give your lids a beautiful wash of color, it's also so easy to apply and blend. Application with fingertips encouraged!
7. Roen Beauty Summer Disco, $29
We love how this Summer Disco gives us the a "wet" look because the glitter shines so bright. The chunky flecks look beautiful on their own but can also be applied over other eyeshadows to jazz up your look. This product is meant to be applied with your fingers then blended out with a brush, so it is foolproof and easy—exactly how we like it.
8. Huda Beauty Matte & Metal Melted Double Ended Eyeshadows, $25
A two-in-one? Now you're speaking our language. Huda Beauty's Double Ended Eyeshadows have both a matte and metallic option so that you can switch it up on the fly. The metallic side has beautiful flecks of glitter in it, and you can swipe and blend these eyeshadows with your fingertips for a perfectly imperfect look. Did we mention we like easy-to-use products?
9. Too Faced Chocolate Gold Eyeshadow Palette, $49
This Too Faced palette comes in an array of festive and bright shades with the perfect amount of shimmer. You can create SO many different looks just within this one palette.
11. Deborah Lippman Winter Romance Gel Lab Pro Nail Polish Set, $36
When Deborah Lippman does glitter polish, she does it oh-so-well. This Winter Romance Nail Polish Set contains two glitter and pearlized polishes that are great to wear separately or mix together. Your nails will be the belles of the ball after swiping on a couple of coats.
Are you a big fan of glitter makeup products? If so, which products are your tried-and-true?
Let us know in the comments!

Affiliate links may have been used in this post.