Paloma Mocktail and Mexican Street Corn Salad from Half Baked Harvest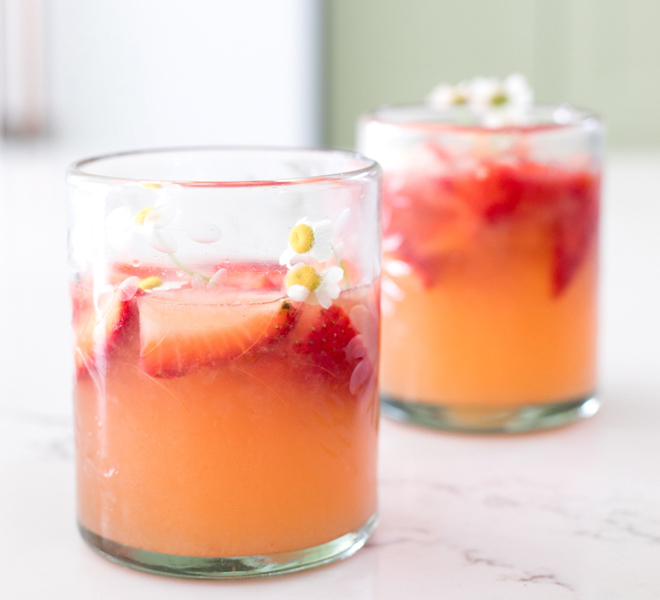 There are so many things I love about my job, but without a doubt one of my favorites has to be recipe testing. From delicious desserts to the most delectable homemade pasta dish, I feel pretty lucky that I get to make, bake, and taste so many amazing dishes, all in the quest for the next sharable recipe. For that reason, I was extremely excited to team up with my friend Tieghan Gerard of Half Baked Harvest to share her two of her go-to summer recipes. My Little Market co-founder Hannah and I were lucky enough to spend the afternoon with Tieghan while she showed us how to whip up a Paloma Mocktail and Mexican Street Corn Salad. We styled everything on beautiful pieces from The Little Market, and had the best time learning from Tieghan's extensive culinary skills… and we captured it all on video! Give it a watch below, and then keep scrolling for the full Paloma recipe, featuring the prettiest handblown glasses from The Little Market.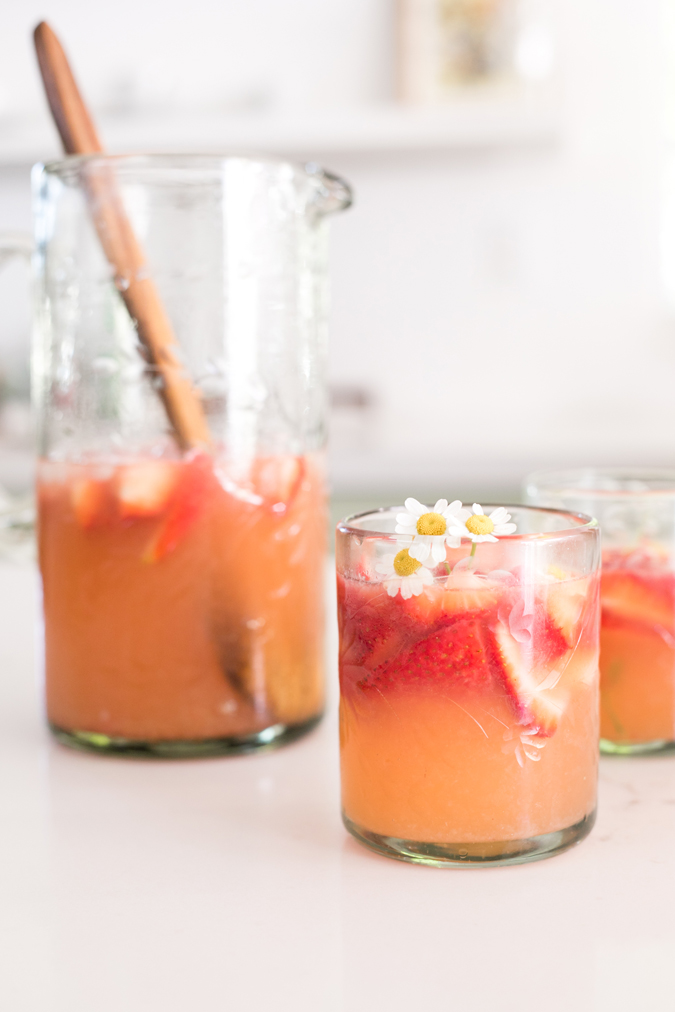 Strawberry Chamomile Paloma Mocktail
For the chamomile honey syrup:
1 cup water
1/2 cup honey
4 chamomile tea bags
1 cup fresh grapefruit juice (about 2 grapefruits)
¼ cup fresh lime juice
chamomile honey syrup
2 cups sliced strawberries, plus more for serving
sparkling water or ginger beer, for topping off
crushed ice
fresh chamomile flowers or mint, for garnish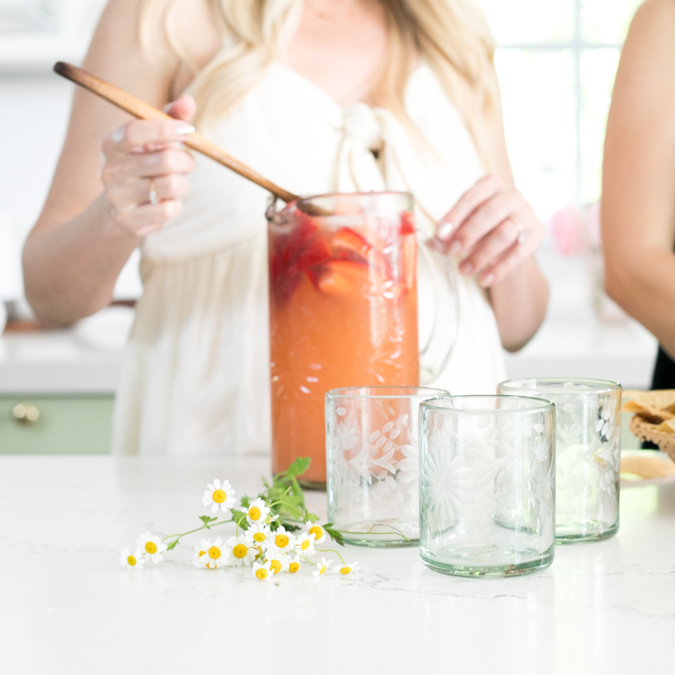 For the chamomile honey syrup:
Combine water and honey in a small saucepan and bring to a boil, simmer 1 minute and remove from the heat. Add the tea bags, cover, and steep for 5-10 minutes. Remove the tea bag and allow the syrup to cool completely. Store in the fridge.
Add the grapefruit juice, lime juice, chamomile syrup, and strawberries to a blender, blend until pureed, adding water if needed to thin slightly. Strain through a fine mesh sieve into a pitcher, discard the solids. Chill until ready to serve.
To serve, add crushed ice to each glass and pour over the strawberry mix. Top off with sparkling water and garnish with fresh strawberries chamomile flowers.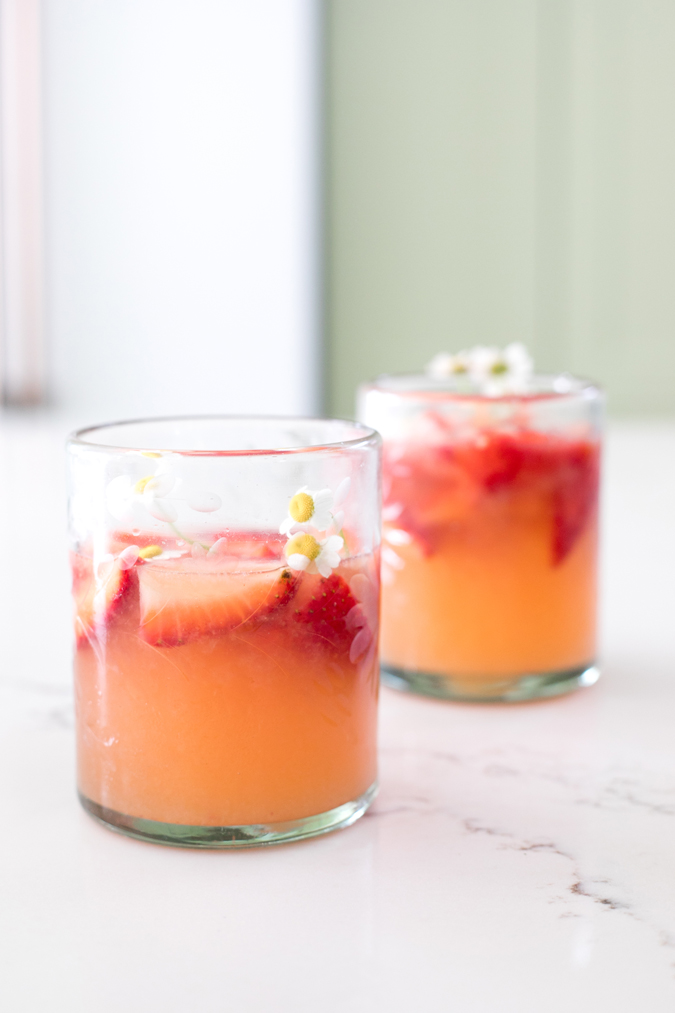 This video was so much fun to shoot and I'm officially adding both of these recipes to my rotation. You can find all the gorgeous products we used from The Little Market right here, and be sure to follow Tieghan for more recipe inspiration via her website and Instagram.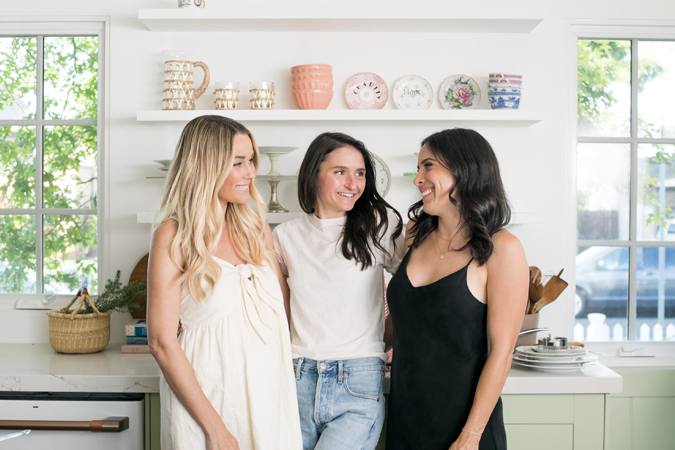 Would you try out the mocktail or the salad?
Affiliate links may have been used in this post.