The Top Tips for Throwing a Successful Wedding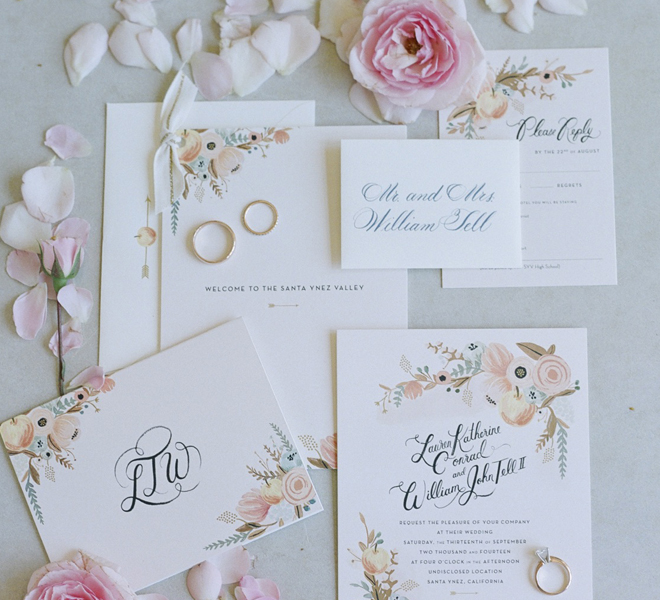 If you loved this week's episode of Asking For A Friend, you will be excited to hear that this week's guest, Cassandra Katz of Cassandra Bette Events, is sharing her tips for planning a successful wedding, no matter the budget. Check out their episode here and keep reading for Cassandra's full list of tips below…
Hi everyone! I'm Cassandra Katz, an event planner and Lauren's most recent guest on Asking For A Friend! We chatted about all kinds of events, from cocktail parties to appetizers, but one of our biggest topics was weddings. I planned Lauren's wedding, among many others, and I've learned quite a few tricks over the years for how to create a day that's memorable, beautiful, and most-importantly, stress-free. Keep scrolling for some of my best tips for wedding day success…
1. If you don't have the budget for a full open bar, it is OK to offer only beer and wine (and maybe a signature cocktail). Your guests will still enjoy themselves, and you'll save a lot of money. I would never recommend a cash bar at a wedding, however. They never go over well.
2. On that note, you can also opt to forgo the Champagne toast. While it's traditional, it's not required, and it's a simple way to cut back on alcohol expenses. Most people prefer to toast with their drink of choice anyway, versus being forced into a glass of Champagne (that is likely not ice cold since it's typically pre-poured).
3. Another place to save money is the wedding cake. Instead of a big cake, which often ends up going to waste, choose a smaller cutting cake for photos… or skip the cake altogether in favor of your favorite dessert, like Lauren did!
4. Rather than shell out for a full band, hire a DJ (and bonus points if you have any friends who can take on this role).
5. Ultimately, you'll want to have a 5 to 10% buffer for your budget. Things come up that you might not think to put in your initial plan (like feeding the wedding party on the day of the ceremony while everyone is getting ready). This will give you peace of mind in case of unexpected expenses.
To Keep Everyone Comfortable…
1. After an event, people do tend to remember if they were too hot or too cold, so plan well for the weather. If your wedding venue is outdoors in the sun, make sure fans and parasols are available for guests. Want to go the extra mile? Have sunscreen on hand. If your big day falls during a cooler season, be sure to have wraps and heaters to keep everyone warm. And if you have room in your budget, a tent with heat or A/C is always appreciated! Also, always have a rain contingency plan—whether it's a tent or an indoor space, don't book a venue that doesn't have an alternative option to outdoors.
2. Make sure you don't skimp on the snacks during cocktail hour or people may end up a little too tipsy. Similarly, don't serve alcohol before the ceremony. It leads people to not pay attention.
3. Be courteous of your guests and always be one step ahead. If the venue is outdoors and buggy, have bug spray. If you are going to be on the grass, have heel covers. When serving drinks, have straws (no one wants to ruin their lipstick!). Likewise, if you plan to dance the night away, consider providing flip flops for guests in heels. I always compare party planning to the children's book If You Give a Mouse a Cookie by Laura Numeroff. When the mouse gets the cookie, he wants a glass of milk. When he gets the glass of milk, he wants a straw. If you always anticipate what guests will want next given the conditions, you will make people happy! You may even have something they didn't know they wanted—those are the details that stand out.
4. For a destination wedding, be sure to give all guests a plus-one. If someone is traveling to be at your wedding, they should have a travel buddy, whether or not they are seeing someone.
To Make Planning A Breeze…
1. If you are planning your own wedding, I'd strongly suggest still hiring a day-of coordinator. This will allow you to hand over your plans and be a guest at your own wedding.
2. Do your seating chart early—it will help relieve stress.
3. At the end of the day, remember that it's about the person you're marrying, not about everything being "perfect." You can try to program success, but things always go wrong and that's OK. Remember why you are having this party.
And most of all, remember to slow down and enjoy the moment. All the little details won't seem nearly as important years later, and you'll be happy to have spent a day with the people you love. Don't forget to listen to my episode of Asking for A Friend to hear my tips for birthdays, cocktail parties, and more!
Do you have any other questions I didn't cover?
Leave them in the comments below.
Affiliate links may have been used in this post.