Tuesday Ten: Our Favorite Valentine's Day Inspired Accessories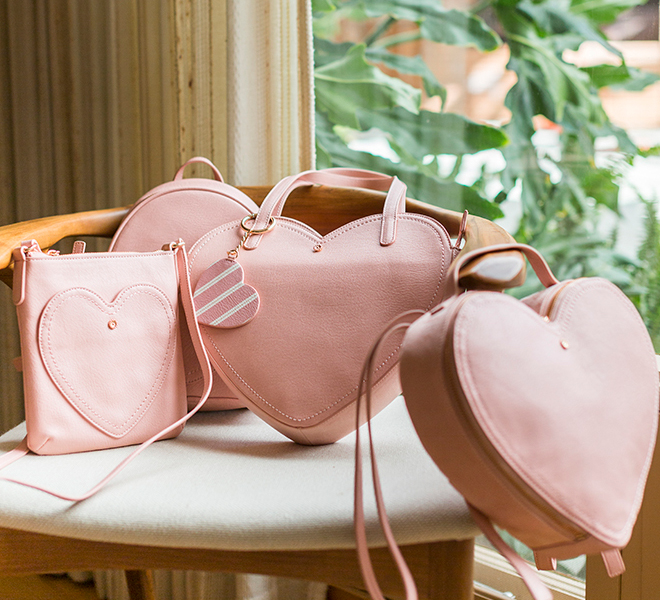 Whether you're firmly on board the Valentine's Day train or a little skeptical about the hearts, flowers, and chocolate popping up everywhere, we can all agree that the Valentine's Day color palette makes for some pretty adorable accessories. We rounded up a few of our favorite pieces, from a chic pink beret to a simple and sleek heart ring, and we can pretty much guarantee that whatever your feelings are towards Cupid Day, you'll want to scoop up at least a few of these gems before the end of the month. Keep scrolling to see what we're adding to our February wardrobes…
1. LC Lauren Conrad Heart Backpack, $59
If you thought backpacks were just for school, you may want to reconsider after seeing this adorable heart backpack perfect for your next adventure.
2. Anthropologie Wool Beret, $38
Trés chic and trés pink. This jaunty beret is surprisingly versatile, matching everything from your favorite jeans and tee to a fancy overcoat and heels for a night out.
3. The Little Market Ipad Case in Summer Sky, $28
There's nothing worse than a cracked screen, so take preventative measures with this padded case…which also happens to come in the prettiest shade of marbled pink.
4. Ban.do I'm All Yours Luggage Tag, $12
Tell the world who, or in this case, what, your heart belongs to with this cheeky luggage tag from our favorite ladies at Ban.do. The best part? With a tag this unique, you'll be able to easily spot your beloved bag.
5. LC Lauren Conrad 55mm Cat-Eye Sunglasses, $30
Retro glasses are back and we couldn't be more excited! Try out the trend for yourself with this glamorous cat-eye frames and feel like a true old-time Hollywood star…even if you're just running weekday errands.
7. Tasha Pearl Cluster Headband, $42
Big headbands are having a major moment right now, and this gorgeous pearl encrusted piece is both romantic and show-stopping in the best way. If your Valentine's Day look needs a little touch of glam, consider it handled.
8. LC Lauren Conrad Rose Gold Heart Ring, $12
We're big fans of simple jewelry that you can wear every day, so this elegant heart ring already has a place in our stack. Think of it as your tiny reminder to send some love out into the world, even when it's not February 14th.
9. Urban Outfitters Monofilament Crew Sock, $14
The pretty red hearts on these sheer socks make them Valentine's Day appropriate, but these beauties can be worn year-round with pretty much any type of shoe.
10. The Little Market Layered Tassel Earrings in Light Pink, $38
These tasseled earrings are the perfect way to inject a little fun into whatever you're wearing, while the understated pink color prevents them from stealing the spotlight.

Are you a Valentine's Day fan or a skeptic?
Affiliate links may have been used in this post.