Recipe Box: Champagne Flavored Dessert Recipes for New Year's Eve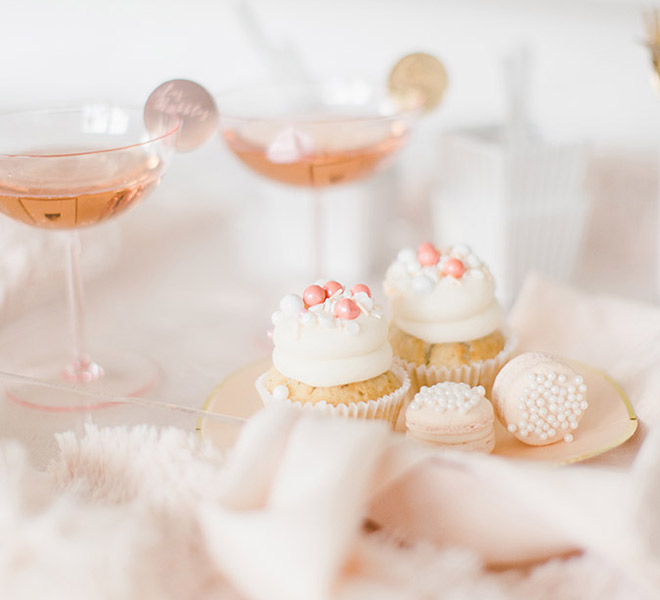 If there's one New Year's Eve necessity that we can't go without, it has to be Champagne. After all, a bubbly midnight cheers goes hand in hand with the annual countdown—you just can't have one without the other! We shared our New Year's Eve pajama party with you yesterday in this post and you may have noticed some enticing sweet treats sprinkled throughout the soirée. While we're always a fan of any confection that Lauren Lowstan whips up for us, these champagne-flavored desserts really take the cake… pun intended!
Lauren's sparkling multi-layer cake and cupcakes paired perfectly with glasses of rosé. To say it was a sweet affair would be an understatement! If you're looking to add even more effervescence to your New Year's Eve festivities, keep scrolling to snag the recipe for these decadent desserts…
Pink Champagne Cake & Cupcakes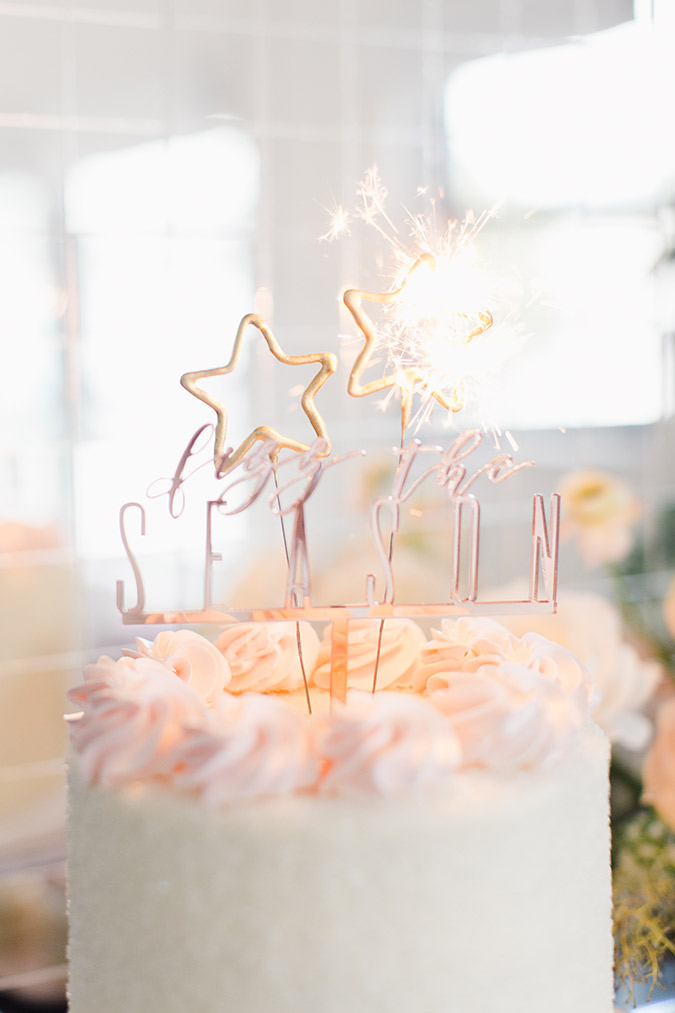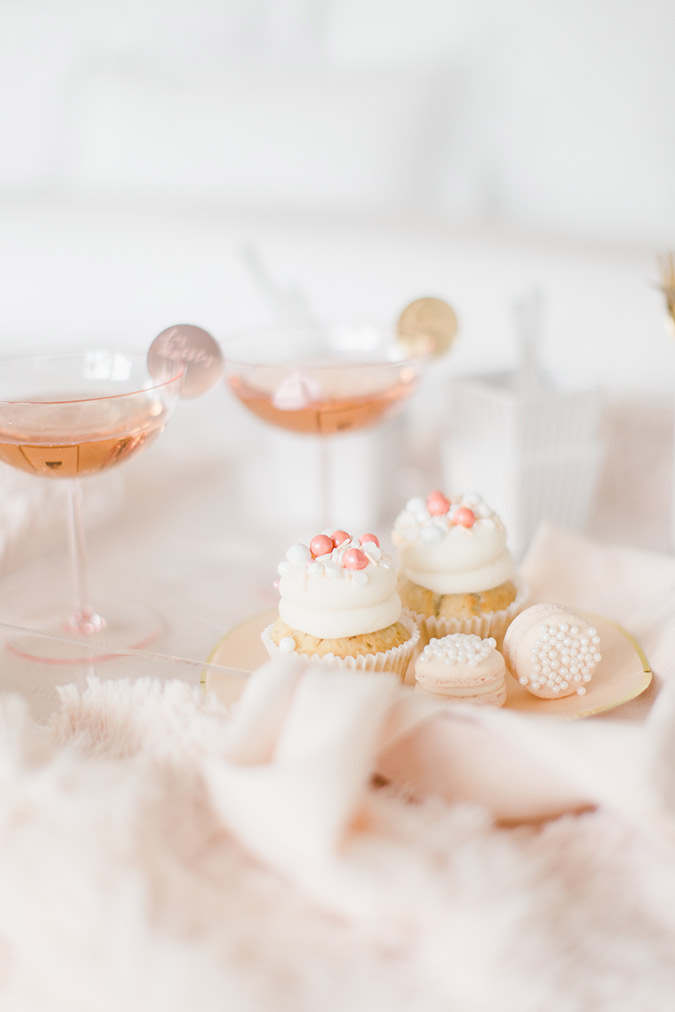 For the cake & cupcake batter:
3 cups butter
4 ½ cups granulated sugar
6 egg whites
1 ½ cup buttermilk
1 ½ cup pink champagne/sparkling rosé
1 tablespoon vanilla
6 cups cake flour
1 ½ teaspoon baking soda
1 tablespoon baking powder
1 ½ teaspoon salt
1 drop pink gel food coloring (optional)
4 cups unsalted butter, room temperature
¼ teaspoon salt
10 cups powdered sugar
1 tablespoon vanilla extract
1/4 cup heavy cream
pink gel food coloring
¾ cup pink Champagne/sparkling rosé
2 cups white course sanding sugar
fancy sprinkles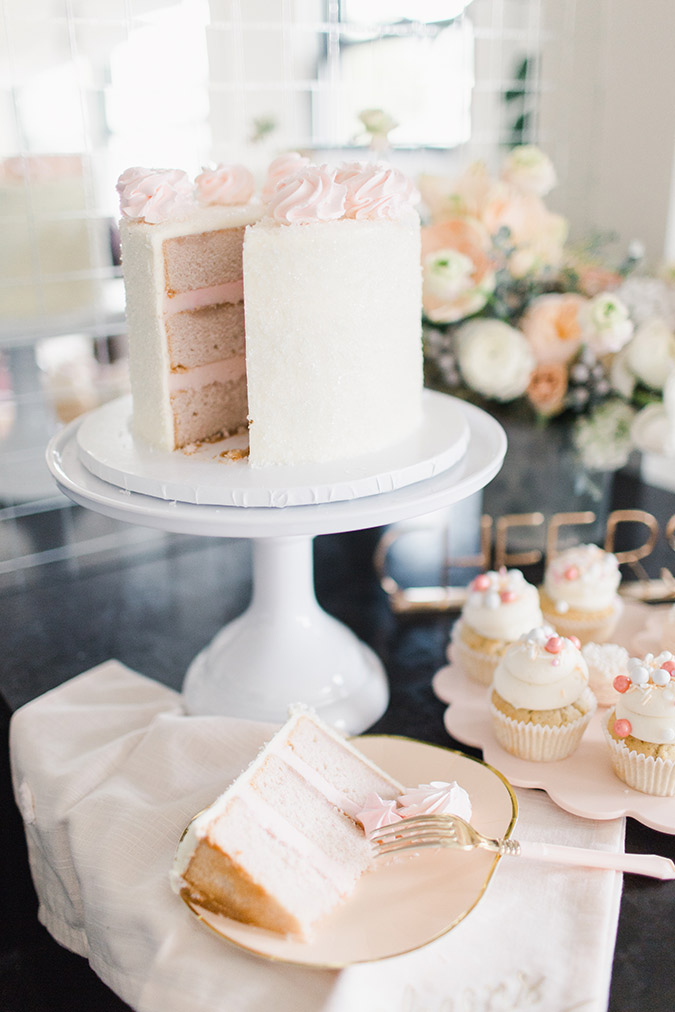 1. Preheat the oven to 350 degrees. Spray three 6-inch cake pans with cooking spray and cover the bottom of each with a circle of parchment paper. Add paper liners into the cupcake pan and set aside until ready to use.
2. Beat the butter and sugar in a mixing bowl fitted with a paddle attachment on medium speed for about 2 minutes, or until light and fluffy. Be sure to scrape down the sides of the bowl a couple times.
3. Add the egg whites and vanilla and beat until they are completely incorporated into the mix.
4. Whisk the flour, baking soda, baking powder, and salt in a separate bowl.
5. Add the buttermilk and champagne and beat only for a few seconds until slightly incorporated. Add the dry ingredients and beat on medium speed for about a minute. The batter will be nice and glossy. Make sure to scrape down the sides a couple times.
6. Divide the batter amongst the three cake pans and cupcake molds. Each item should be filled about ¾ of the way full. Make sure they are not overfilled. If you have any leftover batter, make more cupcakes!
7. Bake the cupcakes at 350 degrees for about 15 minutes, or until an inserted toothpick comes out clean. Bake the cakes at 350 degrees for 30 to 55 minutes. Check each cake with a toothpick at minute 30 and keep adding minutes until the cakes are ready. I like a few dry crumbs still stuck to my toothpick. Try not to overbake.
8. Set cupcakes on counter until they are cool. Cool cakes on counter until room temperature. Pop the cakes out of the pans, wrap in plastic wrap, and place into the refrigerator or freezer until solid cold. (I prefer the freezer).
9. While the cakes and cupcakes are baking, make your buttercream.
10. Beat the butter and salt until creamy for about 30 seconds. Add in half of the powdered sugar and beat for about a minute. Add the rest of the powdered sugar, heavy cream, and vanilla extract. Beat your buttercream for a good five minutes until it turns nice and fluffy. You'll see a difference in the texture after a few minutes of beating. Make sure to scrape down your bowl a couple of times to get everything nicely incorporated. Set aside until ready to use.
11. Fill a large piping bag with the buttercream and set aside.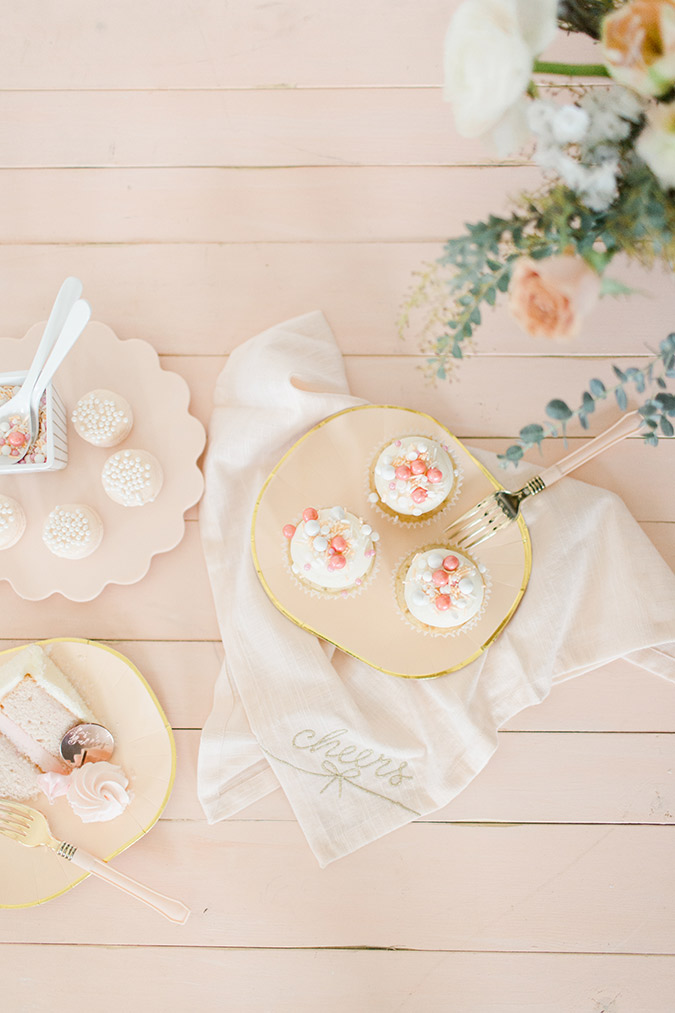 To decorate the cupcakes:
1. Pipe about two swirls of frosting on the tops of each cupcake and top with sprinkles.
1. With a bread knife, cut the tops off of each cooled cake layer so you no longer have domed cake tops. You want your layers to turn out as straight as possible.
2. On top of a cake turntable, place one cake on a cake plate. With a pastry brush, soak the top of the cake with pink champagne and top with 1/2 cup of buttercream, smoothing it evenly over the entire surface. Add the second cake layer, soak it with champagne, and top with another 1/2 cup of buttercream and smooth out. Top with the last cake layer and soak the top with the rest of the champagne. Add a little buttercream to the top and sides of cake and create a very thin layer of frosting. This is the crumb layer.
3. Set the cake in the fridge to harden for 15 to 20 minutes. Once the outside layer of your cake has cooled, place the cake onto the turntable. Frost the entire cake with the buttercream, smoothing it out with an offset spatula. Once the entire layer is evenly covered, add the sanding sugar with your hands, lightly pressing into the buttercream. Make sure you add the sprinkles right away, or else the buttercream will harden slightly on the outside.
4. In a small bowl, add a spoonful of buttercream and pink gel food coloring. Just dip a toothpick into the food coloring and add into the buttercream. Don't add drops at a time, as the color will be too intense.
5. Add the pink buttercream to a piping bag, fitted with a star tip. Pipe little swirls on the outer edge of the top of the cake. Set into the fridge until you're ready to eat it. Make sure to take out of the fridge about three hours before eating.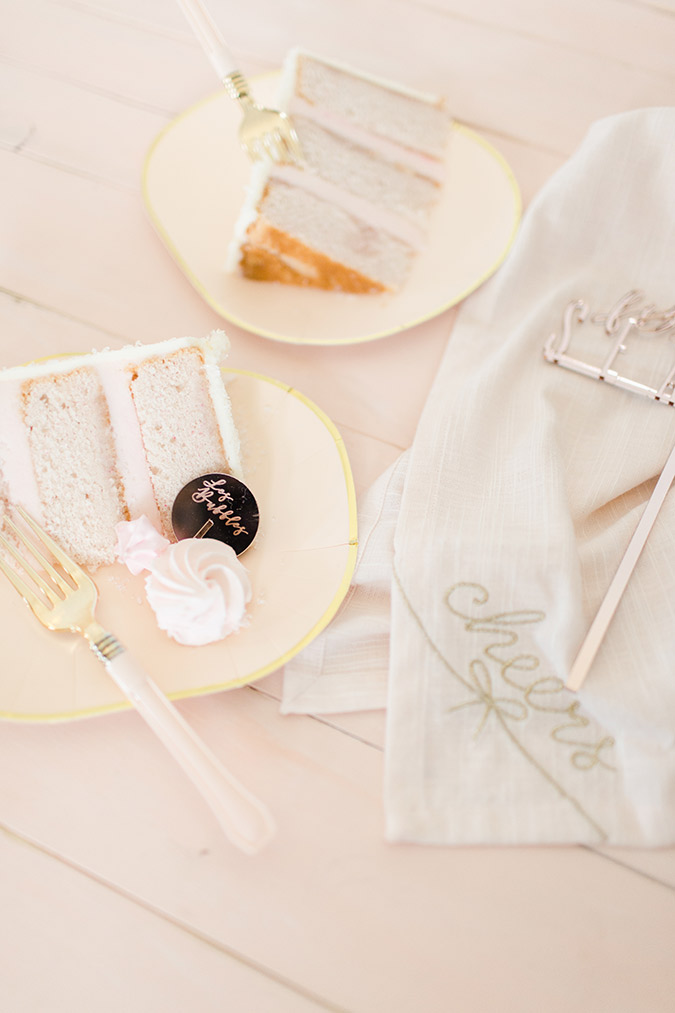 If you're looking for the perfect presentation for your champagne cake and cupcakes, we're smitten with Lauren's latest tabletop items in her LC Lauren Conrad collection! Aren't these cheers napkins the cutest? We think so too…
Are you whipping up any desserts for your NYE festivities?
Let us know what they are in the comments!
Affiliate links may have been used in this post.