Recipe Box: Maple Roasted Turkey Pieces with Roasted Cranberries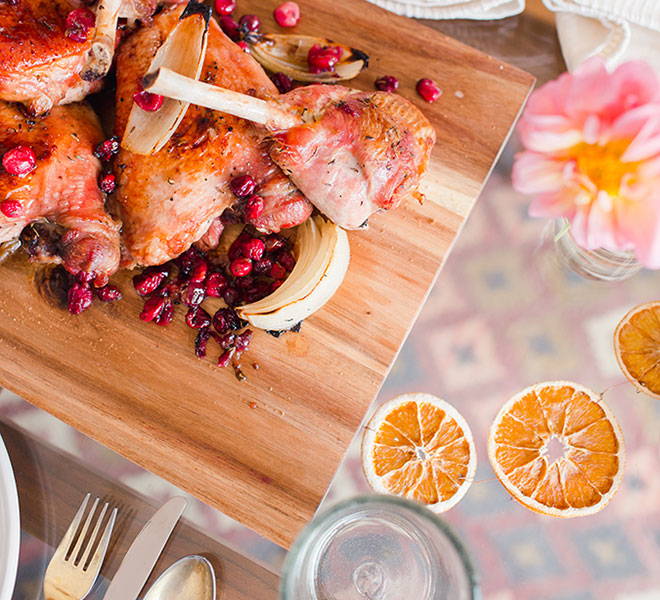 Earlier this week we shared one of our favorite celebrations to date—our annual LaurenConrad.com Friendsgiving feast! In true Thanksgiving fashion, we broke bread with some of our closest gal pals (and fellow girl bosses!) and shared one of our most treasured moments of 2018 thus far. Like most of our decadent spreads, this was a collaborative effort with many hands involved. Today, however, we're highlighting the main event—Claire Thomas's delectable maple roasted turkey with roasted cranberries.
Unlike traditional stuffed turkeys, Claire opted to serve the juiciest pieces instead of the entire bird. Paired with fragrant onions and tart cranberries, this is one meal we won't soon forget. If you're looking for a low maintenance and time effective recipe for your Thanksgiving or Friendsgiving menu, this turkey is the real deal. Keep scrolling for the simple and totally delicious recipe…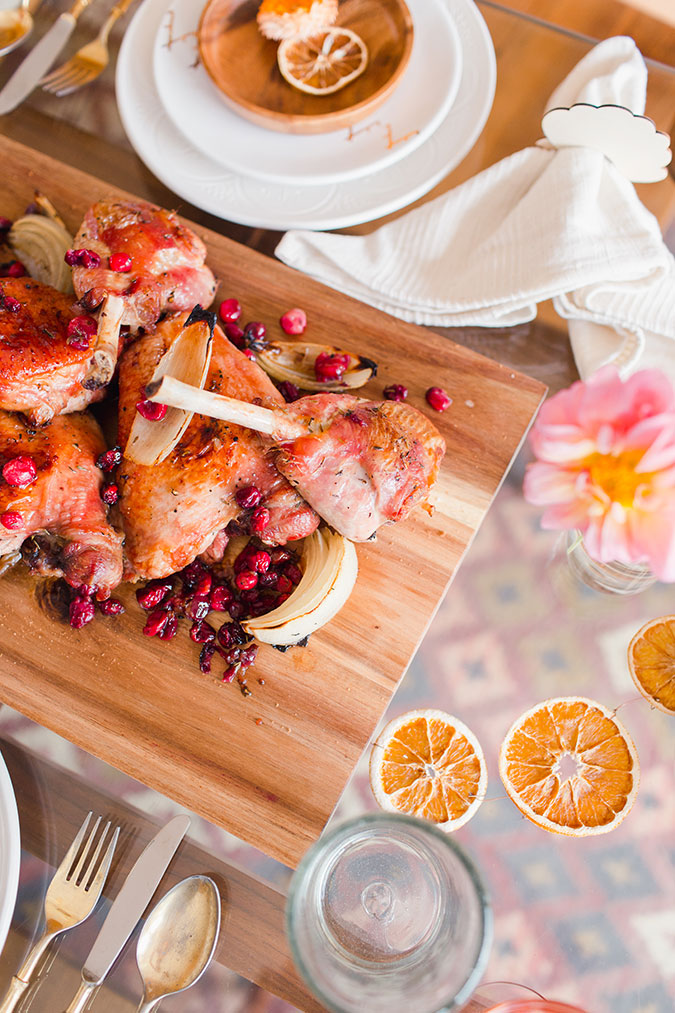 3 pieces turkey
1 onion, cut into 8 wedges
1 lb. cranberries
a few sprigs of fresh herbs (Claire used thyme, rosemary, and sage), de-stemmed and finely chopped
¼ cup maple syrup
2 oz. (half stick) butter, melted
salt and pepper to taste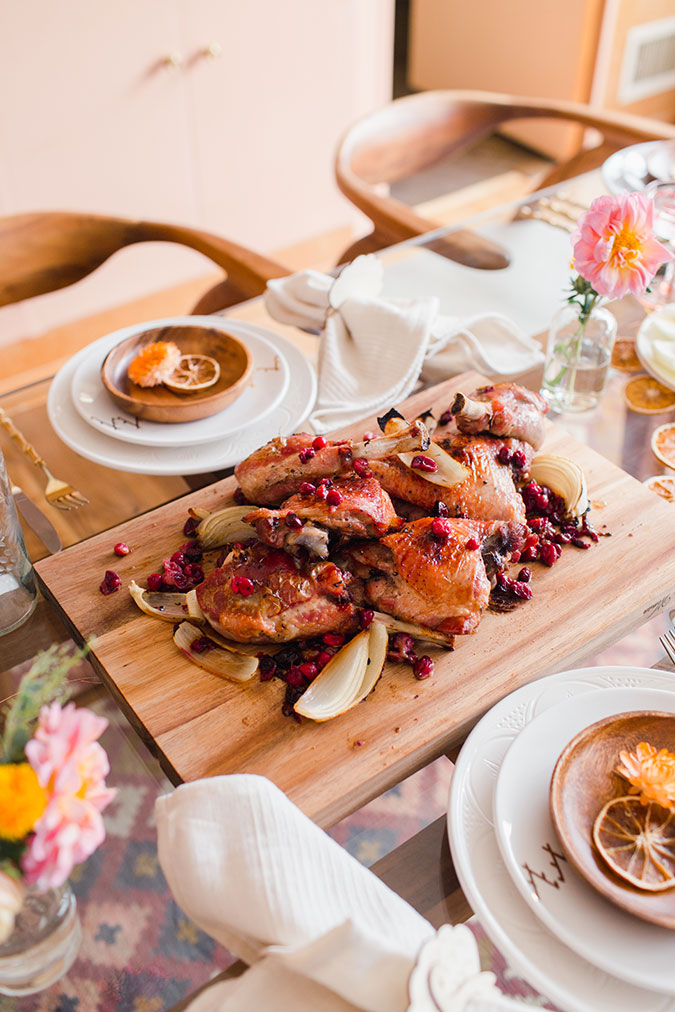 1. Preheat your oven to 425 degrees.
2. In a large bowl, combine the cranberries and onion with half of the maple syrup, butter, and herbs. Season with salt and pepper and put onto a lined baking sheet, careful that nothing is overlapping.
3. Cook for 45-55 minutes, or until the turkey is cooked through (165 degrees when a thermometer is inserted into it). To make it extra brown, turn the broiler on for a few minutes at the very end to crisp everything up.
4. Serve with a garnish of extra cranberries and onion, and enjoy!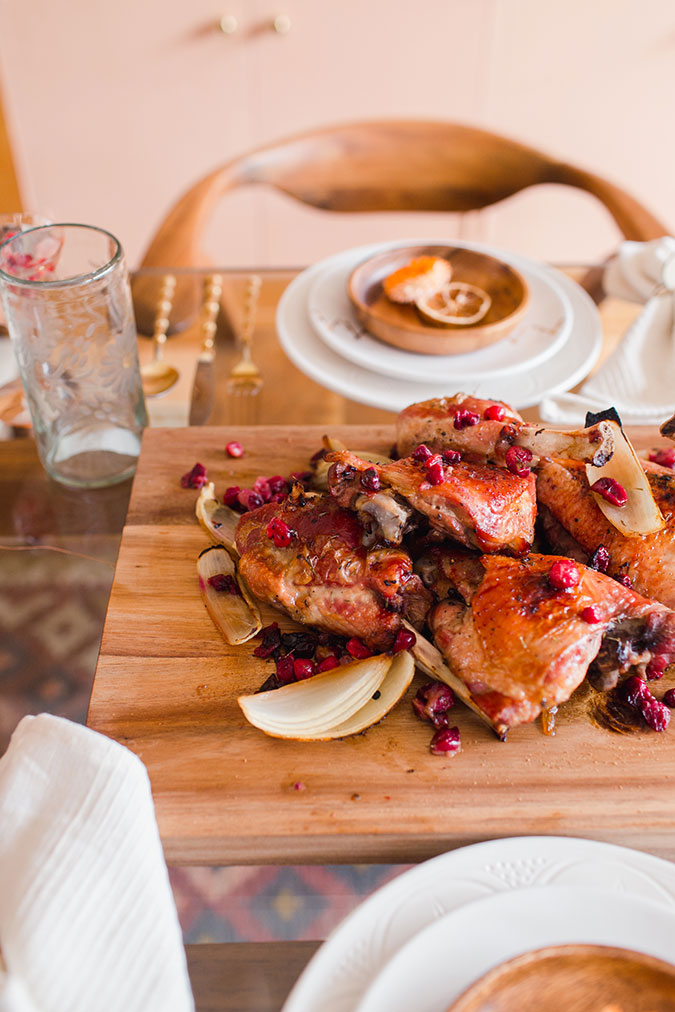 It's hard to believe that you can whip this up in less than an hour. We're sold! A huge thanks to our friend and contributor, Claire of The Kitchy Kitchen, for this irresistible recipe.
Don't worry, we're not done yet! Stay tuned for a Thanksgiving side dish menu coming soon…
How do you prepare your Thanksgiving turkey?
Let us know in the comments below!
Affiliate links may have been used in this post.