It's hard to believe that Halloween is just two days away. Hopefully by now your decorating is done, your pumpkins are carved, and you've put the final touches on your costume. But if you're looking for one more way to serve up the spooky spirit on All Hallow's Eve, this Halloween cocktail will do the trick. This Frankenstein Matcha Mule combines the refreshing flavors of matcha green tea and lemon with a traditional Moscow Mule. The result is a delicious, bright green drink made to look like Frankenstein's monster with the addition of black sprinkles on the rim. Whether you are hosting a Halloween party or looking for a drink to enjoy while handing out candy, this is the perfect spooky sip. Not only does it look festive, but it tastes delicious too. A Moscow Mule is normally my cocktail of choice, and since I'm a big green tea drinker too, I love how this Halloween cocktail turned out. Get the recipe below…
Frankenstein Matcha Mule
Ingredients:
2 oz. (1/4 cup) vodka
2 oz. (1/4 cup) ginger beer
4 oz. (1/2 cup) iced matcha green tea
½ oz. lemon juice
ice cubes
black sprinkles
honey
Instructions:
1. Coat the rim of your glass in honey and then dip in black sprinkles.
2. Squeeze lemon juice into your glass. Add ice cubes, then pour in vodka, ginger beer, and matcha green tea. Stir to combine.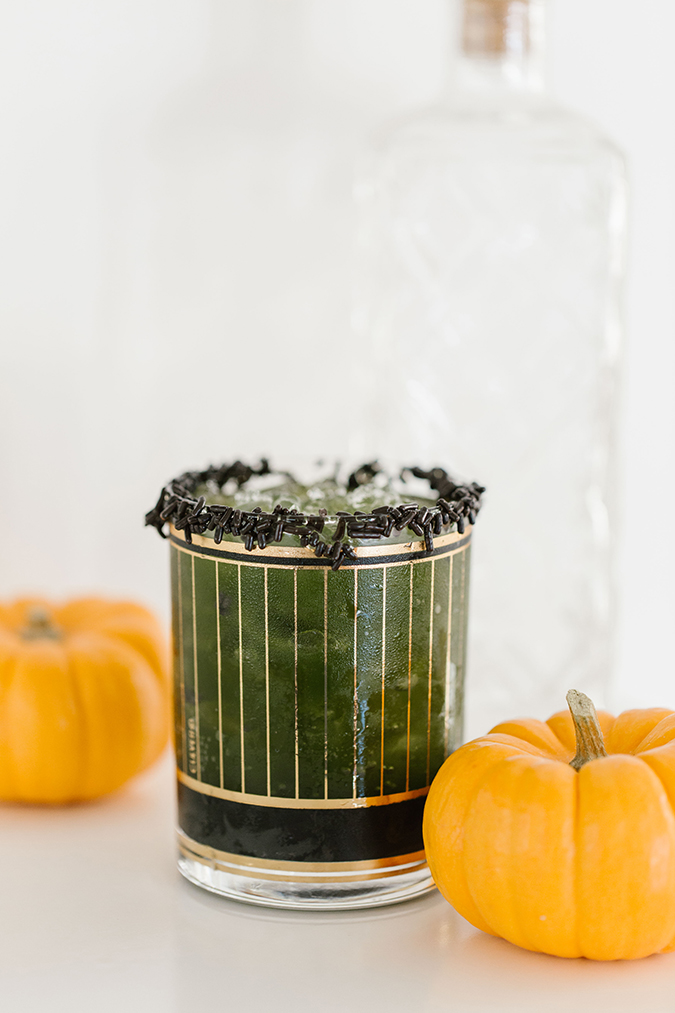 Are you going to serve up this spooky sip?
Happy Halloween!
XO Lauren
Photos: Jessi Burrone for LaurenConrad.com
Affiliate links may have been used in this post.