We don't know a person out there who doesn't love a blueberry muffin. (All of us on Team LC sure do…) But we also consider them an occasional treat rather than an everyday breakfast item. While a blueberry streusel muffin might not normally sound like the most nutritious breakfast out there, it's worth remembering that not all muffins are created equally. Unlike your typical blueberry muffins, these Sweet Laurel muffins are grain-free, gluten-free, dairy-free and refined sugar-free—and most importantly they are insanely delicious too! So whether you have a food intolerance or just want a healthier option, these blueberry streusel muffins fit the bill. Check out the recipe below, styled on our favorite Little Market White Moroccan Ceramics and a sweet custom Blush Stripe Cocktail Napkin. And if you like this recipe, be sure to order the Sweet Laurel Cookbook, which is full of delicious and guilt-free treats…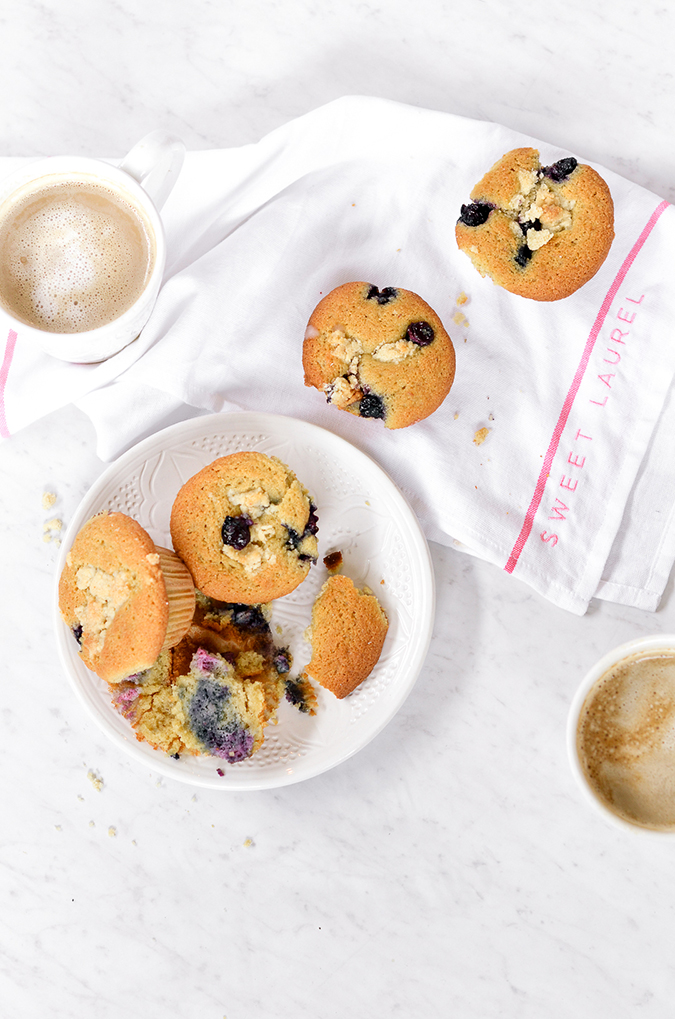 Sweet Laurel Blueberry Streusel Breakfast Muffins
Yields 12-14 muffins
Ingredients:
For the muffin dough:
2 ½ cups almond flour
¾ tsp baking soda
¼ tsp Himalayan pink salt
4 eggs, room temperature
1/3 cup coconut oil, melted
2/3 cup maple syrup
1 tsp lemon zest, packed
1 Tbsp lemon juice
2 Tbsp vanilla extract
4 oz. blueberries
For the streusel topping:
Ingredients:
½ cup almond flour
1 Tbsp coconut oil, melted
1 Tbsp maple syrup
Instructions:
1. Preheat oven to 350F.
2. In a small bowl, mix together all of the dry ingredients thoroughly. In a separate, medium bowl, whisk together the wet ingredients. Pour the dry ingredients into the wet ingredients and mix until just combined.
3. Pour the batter into the cake molds and top with blueberries. Use a spoon to lightly swirl the blueberries into the cake.
4. Mix together the ingredients for the streusel, until it forms a cookie dough-like texture. Crumble the streusel onto each muffin cup and pop in the oven. Bake for 20 to 25 minutes, until the cake pulls away from the sides and is golden brown. Turn out of cake molds and cool completely before cutting. Enjoy!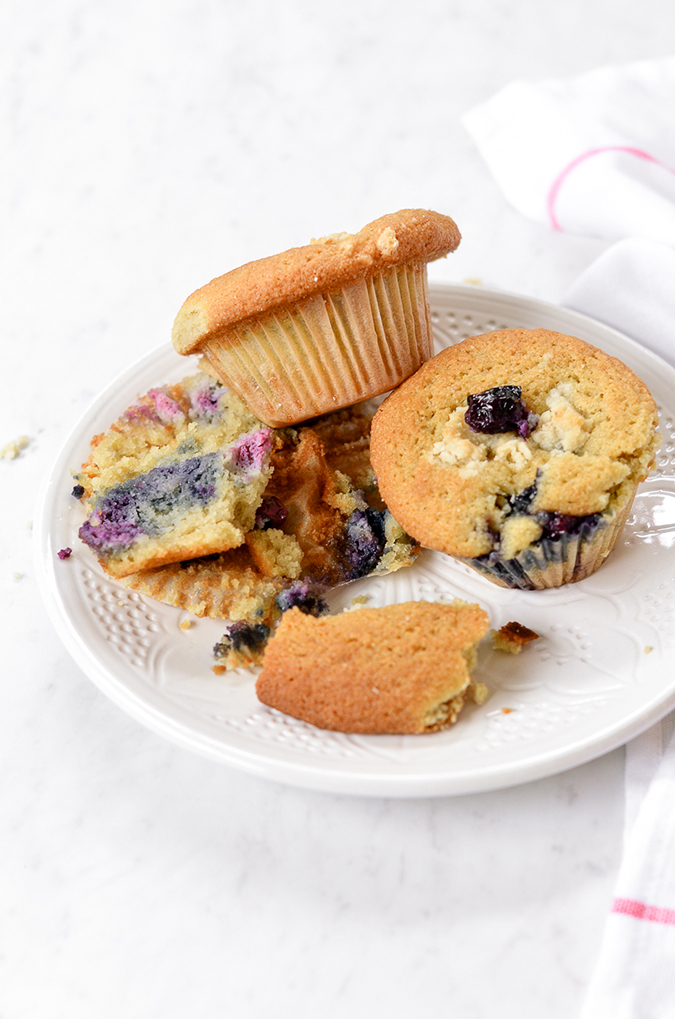 Trust us when we say your coffee and muffin morning routine will never be the same after you've tried these! If you think these look good, be sure to click here to scoop up a copy of the new Sweet Laurel Cookbook, available for purchase now.
Will you give these blueberry streusel muffins a try?
XO Team LC
P.S. Complete your brunch spread by adding this Sweet Laurel lemon Poppy Seed Bundt Cake and these Sweet Laurel Scones with and Coconut Crème Fraiche and Mixed Berry Jam!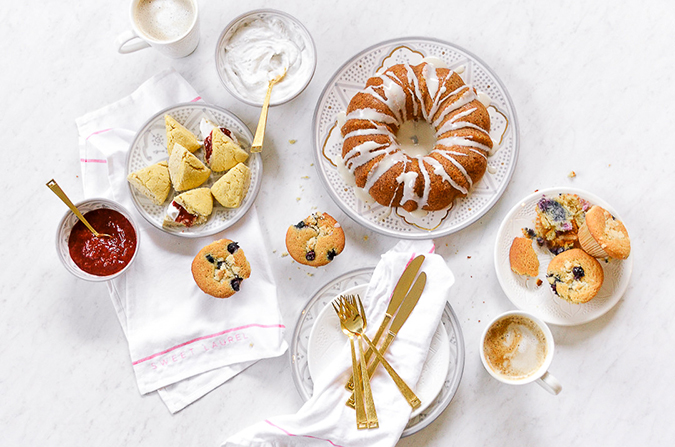 Affiliate links may have been used in this post.