There are few weekend traditions we love more than whipping up a delicious brunch, complete with a pastry basket, savory egg dishes, and mimosas (or Bloody Marys, if that's your preference). But, when it comes to said pastry basket, we often find that these treats are laden with refined sugars and less than healthy grains, resulting in a carb-induced coma post meal. Lucky for us, whenever we set out to create a healthy baked good at home, we're able to turn to our friends Laurel and Claire, the geniuses behind Sweet Laurel Bakery, which uses organic, grain-free, dairy-free and refined sugar-free ingredients to make healthy and delicious treats. Today, we're sharing a Sweet Laurel scone recipe that tastes so decadent, you won't believe they're actually guilt-free. We served them up on The Little Market's beautiful gray Moroccan ceramics, with whipped coconut crème fraiche and mixed berry jam on the side. We hope you will enjoy these delicious and healthy scones at your next home-cooked brunch!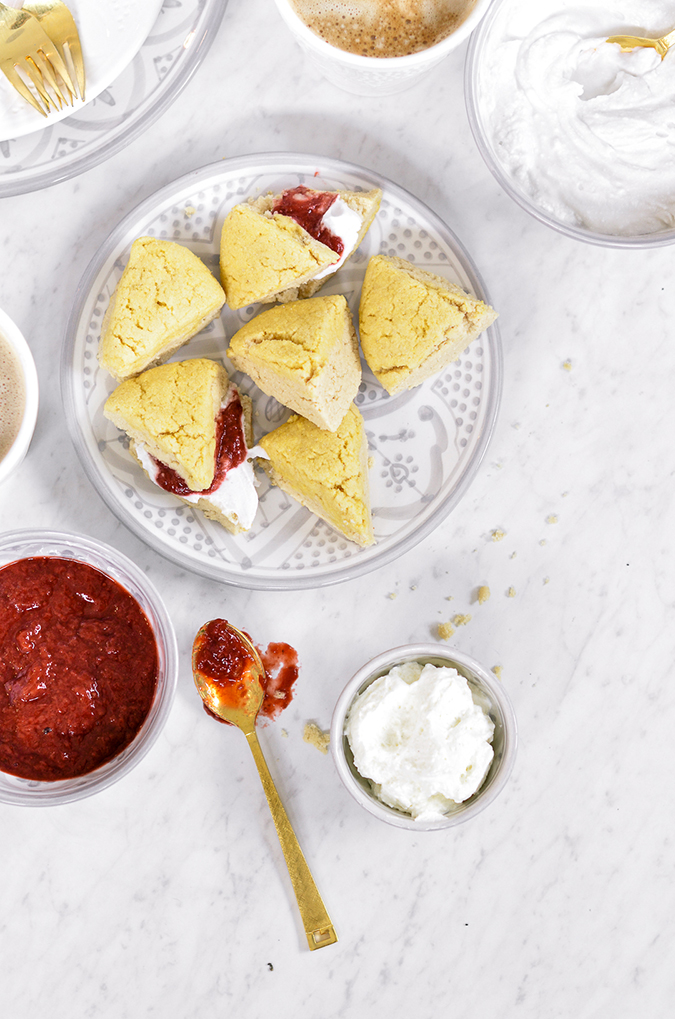 Sweet Laurel Scones with Coconut Cream and Jam 
Makes 6 servings
For the scones:
Ingredients:
1 ½ cups almond flour
¼ cup coconut flour
3 teaspoons baking powder
¼ teaspoon salt
3 tablespoons maple syrup
¾ cup coconut yoghurt
1 tablespoon vanilla extract
optional fillings: chocolate chips, blueberries, orange zest, cranberry
Instructions:
1. Preheat oven to 350°F.
2. Stir almond flour, coconut flour, baking powder and salt together in a bowl. Add maple syrup, yoghurt, and vanilla extract. Stir until dough forms. Add desired fillings, then turn dough into a ball on a baking sheet lined with parchment paper.
3. Shape dough into round circle and press down so it is about 2 inches thick. Cut round circle into 6 triangular pieces.
4. Bake scones for about 10 minutes. Let cool.
For the coconut crème fraiche:
(Yields about 3 1/2 cups)
Ingredients:
2 13.5 oz. cans coconut milk, refrigerated overnight
2 tablespoons maple syrup or honey
1 tablespoon vanilla extract
Instructions:
1. After the coconut cream has set in the fridge overnight, the coconut fat solids will separate from the coconut water. Spoon just the solids into the bowl of a stand mixer.
2. Beat the on high speed until peaks form. Slowly stir in the maple syrup and vanilla extract. Refrigerate until use.
For the mixed berry jam:
Ingredients:
2 cups fresh or frozen raspberries, strawberries, blueberries or blackberries
3 tablespoons maple syrup
1 tablespoon lemon juice
Instructions:
1. Place the berries, maple syrup and lemon juice in saucepan. Cook over medium heat for about 8­10 minutes, stirring constantly.
2. Gently smash berries as they cook. Allow jam to cool, then pour into a glass jar.
3. Refrigerate until ready to use, up to 5 days.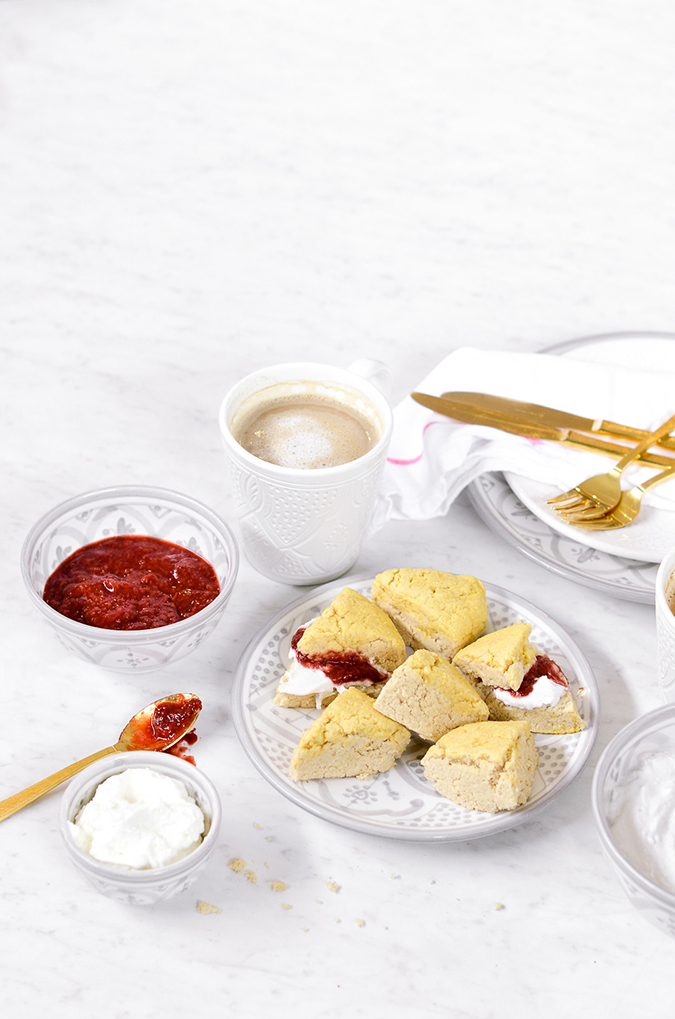 How beautiful do these scones look on The Little Market's gray Moroccan ceramics?
Shop this ceramics collection here.
And thank you to Laurel and Claire for sharing this recipe with us today. If you think this recipe looks delicious, then you're going to love all of the healthy treats in the Sweet Laurel cookbook, available for pre-order now! Click here to pre-order your copy of Sweet Laurel: Recipes for Whole Food, Grain Free Desserts to receive it the week of April 1st, 2018.
XO Team LC
Affiliate links may have been used in this post.