Recipe Box: Chamomile Macarons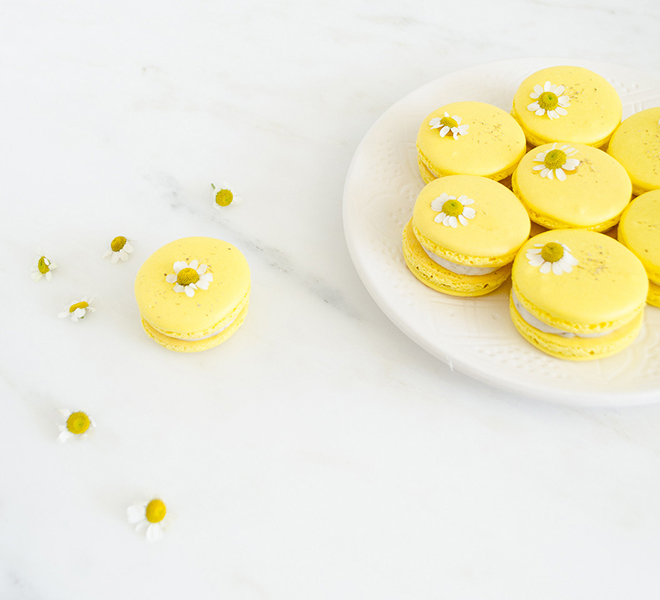 Ever since spring has sprung, we've been in the mood to sprinkle some flowers into every corner of our lives. From a fresh bouquet on our desktop to brighten the work day, to floral prints on blouses and frocks, the more the merrier. One unconventional way to incorporate spring flowers into your daily life is to adorn your favorite foods with them. With Easter coming up this weekend, we love to have our soirees and menus match the spring occasion. When our friend and resident LC.com baker Lauren Lowstan heard about our weekend plans, she created the dreamiest macaron recipe to bring some color to the dessert table.
While we've featured delicious macaron recipes on the blog before, they're nothing like this next batch. Inspired by chamomile, these bright yellow macarons will brighten your day with their flavor and garnish. Keep scrolling if you're interested in whipping up your own chamomile macarons, flowers and all…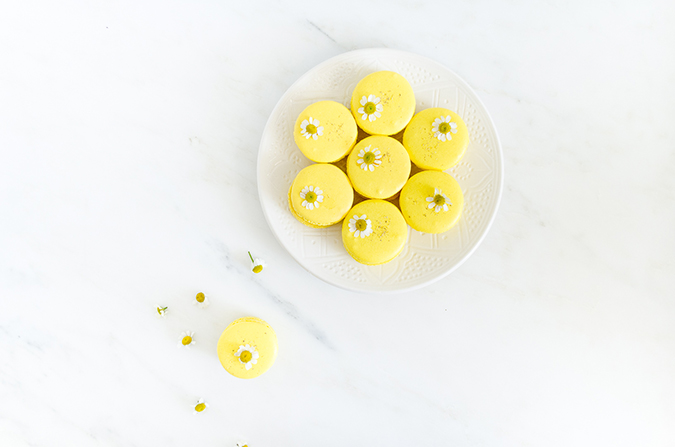 Chamomile Easter Macarons
85 grams almond flour
150 grams powdered sugar
87 grams egg whites (at room temperature)**
65 grams granulated sugar
3 drops yellow food coloring
1/4 cup of your favorite buttercream or frosting
1 bag of chamomile tea
¼ cup vanilla buttercream


**The day before making your macarons, measure out your egg whites, keep them in a sealed container, and leave out at room temp until the next day.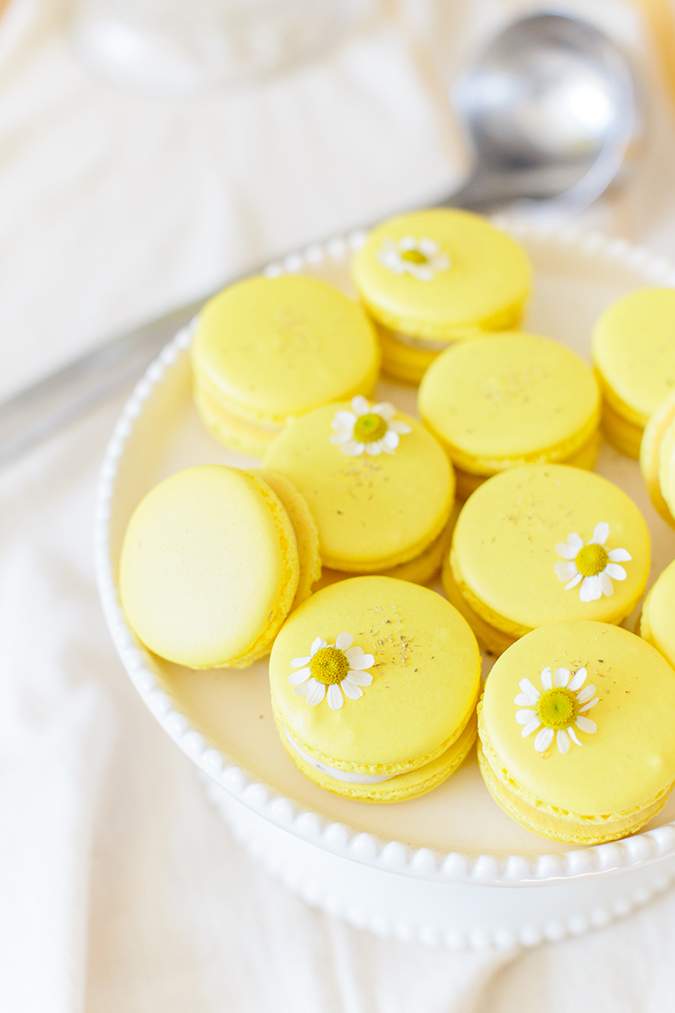 1. Measure out all of your ingredients before you do anything else. You want the ingredients ready right when you need them.


2. Once your ingredients are measured, get all of your supplies together. Since macarons are all about doing things at the right time, you want everything set up and ready for each step.


3. Line a baking sheet with parchment paper. (This is a must! No skipping this step). Get a large piping bag ready by cutting the tip off and adding a small piping tip in at the bottom.


4. In a food processor, grind the almond flour and powdered sugar for about 3 minutes. You want the powder to be as fine as possible.


5. Sift the mixture through a fine mesh strainer into a large bowl and set aside. If there are any large clumps left over, just toss them and don't try to use them.


6. Add your eggs to a mixing bowl fitted with a whisk attachment, and start whisking on medium. After about 15 seconds (once the eggs are frothy) add in all of the granulated sugar. Keep mixing on high speed until you have STIFF peaks. (You know you have stiff peaks when you take your whisk out of your mixture, and the peak of egg whites does not move at all).


7. Add in your food coloring to get the bright yellow color. Mix until stiff and glossy.


8. Scoop out the beaten egg white and add it into the bowl with the ground almond flour and powdered sugar.


9. With a rubber spatula, carefully blend everything together, using a folding motion. Work your way from the bottom of the bowl and slide your way up the sides, folding the batter back onto itself.

10. When the batter is evenly mixed, it will look shiny and creamy. You know you've mixed enough when you scoop some batter up with your spatula, and it SLOWLY drips off your spatula.


11. Now it's time to add your batter to a piping bag. You need to hold the tip of the pastry bag with one hand to guide it, and hold the larger end with the other hand to push the batter down. Place the tip very close to the parchment paper, holding the bag upright, and pipe out to 1 to 1.5-inch discs. When you've hit the desired size, just lift the piping bag up and stop putting pressure on the bag. This is tricky, you will just need to practice the pressure and piping out to get the desired size.


12. Once your tray is full, tap your baking sheet on your work surface about 5 times. This takes all of the air bubbles out.


13. Set your baking sheet aside and let your macarons dry out. The time depends on the humidity in the room. It usually ranges from 15 to 30 minutes. You'll know they're done when you lightly touch the tops with your finger and they will be completely dry—not sticky at all.


14. Halfway through the drying time, preheat your oven to 350 degrees. Once your macarons are dry, bake for 10 minutes. They're done baking when you touch the tops of them and the bottoms don't move. If they slightly push down on the bottom (the foot of the macaron), bake for an extra minute.


15. Let the macarons cool completely and pop them in the freezer for 10 minutes. This makes them so easy to slide off the parchment paper.


16. Take an offset spatula and slide it under each macaron. This slips them off the parchment right away.


17. All of my macarons are slightly different shapes. I like to match mine up so each sandwich matches each other. In a small bowl, combine vanilla buttercream with 1 bag of chamomile tea (discard the tea bag). Top half of the macarons with a swirl of buttercream and top with another macaron.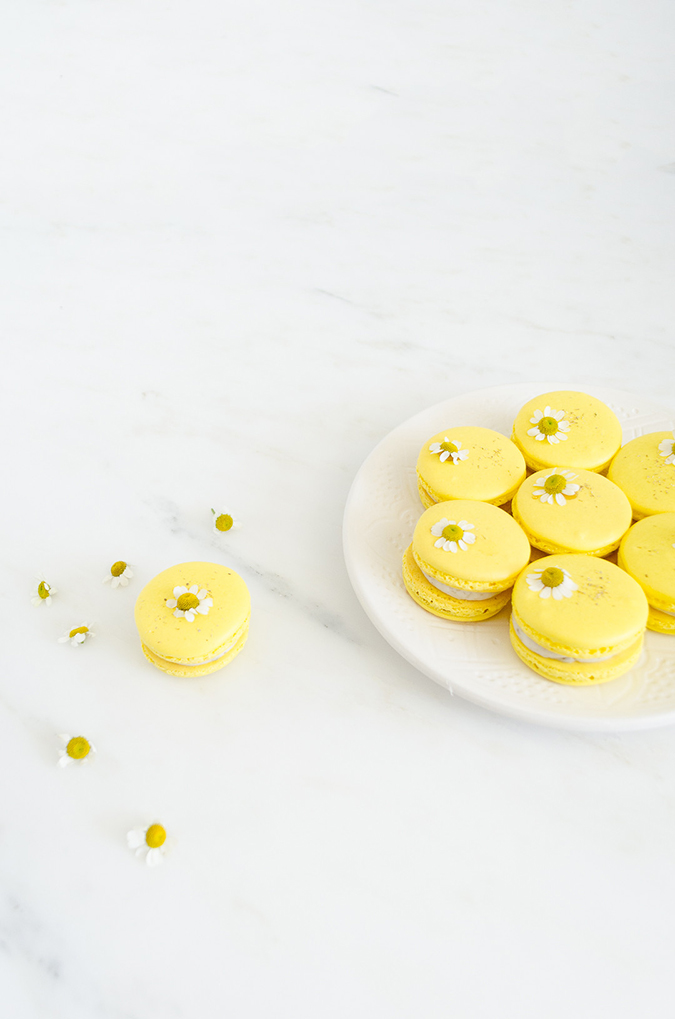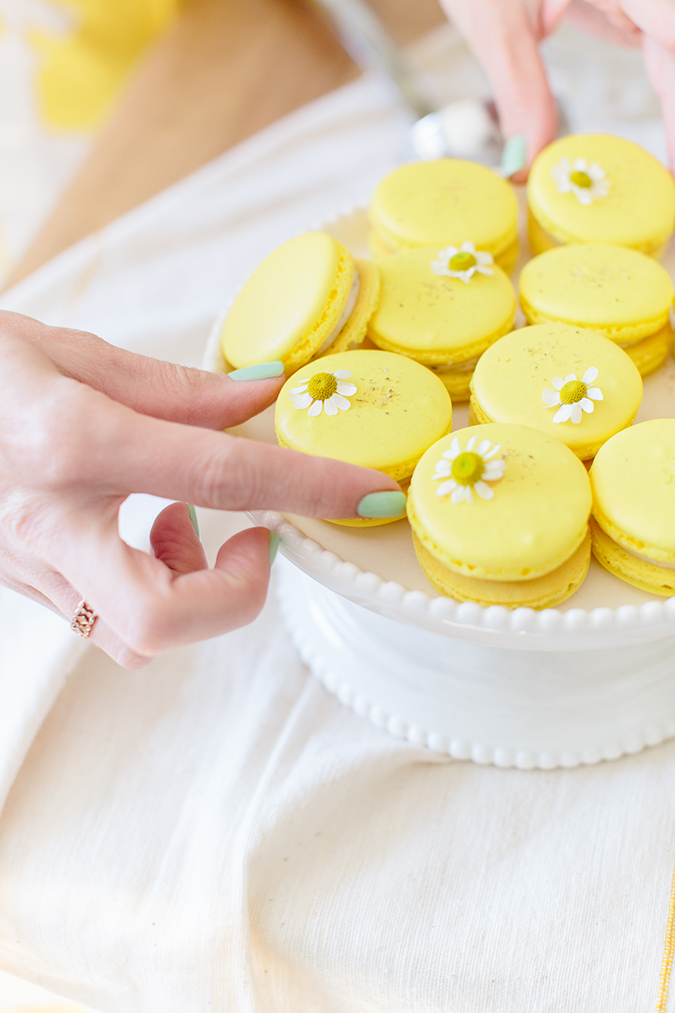 These macarons make the perfect springtime dessert, especially if you have a tea party on the horizon! If you're thinking about sprinkling some fresh flowers on your next treat, be sure to read this edible flower guide beforehand.


What kind of dessert would you like to see on the blog next?


Let us know your thoughts and ideas in the comments!


If you loved our chamomile macaron recipe, be sure to check out these Easter-inspired options as well:


Affiliate links may have been used in this post.