Beauty Note: Why I Switched to a Foundation Brush—and Why I'll Never Go Back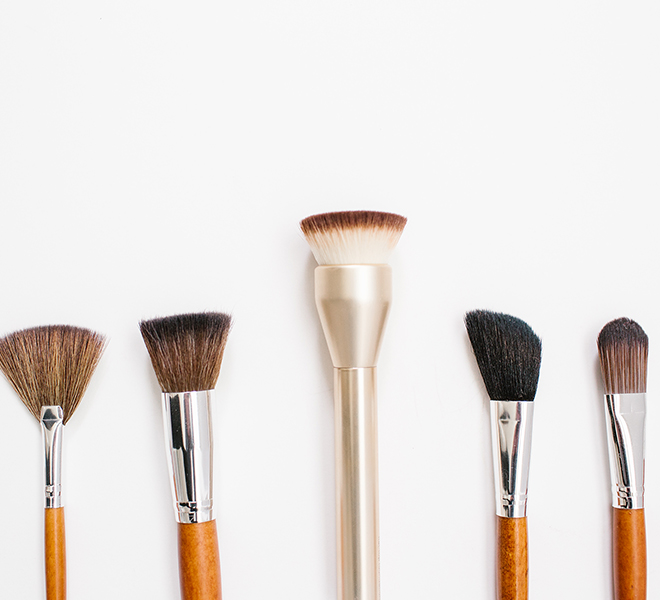 It all started on a routine trip to Target. I can't help but make a detour through the cosmetics section every time I walk into the store—I swear it's like a magnet! A small voice in my head convinces me that there's something new that I need to try. During one of my more recent visits, Target had just remodeled the makeup brush section and I found myself comparing and contrasting every single one. After all, one needed to come home with me and I wanted it to be something I used on a regular basis. That day I became the proud owner of my first foundation brush.
For the past few years I've been applying my foundation with a makeup sponge, and for the most part I had no complaints. After all, each application process has its pros and cons and I thought my beauty woes were strictly because I was doing it wrong. Since I'm the kind of person that likes to test out the latest beauty trends to see what all of the hype is about, my curiosity is what ultimately lead me to the brush aisle at Target that day. I know that using a brush to apply foundation is not a new concept, but I needed to find out what the results were like for myself and I'm so glad I did. Keep scrolling to see why I've fully converted to using makeup brushes…


Why I'm ditching my makeup sponge.
All in all, makeup sponges work great when applying everything from foundation to concealer and even highlighter. After using a damp makeup sponge to apply my foundation for quite some time (I'm talking years), I found myself getting fed up with the lack of consistent coverage it was creating. Did you know that makeup sponges soak up a lot of the product that you're using? I found that because of this, my makeup was looking blotchy in areas where there was more product and I was running out of foundation faster than I care to admit. Using a makeup sponge was proving to be more wasteful than helpful.


Why I'm sold on foundation brushes.
When it came time to test the makeup sponge against the foundation brush, the results were evident immediately. It cut my application time in half and it left me with polished and airbrushed looking results. The biggest difference for me was how even my skin looked—finally! Foundation brushes give you the option to build up as much coverage as you want, giving you full control of the look you're wanting to achieve. These were the kind of results I was lacking with a makeup sponge.
After two weeks of using the foundation brush to apply my makeup, I can confidently say that I will not be reverting back to a sponge. If you've been curious about what they can do for you, I encourage you to make the switch! Not only will your product last longer, but you'll be giving yourself an effortless airbrushed look every time you apply foundation. That's a win win in my book! Here are a few of my favorite foundation brushes:



What are your thoughts on foundation brushes?


Let me know your opinion in the comments below!


Affiliate links may have been used in this post.