Edible Obsession: Two Homemade Peeps-Inspired Easter Treats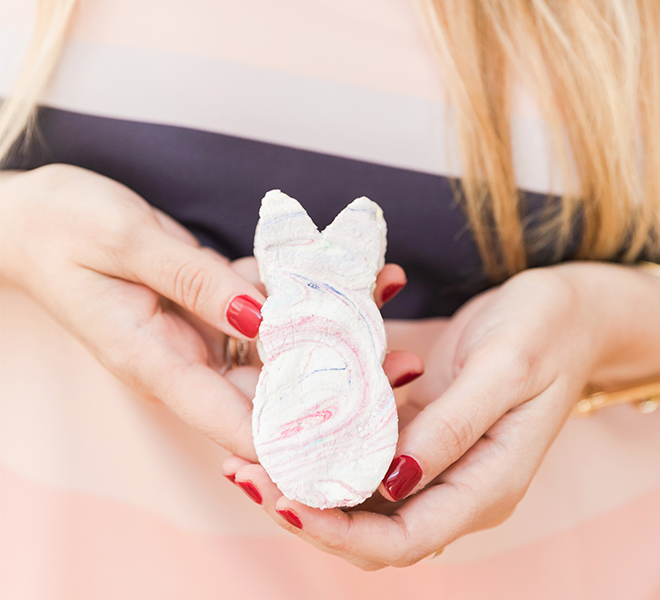 Peeps: You either love 'em or hate 'em. These fluorescent, sickly-sweet marshmallow Easter treats have made their way into almost everyone's childhood Easter memories. But now, as adults, there are so many other springtime sweets I would much rather choose (desserts like this one that don't have super intense food dyes or preservatives, for example). If you agree with me on that, then today is your lucky day, because we recently enlisted our friend and resident LaurenConrad.com baker to dream up not one but two homemade Peeps-inspired Easter treats to share with you all. Lauren Lowstan put her own spin on Peeps with a homemade marbled marshmallow version, and a Peeps Rice Krispies treat as well. Trust me when I say that these will blow the original version out of the water… Enjoy!


Peeps Rice Krispies Treats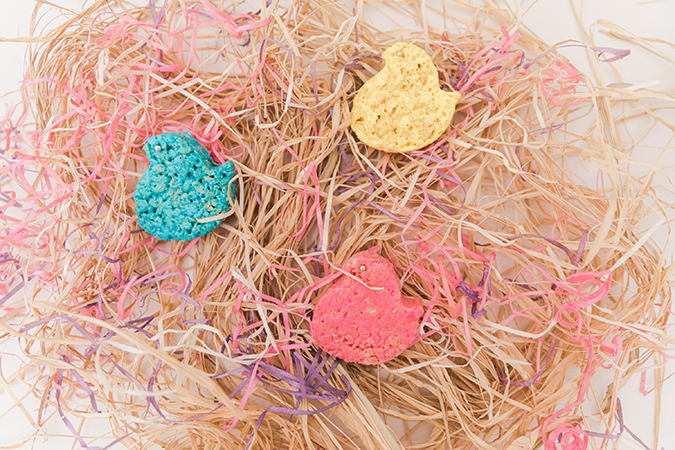 0.5 oz. kosher gelatin
½ cup cold water
½ cup water
2 cup granulated sugar
½ cup corn syrup
2 teaspoon vanilla
¼ tsp salt
¼ cup butter, room temp
12 cups rice krispies cereal
gel food coloring, pink, yellow, and blue
silver circle sprinkles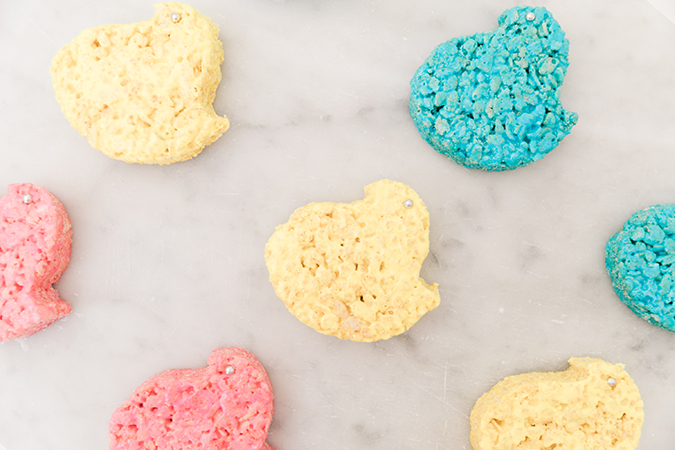 1. Generously spray a 9×13-inch pan. Line with parchment paper, and generously spray the parchment paper. Set aside until ready to use.


2. Add the cold water to the bowl of an electric mixer. Sprinkle the gelatin on top and swirl the bowl around so the gelatin gets mixed in. Set aside to harden.


3. In a medium saucepan, add the water, sugar, and corn syrup. Whisk just once and turn the heat to medium high. Let it come to boil, and boil until it reaches 240 degrees.


4. Once its hit 240 degrees, take it off the heat and slowly add it into the bowl of gelatin, while the mixer (fitted with a whisk attachment) is on low.


5. Once all your hot liquid is added, turn the mixer up to medium-high and beat for 5 minutes, until it is light and fluffy and looks like melted marshmallows. Note: This process takes time!


6. Once it's fluffy and bright white, add in the vanilla, salt, and softened butter. Whisk until everything comes together and divide the marshmallow into three bowls. Color each bowl a different color and add in 4 cups of cereal to each bowl. Mix everything together with a rubber spatula (use a little elbow grease!), and add each color to your pan. Start with one color and add it to the left of the pan. Then the second to the middle, and the last color to the right. Then press it all in until the bars feel very compacted and are even on top.


7. Pop into the freezer until completely chilled and hard. Carefully lift the Rice Krispies block out with the edges of the parchment paper. Cut out with your peeps cookie cutter, and place each one onto a parchment lined baking sheet. Press one sprinkle into the corner to make the eyes.


Homemade Peeps Marbled Marshmallows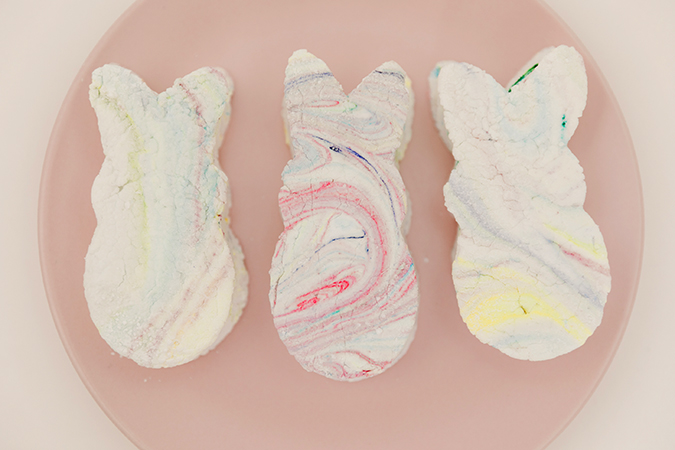 7 ½ teaspoons powdered gelatin
½ cup ice cold water
½ cup water
1 ½ cup sugar
1 cup light corn syrup
¼ teaspoon salt
2 tablespoons powdered sugar
2 tablespoons cornstarch
2 Tbsp. vanilla extract (or extract of choice)
pastel gel food colors
peeps cookie cutter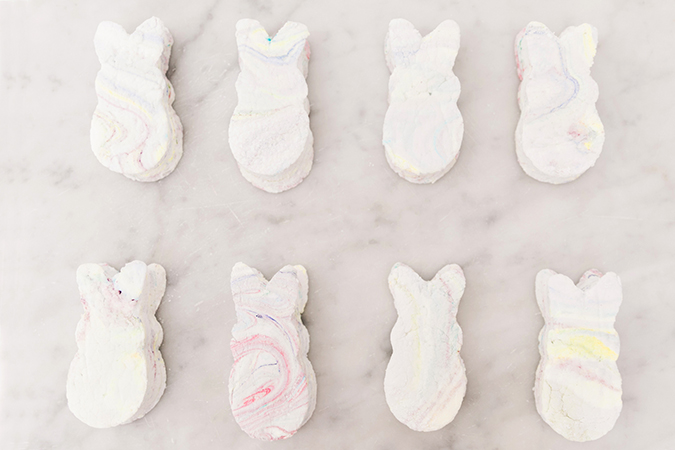 1. Sift together powdered sugar and cornstarch in small bowl. Take a 9×13-inch pan and spray with non-stick spray. Heavily dust the pan with half of the powdered sugar and cornstarch mixture.


2. Place gelatin and ice cold water in a stand mixer with a whisk attachment. Whisk lightly and let sit to come together and create a hard Jell-O-like texture.


3. In a small saucepan over high heat, stir the remaining ½ cup of water, sugar, corn syrup, and salt lightly until the sugar is dissolved. Using a candy thermometer, cook sugar until temperature reaches about 230 degrees.


4. Once the sugar mixture has reached 230 degrees, pour sugar over the gelatin in the stand mixer. Turn on the mixer right away and whisk on high speed. After about 6 minutes, the mixture will start to thicken and become fluffy, white, and glossy, and doubled in size. You may have to continue whipping it for about 10 minutes. You want the fluff to have soft peaks! Once you get to this stage, add in the vanilla and mix once more until combined. Tip: You want to work quickly at this point because the marshmallows can set very quickly. Add in a couple drops of each food coloring, and give one little stir (do not stir too much!!).


5. Spread the marshmallows as evenly as you can into the prepared pan (the mixture will be very sticky and somewhat hard to spread). When you spread it out, the colors will start to swirl together. Cover the top with the rest of the cornstarch/powdered sugar mixture and pat down to even the top out. Let the mallows harden for about 4 hours.


6. Run a small paring knife around the edge of your pan. Invert the marshmallow block onto your work surface, and place right side up. Dust off the excess cornstarch/sugar with a pastry brush.


7. Cut into peeps shape. Cover the cookie cutter with cornstarch/powdered sugar mix before each cut. This helps the mallows from sticking to the cookie cutter.


Which of these homemade Peeps-inspired treats would you want to serve at your Easter brunch?


Let me know in the comments below.