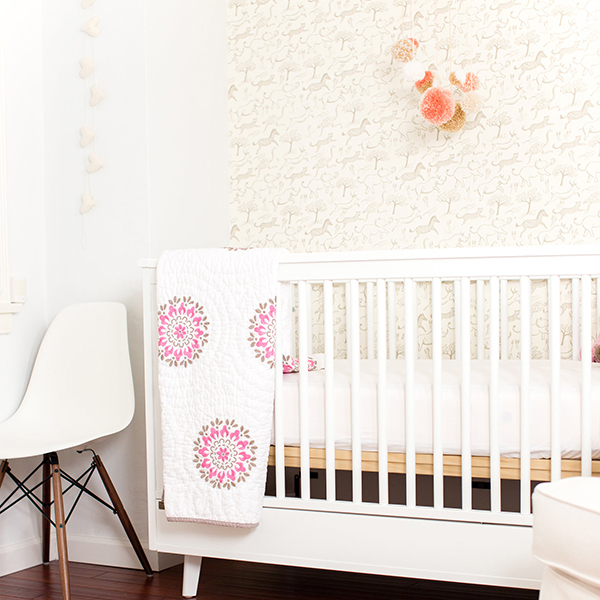 Hi everyone! It's your Team LC editor Ilana with the latest post in my
Oh Baby
series. I'm a new mama as of August 30th, and today I will be sharing a peek inside our nursery…
I am so excited to share the first post in my Oh Baby series since we welcomed little Eden Eliot Saul into the world at the end of August! During the months that I was expecting, I was in major nesting mode. As soon as I found out we were having a baby, my mind went straight to the nursery. And I am excited to share the finished product here today. Check out the photos below…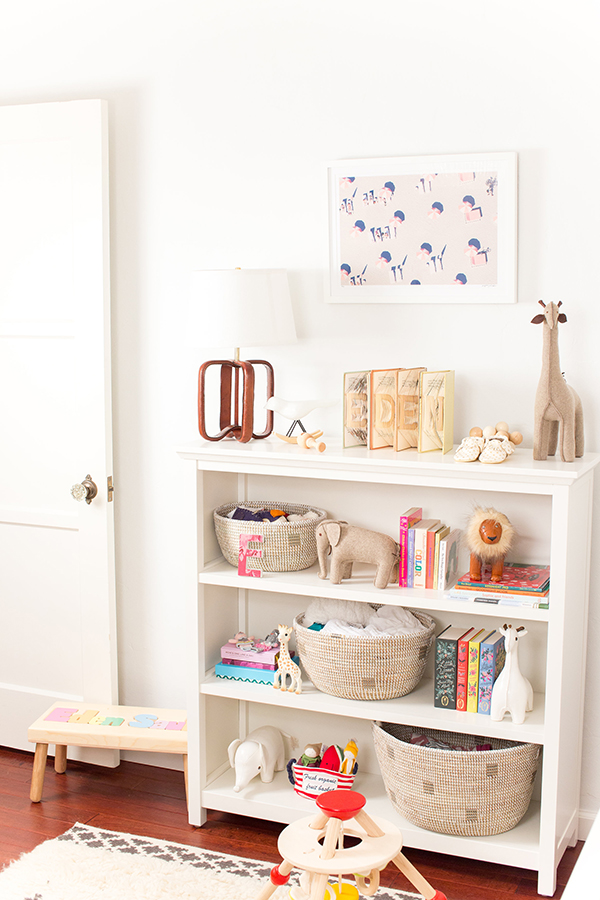 While I do love a pop of color when it comes to home décor, I wanted to go a different route for Eden's nursery. My vision was to have a serene, modern space filled with mostly neutral hues, making it a peaceful place for baby—and mommy and daddy, too. Keeping the pieces neutral in color will also make it easy to reuse them should we decide to have a second baby someday!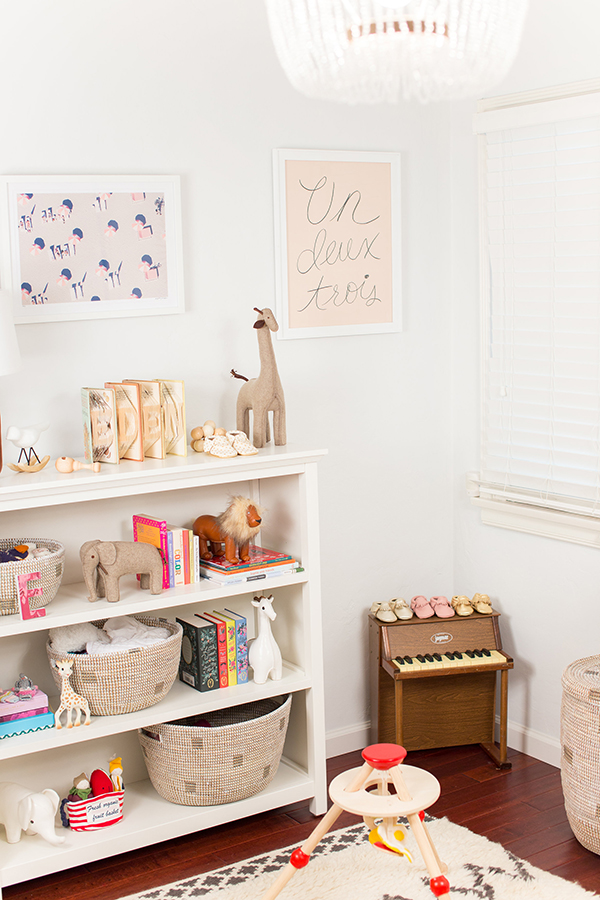 I spy a print from Team LC's pal and photographer Gray Malin! And baskets and a hamper from Lauren's fair trade shop The Little Market were a must.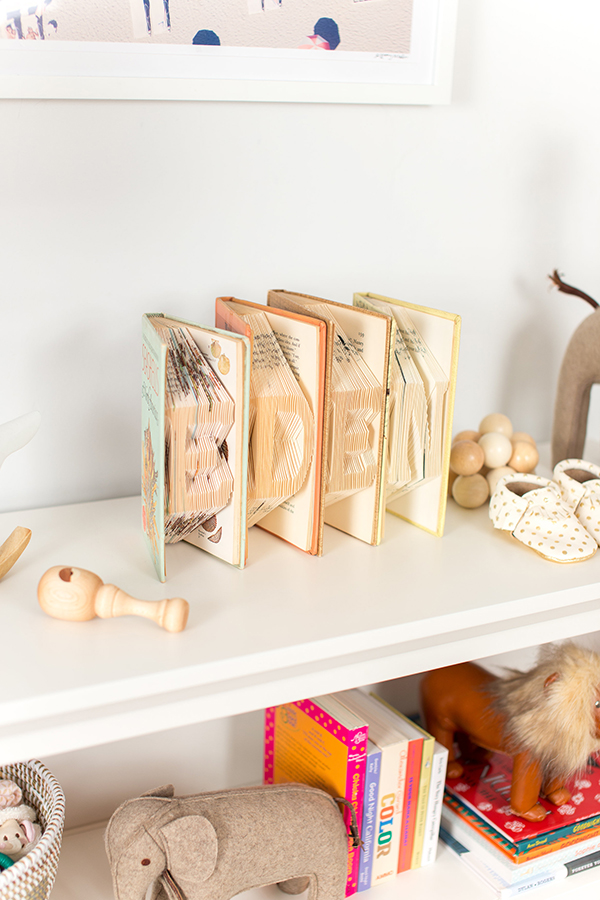 The folded (not cut) 'Eden' books (which you might recognize from Lauren's Instagram from my shower) were made by my very talented husband, Mark. He sells them on Etsy too.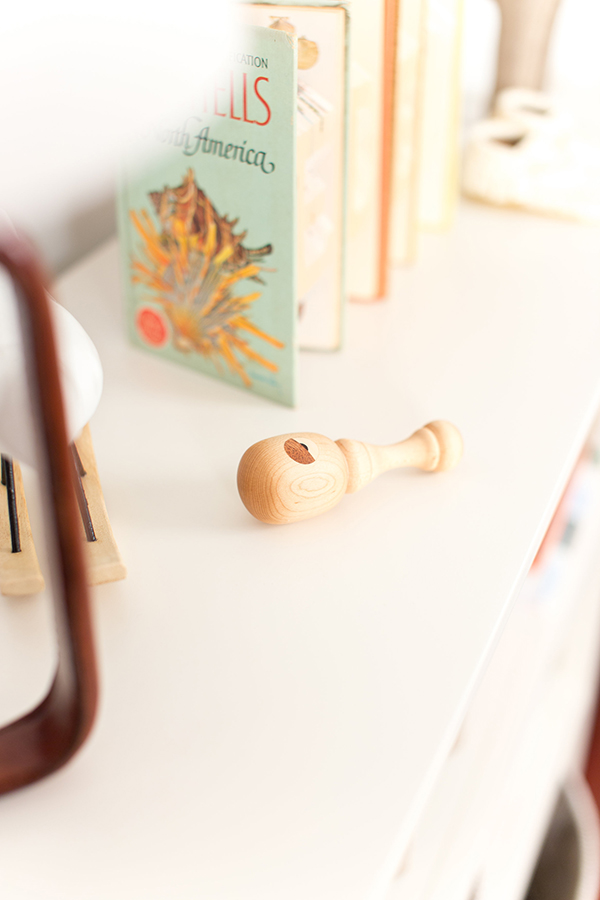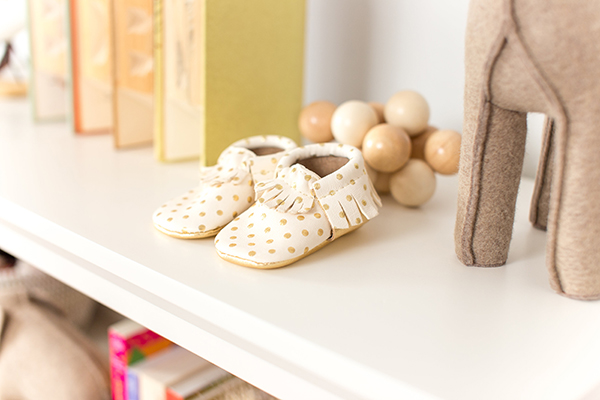 I am absolutely obsessed with Freshly Picked's moccasins. This baby girl is going to have a chicer shoe collection than her mama…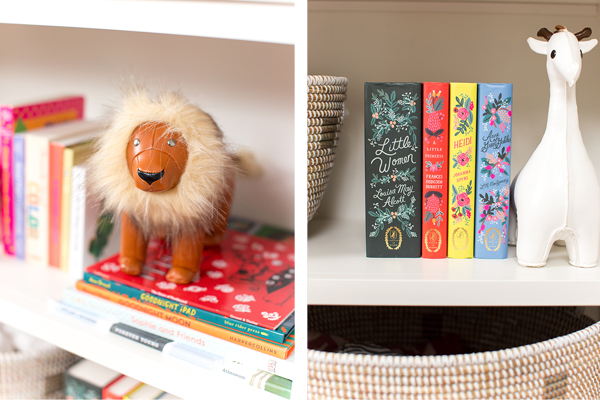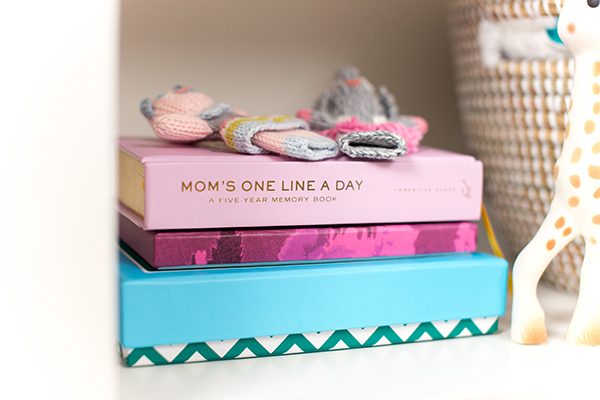 Bookshelf Area: Pottery Barn Kids Cameron 3-Shelf Bookcase | Gray Malin Miami Pink Umbrellas Print | Rifle Paper Co. Un Deux Trois Print | The Little Market Stacked Knitting Baskets | Novel Brand Folded 'Eden' Books | Noli Noli Rattle | Rifle Paper Co. Puffin In Bloom Illustrated Classics | Sophie The Giraffe | Freshly Picked Moccasins | West Elm Kasbah Wool Rug | Vintage Mini Piano | Plan Toys Activity Baby Gym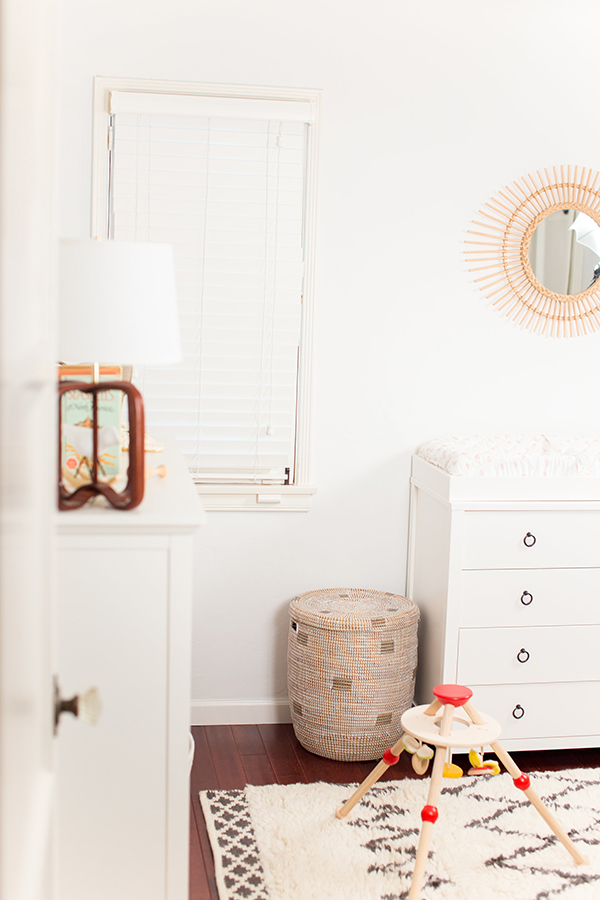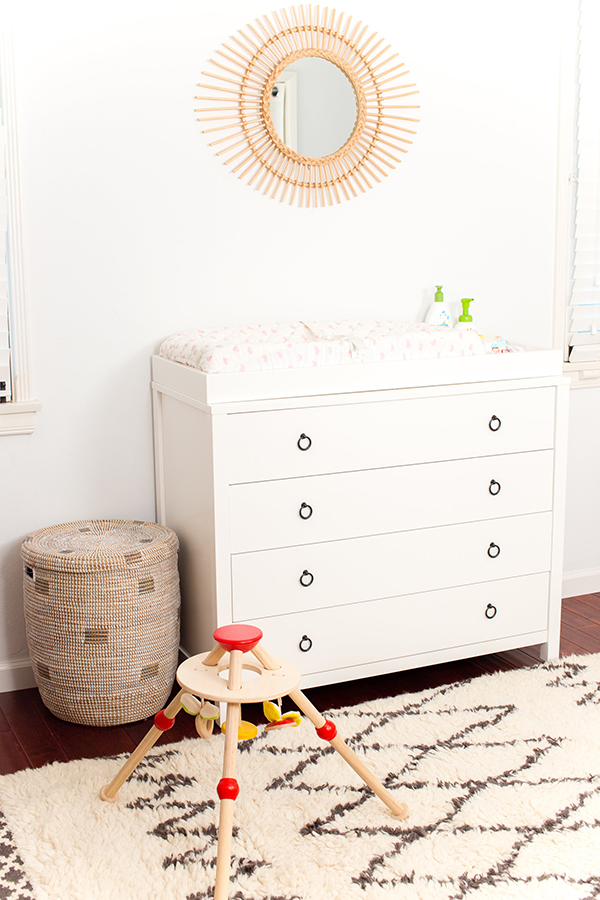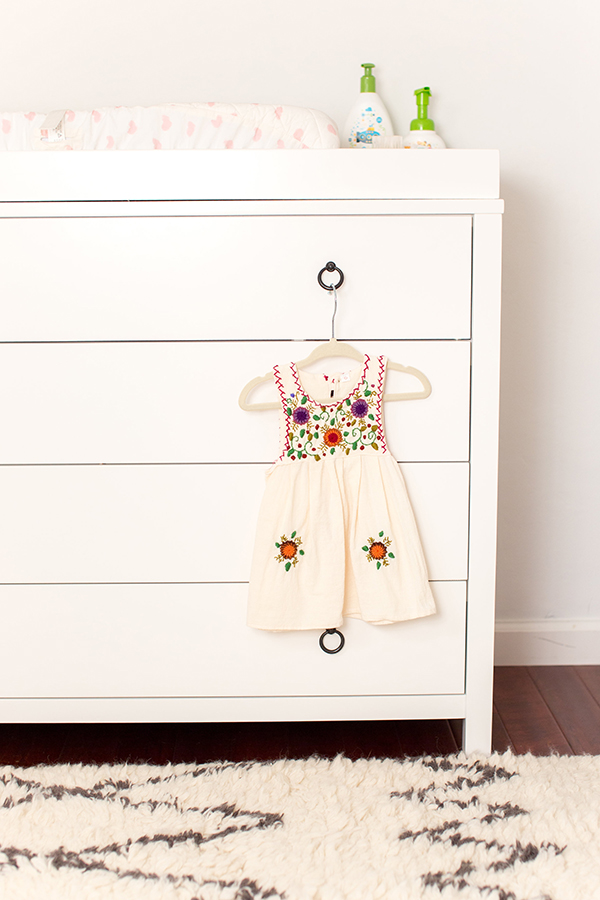 The embroidered dress was a gift for Eden from Lauren and Hannah that they picked up on their trip to Guatemala for The Little Market.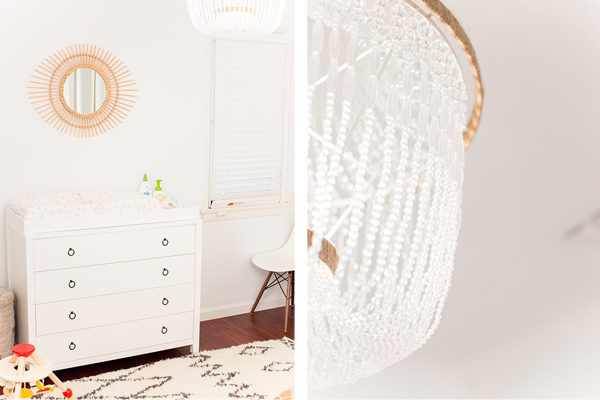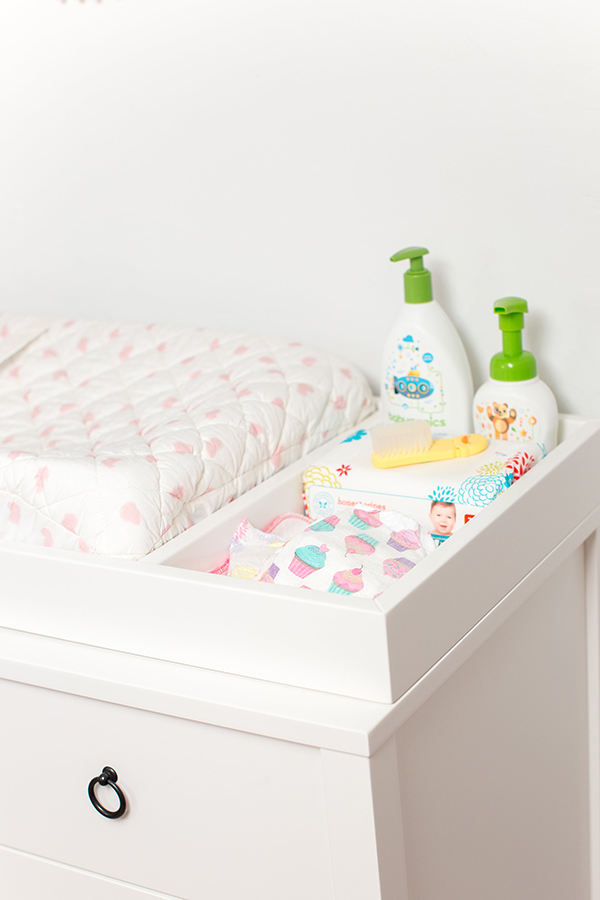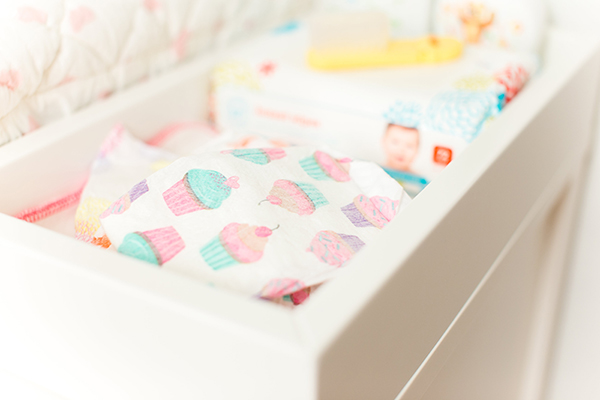 Honest Company diapers come in the cutest prints ever (like cupcakes!), and are eco-friendly and free from risky additives.
Dresser Area: Pottery Barn Kids Hadley Dresser and Topper | The Little Market Hamper | Anthropologie Midcentury Wicker Mirror | Pottery Barn Kids Rissa Crystal Beaded Chandelier | Piyo Piyo Baby Hairbrush | Honest Company Cupcake Diapers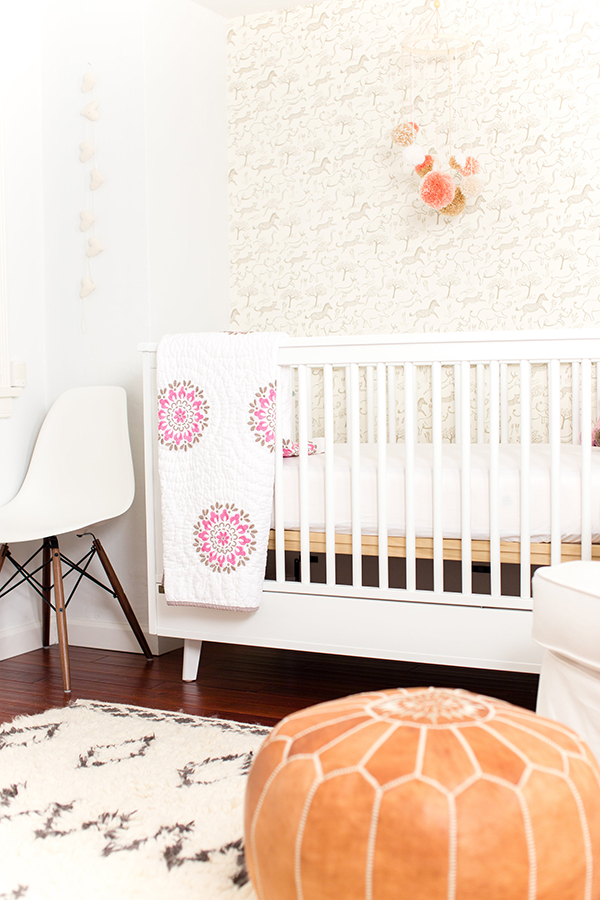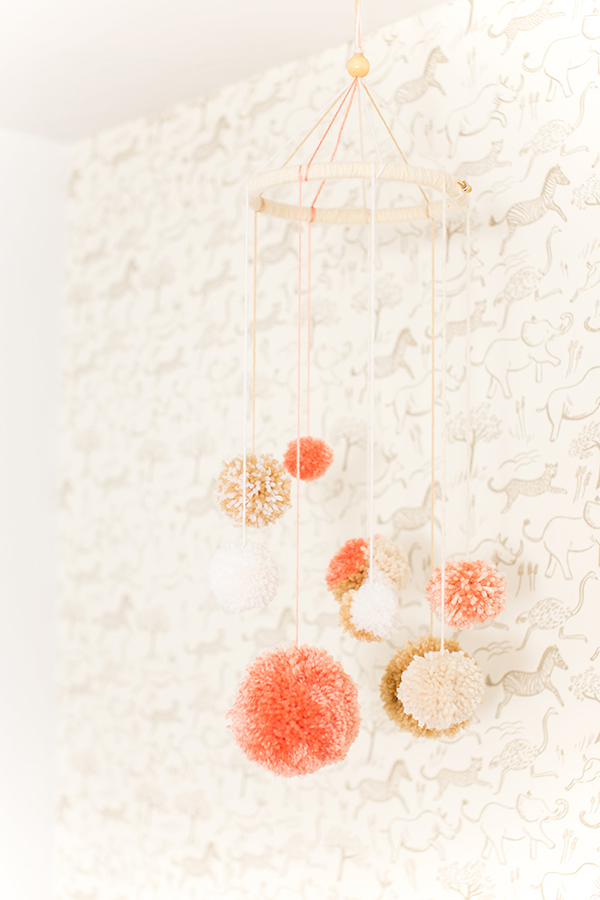 The pom-pom mobile was another DIY (you can see how to make one here).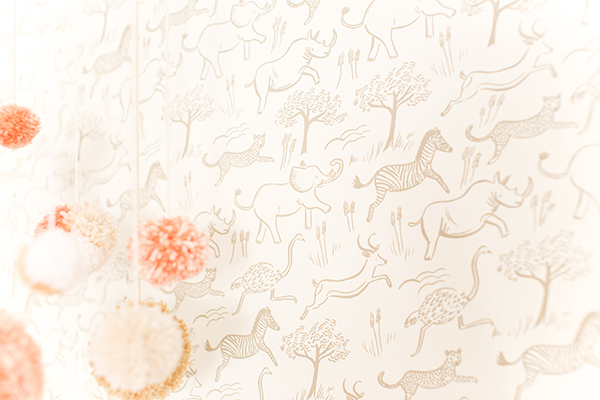 Since we have earthquakes in California, I knew it wasn't a good idea to have any heavy framed prints above the crib. Papering the crib alcove in the new Rifle Paper Co. x Hygge and West safari paper was the perfect solution, and I think it actually brought more character to the room than a gallery wall could have.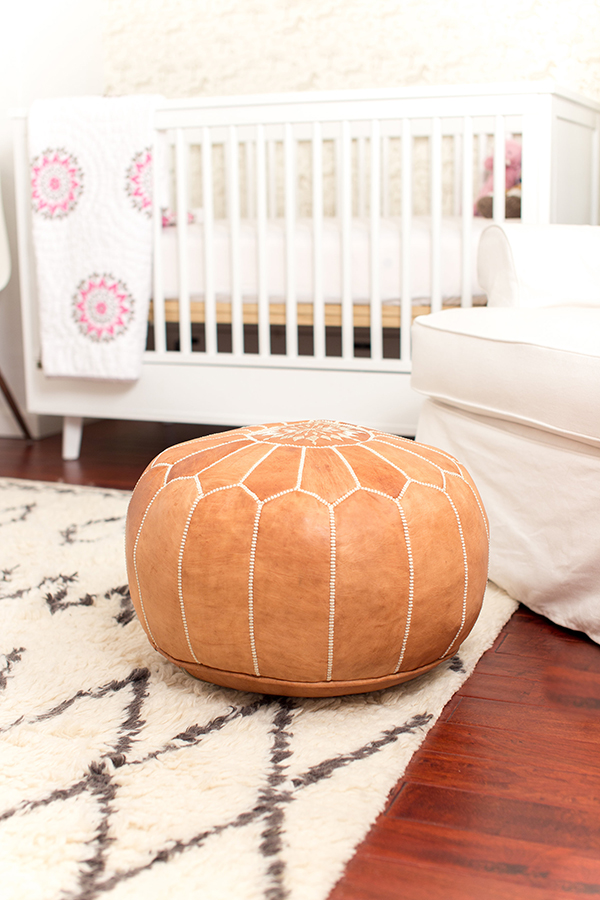 Obsessed with the Lulu and Georgia Moroccan pouf!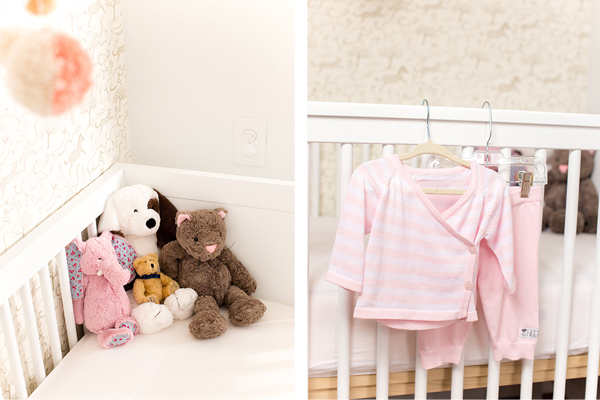 Crib Area: Pottery Barn Kids Harper Crib | Pottery Barn Kids Dahlia Quilt | Design Within Reach Eames Molded Plastic Dowel-Leg Chair | Lulu and Georgia Kenza Moroccan Pouf | The Little Market White Heart Garland | Rifle Paper Co. Safari Wallpaper | Novel Brand Pom Pom Mobile | Little Giraffe Silky Snuggle Sweater and Pants Set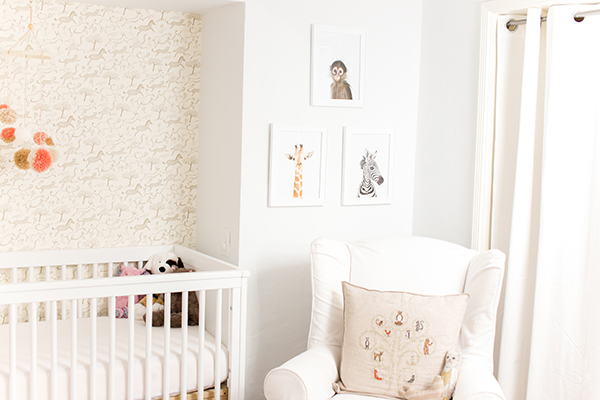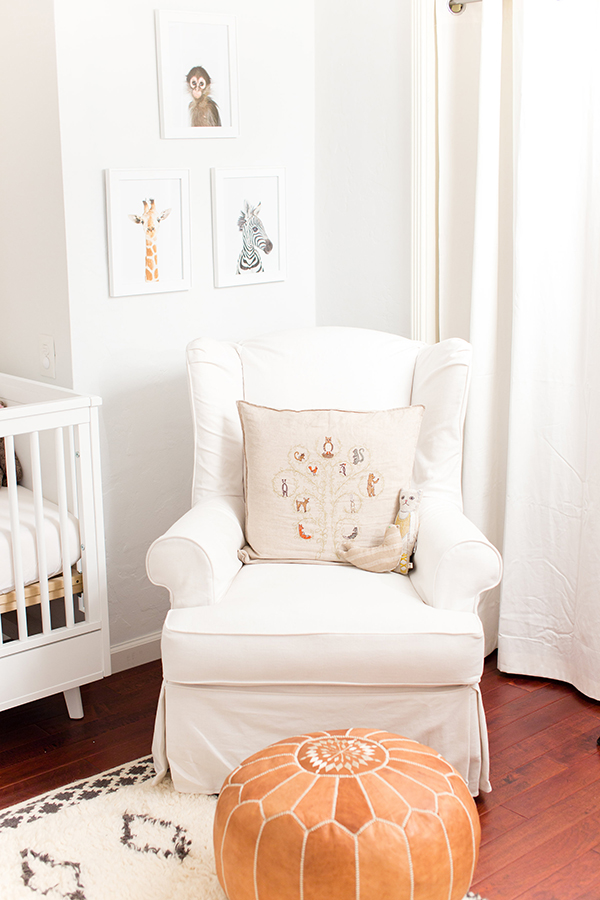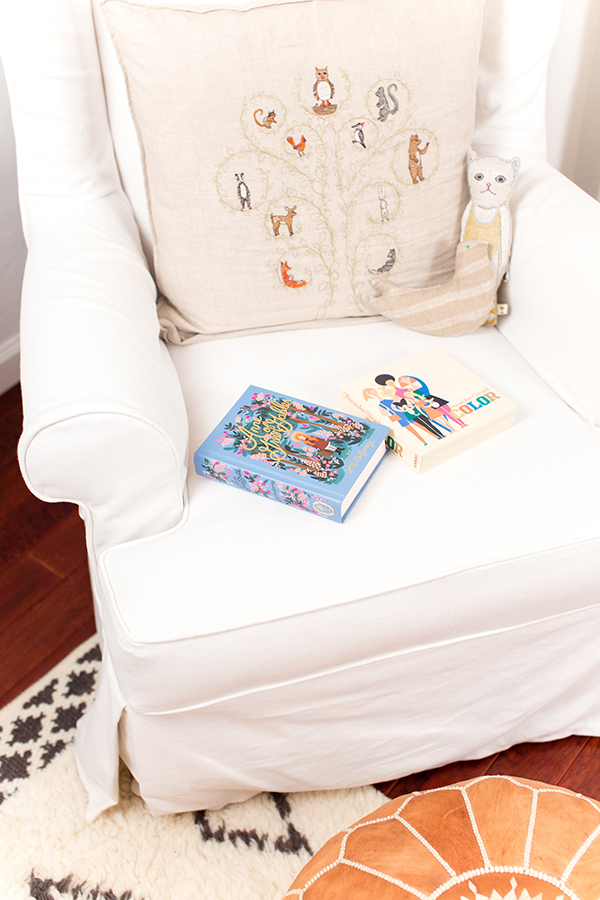 Rocking Chair Area: Pottery Barn Kids Slipcovered Wingback Glider | Sharon Montrose Little Darlings Animal Prints | Lulu and Georgia Kenza Moroccan Pouf | Coral and Tusk Tree of Life Pillow | Coral and Tusk Baby Cat Doll | Alexander Girard Color Book | Rifle Paper Co. Puffin In Bloom Illustrated Classics
I adored all of the furniture at Pottery Barn Kids, so it was a no-brainer to start there. I fell in love with the sleek and modern design of their Harper crib first, and then styled everything else around that piece—selecting a dresser/changing table, bookcase, rocking chair, and chandelier from PBK too. Since we were getting all the furniture from there, they even came to my home and helped with the floor plan for free. I shared that whole process in this guest blog I wrote for the PBK blog, Building Blocks.
Have you ever designed a space from scratch?
Let me know what the process was like, or better yet, share some photos below!
xo Ilana
Team LC
P.S. Thanks to Stephanie Todaro for the gorgeous photos of the nursery!