Recipe Box: Butternut Squash and Burrata Fall Crostini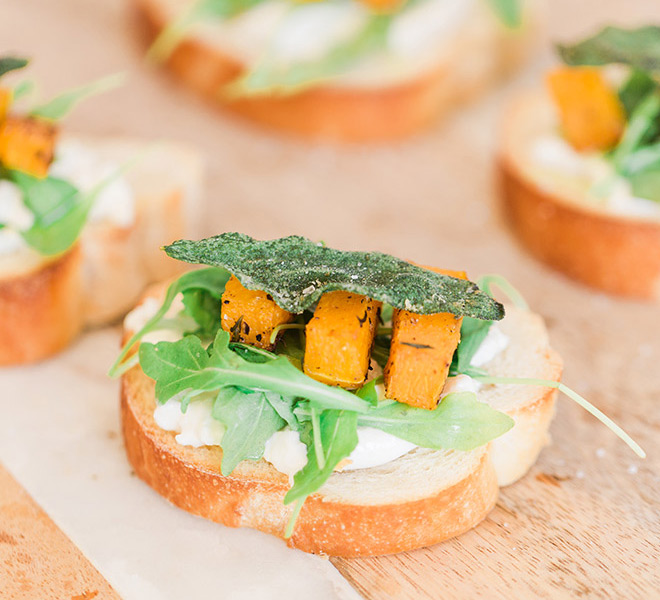 Now that we're into the second week of November, it's time to finalize those Thanksgiving menus. Nothing is more stressful and unappealing than scrambling through the overcrowded supermarket the night before. This month I want to help you avoid any last minute prep debacles by sharing some of my favorite seasonal recipes on LaurenConrad.com. Last week I started November off with my recipe for homemade butternut squash ravioli. It was such a hit that I decided to take some of the same flavors and rework them into an appetizer that's sure to be a crowd pleaser.
Since butternut squash has to be one of my favorite seasonal vegetables this time of year, I thought I'd take advantage of it with as many recipes as possible. With my own Thanksgiving menu high up on my priority list, I created this butternut squash and burrata fall crostini recipe with the intentions of serving it for the upcoming holiday. If you love browned butter, crispy fried sage and butternut squash as much as I do, then this recipe will not disappoint. Keep scrolling to see how you can easily serve up this bite-sized appetizer at your next get together…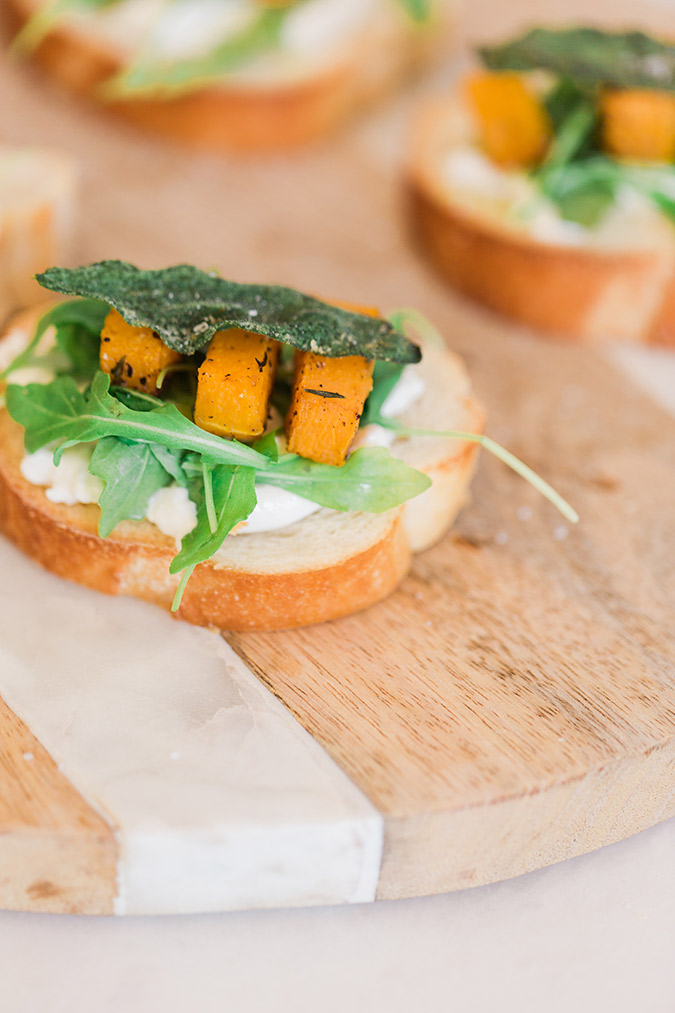 1 butternut squash
burrata cheese
arugula
about 10 sage leaves
2 tablespoons butter
1 French baguette
salt and pepper


1. Preheat your oven to 350 degrees.


2. Slice the baguette and arrange the pieces onto a baking sheet. Drizzle the slices with olive oil and bake for about 15 minutes.


3. While the baguette slices are baking, cut your butternut squash in half and discard the seeds. Cut the squash into cubes and place them into an oiled skillet over medium heat.


4. Season the butternut squash with salt and pepper, stirring occasionally. Remove the squash from heat when it's tender enough to poke with a fork.


5. Add 2 tablespoons of butter to a small sauce pan and let simmer until it turns golden brown. Add your sage leaves to the butter and let them cook until crisp.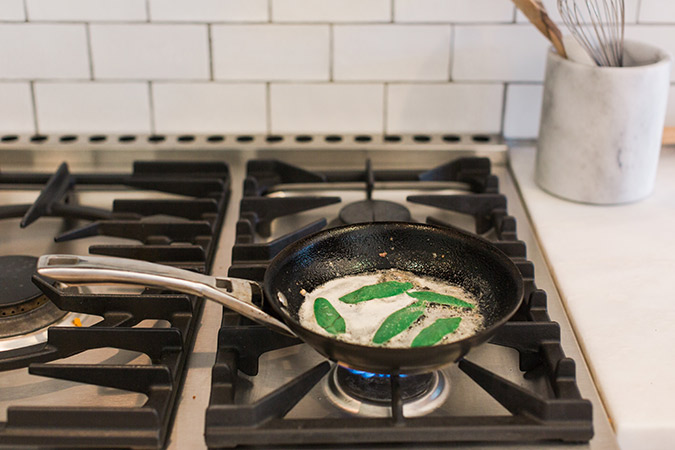 6. Once your baguette slices are ready, spread the burrata cheese on each slice.


7. Add a few arugula leaves on top of the burrata cheese, followed by the butternut squash and sage leaves. Serve and enjoy!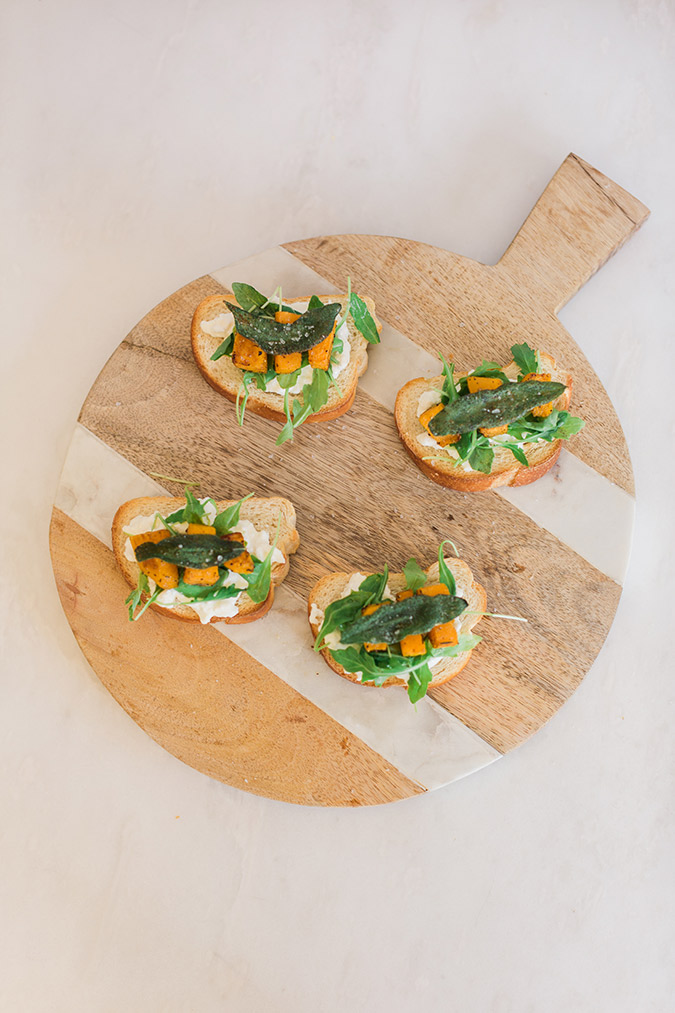 These butternut squash and burrata fall crostini is the perfect appetizer to serve up at your next soiree. These savory bites would even make a tasty addition to your Thanksgiving menu. For added deliciousness, you could also replace the butternut squash cubes in this recipe with the puree that my team and I made for our homemade ravioli. You won't regret it!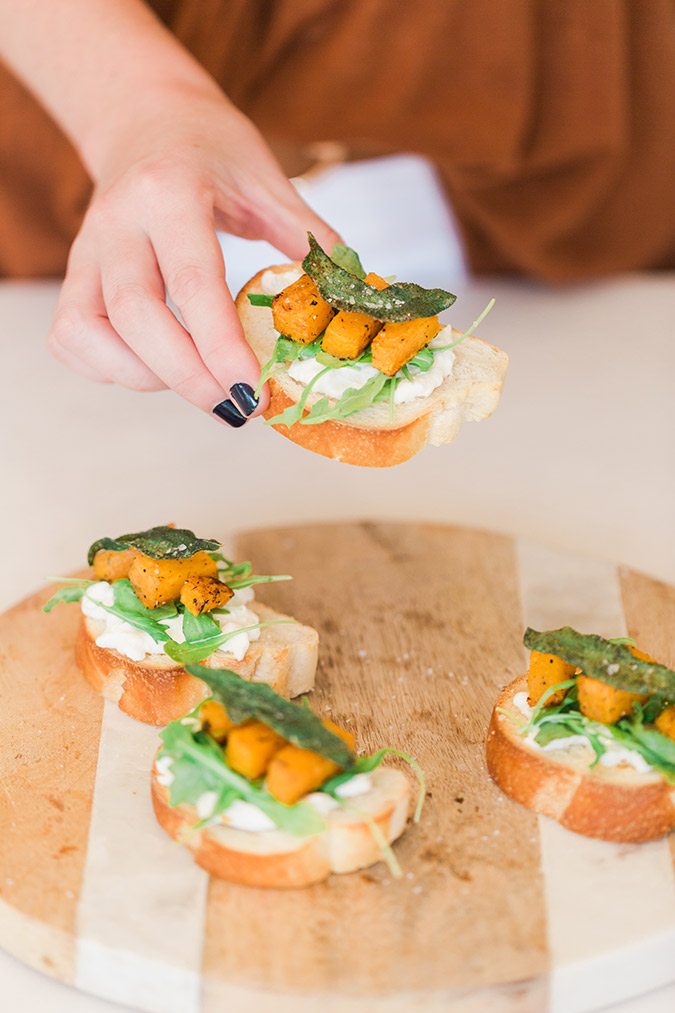 Will you be trying out this crostini recipe?


Let me know if you do in the comments!