DIY: Fall Bridal Bouquets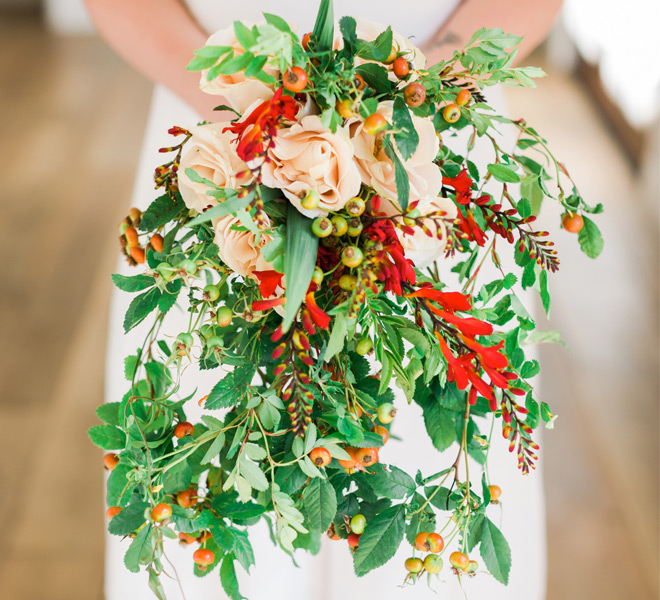 While "wedding season" is typically during the spring and summer months, there's something to be said about romantic fall and winter nuptials. No matter the time of year, there are a lot of elements that go into making your day exactly how you envisioned it. If you're crafty and don't mind getting your hands a little dirty, choosing to DIY certain aspects of your big day is a no-brainer. It also helps to have an arsenal of creative friends and family to help tie it all together. That way you can delegate tasks and trust that everything will come together seamlessly. One of Team LC's favorite creative minds that we seek advice from on a regular basis is prop stylist, Kate Martindale.
It's no surprise that our favorite way to brighten up a space is with fresh blooms. If you've gotten your hands on Lauren's latest book Celebrate, you've probably seen her flower arranging tips go hand-in-hand with Kate's beautiful styling. Well, at our most recent LaurenConrad.com photo shoot Kate flexed her creative muscle and came up with three fall-inspired bouquets for all of the autumn brides out there. If you're looking to learn how to make your own wedding bouquet or simply in need of some inspiration, the next five tips are for you. Keep scrolling to see how beautiful Kate's bouquets turned out as well as her personal tips on how you can create your dream bouquet…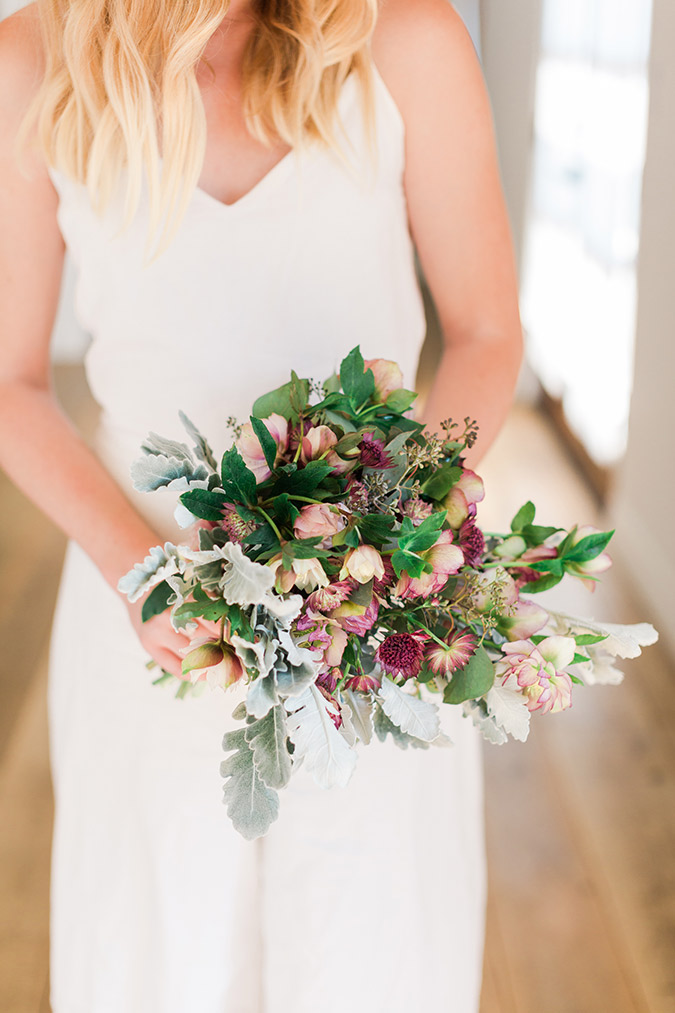 Bouquet recipe: Purple hellebores, silver stachys, button mums, dusty miller, green seeded eucalyptus.
Kate's best advice is to not overthink it. Lifestyles in general have become less about perfection and more about things feeling organic and natural. Although both of these words seem to be overused, they're still relevant when creating most things these days—food, décor, and even weddings.


Brides can recreate these bouquets just by simply taking all of the flowers and placing them in small piles across the table. Slowly gather them in your hands by layering all of the different blooms that are present. Start with something more airy like jasmine vine or eucalyptus. Work in a heavier element like a rose, peony, or ranunculus.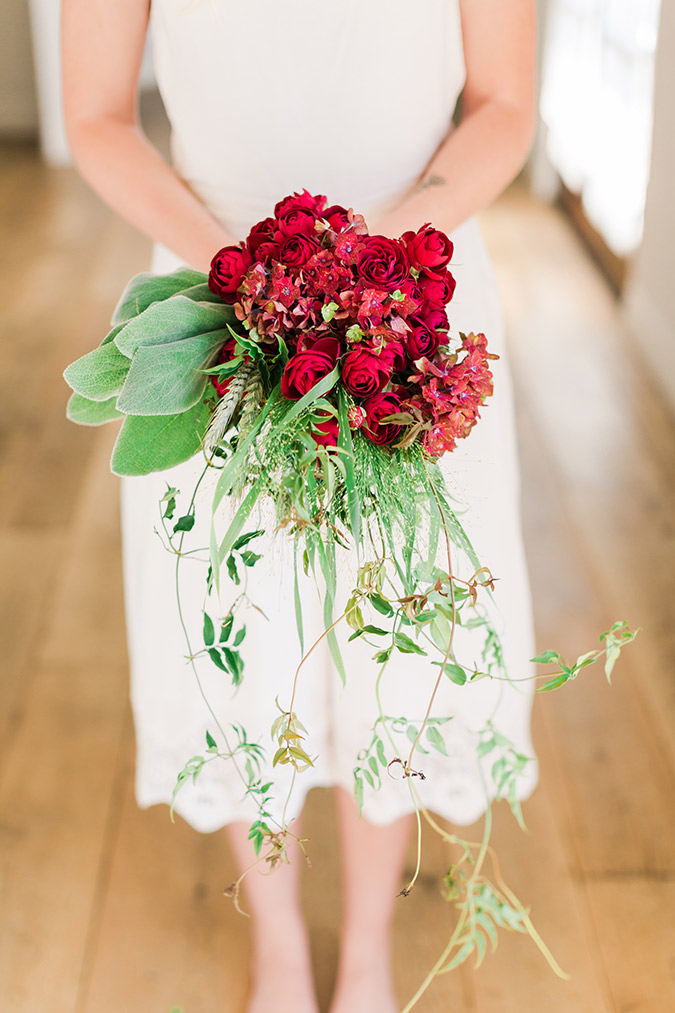 Bouquet recipe: Jasmine vine, hydrangea, spray garden roses, silver stachys, green grass explosion.
Remember to stop and look at how frequently you're gathering flowers together. Don't use too much of one particular flower unless you want that bloom to be what the bouquet is all about. If you want it to be airy, create pockets with a heavy flower and then overlay it with a lighter-feeling flower or vine. Your bouquet should feel as if you walked along the side of a beautiful path, picking what you love and naturally layering it within that moment.


If you feel a little intimidated by this process, keep your bouquet to only three or four types of flowers. Any good chef will tell you that a good recipe only requires five ingredients total. That's how I like to look at it.


Lastly, don't feel as if you have to create a large bouquet to stand out as the bride. This is why I love fall colors with a white dress! The contrast will make the bouquet special and will let you stand out with beautiful colors.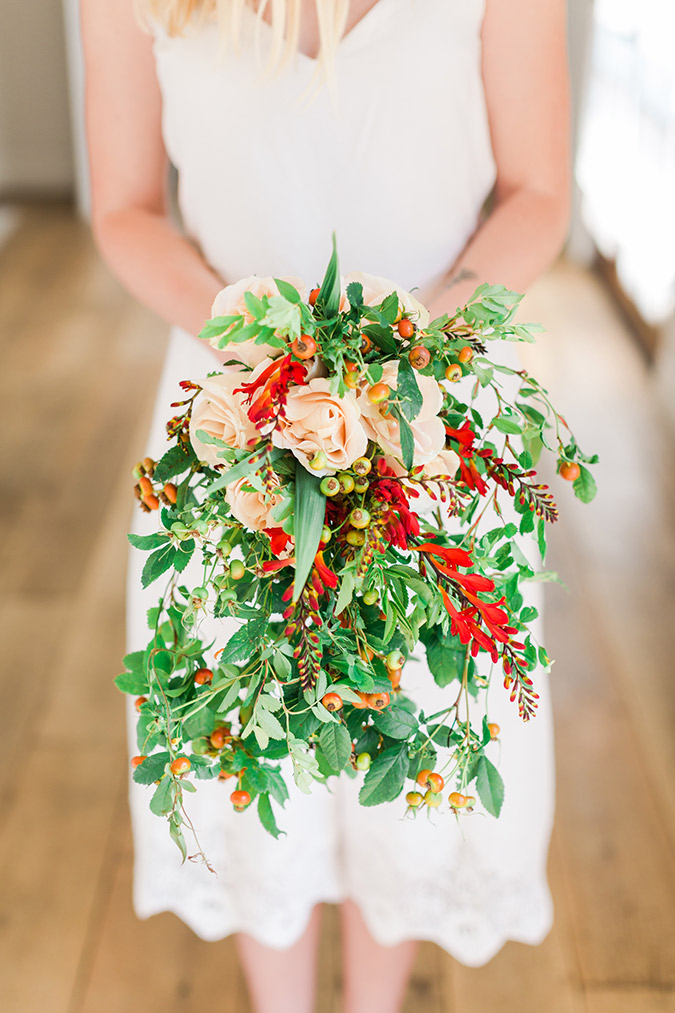 Bouquet recipe: Pale peach garden roses, hypericum, red crocosmia.

We can't believe how gorgeous each one of these bouquets turned out! If you're looking to do a little more research on creating your dream wedding bouquet, be sure to check out this post. A big thank you to our expert prop stylist, Kate, for all of her helpful tips. It's safe to say that we're going to keep her tips in mind the next time we're planning on arranging our own blooms.


Are you planning on DIYing your own bouquet?


Let us know in the comments!