Recipe Box: Mint Chip Belgian Waffles with Chocolate Drizzle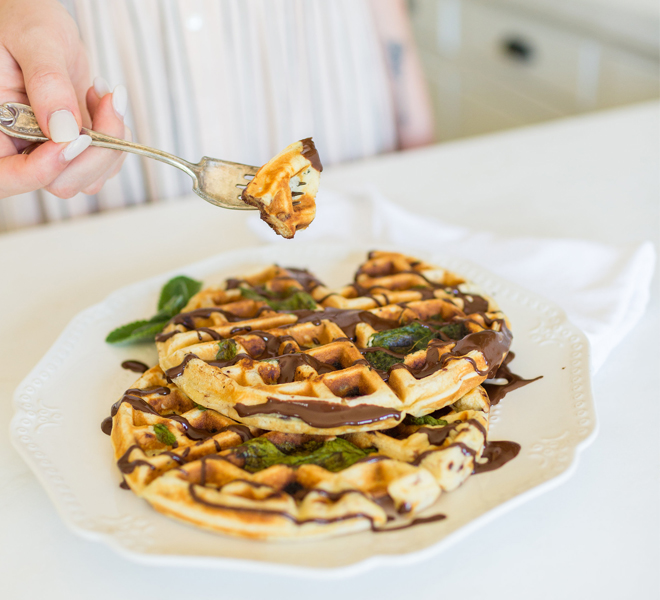 Cooking up a big weekend brunch at home is one of my favorite ways to spend a Sunday morning. I love when our whole house sleeps in (including the pups!) and we can just take our time drinking coffee and making a delicious breakfast dish to enjoy at our leisure. It's such a treat, especially after a busy week. I'm always on the hunt for fun ways to add a twist to my favorite brunch recipes—like baked blueberry French toast or egg omelet muffins. So, I recently enlisted my friend and baker extraordinaire, Lauren Lowstan, to come up with a flavorful Belgian waffle recipe. The result? Let's just say that these mint chocolate Belgian waffles will put your basic Bisquick mix to shame. Here's the recipe you can use the next time you want step up your Sunday brunch game…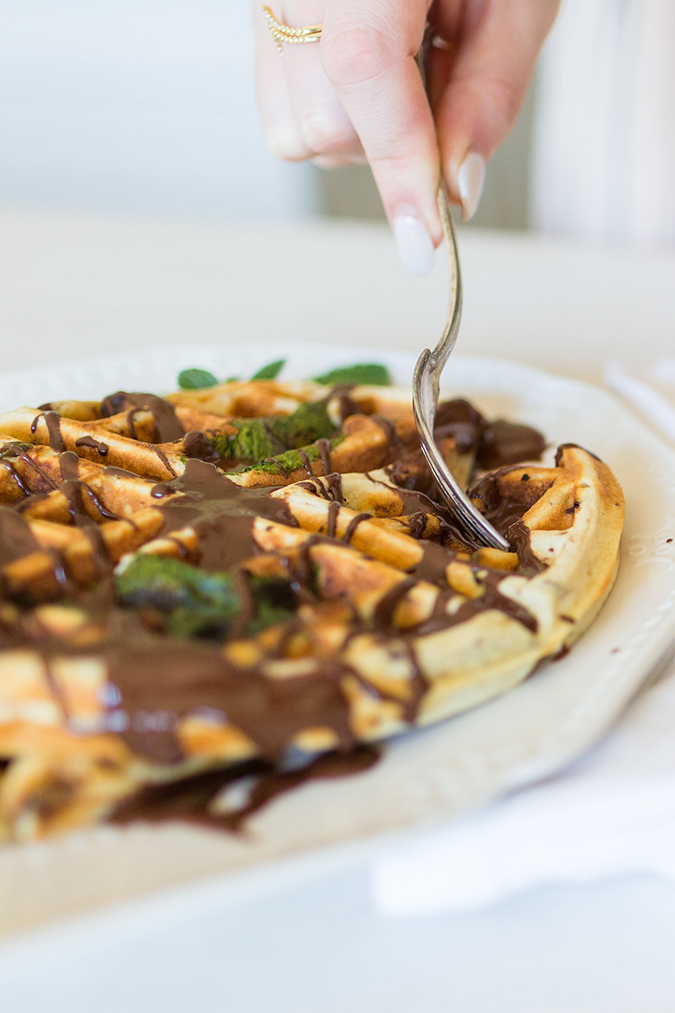 Mint Chocolate Chip Belgian Waffles with Chocolate Drizzle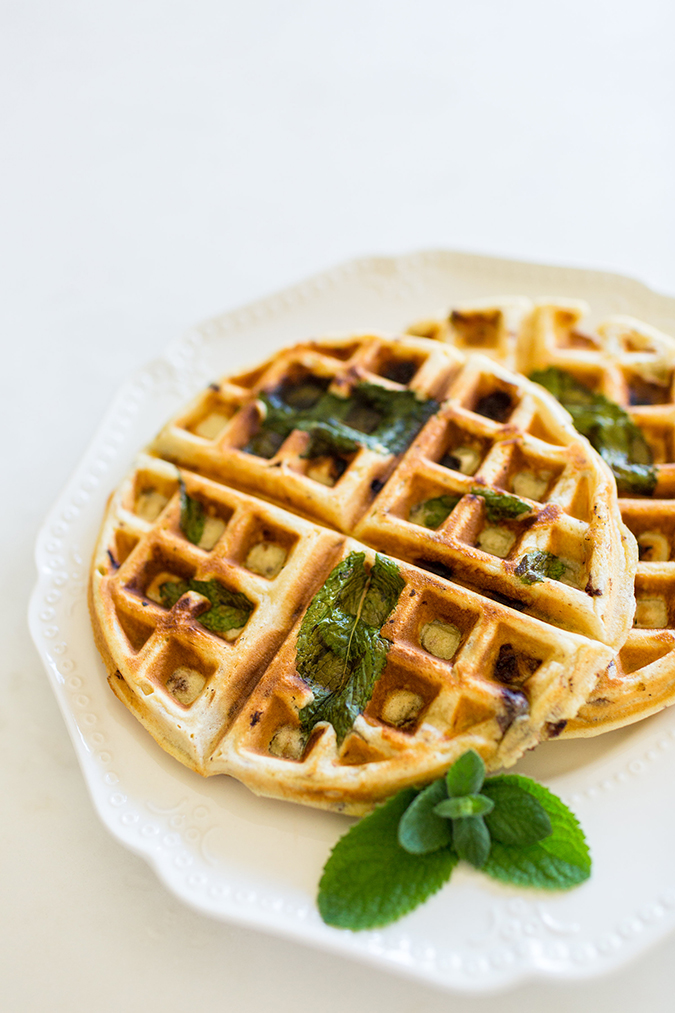 2 cups all-purpose flour
3 tbsp. sugar
1 tsp salt
4 tsp baking powder
2 eggs
1 ½ cups buttermilk
1/3 cup melted butter
1 ½ tsp. peppermint or creme de menthe extract
1 tsp vanilla
6 oz. dark chocolate block
10-15 fresh mint leaves


8 oz. dark chocolate (can be chips, chunks, or a block)
2 oz. coconut oil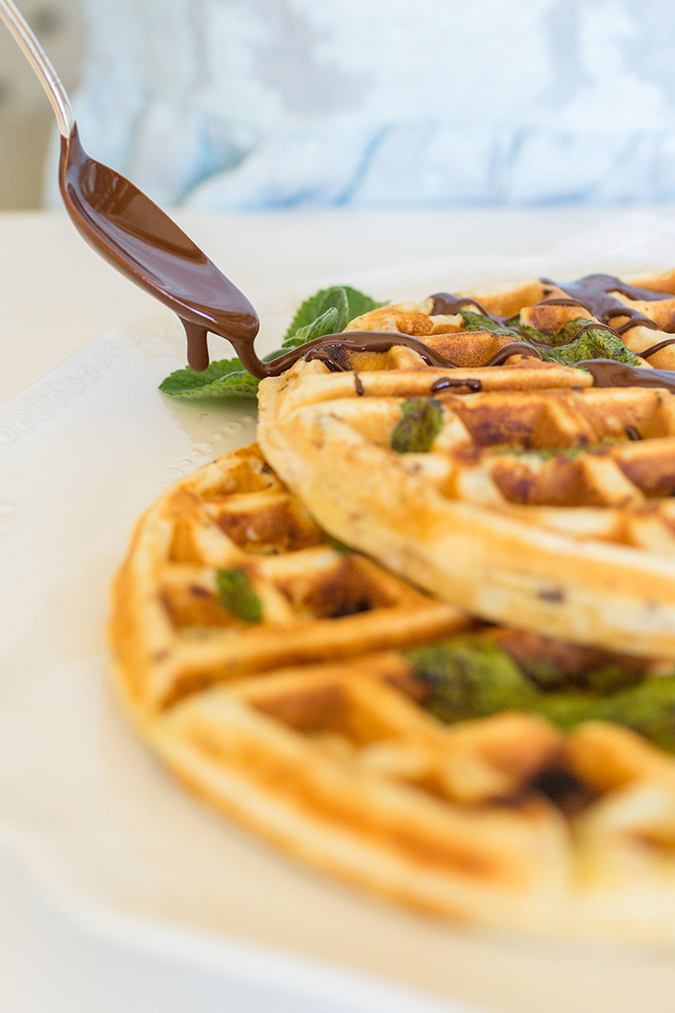 1. In a large bowl, whisk flour, salt, baking powder and sugar. In a separate small bowl, whisk to combine eggs, buttermilk, butter, peppermint and vanilla extract. Pour your wet ingredients into the dry and whisk until just combined and set aside.


2. With a serrated knife, chop your chocolate into tiny shreds. Add the chocolate shreds into the waffle mix and mix until combined.


3. Ladle the batter into your preheated waffle iron. Slightly press 4-5 mint leaves onto the tops of the batter and cook until golden and crisp. Set aside and make your chocolate sauce.


4. Heat the chocolate and coconut oil over a double broiler until melted together and smooth. Pour over your waffles and serve immediately. Enjoy!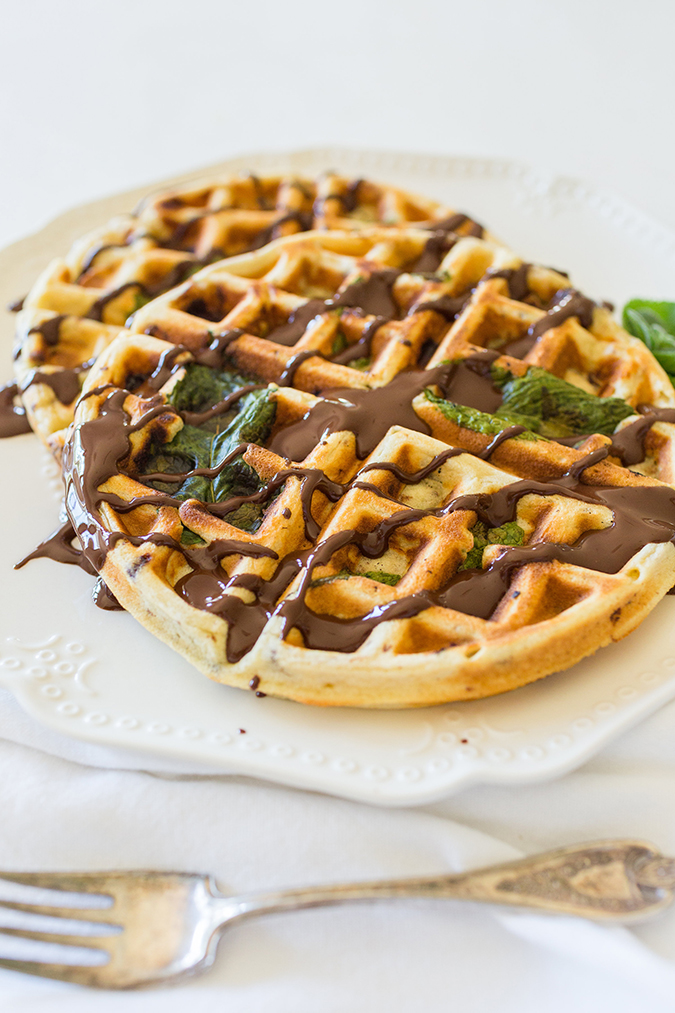 How delicious does that chocolate drizzle look? This recipe comes highly recommended by yours truly.


Do you have a favorite dish you like to make for Sunday brunch?


Let me know in the comments below.