Recipe Box: Churro Double Decker Dessert Tacos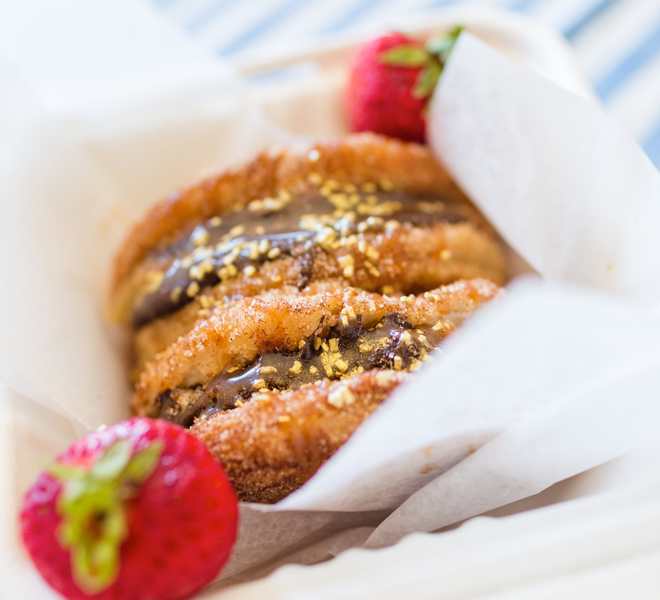 Here at Team LC we like to go all out when it comes to baking up desserts. Ever since this delightful churro cake made it's way onto the blog, we've been smitten with anything cinnamon sugar related. And it helps that we have mastermind resident baker Lauren Lowstan to help all of our dessert dreams come true! This week Lauren took inspiration from one of our very favorite foods—tacos. The end result put a new spin on an old classic that has us coming back for more.
Thanks to this dessert recipe, taco Tuesday has a whole new meaning for us! It's hard to resist this mixture of Nutella, cookie dough and drizzle of dulce de leche. The only thing that would elevate this recipe even more is a fresh fruit margarita… Roll up your sleeves and prepare to have a new go-to sweet treat! Let's get started…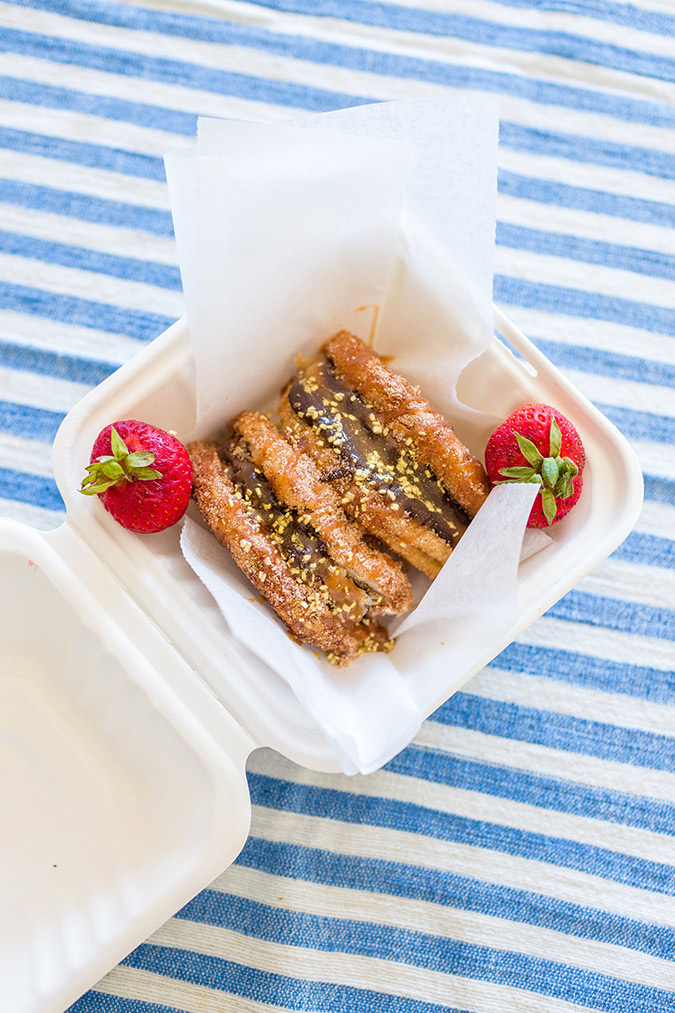 ½ cup Nutella
½ can of dulce de leche
3 cups canola oil
gold sprinkles or sprinkle of choice
5-inch circle cookie cutter
rolling pin


1 cup butter, room temperature
1 cup brown sugar
¼ cup sugar
3 tablespoons whole milk
1 tablespoon vanilla
2 ½ cups flour
1 teaspoon salt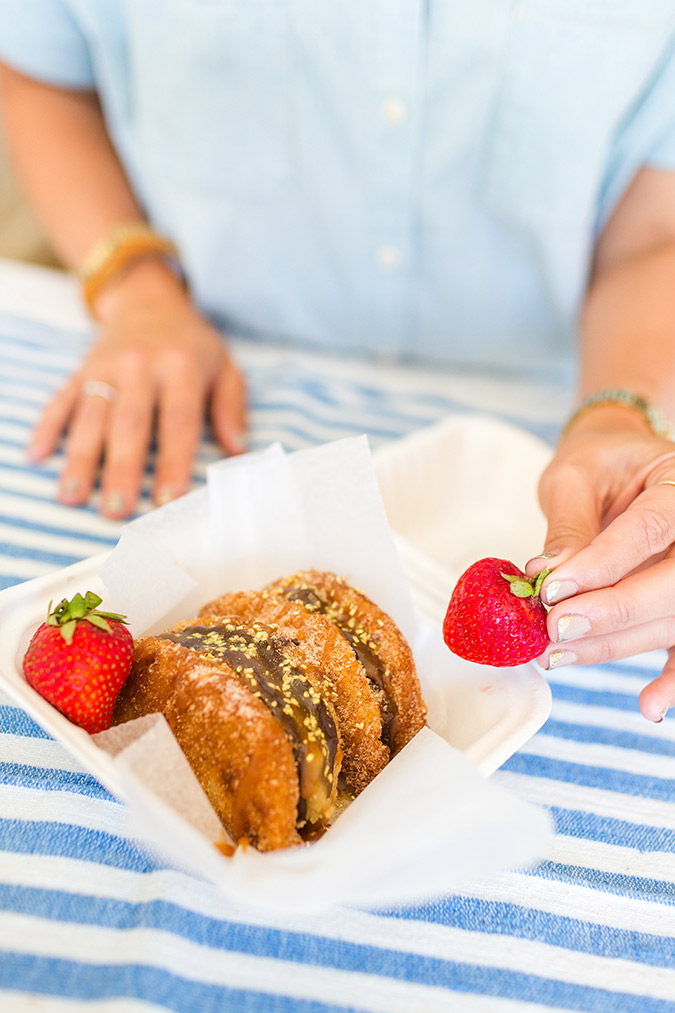 2. Make the cookie dough while the pie dough chills.


3. In a stand mixer fitted with a paddle attachment, beat the butter and both sugars until light and creamy (about 3 minutes). Add in the milk and vanilla and beat just until mixed. While the mixer is on low speed, slowly add in the flour and salt and mix until everything is combined. Cover the dough with plastic wrap and set aside until ready to use.


4. In a large pan, heat the canola oil until it reaches 350 degrees.


5. While your oil is heating, take the pie dough out of the refrigerator and roll out until 1/8-inch thick. Cut out 5-inch circles and place them onto a piece of wax or parchment paper.


6. Working with one piece at a time, fold each circle in half and drop them into the preheated oil. Fry for about 3-5 minutes on each side, or until nice and golden brown. Place each fried taco upside down onto a layer of paper towels.


1. Gently smear a tablespoon worth of Nutella onto the insides of each taco shell. Fill each taco with about 2 tablespoons of raw cookie dough. Continue until all tacos are filled.


2. Heat the dulce de leche over a double broiler or in the microwave. Scoop into a piping bag and drizzle lightly over each taco. Sprinkle the tops with your sprinkles of choice!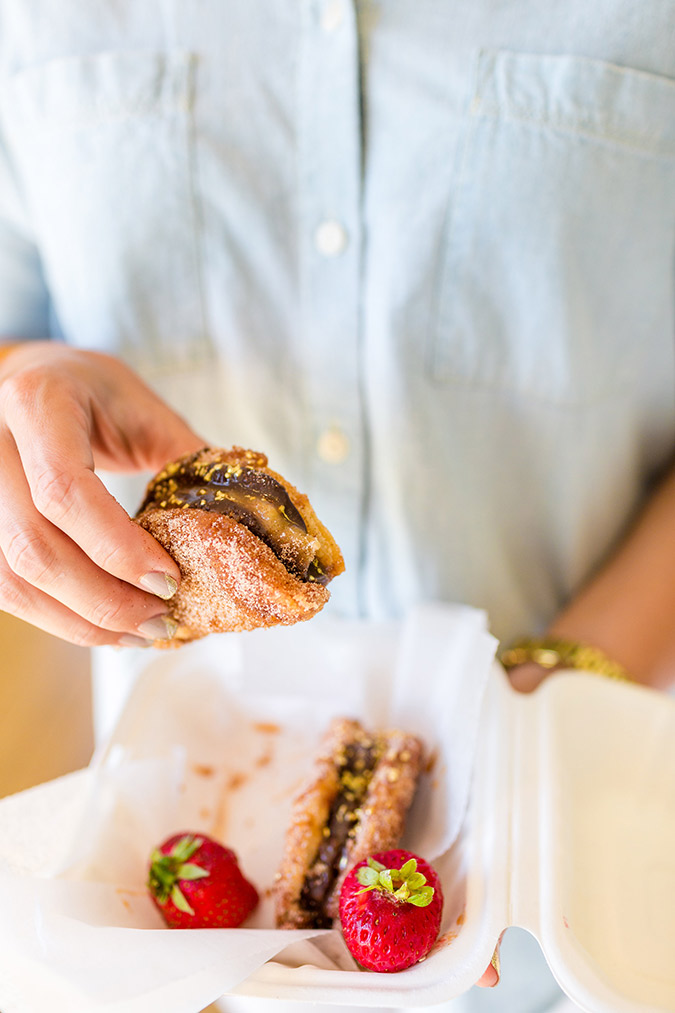 We'll take seconds, please. Now that we're churro making professionals, we'll use any excuse to whip up this churro taco recipe!


Are you going to try this churro double decker dessert taco recipe?


We highly recommend it. Let us know if you do in the comments!