Wedding Bells: Our Favorite Engagement Ring + Wedding Band Pairings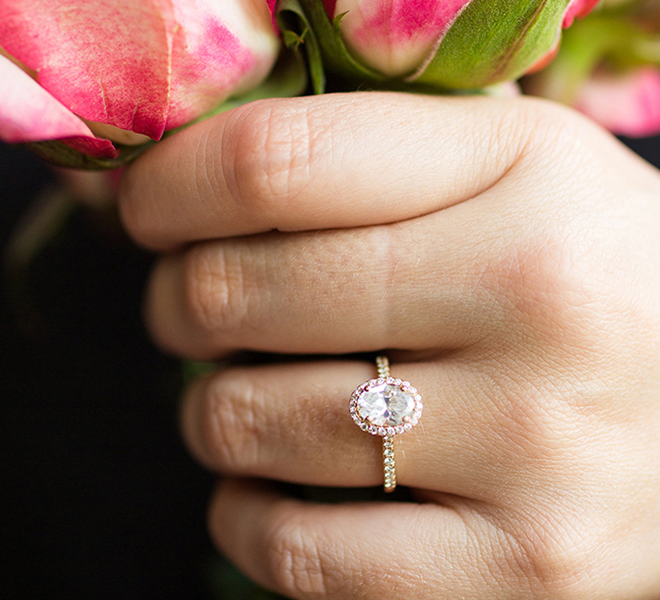 We certainly couldn't get too far into our
wedding-themed month
here on LaurenConrad.com without covering the topic of ring shopping. For most couples, picking out an
engagement ring
is a pretty big decision. Some couples go
ring shopping together
, some drop hints to their partner or consult friends, and others prefer for everything to be a surprise. But no matter what, there's a lot of thought put into a purchase that important. One thing we've noticed among so many of our friends is that the
wedding bands
are often an afterthought, which can sometimes lead to a lackluster pairing. Whether you're a girl who prefers a perfectly coordinating set or enjoys mixing unexpected pieces together, it pays to put some thought into how your engagement and wedding rings will look together. So with that in mind, we wanted to share a few of our very favorite wedding and engagement ring sets that complement each other and make a style statement.
But before we do that, let us tell you a little bit about James Allen, which is where all of these gorgeous rings are from! James Allen is the largest privately held online retailer of diamonds and engagement rings, with over 90,000 conflict-free diamonds and hundreds of settings. Their website makes it super easy to design your dream ring, choosing from different diamonds, settings, metals, and more. And perhaps the very best part about James Allen is that their rings are affordable. Because you are buying online, their rings also cost 30 to 50 percent below typical retail prices. In a nutshell, James Allen is the place to shop for your engagement and wedding rings.
Now, without further ado, here are seven stunning ring pairings that you can't go wrong with…

1. Delicate Pave
You can't go wrong with pave on pave. With dozens of tiny diamonds set in both bands, you get double the sparkle when you pair these rings together. The rings look like they were designed to be worn together, making this a timeless and elegant choice.
Shop This Set: 14k White Gold Petite Pave Crown Diamond Engagement Ring + Ladies .50CTW Bar Set Diamond Eternity Ring
2. Classic
This simple and unfussy pairing will never go out of style. It's for the girl who likes to keep things looking effortless without being boring. The solitaire engagement ring is the ultimate classic, while the wedding band adds just the right amount of interest to the set.
Shop This Set: 14k White Gold 1.5mm Comfort Fit Engagement Ring + 14K White Gold Alternative Bezel Eternity Band
3. Vintage + Regal
Both of these pieces have an almost majestic quality to them, and it's only amplified when they are stacked together. This is the perfect set for someone who loves shopping vintage pieces and enjoys a pop of color.
Shop This Set: 14k White Gold Vintage Round Diamond and Marquis Sapphire Engagement Ring + 14k White Gold Double Pave Criss Cross Ring
4. Beautiful Bezel
Bezel settings feel so fresh and on-trend right now, and we love how these two rings look paired together. They look like they are meant to go together without being too matchy-matchy.
Shop This Set: 14k White Gold Bezel Solitaire Engagement Ring (Round Center) + 14k White Gold 3mm Bezel Set Diamond Wedding Ring
5. Vintage Art Deco
Hello, stunning vintage-inspired ring. When you're going for a very specific style of engagement ring like this art deco beauty, it makes sense to pair it with a matching band.
Shop This Set: 14k Yellow Gold Engraved Basket Engagement Ring + 14K Yellow Gold Round and Baguette Milgrain Diamond Wedding Ring
6. Modern Classic
This set is similar to our "Classic" pairing above, only the engagement ring is a little more intricate while the wedding band is simple and minimalist. It's another timeless choice that you'll never get tired of seeing on your finger.
Shop This Set: 14k White Gold Solo Infinity Engagement Ring + 14k White Gold 2.5mm Traditional Slightly Curved Wedding Ring
7. Mixed Metals
After Lauren inspired us to add mixed metallics to our wardrobe this season, we thought why not try it with our rings too? This three-ring pairing is for the fashion forward trendsetter. We started with a gorgeous halo setting, oval diamond engagement ring in rose gold, and then bookended it with pave bands made of two different metals.
Shop This Set: 14k Rose Gold Pave Halo Diamond Engagement Ring (Oval Center) + Ladies 0.75CTW Angled Common Prong Diamond Eternity Ring in 14k Yellow Gold + Ladies 0.75CTW Angled Common Prong Diamond Eternity Ring in 18k White Gold
Which one of these ring pairings is your personal favorite?
It's pretty hard to decide, isn't it?
And of course we also encourage you to explore James Allen's website and come up with a stunning engagement and wedding ring combo of your own.
XO Team LC
This post is proudly sponsored by…

Photos: Jessi Burrone Photography for LaurenConrad.com, James Allen