Edible Obsession: Dipped Churros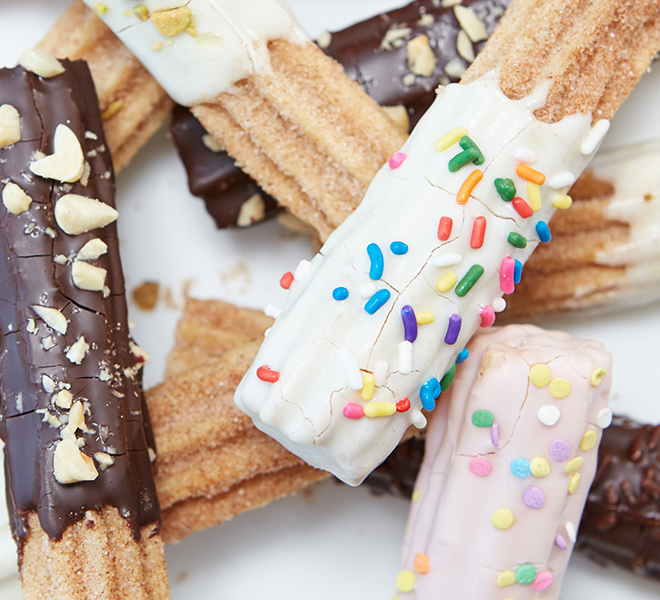 If you're planning on hosting a Cinco de Mayo party, finger foods and appetizers are an absolute must. What kind of a celebration would it be without chips, guacamole, and of course, churros? Since a heavenly
churro cake
was the center of attention last year, this time around my team and I decided to take a different route with the cinnamon sugary dessert. That's where Miss
Lauren Lowstan's
chocolate dipped churros come in!
These babies pack a sweet punch and are bound to be an instant crowd pleaser. Just add a refreshing margarita and Chimichurri skirt steak, and you have yourself the ultimate Cinco de Mayo spread. Keep scrolling to recreate these irresistible dipped churros and prepare to fall instantly in love…
Dipped Churros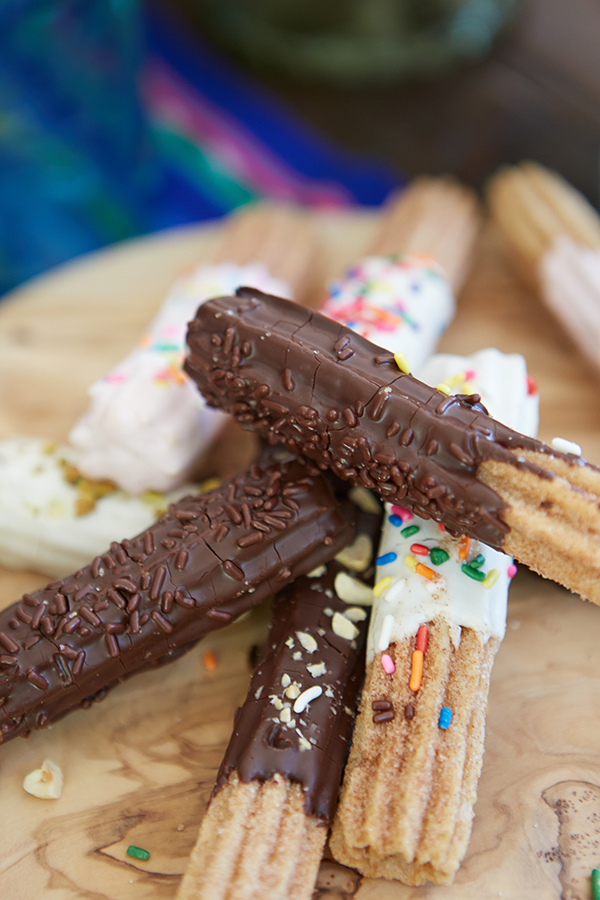 Ingredients:
For the churros: 
1 ½ quarts canola oil for frying
1 cup water
½ cup butter
1 cup flour
¼ teaspoon salt
3 eggs
¼ sugar
1 teaspoon cinnamon 
For the toppings:
1 cup dark melting chocolate discs (I used Ghirardelli for both)
1 cup white melting chocolate discs
sprinkles
chopped nuts of your choosing (I used pistachios and almonds)
Instructions:
For the churros:
Mix sugar and cinnamon together in a small bowl and set aside.
Heat oil in a medium saucepan until it reaches 370 degrees. You want it to be about 1 ½ inches deep.
Combine water and butter in another saucepan over high heat and bring to a boil. Turn the heat to low and add flour, stirring with a wooden spoon consistently for about a minute (until the dough forms a ball).
Remove from heat and add eggs one at a time (with a wooden spoon) just until combined, not longer. Tip: Don't over-mix the dough once the eggs are added. It will make the dough too dense.
Spoon the dough into a pastry bag fitted with an Ateco 846 piping tip (or a large star tip).
Carefully pipe out 5-inch-long strips directly into the hot oil (I squeeze with one hand and cut the dough off with scissors with the other). Fry until golden brown, about 2-3 minutes per side.
Remove from hot oil and drain on paper towels. While they're still warm, toss the churros in the cinnamon sugar mixture until completely coated.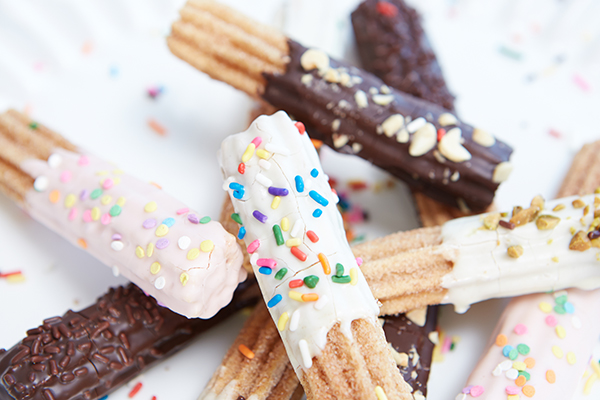 For the toppings:
Line a baking sheet with parchment paper.
After your churros are baked, rolled in cinnamon sugar, and cooled, melt each chocolate separately in the microwave. (I use a glass Pyrex measuring cup to melt the chocolate). Be careful not to over-melt the chocolate. I melt mine in 30-second bursts, stir, and then melt again.
Dunk the churros ¾ down into the chocolate. Tap lightly on the outer edge of the chocolate bowl to release some of the excess chocolate. Set down onto a parchment lined baking sheet, and sprinkle immediately with your toppings. Repeat with remaining churros until all of your chocolate is used up!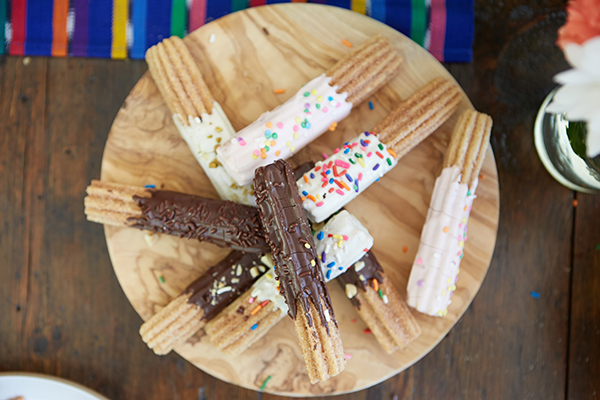 These are easily one of my favorite desserts! I'll be dreaming of them for weeks…
What will you be serving at your Cinco de Mayo party?
Let me know in the comments!
XO Lauren
Photos: Jacob Taylor for LaurenConrad.com