Since we've been getting your taste buds going all week with Cinco de Mayo themed recipes (did you see our delicious churro cake and mouth-watering chicken taco recipes?), we felt it was only fitting to top it all off with fresh fruit margaritas. While we do love a classic marg, we thought it would be fun to spice up our celebrations with three inventive flavors, courtesy of The Kitchy Kitchen's Claire Thomas. If you decide to whip up these fresh and light cocktails, we can guarantee a good time will follow.
The most important thing to remember when you're creating a fabulous margarita bar is to make it a no brainer for everyone. Set up some delicious mixers with a plate of kosher salt, lime wedges, and a decanter of tequila blanca. Everyone can make their margaritas exactly how they like them, and all of your work can be done the day before.
So, without further ado, here are the recipes for the most delicious strawberry habanero, mas agrios, and pineapple cilantro margaritas…
 Strawberry Habanero Margarita Recipe
Makes 1 quart
Ingredients:
1 to 2 habaneros, stem and seeds removed
2 pints strawberries, hulled
½ cup lime juice
¼ cup triple sec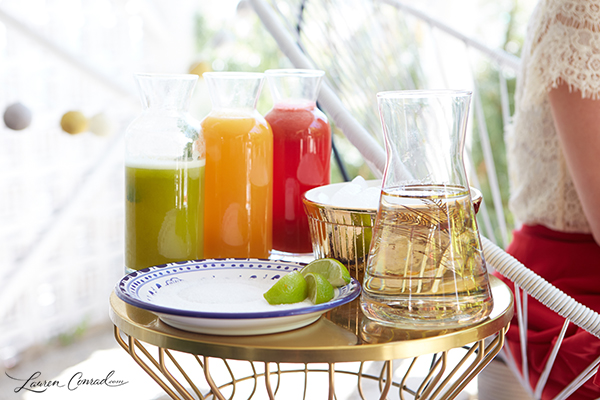 Mas Agrios Margarita Recipe
…Also known as all the citrus flavors mixed together!
Makes 1 quart
Ingredients:
1 ½ cup orange juice
1 cup grapefruit juice
½ cup lemon juice
½ cup lime juice
½ cup tangerine juice (or any seasonal citrus…have fun with it!)
¼ cup triple sec
Pineapple Cilantro Margarita Recipe
Makes 1 quart
1 pineapple, core removed and roughly chopped, skin still on
½ bunch cilantro, torn
½ cup lime juice
¼ cup triple sec
Instructions:
Claire made all of these margaritas in her juicer for a perfectly pourable texture and intense strawberry / pineapple / citrus flavor, but you can also make this in your blender and just strain to your desired consistency. Separately, for each margarita flavor, juice the strawberries and habanero; pineapple and cilantro; and the citrus. Stir together with lime juice and triple sec. Then, refrigerate each batch for at least an hour to let the flavors meld.
Which flavor will you be making for Cinco de Mayo?
Let us know in the comments below!
XO Team LC
Photos: Jacob Taylor for LaurenConrad.com