Celebrate Sneak Peek: My Favorite Flower Arranging Tricks
I can't believe that my new book,
Celebrate
,
is finally on sale tomorrow! I've been counting down the days for what feels like forever. To get everyone as excited as I am, I decided to give you an exclusive sneak peek of some of the beautiful party planning content you can find in the book. Earlier today, I shared this fun
wrapping paper DIY
. Up next: DIY floral arrangements! Continue reading below for my best tips for creating beautiful floral centerpieces for your next event, including some photos straight from the book…
DIY Floral Arrangements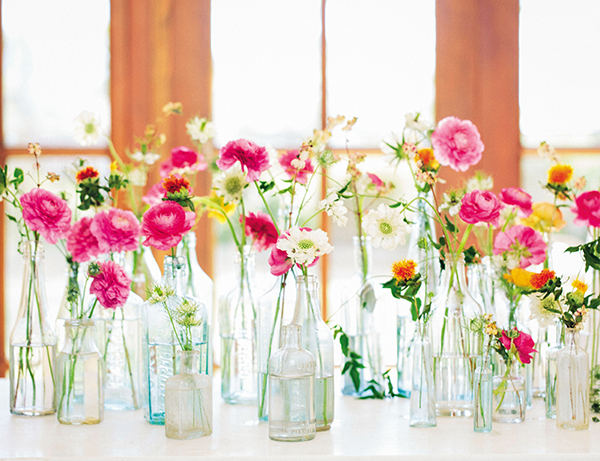 Designing your own floral arrangement may seem daunting, but I can assure you that, with a little practice, you can easily become your own florist. Not to mention it will end up saving you boatloads in the long run. Los Angeles has a spectacular flower mart, but I know that not everyone lives near a big city. In that case, you should try to locate where the florists in your area source their products and go there!
Take it upon yourself to whip up a bouquet. Here are some basic guidelines to help you create your own elegant (and easy!) arrangement: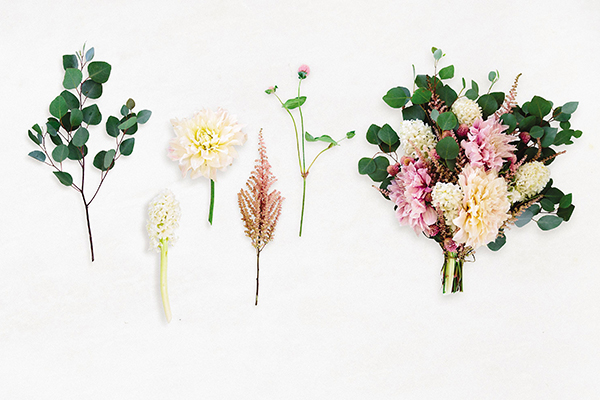 Mix scale. If you select a larger single bloom like a rose, peony, or tulip, it's nice to offset it with a flower that clusters together a bunch of smaller blooms, like a hydrangea, a lilac, or paper whites.
Use complementing colors. Pick flowers that make sense together, and stay within that color story: all cool tones, all warm tones, variations of pink, and so on.
Put like flowers together. The flowers in your arrangement should feel like they've been plucked from the same garden, or, at the very least, gardens that exist in the same state. If you're featuring yellow cymbidium orchids, do not pair them with dusty miller. Bright tropical blooms just wouldn't sit with soft, romantic greens.
Pick a green and stick with it. My biggest flower-arranging pet peeve is when the greens on the flower don't match the greenery you've chosen for the arrangement (e.g., silver dollar eucalyptus or fern), so either choose elements that complement one another or strip the bloom from its stem.
Get creative with your vessel. You don't always need to stick with the standard glass vase. Feel free to experiment with distressed-wood boxes, old mason jars, or even a hollowed out pineapple (which you can see in one of the parties in the book!). Don't be afraid to mismatch sizes, just as long as the containers are within the same category. If the occasion calls for it, forgo the vessel altogether. There's something lovely about a living display artfully arranged on a textured tabletop.
Use a guide. Some containers are too wide or shallow to simply arrange and be done. Whether it's florist foam or making a tape grid across the top of your vessel, it's crucial to employ a system to keep your stems in place—especially if they are being transported.
Don't be afraid to keep it simple. Sometimes a tall vase with tulips or roses stripped of their leaves can be just as chic (if not more) than a meticulously arranged display. If you're party planning on a budget, try using all greens for your arrangement. Don't be fooled by its simplicity. Rich, textured greens are beautiful.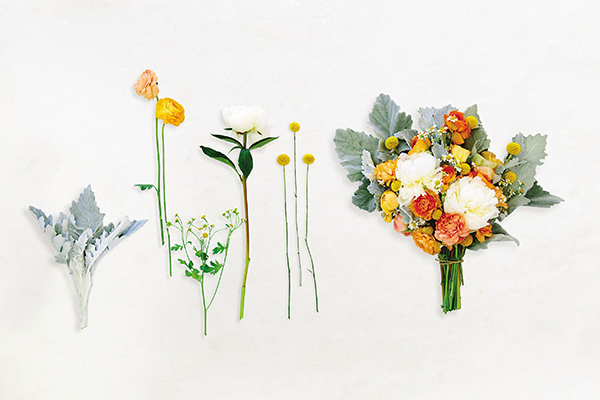 Have you ever made your own floral centerpiece? And are you going to get yourself a copy of Celebrate tomorrow?
I can't wait!
XO Lauren