How to Make Veggies the Main Focus of Any Meal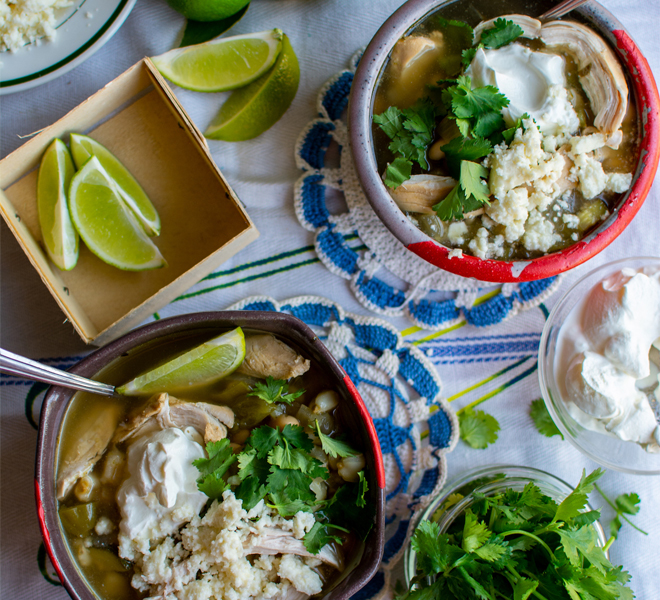 Kate Ramos of ¡Hola! Jalapeno is back on the blog to share more tips for veggie-forward dishes. She has previously written articles, such as how to add more plants to your meals and how to eat a more plant-based diet. Kate writes about all of the fresh and delicious Mexican-inspired dishes she cooks for her family, and is coming out with a cookbook, Plant-Powered Mexican, this season. Today, she'll be sharing how to make veggies the star of your dish, as well as a mouthwatering recipe for you all to try: White Chili Chicken with Zucchini and Hominy. Welcome back, Kate…


Calling all meat-lovers! I know how hard it can be to think about cutting it out of your family's diet completely. My husband and son are huge steak fans, so I've seen those faces of disappointment when they come to the dinner table to only find a salad.
The good news is that you don't need to go cold turkey on the turkey for a healthier body and planet. In fact, eating locally raised and butchered meat can be easier on the environment than, say, eating an avocado that has been shipped from Mexico.
In our house we are not strict vegetarians but instead eat locally-sourced meat more as a condiment than the main focus of the meal. Making veggies the hero come dinnertime satisfies the steak-lovers around the table as well as the ones who are perfectly happy with salad for dinner.
When it comes to meat, portion-size is key. Instead of one steak per person, I buy one large, 8-to-12-ounce steak and slice it up for everyone. This way, each person gets a few slices and feels satisfied.
If you are going in this direction, you need to round out the meal with one or two vegetable dishes. Keep it simple like a tossed salad or roasted cauliflower. I also like to make an easy but heartier side like adding some sauteed onions and spices to canned black beans.


Missing that smoky flavor of bacon or grilled meats? Experiment with different spices on roasted vegetables. Smoked paprika is the first one that comes to mind, but there's a whole host of barbecue spice rubs that can be used on roasted sweet potatoes, cauliflower, or mushrooms for that smoky, umami flavor. The list goes on and on.
Combine those smoky roasted vegetables with a high-protein grain bowl made with quinoa, brown rice, or even kamut and you have a very satisfying meal.


I'll admit to being a huge fan of tofu—I even like it raw, straight from the fridge. However, I understand some people are not. I suggest draining firm tofu and crumbling it so it resembles ground meat, then mixing it with whatever ground meat is called for in your recipe. For example, if your recipe calls for a pound of ground pork, cook only 2-3 ounces of ground pork along with 12 ounces of drained and crumbled tofu.


Make Cozy Casseroles, Just With Less Meat
When making casseroles, stews, and soups that call for meat, substitute an extra vegetable (or two) for at least half of the amount of meat called for in the recipe. For example, check out the White Chicken Chili recipe below. We didn't omit the chicken entirely, but instead took it down to only 8 ounces of chicken and added zucchini, Anaheim peppers, white beans, and hominy. Keeping all the warming vibes while upping the plant power four-fold! This way, you still get your meat fix while upping your veggie intake.
Want to try my White Chicken Chili with Zucchini and Homini? Keep reading for the recipe below…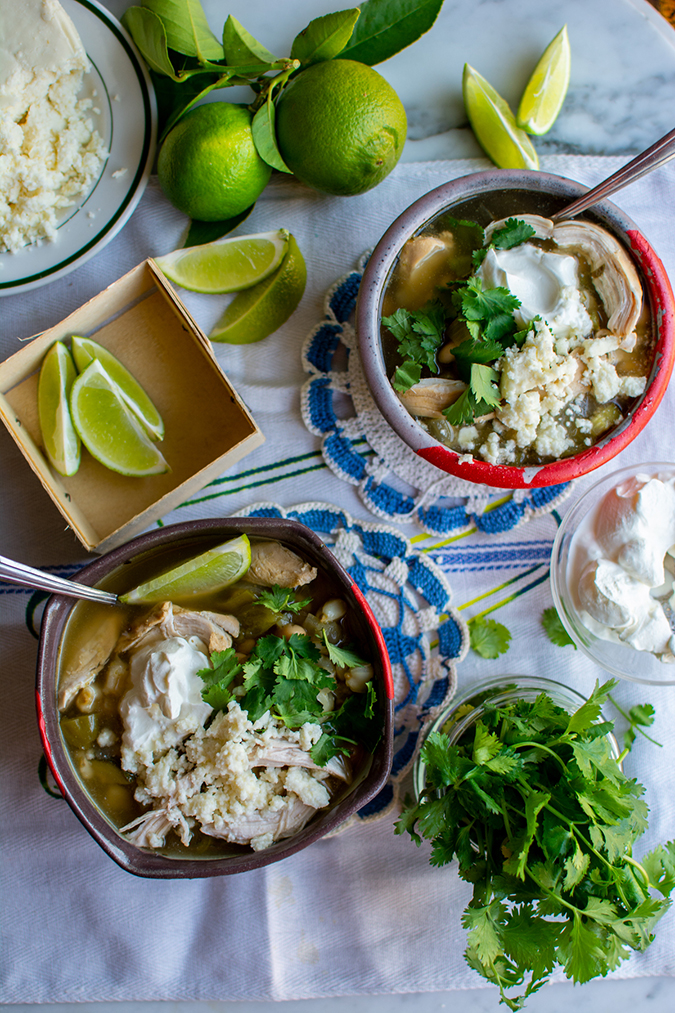 White Chicken Chili with Zucchini and Hominy
2 tablespoons olive oil
1 onion, medium diced
2 cloves garlic, chopped
3 anaheim peppers (or poblano peppers), medium diced
1/2 cup dry white wine
1 zucchini, trimmed and medium diced
8 ounces boneless skinless chicken breast or thighs
1 (15-ounce) can navy or cannellini beans, drained
1 (29-ounce) can white hominy, drained
2 teaspoons dried oregano
2 teaspoons ground cumin
2 teaspoons ground coriander
1 tablespoon kosher salt
8 cups chicken broth
1/2 cup chopped cilantro
Juice of 1 lime


Sour Cream
Crumbled queso fresco
Lime wedges
chopped cilantro


Heat oil in a large stock pot over medium heat. Add onion and garlic and season with salt. Cook, stirring occasionally, until softened. Add peppers and continue cooking until vegetables are tender.


Add wine and scrape up any browned bits that have stuck to the bottom.



Add zucchini, chicken, beans, hominy, oregano, cumin, coriander, salt, and chicken broth. Bring to a boil, then reduce heat to a low simmer.


Cook until chicken is tender, about 20 minutes.


Carefully remove chicken to a plate and shred with two forks into bite-sized pieces. Return chicken to the pot, add cilantro and lime juice.


Taste and season with salt as needed. Serve with sour cream, crumbled cheese, lime wedges, and chopped cilantro.


Who's ready to make Kate's recipe for dinner?


Photos: Kate Ramos, Kate Ramos
Affiliate links may have been used in this post.