10 Ways To Add More Plants to Your Meals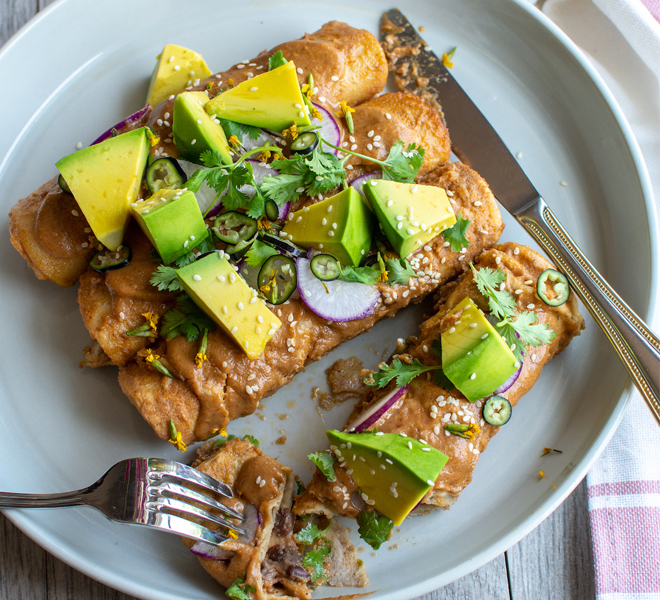 We're back today with an exciting new post from Kate Ramos of ¡Hola! Jalapeno. Kate writes about the fresh and delicious Mexican-inspired dishes she cooks at home, and also has new cookbook, Plant-Powered Mexican, coming out this fall. Today she'll be sharing 10 ways you can incorporate more fruits and vegetables into your diet, and a brand-new recipe for you to try: Cozy Black Bean Enchiladas in Pipián Rojo Sauce. Yum, right? Here's Kate with more…


If you've been feeling like you want to start some healthier habits but aren't sure how to begin, let me offer you a simple solution: eat more plants! No, you don't have to completely cut meat out of your diet, but making sure you get the 5 recommended servings of fruits and vegetables every day will do wonders for your overall health.
Last month, we talked about some simple steps you can take to become a plant-based eater and now we are breaking it down even further with 10 actionable ways you can start adding more fruits and vegetables into your breakfasts, lunches and dinners. Keep scrolling for my tips…


1. Let Your Soup Bowl Be Your Friend
I'm a soup fanatic. Not only is it comforting and cozy but also it is a catch-all for any wayward vegetable needing to get used in my crisper drawer. Veggies don't just go into soup, they should also go on top. Thinly sliced scallions, hunks of avocado, minced onion, and of course handfuls of tender herbs like cilantro or basil all make exquisite garnishes. Take this Chipotle Black Bean Tortilla Soup for example; it would not be the same without the radishes, lime, avocado, (and tortilla chips) added to each bowl. 


Warm tortillas are the perfect carrier for vegetables of all kinds. They don't have to be anything fancy either. Two of my favorite quick veggie tacos are these Summer Squash Tacos filled with charred zucchini and onions and these Vegan Chipotle Mushroom Tacos that have a crunchy slaw on top.


In an article dedicated to eating more vegetables, it might seem strange to suggest not to eat lettuce, but salads made with hearty ingredients like roasted beets, summer's best tomatoes, and crisp cucumbers can be far more satisfying.


4. Sneak In Plants Whenever You Can
It's okay to sometimes trick yourself. Remember vegetables show up in many forms and they all count as a serving, so add zucchini to your quick breads, grate a pile of carrots for your next marinara sauce, and juice a cucumber for those happy hour margaritas!


If a big pile of sliced fruit is not your preferred snack, have you tried it sprinkled with Tajín seasoning? Consider your life changed forever!


6. Fall In Love With Sweet Potatoes
Did you know that sweet potatoes are the world's most nutritious vegetable? It's true! High in nutrients and low in calories, sweet potatoes are a designated superfood. They're also fat and cholesterol-free and a great source of dietary fiber which, among other things, can help you feel full and satisfied longer. They also are incredibly versatile, baked, cut into fries and roasted, boiled and mashed—there's so many ways to enjoy them.


7. Make 1 Herb Or Veggie-Based Sauce Per Week
On the weekend make an herb or veggie-based sauce that you can keep in the fridge and add to meals all week. These extra spoonfuls not only add flavor, but also add lots of nutritional value too. Obvious ones would be pesto or chimichurri. In our house, this Tomatillo-Avocado Salsa goes on everything!


8. May No Smoothie Go Un-Vegefied
Say it with me, "I will always put greens in my smoothie!" A heaping handful of spinach or kale is a must when making any smoothie. You can't even taste it and there's one more serving of veggies fueling your body.


9. Upgrade Your Cereal Bowl
Don't eat your cereal naked. Whether it is oatmeal, cold cereal or pinole, adding fresh fruits like blueberries, sliced banana, or strawberries is a must—plus it tastes ahhmazing!


10. Use Easy Store-Bought Plant-Based Swaps
Make this easy on yourself and buy the dang kale in a bag! If you know you are going to buy a bunch of produce and then throw it out a week later, go for simple store-bought hacks. The Cozy Black Bean Enchiladas recipe below is a perfect example: Canned black beans, jarred Pipián sauce and store-bought tortillas make an incredibly simple and satisfying vegan dinner.


Now that you've read my tips, are you ready for these black bean enchiladas? I sure am…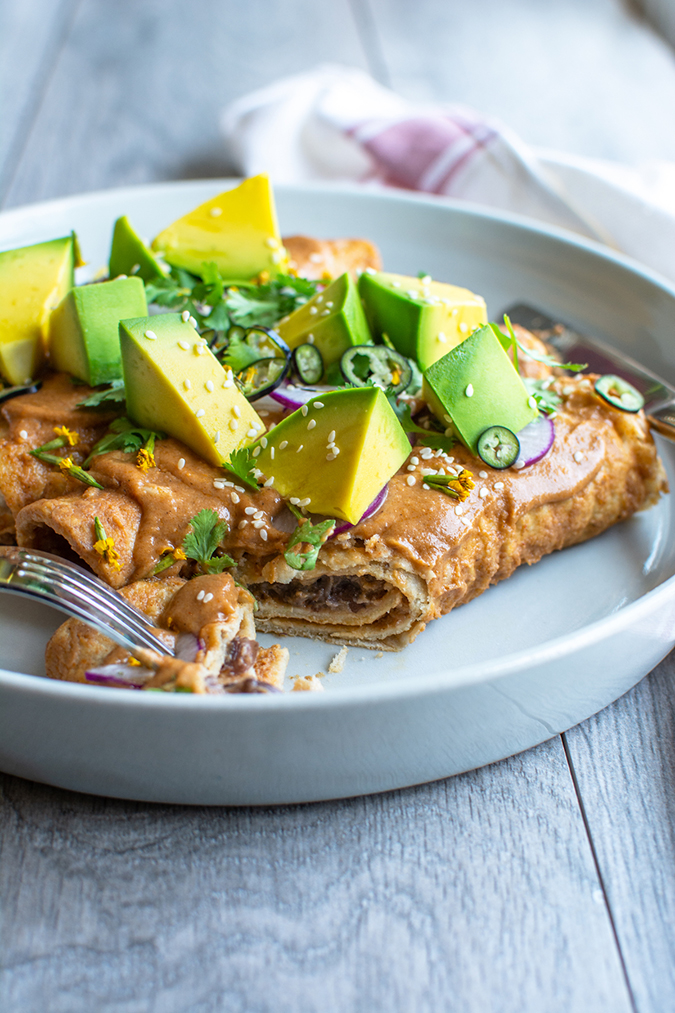 Cozy Black Bean Enchiladas in Pipián Rojo Sauce
Pipián Rojo is a Mexican sauce whose main ingredient is pumpkin seeds. You can find Pipián Rojo paste in many well-stocked grocery stores, Latin markets or online.


1 1/2 cups Pipián Rojo paste (red pipián sauce)
3 cups water
2 teaspoons kosher salt
2 (15-ounce) cans black beans, drained
2 teaspoons ground cumin
2 teaspoons dried oregano
¼ cup vegetable oil, divided
12 corn tortillas


2 tablespoons white sesame seeds
Thinly sliced radishes
Chopped avocado
Chopped cilantro


Heat oven. Heat oven to 350°F to keep enchiladas warm while you prepare them. Have a baking sheet ready.
Make sauce. In a large frying pan combine Pipián Rojo paste, water, and salt. Whisk until smooth and the sauce is boiling. Turn off heat.
Make filling. Combine beans, cumin, and oregano in a large bowl. Mash with a potato masher until most of the beans are smashed but not smooth.
Assemble enchiladas. Heat 2 tablespoons of the vegetable oil in a large frying pan over medium heat.
Once the oil is hot, dip one tortilla into the sauce, coating both sides. Carefully transfer it to the hot oil and fry 1 minute per side. Transfer to a plate, fill with 2 tablespoons of black beans and roll up. Set on the baking sheet and place in the oven to keep warm while you assemble the remaining enchiladas.
Keep dipping, frying, and rolling until all the tortillas and filling have been used. If it looks dried out, add another tablespoon or so of oil to the frying pan as you go.
Serve. Sprinkle enchiladas with sesame seeds and serve with any extra Pipián sauce, sliced radishes, avocado, and cilantro.


Have you tried any of these techniques to incorporate more fruits and vegetables into your diet?


Affiliate links may have been used in this post.