Fall Fruit Ambrosia Salad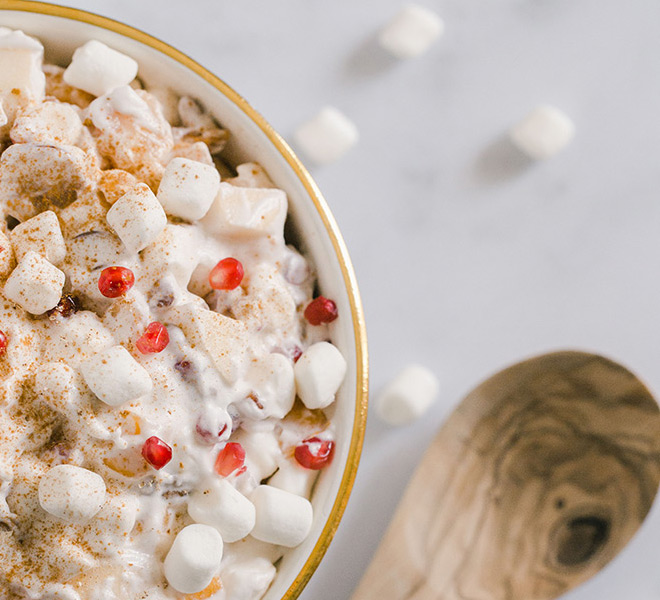 With Thanksgiving meal prep in full swing, we've thought a lot about our favorite dishes that truly knock it out of the park each year. The Superstars. The Hall-of-Famers. The Fan Favorites. The dish on the table that's the first to go and never return until next year. There's always one dish that comes to mind for us, and that dish is…ambrosia salad.
Yes, you heard us right. Ambrosia salad is one of our favorite Thanksgiving treats. The mix of sweet and tart canned and fresh fruits and fluffy whipped cream has no comparison. One of the best parts about ambrosia salad, besides its unbelievably delicious taste, is that it's SO easy to make, it's almost criminal.
So today, in honor of one of our favorite dishes, we're sharing our recipe for Ambrosia Salad with a twist. We're veering from the traditional tropical fruit vibes with a Fall Fruit Ambrosia Salad. We know…It' a game changer. Switching out the traditional canned fruits for seasonal options like persimmons, holiday grapes, and pomegranate seeds is the shake-up you need for a new variation. If you're looking to change your Thanksgiving side dish-game, scroll down to see our fresh, fall take on an American classic…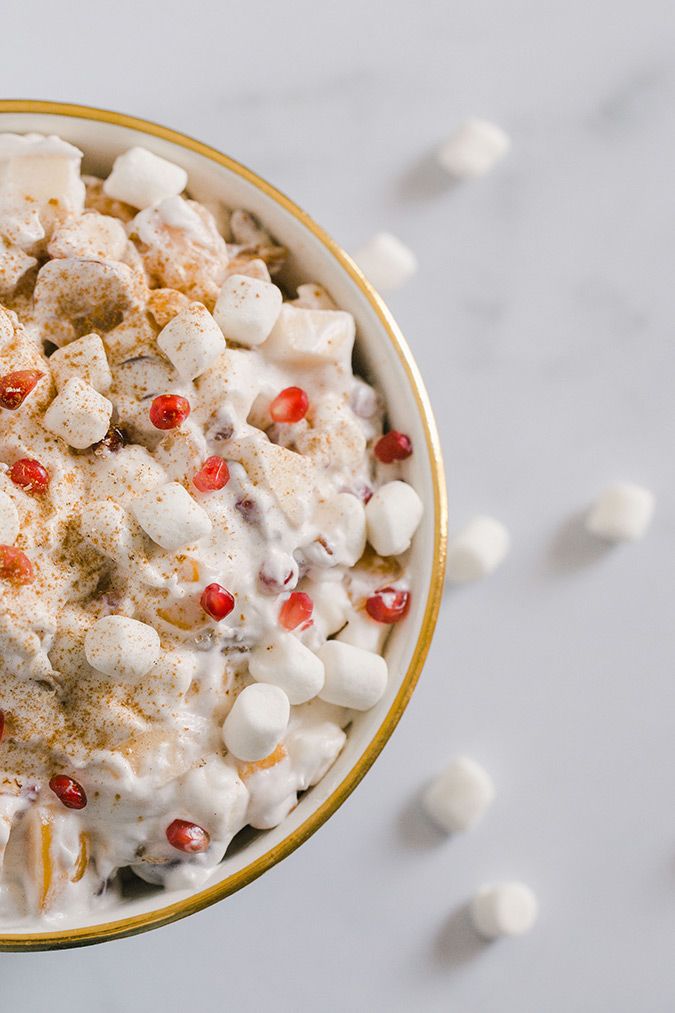 Fall Fruit Ambrosia Salad
8 oz. tub dairy-free coconut whipped cream
2 cups mini marshmallows, plus extra for garnish
1 cup Pink Lady apples, peeled and diced
1 cup no-sugar-added preserved pears, diced
1 cup Fuyu persimmons, peeled and diced
1 cup holiday grapes, sliced into halves
1/2 cup chopped pecans
1 cup pomegranate seeds
cinnamon
nutmeg
Drain pears in a colander and pat down to remove any excess liquid. You don't want any of the pears' juices to break down the whipped cream too much and reduce the fluffy texture.
Cut and prepare all of your ingredients.
In a large bowl, combine the apples, holiday grapes, pomegranate seeds, persimmons, pears, and pecans with a pinch of cinnamon and nutmeg.
Add the mini marshmallows to the mixed fruits and combine until just so, then add the whipped cream. Using a rubber spatula, lightly and gently fold in the fruits from the center of the bowl outward until the mixture is evenly combined. Mixing the whipped cream too harshly can make more air escape from the cream, resulting in a less fluffy and whipped texture.
To garnish, sprinkle extra marshmallows, pomegranate arils, cinnamon, and nutmeg on top. Serve immediately.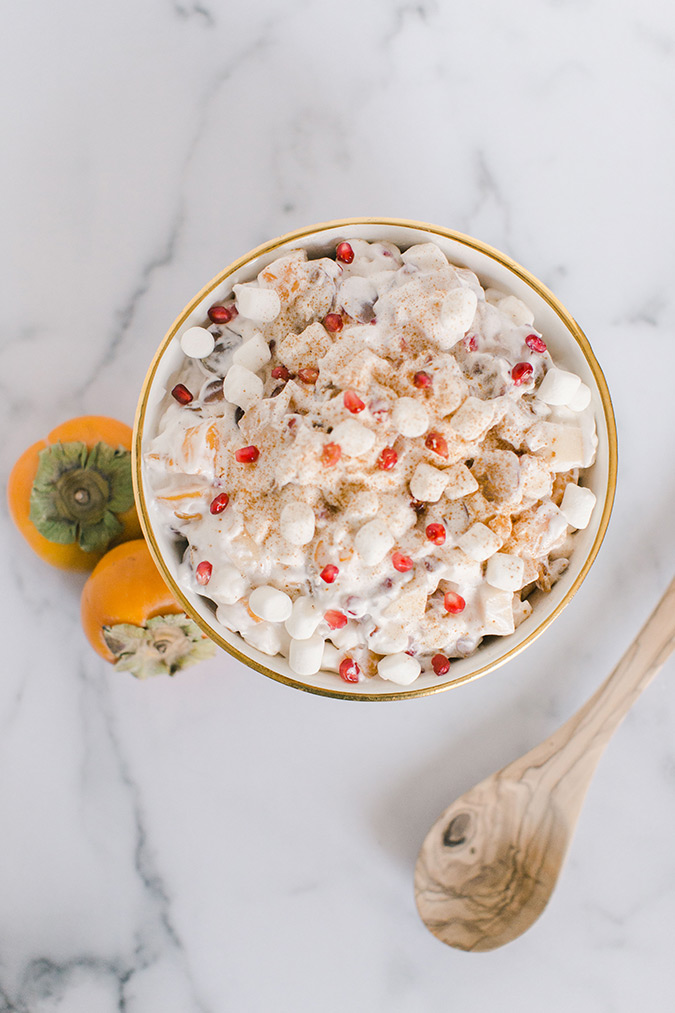 There you have it! Simple, easy, and unbelievably good, this Ambrosia Salad will definitely be in your recipe box for years to come. We hope you enjoy (we sure do).
Will you try out our take on a classic for Thanksgiving?
Affiliate links may have been used in this post.