Party Planning: A Galentine's Day Brunch Menu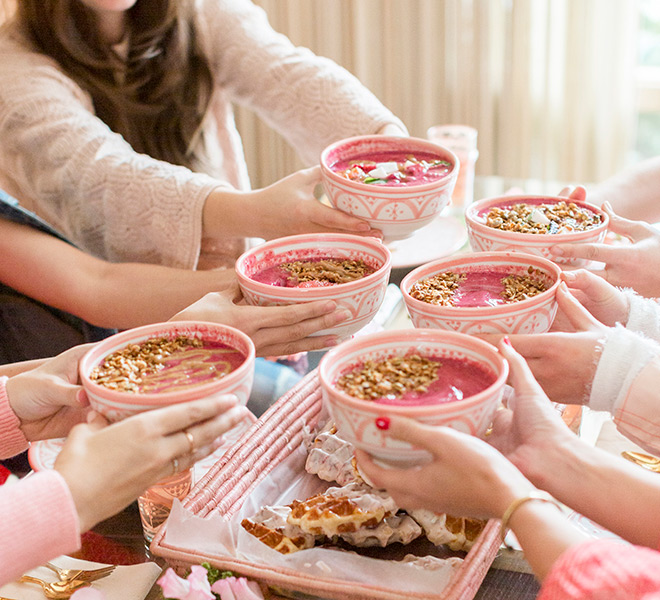 Galentine's Day might be a made-up holiday, but we'll take any excuse to celebrate the ladies in our lives. Here at Team LC, we're lucky to get to work with some pretty amazing women, so when our friend Claire Thomas from The Kitchy Kitchen invited us back to her beautiful home (last seen here!), we couldn't pass up the opportunity to catch up with some of our friends… and eat some of Claire's incredible brunch spread.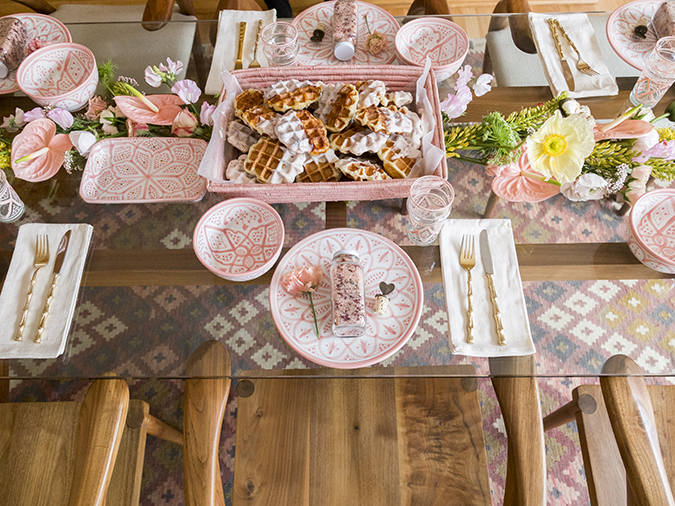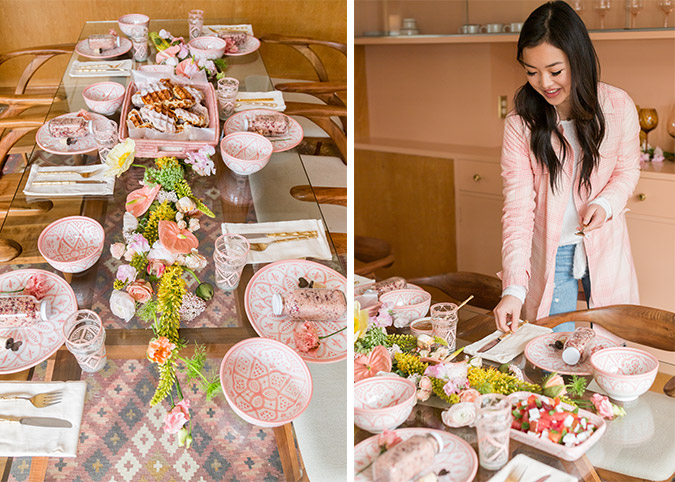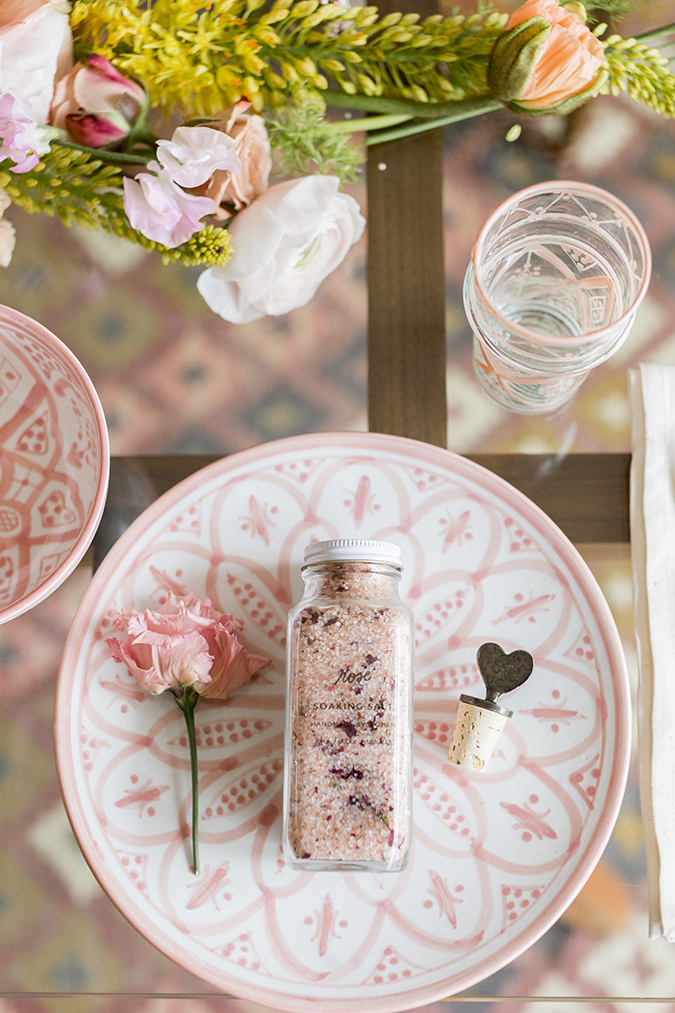 Since we all lead busy lives, having an easy and stress-free get together is a must. Luckily, we had beautiful pink dishes from The Little Market on hand, which set our color palette for the morning, and inspired this gorgeous floral centerpiece. After that, all we needed were some sweet treats and a pretty cocktail to complete the morning. (Stay tuned on our @laurenconrad_com Instagram stories today to see how we whipped up this bubbly drink.)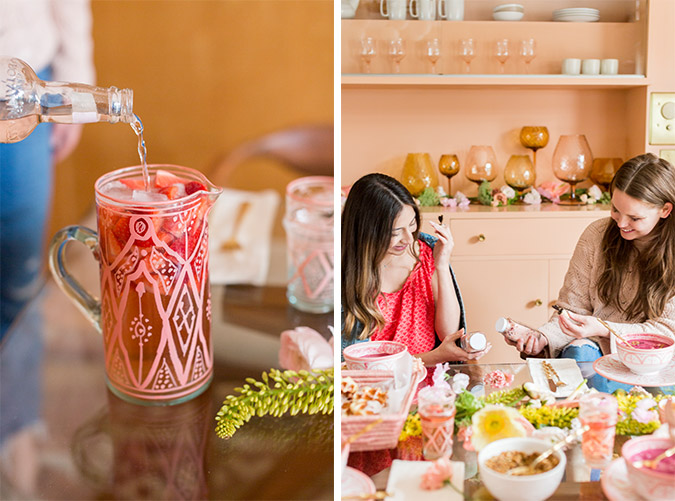 Each setting came with a tiny bottle of The Little Market's soaking salts, giving us the best excuse to relax and give back at the same time. We love the idea of leaving your guests with a small gift like this, or the tiny wine stoppers we also received from The Little Market, which were perfectly on theme with a pretty heart on the top.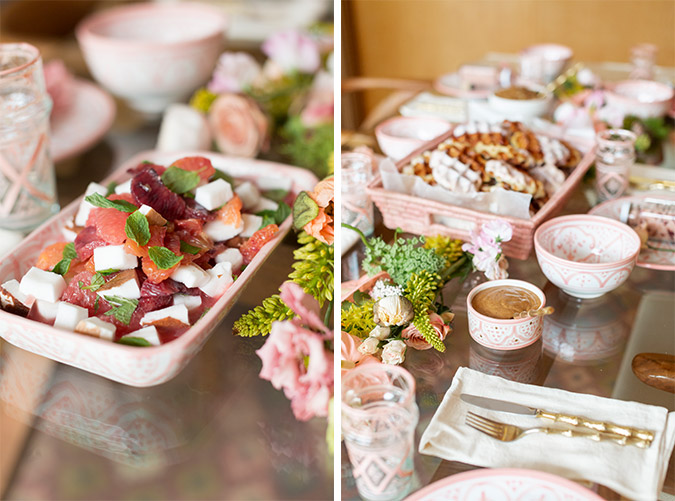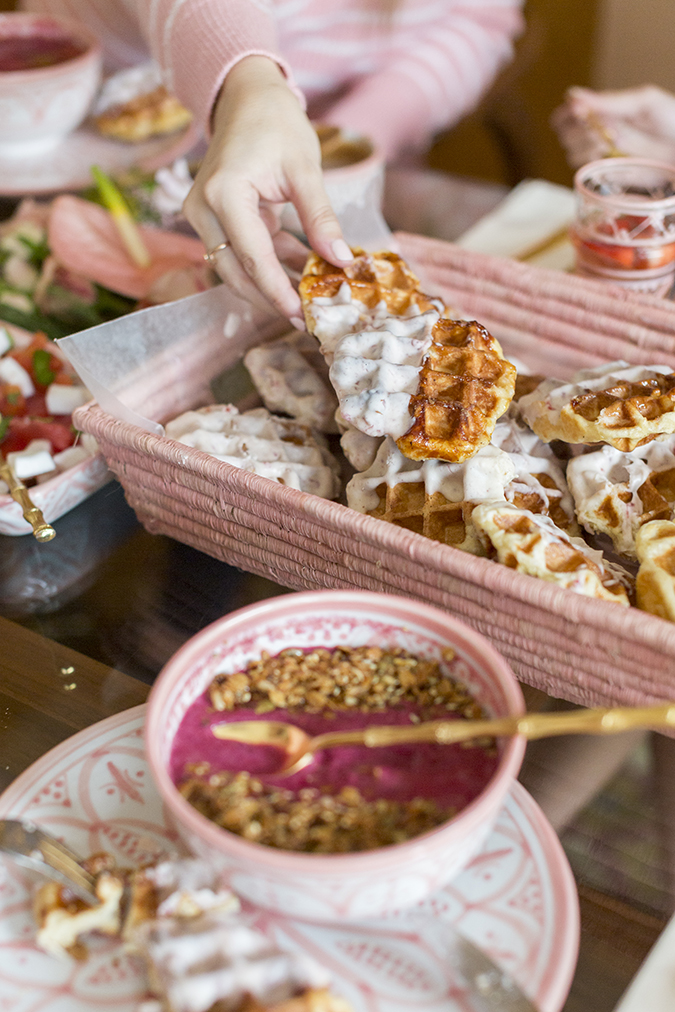 In addition to these cute gifts, we also had tons of delicious dishes courtesy of Claire, including these sweet Belgium waffles, pretty citrus salad, and dragon fruit bowls. She shared the recipes below, which means you can whip these up for your Galentine's get together too!
3/4 cup whole milk
2 tablespoons brown sugar
1 packet (7 grams or 2 1/2 teaspoons) active dry yeast
2 large eggs, room temperature
3 cups all-purpose flour, divided
1 teaspoon kosher salt
8 oz unsalted butter, softened
1 cup pearl sugar (you can purchase or make your own)
For the white chocolate dip:
1 cup white chocolate, chopped
1/4 cup coconut oil, melted
1/4 cup raspberry jam
1. To make the dough, warm milk to lukewarm, or between 110 and 116 degrees Fahrenheit, and place in the bottom of a large mixer bowl.
2. Add sugar and yeast and stir to combine. Set aside for 5 minutes. The yeast should look foamy.
3. Whisk in eggs, then stir in all but 1 cup flour (you can eyeball this) using a spoon or the dough hook of a stand mixer.
4. Add the salt and mix to combine.
5. Using the dough hook of a stand mixer, add the butter, a spoonful at a time, thoroughly kneading in each addition and scraping down the bowl as needed before adding the next until all of the butter has been mixed in. It takes a while but is worth it!
6. Add remaining flour and knead with dough hook on low speed for 5 minutes, or until glossy.
7. Cover bowl with plastic wrap and leave at room temperature for 2 hours; the dough should double.
8. Stir with a spoon or spatula to deflate into a mound, re-cover with plastic wrap and let chill in the fridge overnight, or up to 24 hours. It needs time to rise because of the high fat in the dough weighing it down.
9. When you're ready to make the waffles, knead in the pearl sugar. It's going to seem like way too much for the dough, but it will taste perfect once cooked.
10. Divide dough into 12 mounds. If they start looking greasy, return to the fridge to chill.
11. Heat your waffle iron (A Belgian iron works best) over medium heat. No need to oil or butter if it's nonstick – there's plenty of fat in the dough.
12. Place the first ball of waffle dough on grid and cook according to waffle maker's instructions. Cook until deeply golden all over, which will take approximately 5 minutes, then carefully transfer with tongs or a fork to a cooling rack. Remember, they're loaded with molten sugar; they're very hot.
13. Repeat with remaining balls of dough, adjusting temperature of waffle iron as needed to get the color you want. You'll likely find that the waffles look more caramelized and glossier as you go on, as bits of melted sugar stay behind and gloss the next waffles; this is the best part.
14. Rewarm them in the oven or microwave just before dipping/drizzling and serving.
15. To prepare the white chocolate dip, melt the white chocolate in a glass bowl (microwave or a double boiler works great!). Stir in the melted coconut oil – it should be shiny and saucy. Swirl in the raspberry jam. You can either serve the sauce with the waffles, drizzle it on top, or dip the ends of the waffles in.
Smoothie Bowls and Toppings
Sweet Laurel Grain Free Granola
1/2 cup walnuts
1/2 pecans
1 cup almonds
1/4 cup sesame seeds
1/4 pistachio or almond flour
2 tablespoons cinnamon
1/4 cup coconut oil
1/4 cup maple syrup
2. Stir all ingredients until well mixed. Place on baking sheet and bake for about 10 minutes, or until desired crunch is reached.
3. Allow to cool. Scrap off pan with spatula. Store in air tight jar.
2 lbs favorite citrus peeled and supremed (should yield 3 cups of citrus)
2 cups coconut meat pieces (pieces should be about 1/2-inch wide)
2 tablespoons fresh mint, roughly chopped
2 tablespoons honey
Combine the citrus and coconut. Place in a bowl and finish with mint and a drizzle of honey.
Vanilla Honey Almond Butter
2 cups almond butter, bought or homemade
1 vanilla bean, split and seeds removed, or 2 teaspoons vanilla paste
1/4 cup honey
In a bowl with a spatula, combine the ingredients together.
1 cup frozen Pitaya (also known as dragon fruit)
1 cup frozen mixed berries
1 cup coconut milk (I do a 50/50 coconut milk/almond milk blend)
Any desired add-ins (protein powder, flax, maca, etc.)
Fill a blender with the milk, then frozen fruit. Blend until just combined and smooth. Pour into a bowl and top with the almond butter, granola, and fruit salad. Enjoy!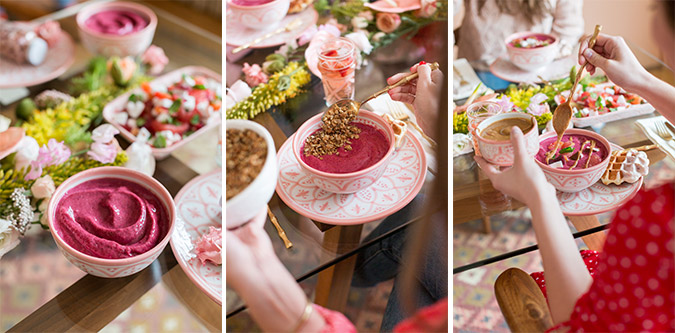 For our brunch, we were lucky enough to get to try out some of the new looks from Lauren's Kohl's line, and getting dressed up in festive red and pink pieces made our morning even better.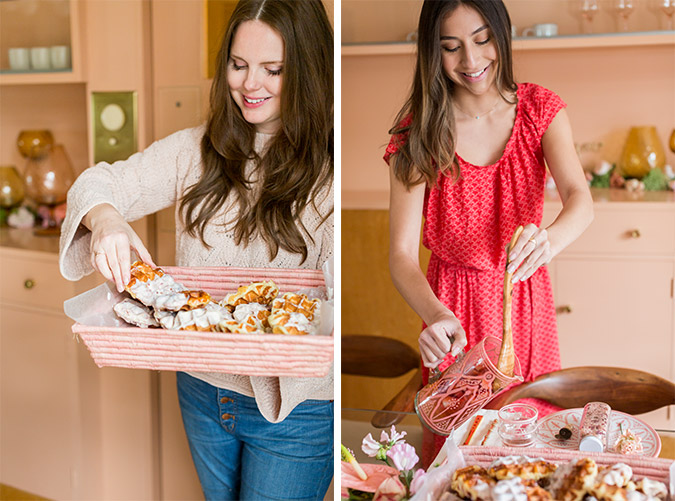 Between the chocolate-dipped waffles and the pretty handmade dishes, the morning was a fun and festive way to kick off February.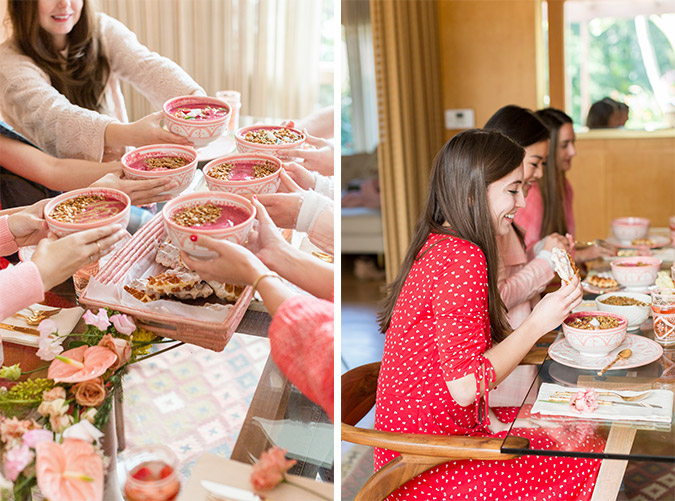 For a detailed look at what we wore to our perfectly pink brunch, shop below, and remember to check out Instagram stories for a special cocktail recipe coming this week.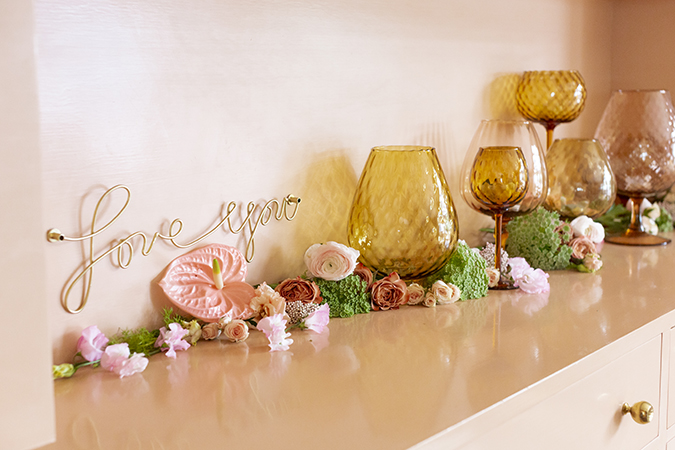 How are you celebrating the holiday with your girlfriends?
Add your ideas in the comments!
Affiliate links may have been used in this post.