Recipe Box: Creative Thanksgiving Side Dishes From The Kitchy Kitchen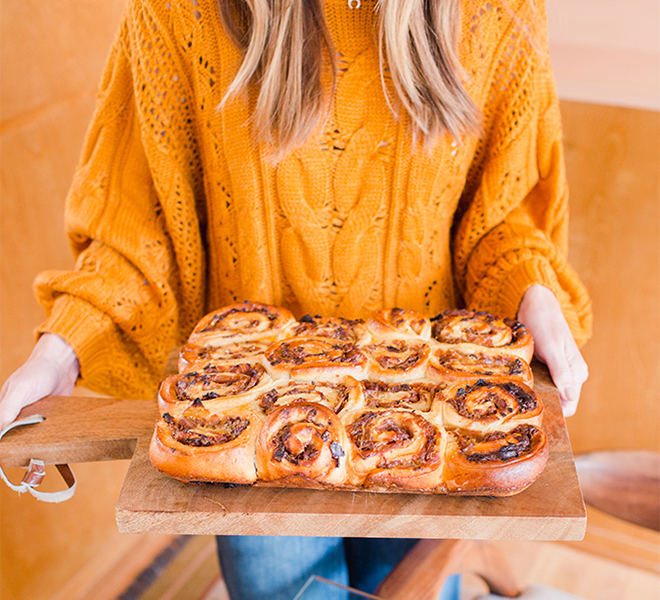 Turkey Day is less than a week away, which means we'll be spending the weekend perfecting our menus. Maybe your family has been using your grandmother's stuffing recipe for the last 50 years, and you're perfectly happy with a traditional Thanksgiving menu. But maybe that 50 year old stuffing recipe is starting to feel a little, well, stale. If, like us, you're craving something more creative this Turkey Day, then you're going to like what we have in store. Today we are sharing the recipes for the Thanksgiving side dishes in our Midcentury Modern Friendsgiving party featured on the blog earlier this week. Like the Maple Roasted Turkey Pieces with Roasted Cranberries, all of these recipes come to us courtesy of our friend Claire Thomas of The Kitchy Kitchen. Keep reading to see how to make her Sweet Potatoes en Nogada, Savory Cinnamon Swirls With Bacon and Caramelized Onion, and Fennel "Oysters" with Citrus Scented Olive Oil and Sea Salt.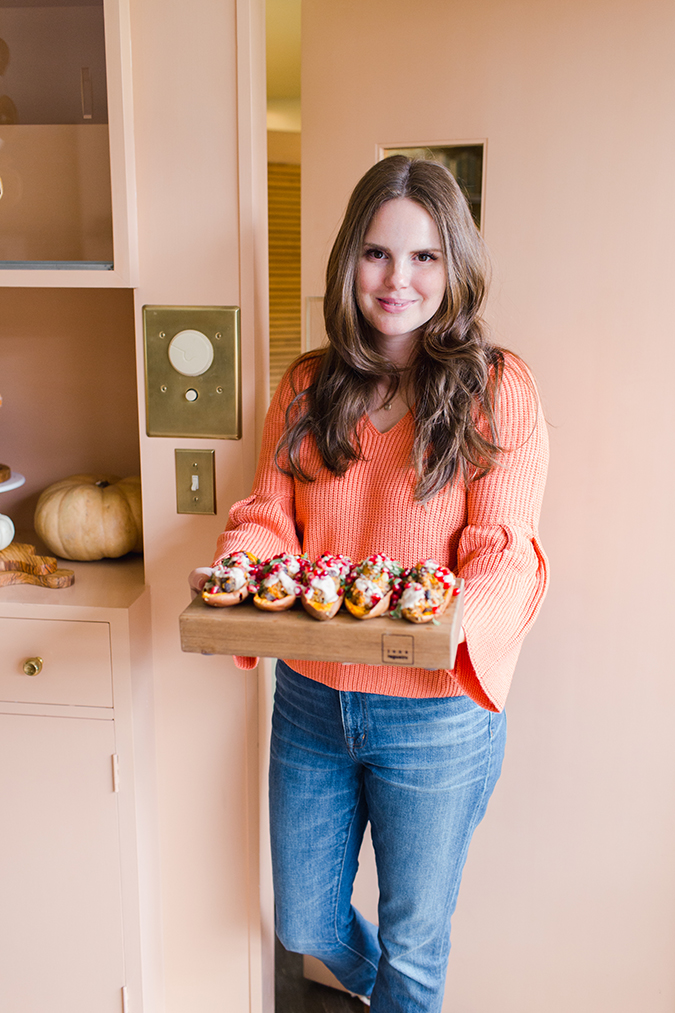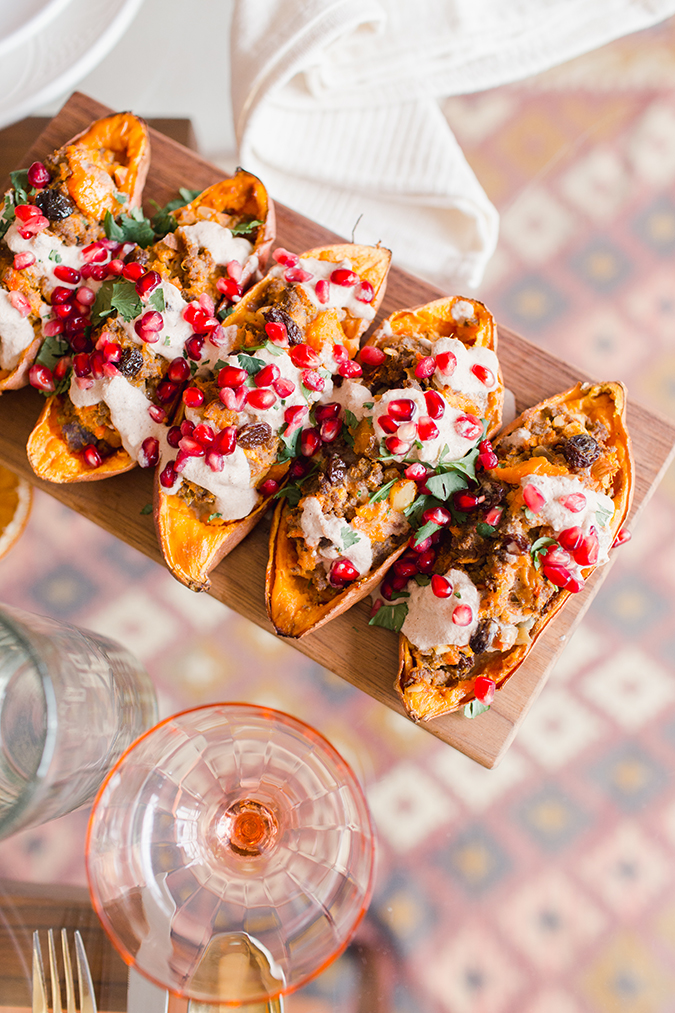 One of my favorite dishes is Chiles en Nogada, a Mexico City classic. I replaced the chiles with yams, and the sweet and savory flavors seemed perfect for the Thanksgiving table.
4 sweet potatoes, halved
1 Tbsp olive oil
1 lb. ground beef
½ onion, finely diced
1 carrot, peeled and finely diced
1 celery stalk, finely diced
¼ cup raisins
1 14 oz. can crushed tomatoes
½ cup almonds, roughly chopped
½ tsp cinnamon
½ tsp cumin
1 Tbsp brown sugar
1 tsp kosher salt
1 tsp freshly ground pepper
½ cup toasted walnut
½ cup toasted pecans
2 cups water
½ tsp cinnamon
½ tsp cumin
1 Tbsp brown sugar
1 tsp kosher salt
1 tsp freshly ground pepper
1/2 cup pomegranate seeds
1/2 cup finely chopped parsley and cilantro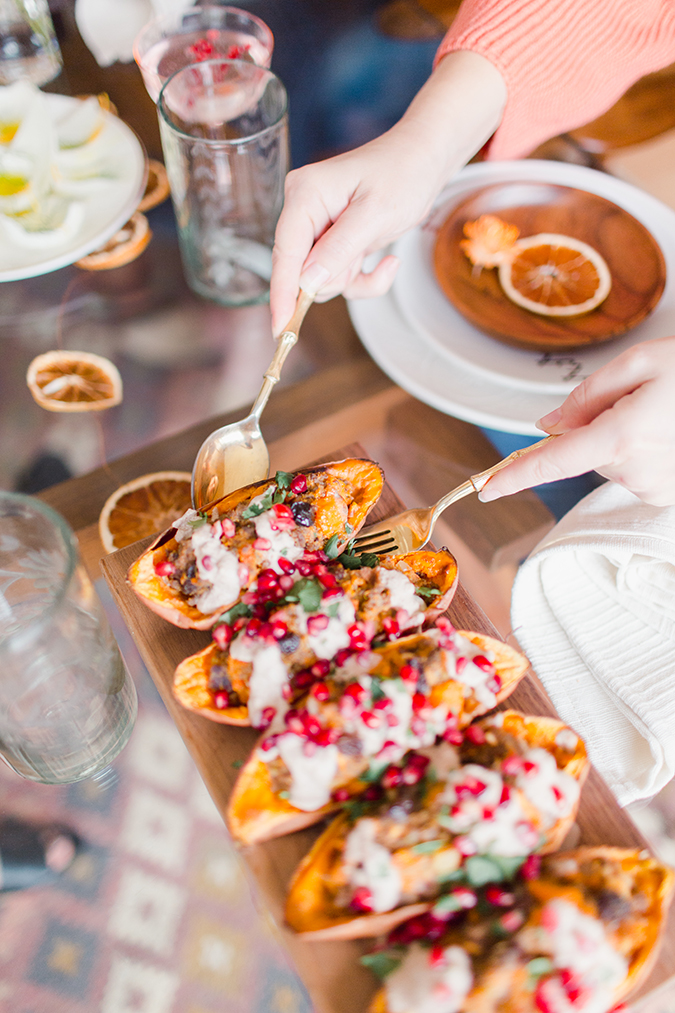 1. Roast yams until soft. In a pan, brown the meat and set aside. Brown mirepoix (onion, carrot, celery) with seasoning. Add the meat back, then add the remaining ingredients. Cook for 20 minutes over medium heat until it comes together.
2. Scoop out some of the center of the yam, add the yam centers to the meat filling, stirring to combine, and then stuff the meat filling back into the yams.
3. Make the sauce by blending all sauce ingredients together until very smooth and thick. Strain if necessary.
4. Top yams with sauce and garnishes.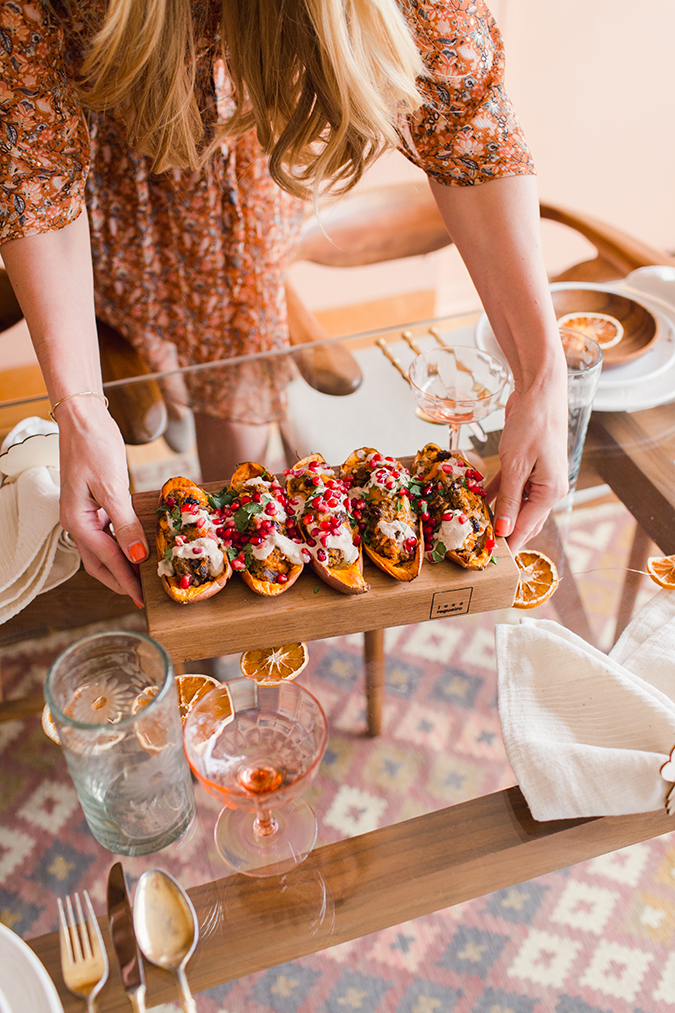 Savory Cinnamon Swirls with Bacon and Caramelized Onion
This bread course is no joke—this isn't an afterthought to sop up gravy. These rolls are loaded with bacon, caramelized onion, and just a touch of cinnamon.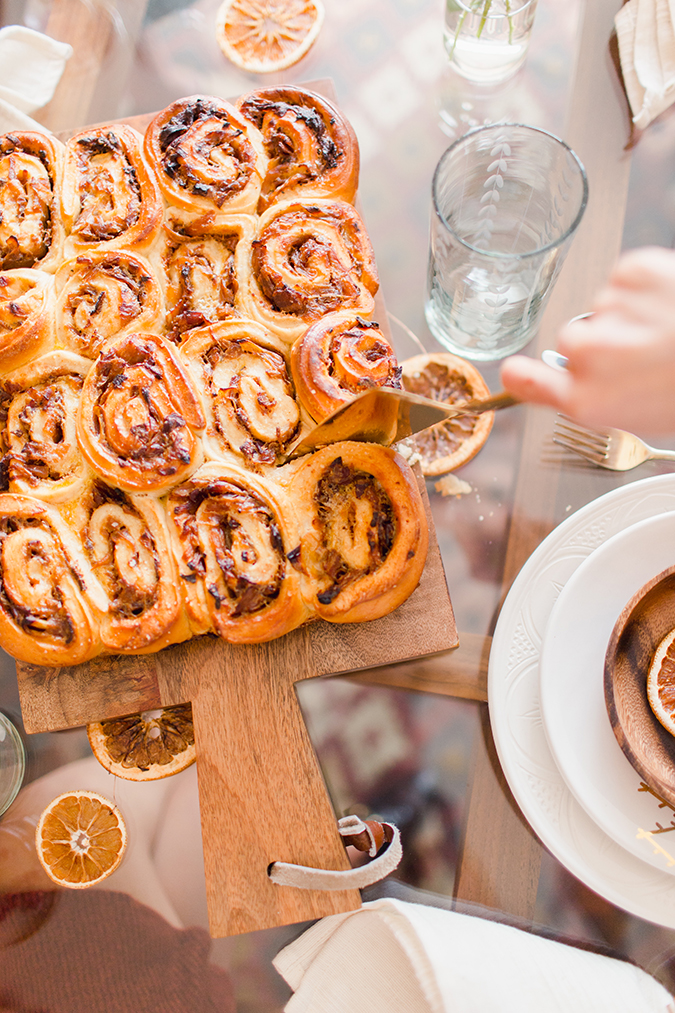 6 cups all-purpose flour, plus more for rolling the dough
2 1/3 cups milk, warm
¼ cup sugar
½ tsp sea salt, plus more for sprinkling
2 tsp lemon juice
4 Tbsp melted butter
1 Tbsp active dry yeast
½ lb. bacon, chopped
2 onions, sliced and caramelized
1 tsp cinnamon
1 egg and 1tsp water or milk for egg wash
1 sprig sage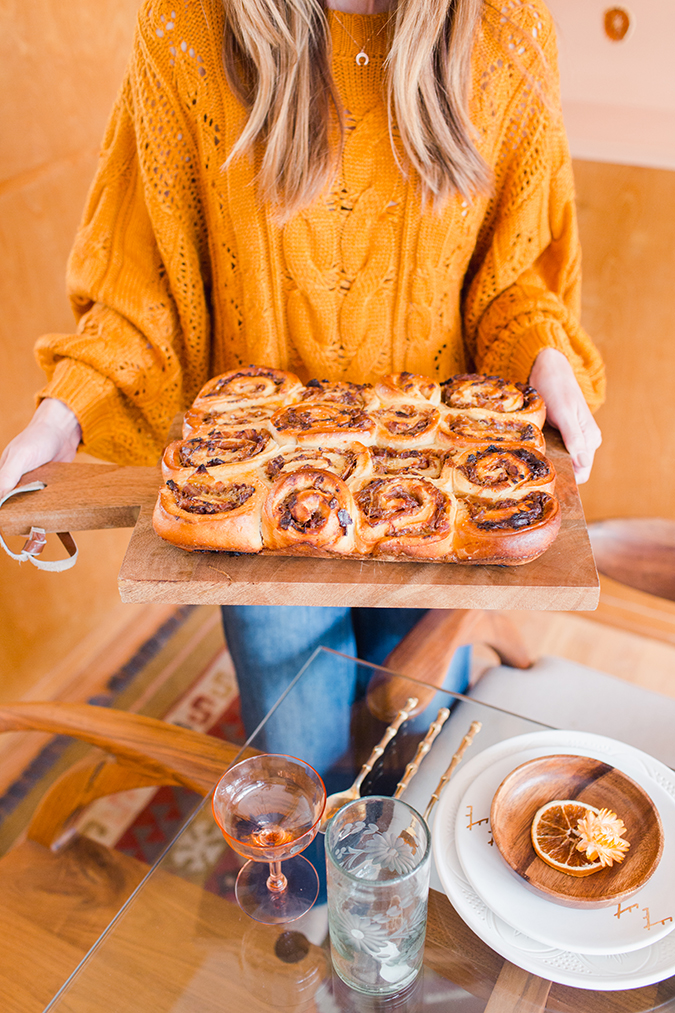 1. Render the bacon in a large pan. Set bacon aside, preserving fat in the pan. Add the onions and caramelize. Set aside.
2. Combine the yeast, warm milk, and sugar in a small bowl. Stir lightly and let it rest for 5 to 10 minutes, until foaming.
3. Mix all ingredients in a large bowl, including the yeast mixture, knead the dough by hand for about 5 minutes, or until the dough is slightly tacky, but not sticky. If the dough is sticky, let it rest for another 10 minutes and then knead again for 2 minutes. Cover the bowl in plastic wrap and let rise for at least 90 minutes or until doubled in size.
4. Lightly coat your counter with flour, and dump out the dough onto the counter. Roll out to about ½-inch thick. Top with the caramelized onions and bacon, and roll. Slice into about 15 rolls.
5. Place the rolls in a well-greased 10 x 14 inch cake pan. Cover the pan with plastic wrap and let it sit for 45 minutes while the oven preheats to 375F.
6. Whisk one whole egg with a teaspoon of cold water until well blended. Brush the tops of the dough balls with a light, even coat of egg wash. Sprinkle with sea salt. Place the pan in the oven and bake for 25 to 30 minutes, or until golden brown and puffy.
Fennel "Oysters" With Citrus Scented Olive Oil and Sea Salt
I have a rule for parties I host that I like to call the 3 to 1 rule. For every one hot thing, I try to have three pre-made or incredibly easy things. So for Thanksgiving this year, I'm adding refreshing, crisp, and delicious "fennel oysters" to the table. They're the perfect start to a meal and such a nice break from the heavier fare on the usual Thanksgiving menu.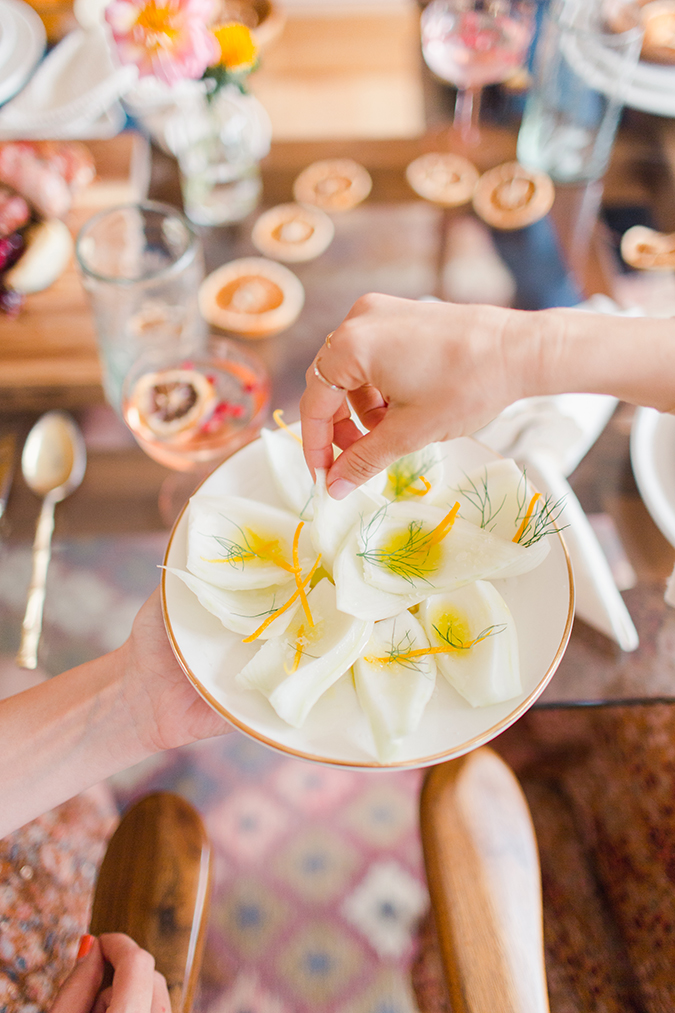 2 fennel bulbs, trimmed
1 Tbsp lemon juice
1 orange, zested
olive oil
sea salt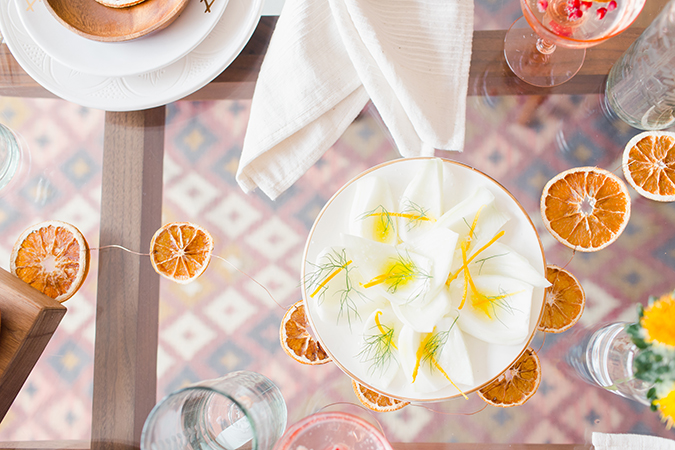 Slice the base off the fennel and peel off the fennel layers. You may have to slice the base each time to peel off more layers. Place the layers in a bowl of ice water with lemon juice added to it. Let them chill completely. To serve, remove the fennel and plate. Top with olive oil, orange zest and sea salt. Enjoy!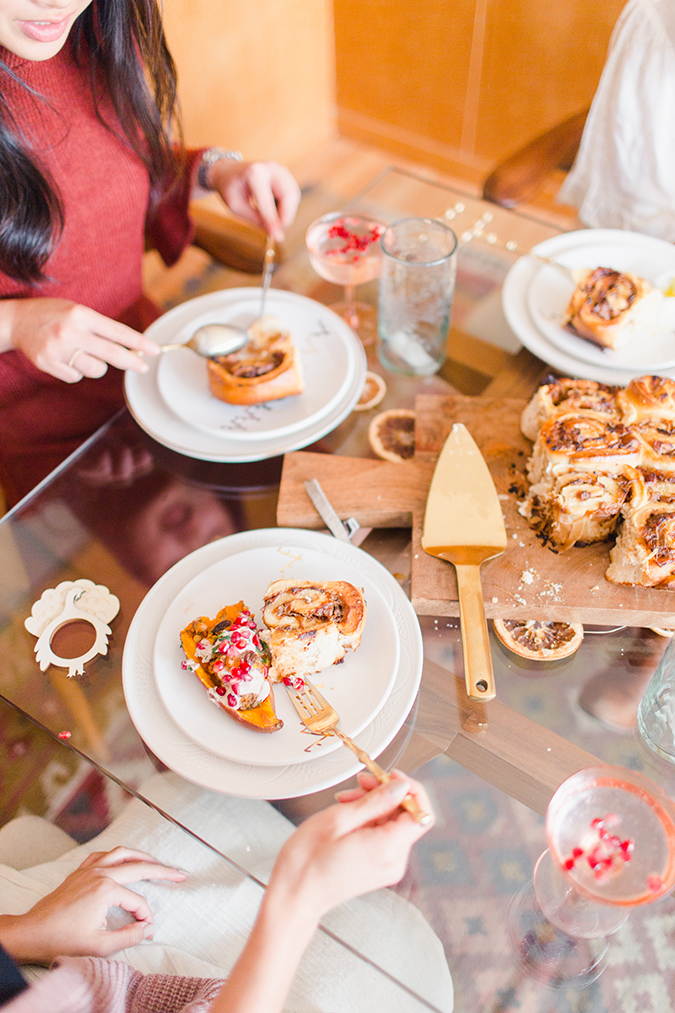 How delicious do these Thanksgiving dishes look?
We can't wait to add them to our Turkey Day menu.
Photos: Jessi Burrone Photography for LaurenConrad.com
Affiliate links may have been used in this post.