Tuesday Ten: The Best Styling Products for Fine Hair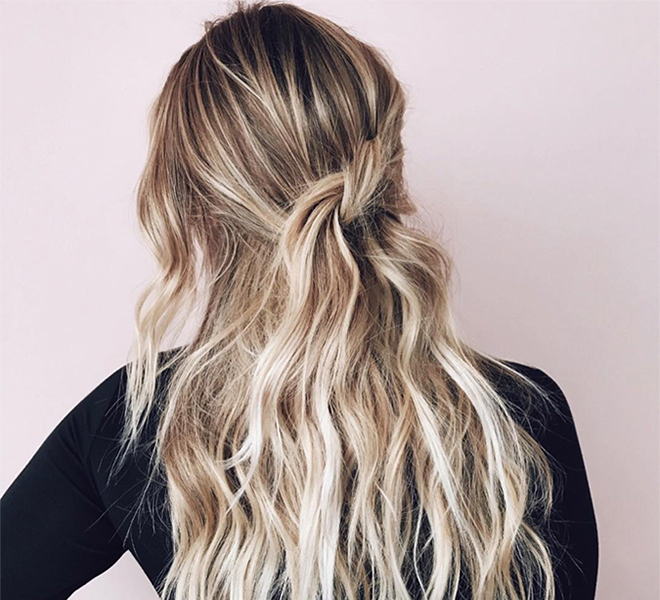 Each hair type has their fair share of styling woes. From curly to straight, thick or thin, it can feel like it takes a whole lot of trial and error to find just the right products that work for you. And don't even get me started on how changes in weather can make your locks turn a 180 on you. Thanks to a reader submitted question, today's post goes out to all of my fine-haired ladies out there. Here's what she had to say… "Can you consider doing a post for fine hair girls? Most products I've come across weigh my hair down or make it oily. I would love to hear your thoughts on the best type of products to use for this hair type." Those of you that have fine hair know the daily struggle of trying to add volume or keeping your hair from getting too oily too quickly. If this sounds a little like your everyday routine, in today's Tuesday Ten I've compiled a list of go-to products that will help alleviate any potential bad hair days. You're going to want to keep reading…
1. Kristin Ess The One Signature Shampoo and Conditioner, $10 each
If you have fine hair, it's all about starting with a shampoo and conditioner that won't weigh down you hair. This Kristin Ess duo is the perfect way to cleanse your hair without any unwanted buildup. You can definitely find these products in my own shower.
2. Ouai Dry Shampoo, $24
Whether you're giving second day hair some life or just looking to add texture, this Ouai dry shampoo will be your new best friend.
5. Kristin Ess Style Assist Blow Dry Mist, $14
Another Kristin Ess product that does wonders for fine hair is this blow dry mist. This ultra-fine mist goes on as light as a feather and cuts your blow dry time virtually in half. I believe in miracles now thanks to this.
6. Oribe Maximista Thickening Spray, $38
What fine hair lacks, this thickening spray makes up for. Not only does this Oribe thickening spray add buildable volume, but it also serves as a heat protectant before you use your favorite hot tools.
7. Living Proof Perfect Hair Day Nigh Cap Overnight Perfector, $29
Hair masks can work wonders for dry or damaged hair. This Living Proof overnight hair mask is a weightless formula that will bring your hair back to life. Prepare yourself for shiny, smooth hair when you wake up in the morning.
8. Kenra Professional Volume Spray 25, $18
If you're looking for one hairspray that will add volume, hold your style, and last all day, this Kenra volume spray is for you. This spray has a super hold and is even humidity proof. Count me in.
9. Invisibobble The Elegant Hair Ring, $8
Classic hair ties can cause breakage every time you throw your hair up in a bun or ponytail. This Invisibobble hair ring won't damage hair and won't even leave a crease.
10. Moroccanoil Treatment Light, $34
When applied to damp hair, this Moroccanoil treatment serves as a heat protectant, shine booster, and finishing oil. This treatment combats frizz and will leave your hair sleek and glossy all day long.
If you have fine hair, what are some of your favorite products?
Be sure to let us all know in the comments!

Affiliate links may have been used in this post.