Recipe Box: Pink Pumpkin Cake Pops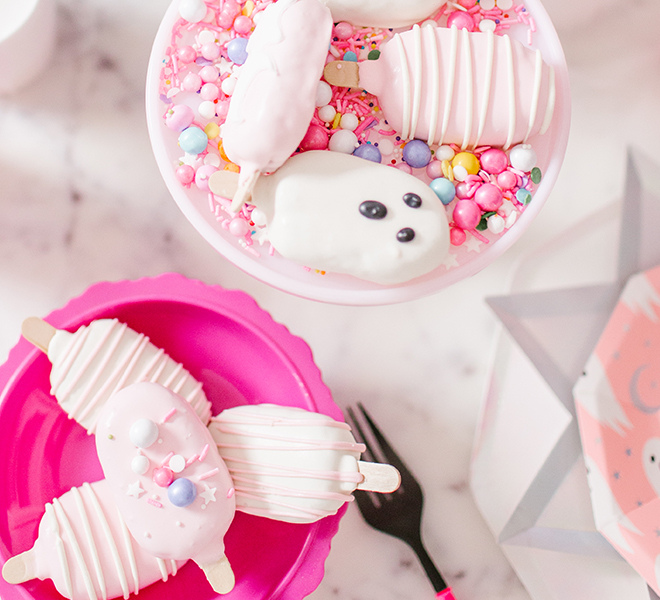 Candy may take center stage in the month of October, but the truth is that we'd take a baked good over a chocolate bar any day. Especially if you've ever tasted a recipe by our resident baker Lauren Lowstan, you know that her treats truly can't be topped. Today we are sharing the recipe for a to-die-for dessert that you might recognize straight from the platters of the blush pink Halloween party that we shared on the site last week. Decorated in pale pink and ghostly white, these pumpkin pie cake pops were the perfect mix of spooky and sweet. Unlike your traditional round cake pops, these were made in a "cake bar" mold, which is shaped more like a popsicle than a lollipop. It was the perfect canvas for cute ghost faces, sprinkles, and white chocolate drizzle. Keep reading to get the fall dessert recipe, which is so delicious it's scary…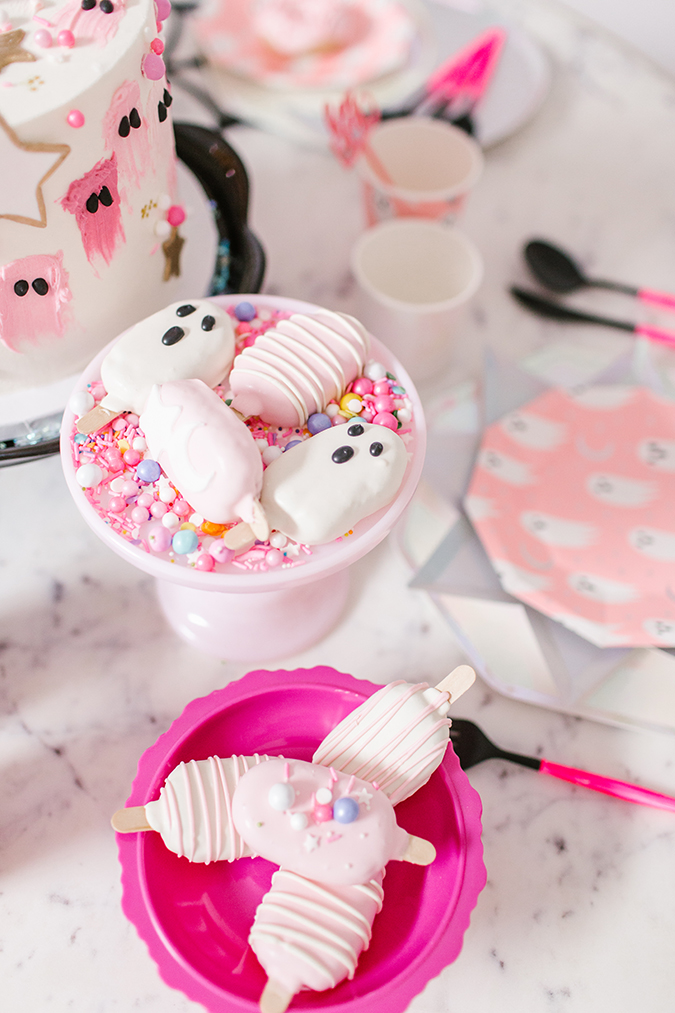 2 cups sugar
2 cups pumpkin puree
1 cup coconut oil
4 eggs
2 tsp vanilla
1 Tbsp honey
2 cups all purpose flour
2 tsp baking soda
2 tsp baking powder
½ tsp salt
1 Tbsp cinnamon
½ tsp nutmeg
2 tsp ginger
1 tsp allspice
¼ tsp cloves
For the Frosting and Decorating:
1/2 cup vanilla buttercream or any white frosting
white candy coating or tempered chocolate
pink candy color
black gel food coloring
small piping bags
white fondant
mini star and moon cookie cutter
cake bar silicone molds
mini wooden sticks
1. Preheat your oven to 350 degrees. Spray a baking sheet (9×13" or larger) with cooking spray and line it with parchment paper. Set aside until ready to use.
2. In a large bowl, add the sugar to honey and whisk until everything is combined. Add in the rest of the ingredients and whisk until no white streaks remain.
3. Scrap the batter into your prepared pan and bake until a toothpick inserted comes out clean. The baking time will depend on your oven and the baking pan you're using. It doesn't really matter what size you use. You will be crumbling this up in the end.
4. When the cake is done, take it out of the oven and place onto a wire rack to cool (can be done a day or two ahead of time or you can pop into the fridge or freezer to chill quicker).
5. Once your cake is cooled, crumble it up in a large bowl. Add in a spoonful of vanilla buttercream and mix together with your hands. You want to be able to pick up a clump of cake and form into a ball without it crumbling or cracking on you. If your cake is too dry, add in more frosting until you have reached the desired consistency.
6. Fill your molds with cake and press down until each cavity is filled. Add a wooden stick into each bar and place your molds into the freezer for about 30 minutes.
7. Once your bars are frozen, or very cold, pop out of the molds and place onto a parchment lined baking sheet.
8. Melt tempered chocolate in a small glass bowl or measuring cup (I prefer a pyrex). Melt half of the chocolate in a light pink using pink candy color.
9. Dip some pops in plain white chocolate and place onto your parchment lined baking sheet.
10. Dip some pops in the pink chocolate.
11. Add a small amount of white and pink chocolate to separate small piping bags. Cut the smallest amount off the tip of the piping bag and drizzle a little chocolate on opposite colors of pops.
12. For the ghost pops, color a small amount of buttercream black. Add to a small piping bag and cut the tip off. Pipe eyes and mouth onto the tops of white bars.
13. Roll a tiny bit of white fondant out on a work surface, covered in cornstarch. Cut out with small star and moon cookie cutter. Place onto the tops of some of the bars. Enjoy!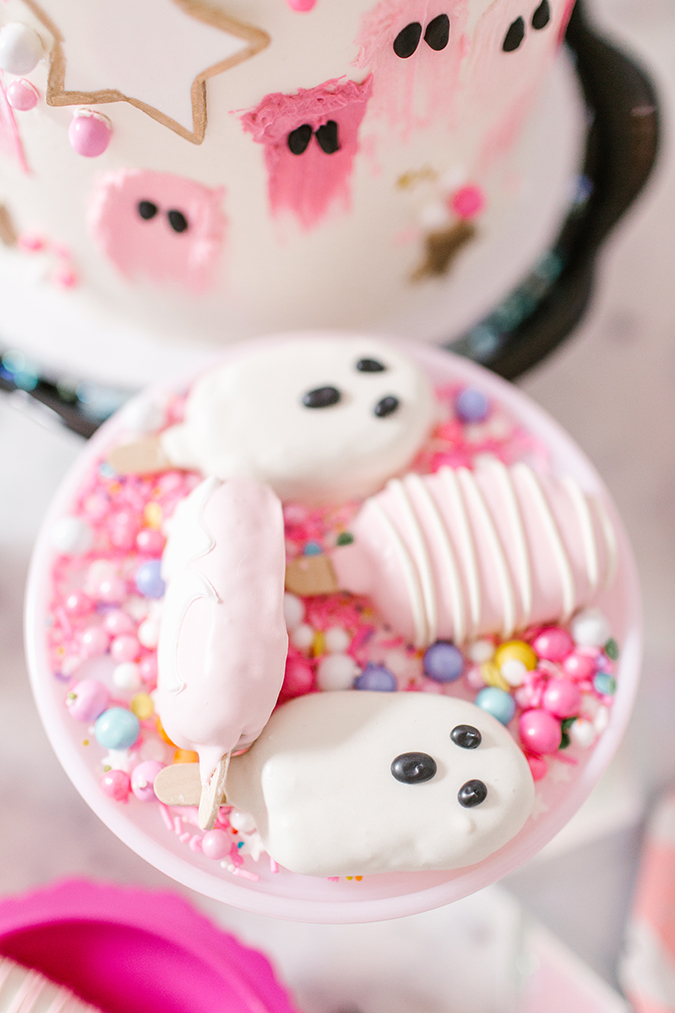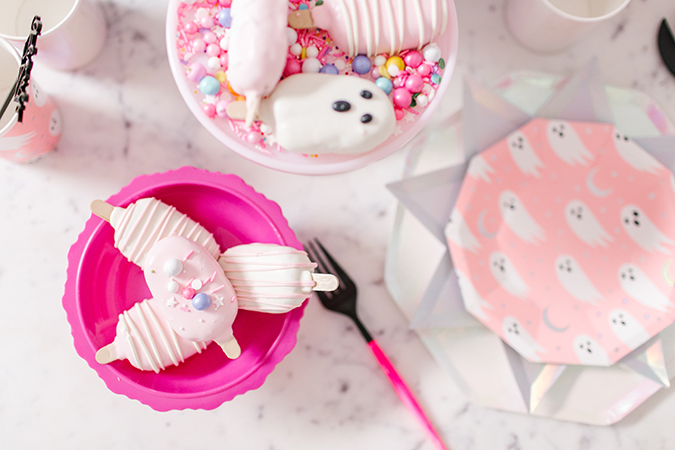 We promise you these pumpkin cake pops were just as delicious as they are adorable. In fact, they may be our new favorite pumpkin flavored dessert.
Are you going to whip up this Halloween treat?
Photos: Jessi Burrone Photography for LaurenConrad.com
Affiliate links may have been used in this post.