Tuesday Ten: My Favorite Women-Owned Small Businesses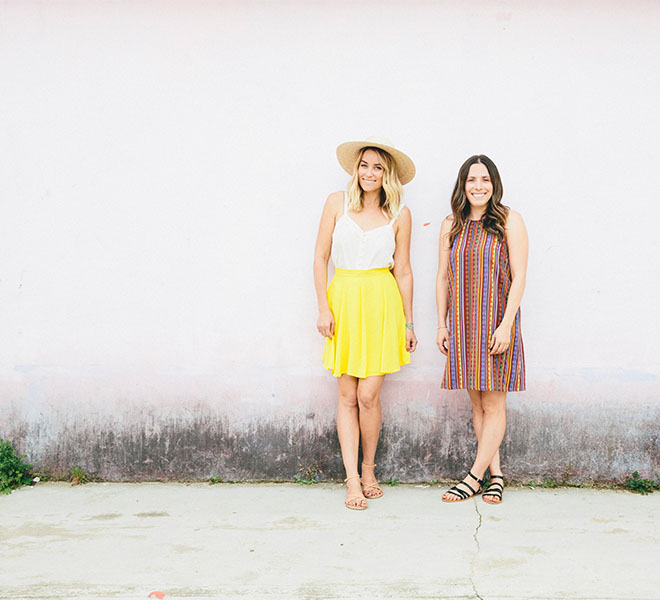 I feel very blessed to be alive during a time when many of my favorite small businesses are owned by women. These fearless females (many of whom I am lucky to call my friends) are pushing boundaries and showing just how strong and successful women can be. As a small business owner myself, I can tell you that it's not easy to go out on your own and start something from scratch. But if you have a network of likeminded women who can support you, advise you, and grow alongside you, that makes all the difference. I'm proud to say that I have a network like this of my own: We attend each other's events, shop for each other's products, show each other some love on social media, and support each other in any way we can.
With all of this in mind today, I wanted to share with you my top 10 favorite women-owned small businesses. You might recognize some of these names from previous Ladies Who Laptop articles, or you may have seen their names mentioned here on the site or on our @LaurenConrad_com Instagram. That's because we practice what we preach by supporting our fellow girl bosses and sharing their stories. Without further ado, here are 10 female-owned businesses you should have on your radar…


1. The Little Market
Okay, so I just had to kick off this list with my own small business (which is technically now a nonprofit). I started The Little Market with my dear friend and travel buddy Hannah. It was on one of our trips together that we came up with the concept for The Little Market—an online fair-trade shop where customers could purchase beautiful products made by female artisans from around the world (allowing those women in marginalized communities to support themselves and their families by earning living wages). It's been such a rewarding journey, and we are excited to open our first brick and mortar shop this summer in Los Angeles.


2. Sweet Laurel Bakery
When baker extraordinaire Laurel Gallucci was diagnosed by her doctor with an autoimmune disease, her prescribed elimination diet forced her to rethink the recipes behind her favorite chocolate chip cookies and cakes. She partnered with Claire Thomas (you might recognize her name as the brains behind The Kitchy Kitchen, one of the food contributors on our site) to create Sweet Laurel Bakery, a grain-free, dairy-free and refined sugar-free bakery. I have to admit that these treats are some of my favorites and I truly believe in the ingredients. I even wrote the foreword to their new cookbook! You can purchase it here.


3. Ariel Gordon Jewelry
You all know by now that how much I love delicate, dainty jewelry. In fact, I consider myself a collector (hoarder?). One of my favorite jewelry designers is Ariel Gordon Jewelry. Not only does this woman work hard to create a beautiful product, but she's a mama too, which I respect.


4. Olive & June
Sarah Gibson Tuttle, the brains behind the gorgeous boutique nail salon Olive & June, has changed the way LA does manicures. Before Sarah, my view of an average LA nail salon involved bad décor, fluorescent lighting, and a highly questionable manicure that would chip just days post-polish. Then came Olive & June, a salon that serves you matcha rose tea, gives a great chip-free mani, and has you feeling instantly relaxed within their flower-adorned, pale pink walls. Not only that, but Sarah has also launched several products: my favorite pair of pedicure-friendly sandals, fun nail art stickers, and soothing beauty teas.


5. Minnow Swim
My little Liam agrees that Minnow Swim is one of our favorite women-owned businesses of the year. Founded by my friend Morgan Smith (you might remember her from old episodes of Laguna Beach), these baby board shorts and bikinis are the cutest swimwear around. I love that this company was started right here in Orange County, and it's always inspiring to see mama friends of mine become so successful all on their own.


6. BeWell by Kelly
Another name you're sure to be familiar with if you're an avid reader of the site, Kelly LeVeque is a holistic nutritionist, wellness expert, celebrity health coach and just a general girl boss powerhouse in the health and wellness industry. Kelly started her gig by counseling clients on nutrition, then began working with celebrity clients. Through years of hard work, she has now created an entirely unique approach to diet and wellness called BeWell. Most recently, she's an author (buy her book Body Love, here) and has created a customized, healthful menu that is served in Montage hotels throughout the country. I love Kelly because her approach to diet and lifestyle is realistic and intuitive, with scientific backing.


7. Valorie Darling Photography
Val is one of our resident LaurenConrad.com photographers, a friend of mine, and a total girl boss who has paved her own way to success in the wedding photography industry. Not only is she one of the kindest and bubbliest people to work with, but she has a knack for making her clients feel incredibly comfortable, especially at intimidate and special events like weddings or maternity photo shoots.


8. A Sweet Savory
Another one of our fabulous resident bakers here on LaurenConrad.com is Lauren Lowstan of A Sweet Savory. We have been working with Lauren for over five years now, and not only does she bake beautiful creations for the site, but she also owns her own baking and catering business that she started from scratch… pun intended. From unicorn swirl marshmallows to half-naked layer cakes, this girl can do it all. She even helped me bake all of the pies we ate at my wedding!


9. Sugar Paper
Chelsea and Jamie, the dynamic duo behind one of my favorite specialty paper goods companies, began their journey like most of the women in this article—with a small start. They were using an antique letterpress to make beautiful, custom stationery for their family and friends when they realized that there was a larger market and need for their type of product. Thus, Sugar Paper was born, and all of us who love a hand-written card with a beautiful illustration or cheeky note on the front could finally rejoice! In all seriousness, Sugar Paper's stationery and note card designs are unparalleled, and I continue to support this business with each holiday and birthday that rolls around.


10. Lulu & Georgia
Sarah Sugarman Brenner started Lulu & Georgia as an extension of her family rug business. She was surrounded by family members who were interior designers and rug makers, and realized at a young age that creating her own décor biz was the natural evolution of her family's generations-old legacy. Lulu & Georgia is one of my favorite interior décor shopping sites that carries everything from chic lamps and rugs to classic media consoles and decorative pillows. If you haven't already explored the site, be prepared to get lost in interior decor heaven.


Do you have any favorite women-owned businesses to add to this list?


Let me know in the comments below.


Affiliate links may have been used in this post.