Primp Tip: The Beauty Guru's Guide to Healthy Summer Strands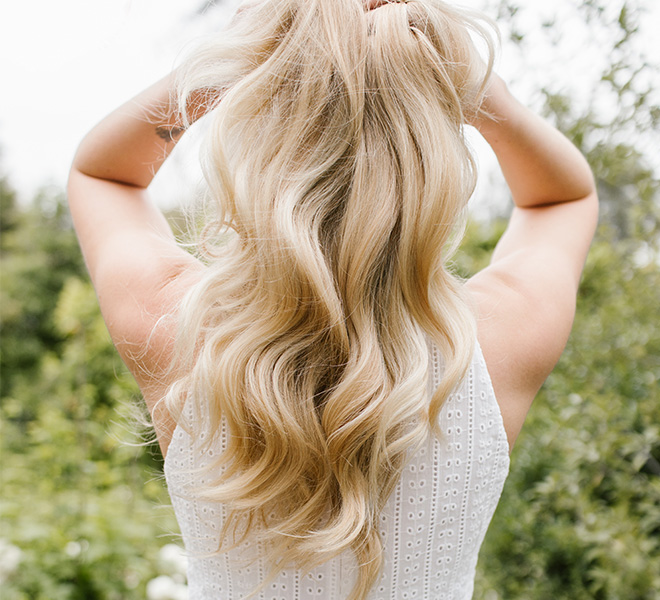 We're all about babying our strands during the cold winter months when hair breakage is at its worst, but what we often forget is that the harsh conditions of summer can be just as detrimental to the health of our hair. From taking a dip in a chlorinated pool, to braving the salty California waves, to those summer rays beating down on our locks… Let's just say nature isn't so gentle this time of year! Luckily, all hope is not lost. Protect your locks with these five tips and they'll be thriving all summer long…
Hydrate Like it's Your Job
The number one thing that will keep your locks in top-notch condition even through the hottest of months is keeping your entire body hydrated with good ol' H2O. Our bodies lose even more water during the summer when we're moving and spending time in the sun, so make sure your hair is getting the necessary nutrients from the inside out. Getting enough water will keep all of the cells in your body hydrated, leading to stronger locks and continued growth. For a twist on your regular 6-8 glasses a day, try this rose water recipe you can make at home.
We've all heard that wearing hats during the summer is a great way to keep wrinkles and premature aging at bay, so it only makes sense that it prevents your hair from sun damage too. After all, it quite literally shields your hair and scalp from the sun! Plus, the added shade helps keep you cool, and we have our eye on quite a few styles we'll be sharing on the blog very soon…
There are countless products on the market that claim to protect and heal hair from sun damage, but one of the best solutions is probably already in your kitchen. Olive oil and coconut oil are both known for their natural sun protectant qualities, and they even help promote hydration, shine, and treat split ends in the process. (One of our editors even used coconut oil on her hair for a full month and documented the results here.) We're always down for an all-natural solution, and these oils are a cinch to brush through your hair before heading out for a day at the beach, a hike, before bed, or after showering for soft, healthy locks.
With the sun already beating down on our strands during the summer, any added heat simply makes matters worse. The good news is that summer is the perfect season for laidback locks and natural waves, so embrace them! If your hair still needs a little bit of help, try braiding your hair loosely before bed while it's damp, and tying off with a soft hair tie or scrunchie to prevent split ends and wake up with soft waves. Then, if any hair is out of place in the morning, use a straightener or curling iron only on those few strands that need it.
Before diving head first into the salty ocean or chlorinated waters, spray a leave-in conditioner throughout your hair like this one, which has sunflower seed extract for sun protection and silk amino acids for added moisture. It will help keep harmful chemicals out and lock moisture in, so you can prevent most of the damage before it happens. For added strength, pick up a bottle with keratin to restore any lost protein in your hair. However, there is such a thing as over-proteinizing your hair, so don't overuse if you go that route.
How do you protect your hair from damage during the summer?
We want to hear your input below!
Affiliate links may have been used in this post.