Recipe Box: Lemon Meringue Tarts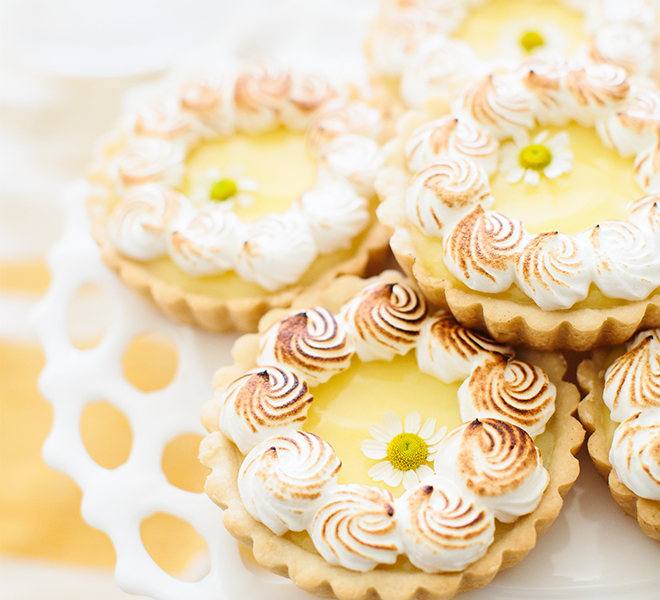 If there's one thing that just screams Easter brunch, it's an array of cheerful and delicious springtime treats all laid out in a beautiful spread. And if you read our most recent party planning post with planners extraordinaire Rachel and Royale, you'd know that we created just that with our yellow and white kids' Easter basket DIY day. While the basket flower arranging was the main event of the day, the gorgeous Easter treats made by our resident LaurenConrad.com baker, Lauren Lowstan, were not to be missed. So today we're sharing the recipe for Lauren's lemon meringue tarts, which not only melted in our mouths, but also made our spread quite picturesque, with their toasted meringue rosettes and fresh chamomile flower toppings. Make these for your Easter brunch festivities and you'll be sure to wow your guests (and their taste buds!)…


1 cup butter
½ cup powdered sugar
2 cups flour


1 cup lemon juice
zest from 3 lemons
1 cup sugar
3 eggs
½ cup melted butter


For the meringue topping:
mini tart pans (mine were 4")
piping bag
large star piping tip
blow torch


For the lemon cream: (can be made a couple days ahead)


1. Combine all ingredients in a glass bowl and whisk until thoroughly combined.


2. Microwave in one-minute intervals, whisking in between each time, until lemon cream is thick enough to coat the back of a wooden spoon. (It usually takes about 4 minutes total).


3. Place plastic wrap directly on top of the cream and place into the fridge to chill.


1. Melt butter in a glass bowl in the microwave.


2. Add the flour and powdered sugar to the melted butter and stir with a wooden spoon until you get a cohesive dough. It will look runny at first; keep stirring until the dough thickens up.


3. Preheat oven to 350 degrees.


4. Spray your tart pans. Press about ¼ cup of crust into each tart shell. You want to make sure you get a good enough amount along the bottom and sides of the tart pan. Add or take away as needed.


5. Bake tart crusts in your preheated oven, for 15-20 minutes. You want them to be lightly golden in spots.


6. The crusts should puff up a bit during baking. If this happens, you can lightly press down the middle of the crust with the back of a measuring cup. Let them cool to room temp, or pop in freezer to help them chill faster.


7. Once the crusts are completely cooled, pop out with paring knife and place on a parchment lined baking sheet.


1. Fill each tart crust to the top with lemon cream, and place in the fridge while you make your meringue topping.


2. Add some water (a cup or 2) to a small pot and bring to a boil on the stove.


3. In a bowl of a stand mixer, fitted with a whisk attachment, add sugar and egg whites and whisk until thoroughly combined.


4. Place this bowl over the boiling water on the stove, and continually whisk the egg whites and sugar until the sugar is no longer grainy. You can test this by rubbing a small amount between your fingers. You'll be able to see if you can still feel the granules of sugar.


5. Once you have a smooth egg white sugar mixture, place into your stand mixer and whisk on high speed until soft peaks form.


6. Add meringue into a large piping bag fitted with a star tip.


7. Pipe little rosettes along border of each pie.


8. Brown the meringue with a blow torch. I like the whites to turn a dark golden brown.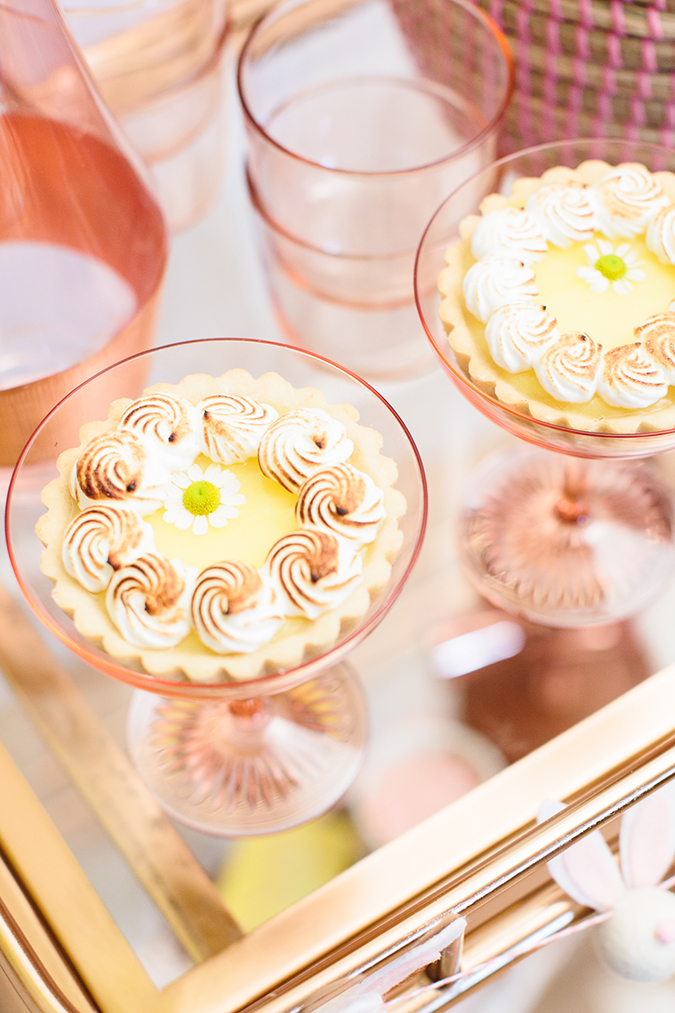 Will you be adding these lemon meringue tarts to your Easter brunch spread this year?


Let us know in the comments below!


Affiliate links may have been used in this post.