Recipe Box: Moroccan Pistachio Rose Cookies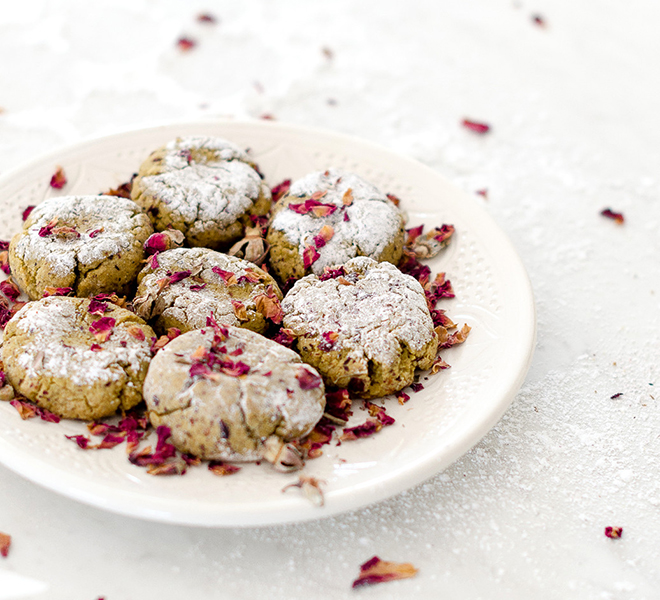 Hi ladies! It's Claire again from The Kitchy Kitchen with my third and final installment of Moroccan-inspired goodies. This month I teamed up with the amazing women from The Little Market to highlight their handmade ceramic pieces from Chabi Chic artisans in Morocco. I can't think of a better way to showcase their fair-trade ceramics than with a Moroccan dessert like this next recipe. These pistachio rose cookies are the perfect combination of sweet and floral. Garnished with rosebuds, there are few desserts more beautiful. Oh, and they just so happen to be gluten-free. Keep scrolling to get the recipe…


Moroccan Pistachio Rose Cookies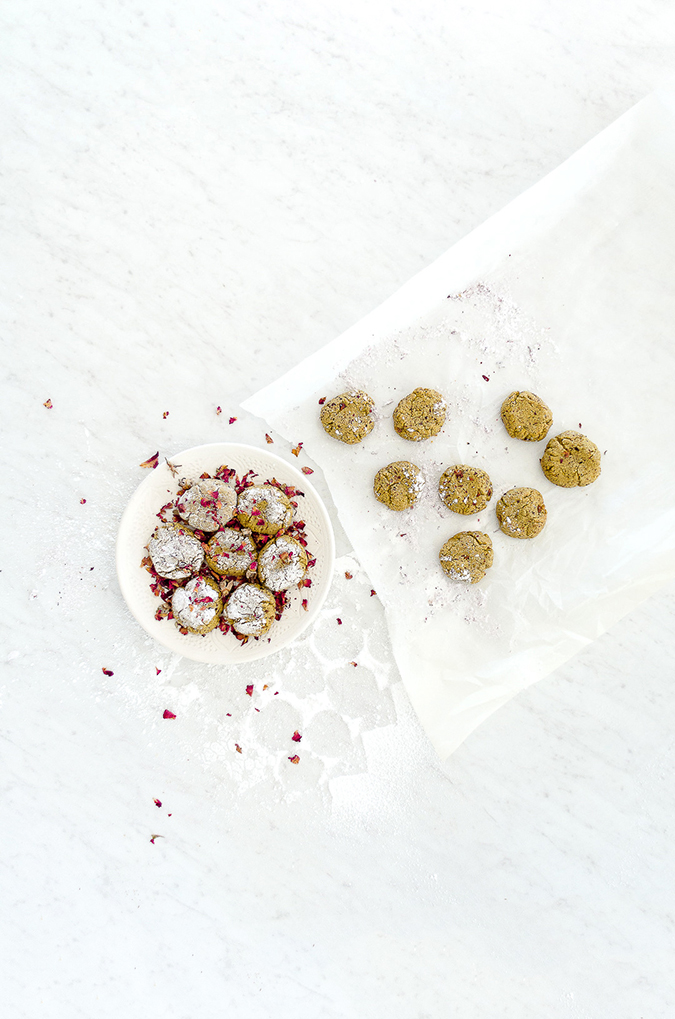 1 1/2 cups pistachio flour (or 2 1/2 cups shelled raw pistachios to make your own)
1 cup almond flour
1/3 cup sugar
3 Tbsp unsalted butter, softened
1 tsp rose water
1 large egg
1 tsp baking powder
powdered sugar to coat the cookies
dried rosebuds, finely chopped


1. Preheat oven to 350 degrees.


2. To make pistachio flour, transfer chopped pistachios into a food processor and process until you obtain a flour-like consistency. Make sure not to over-process them, otherwise you will get pistachio butter.


3. In a large bowl, use your hands or a large spatula to mix all the ingredients together except the powdered sugar until you obtain a smooth (and slightly sticky) dough.


4. Use your hands to divide the dough into 12 balls (3 centimeters, 1-inch diameter).


5. Combine the powdered sugar and finely chopped rosebuds. Roll each dough ball in powdered sugar until completely coated.


6. Transfer the cookies onto a lined baking tray and lightly press each cookie (do not flatten the cookies completely).


7. Place cookies in the oven and bake for 10 to 13 minutes, until the cookies are cracked and firm on the outside.


8. Wait 15 minutes for the cookies to cool down before transferring them to a wire rack to cool completely, otherwise you might damage them.


9. Sprinkle the cookies with a little more powdered sugar and garnish with more chopped rosebuds.


10. Keep the cookies in an airtight container to prevent from drying out for up to 10 days.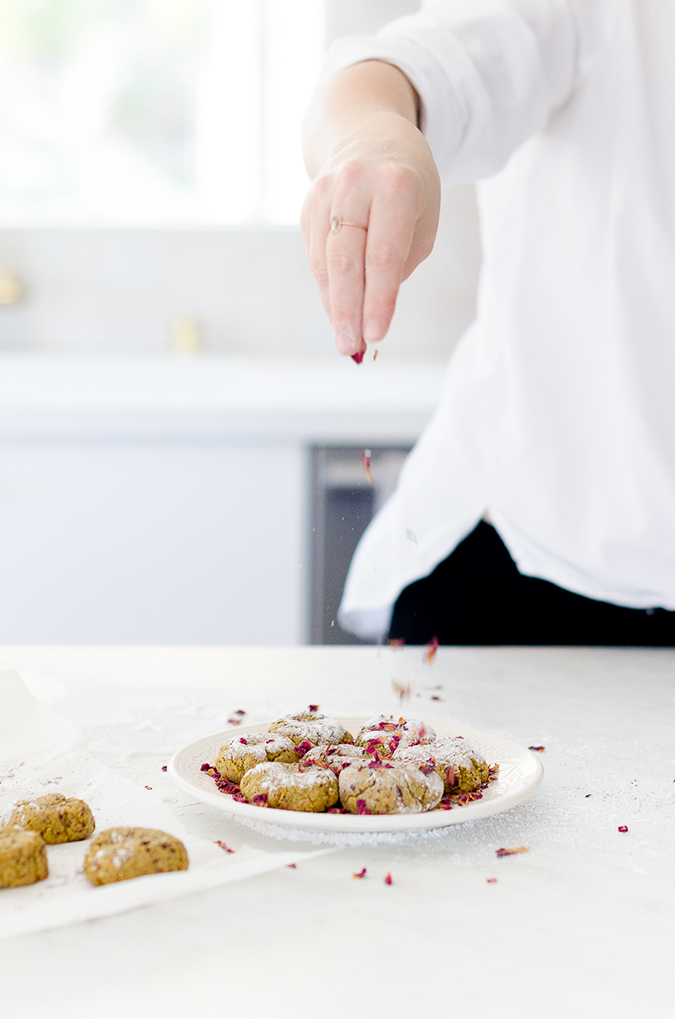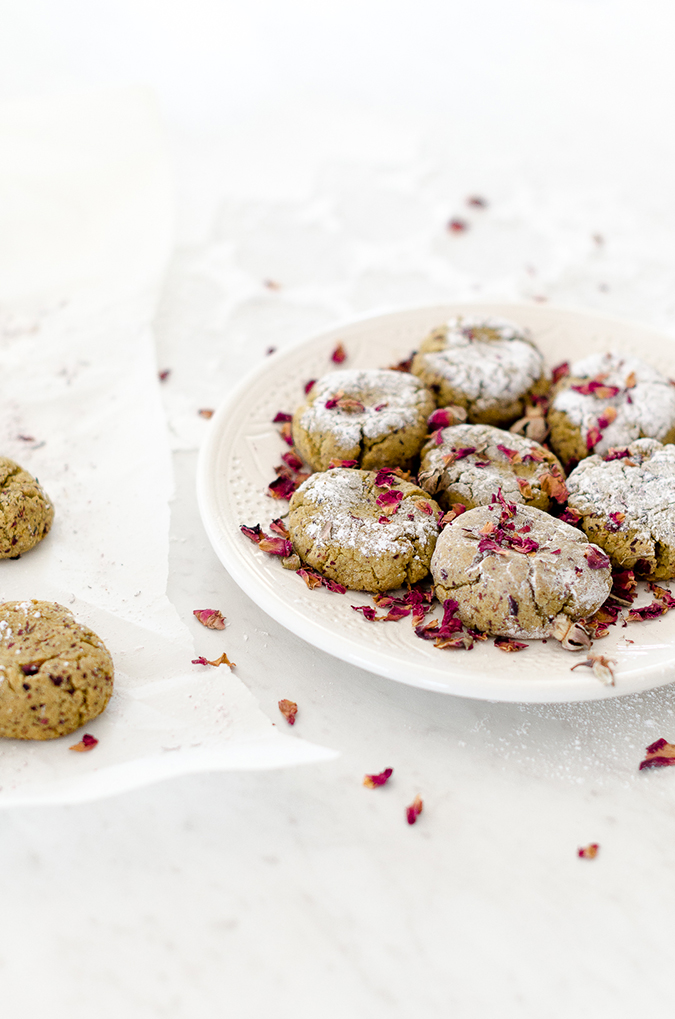 A sprinkle of dried flowers brings any dessert up a notch, don't you think? If you missed my other Moroccan-inspired dessert be sure to check them out below:


Will you be trying out this Moroccan pistachio rose cookie recipe?


Let me know if you do in the comments!


Affiliate links may have been used in this post.