Recipe Box: Moroccan Snake Cake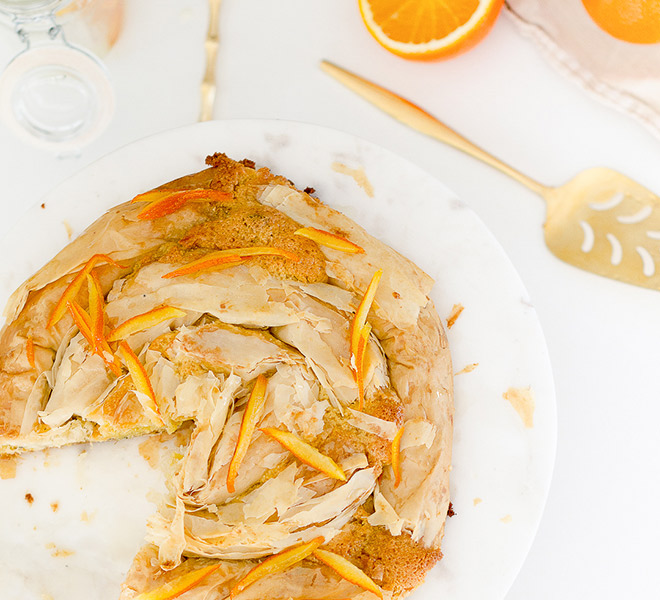 Hi everyone, it's Claire here again from The Kitchy Kitchen. Flakey, sticky, and sweet, this Moroccan snake cake is such a delicious treat. Pistachio, rose, and orange are classic flavors, but you could try any filling flavor you like to put your own spin on it. I love the delicate floral aroma with a bit of bright citrus too—it's unexpected and perfect with a cup of tea! Not only is Moroccan snake cake extremely delicious, but the beautiful citrus colors truly pop laid atop handmade white ceramic plates from The Little Market. As if snacking on a treat wasn't good enough, you can support female artisans while you dine too. Learn how to master your own Moroccan snake cake by following my easy recipe below…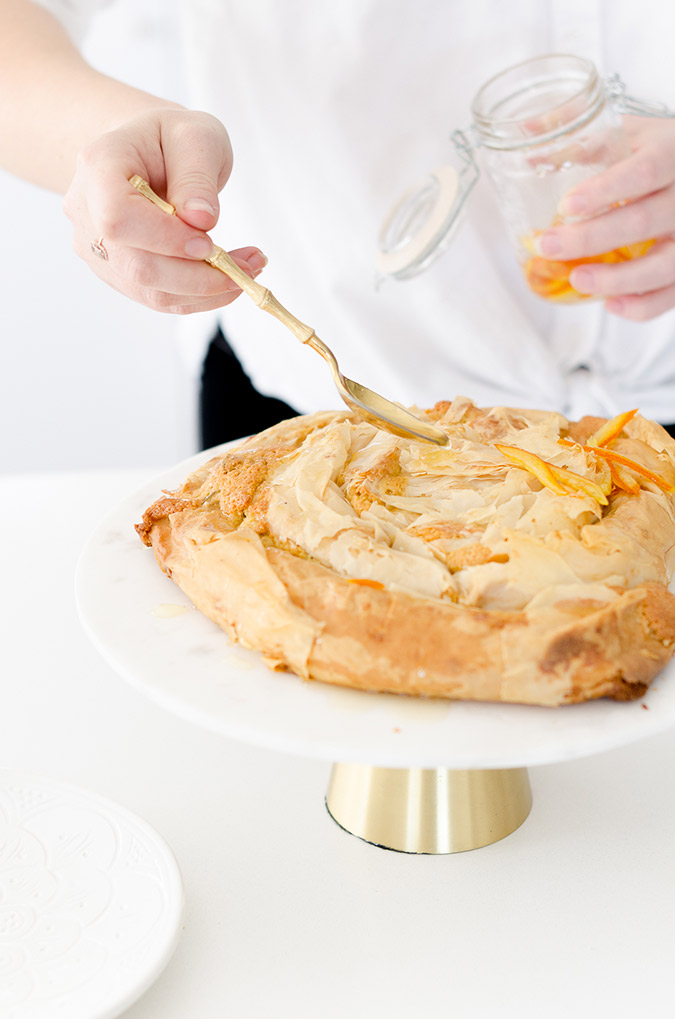 ½ cup butter, softened to room temperature, plus 3 tablespoons melted butter
2 cups confectioners' sugar
2 eggs
2 cups almond flour
1 tablespoon all-purpose flour
1 tablespoon rose water
½ teaspoon cardamom
zest from 1 orange
1/3 cup pistachios, chopped or roughly ground
12 sheets of filo dough (plus extra for repairs)


1 tablespoon honey
1 tablespoon hot water
2 teaspoons rose water
rosebuds, for garnish (optional)
candied orange, for garnish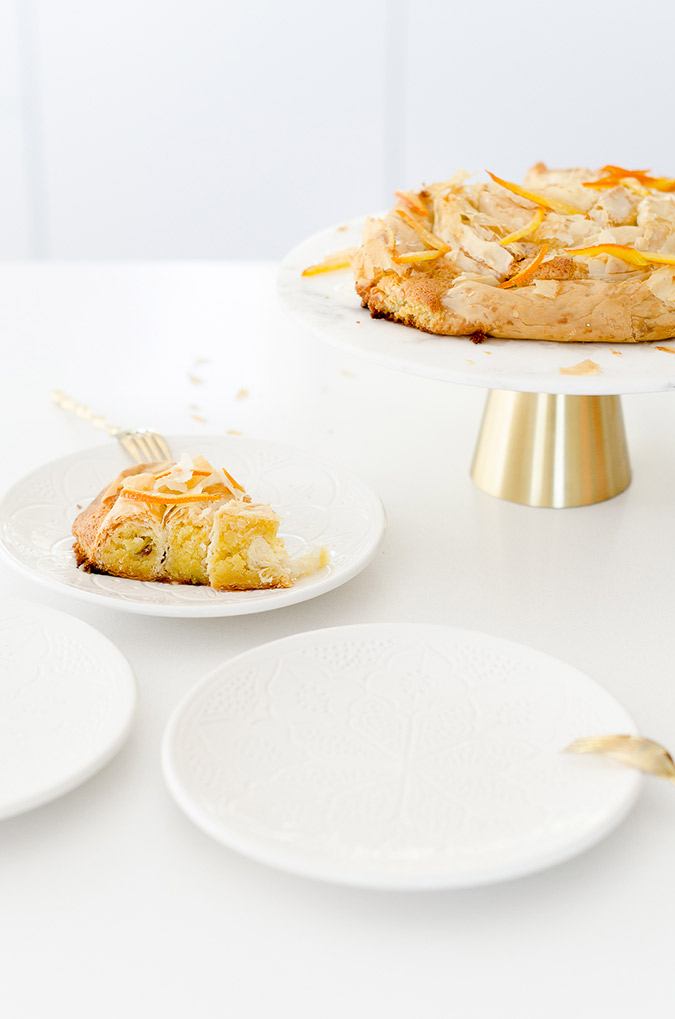 1. Preheat oven to 350°F.


2. In a large bowl, cream together the butter and confectioners' sugar until smooth. Beat in the eggs. The mixture will look broken and curdled.


3. Stir in the almond flour, which will pull everything together quite nicely.


4. Add the all-purpose flour, rose water and zest, stirring to incorporate.


5. Finally, add the pistachios to the almond paste.


6. On a long, clean work surface, line up five of the filo sheets, lengthwise, end-to-end (short ends touching). Lay the remaining four sheets on top, staggering so that the center of each top sheet lies on the seam of two bottom sheets.


7. Spoon the almond paste down the length of the filo sheets, along the edge nearest you, about 2 inches from the edge.


8. Working quickly, roll the filo around the paste, like a cigar – one rotation only at this point – moving down the length of the filo. With the first roll entirely complete, lightly brush with melted butter, and continue rolling until you've created a tube. Brush with butter between each rotation.


9. Starting at one end, begin coiling the tube in a spiral, flat, along the work surface, taking care not to crack the filo too badly as you roll. Repair any cracks with the extra filo brushed with melted butter.


10. Transfer to a baking sheet and bake for 45 minutes. Remove, and allow to cool. Drizzle with syrup and garnish with candied orange.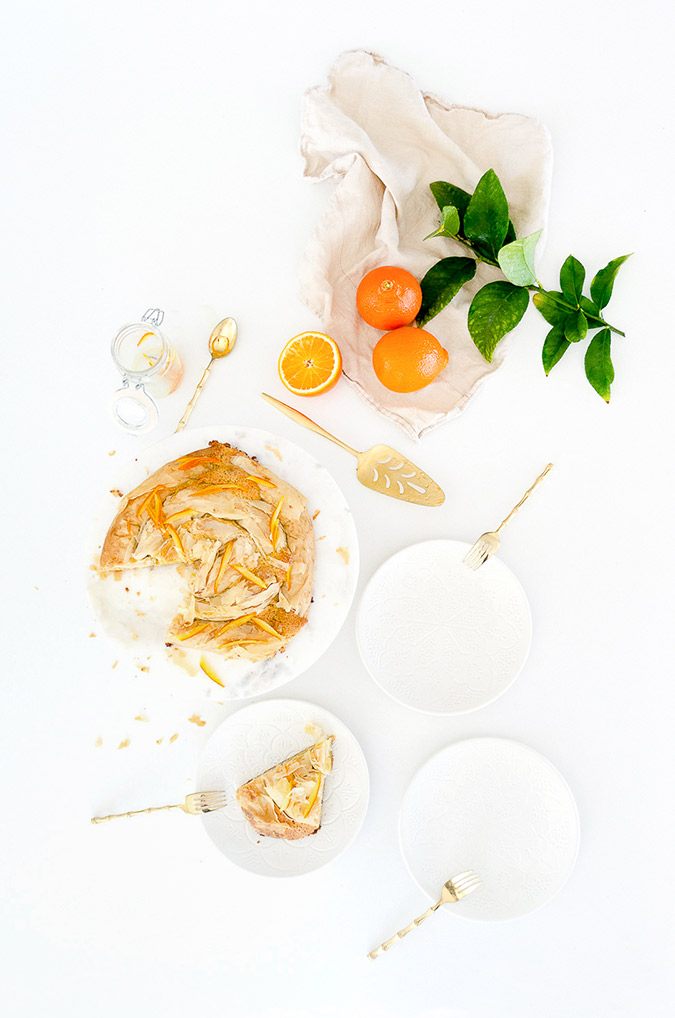 Whether you're planning a birthday party, brunch with the girls, or a shower of sorts, this Moroccan snake cake will be a crowd pleaser.


Will you be recreating this recipe?


Let me know your thoughts in the comments!


Affiliate links may have been used in this post.