Tuesday Ten: 10 Books to Read Instead of Looking at Your Phone Before Bed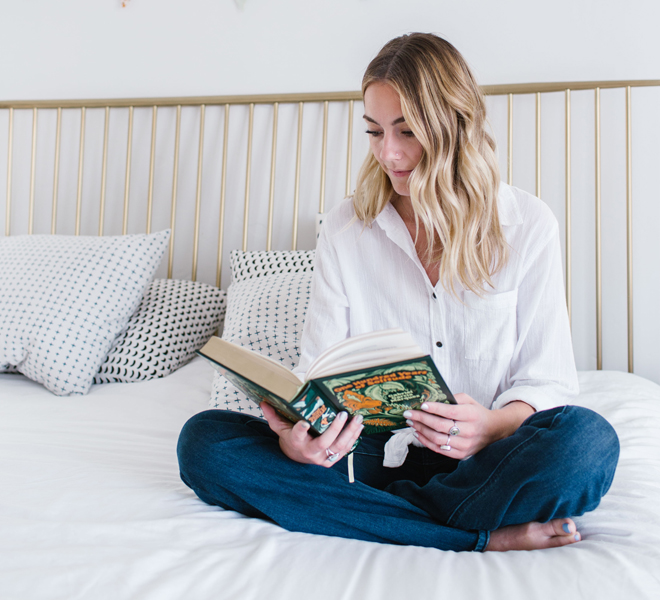 We're all guilty of it- that first click to open Instagram leads you down a rabbit hole and before you know it, you've spent way too long looking at your screen. This winter, we're trying to put down our phones and focus on other hobbies, which is sometimes easier said than done! If you're looking for something to do before your head hits the pillow at night, we've rounded up ten of our favorite books to keep you reading through the winter. From the 70's to the far future, from families to first love, and from Italy to Ireland to isolated stretches of the California coast, we guarantee you'll be way too busy losing yourself in these great books to check your phone.
Keep scrolling to see what we're reading before bed…


1. The End We Start From by Megan Hunter
The title says it all- faced with the end of her life in London, now submerged due to rising water levels, a mother must take her young child, and look for a new life in a now unfamiliar country. This one has been on our to-read list since it came out a few months ago, and this winter seems like the perfect time to catch up.


2. Arcadia by Lauren Groff
Travel back to the 70's in this novel about a young boy named Bit growing up on a commune and his reentry into the outside world. If you don't know a lot about communal living and the movements that started it, you'll find this one especially interesting.


3. The Immortalists by Chloe Benjamin
With colder weather on the horizon for the next few months, we can't wait to dive into this rich story about four siblings and the ways their lives change after a chance encounter with a psychic who claims to be able to tell them the day they will die. Entertainment Weekly calls it "a sprawling, enchanting family saga," and we couldn't agree more.


4. Anna Karenina by Leo Tolstoy
Some things are considered classics for a reason, and this beautifully written novel is definitely one of them. If you've been looking to get into the classics but are feeling a little intimidated, this is the perfect place to start. With a tragic love affair and a mix of city and country settings, this novel will add some glamour to your winter reading.


5. Call Me By Your Name by André Aciman
Lush Italian landscapes, first love, and beautiful writing… Even if you haven't seen the highly acclaimed adaptation of Aciman's novel you'll want to dive into this book. Plus, if you can't actually travel to a warm weather destination this winter, you'll feel like you're in a summery small town by the time you're done.


6. The Heart's Invisible Furies by John Boyne
Opening with an Irish village in the 1950s and spanning the years all the way to today, this sometimes funny, sometimes sad novel follows Cyril Avery's quest for identity—and the unexpected connections that tie us together. We couldn't put it down!


7. Exit West by Moshin Hamid
What if immigrants could travel through doors to new lands? That's concept behind this novel, which centers on a young couple fleeing their war-torn country. Although they just met, they must build a new life while trying to hold on to their past. We love a story where there's just a hint of fantasy, and this one has been getting rave reviews.


8. The Power by Naomi Alderman
This novel deals with girl power—literally. We've been looking for another book like The Handmaid's Tale after reading it this summer and from what we've heard, this one stacks up! Set in a future world where women can create electricity, it looks at how this one change affects the rest of the world.


9. My Absolute Darling by Gabriel Tallent
Fourteen-year-old Turtle has grown up learning how to survive off the rugged California landscape, but when she realizes her isolated life with her father is no longer sustainable, she must learn how to fend for herself. For those of you living on the West Coast, this must read will make you appreciate the beauty of the land around you.


10. White Teeth by Zadie Smith
We're excited to lose ourselves in this novel packed with an eclectic cast of characters, a genetically modified mouse, and long-buried secrets- all set against London's vibrant mix of cultures and religions. Plus, we've heard grade things about Zadie Smith's new novel Swing Time, so we can't wait to get started!


What are you looking forward to reading in 2018?