Beauty 911: How to Fix Brittle Nails and Strengthen Them for Good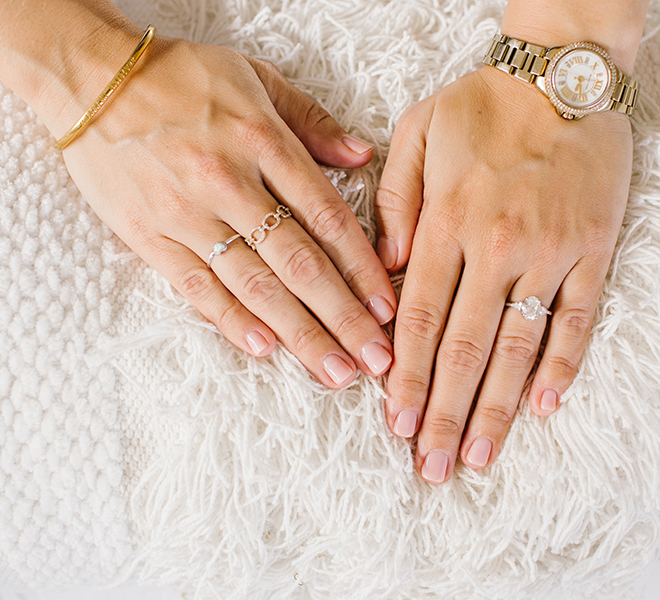 As much as I'd love to say that all you need for a flawless mani is a good topcoat and steady hands, the health of your hands and nails play an important roll as well. Dry cuticles and brittle nails can be frustrating to deal with, and can even make your polish chip prematurely. But in true LaurenConrad.com fashion, my team and I are determined to get to the root of the issue and resolve our beauty blunders from the inside out.
If you've ever had weak or peeling nails, chances are you're dealing with brittle nails too. This makes the growing out process incredibly slow, not to mention puts a major damper on a fresh-looking manicure. In my own frustration, I decided to do a little research on what my nails are trying to tell me and how to nip the problem in the bud for good. If this sounds like something you're dealing with too, keep reading. I found three problem areas and their corresponding solutions. Here's what I learned about brittle nails…


Problem #1: Iron Deficiency
According to MedlinePlus, iron deficiency can cause a lack of oxygen flow which results in slower cell growth, leaving your nails sad and weak.
Solution: Take a daily multivitamin. Be sure to check with your doctor to see if your iron levels are lower than usual and make sure you're getting enough daily intake.


Problem #2: Too Many Manis
Solution: That's right, there is such a thing as one too many manicures. If you can, let your nails breath for a couple of weeks, sans nail polish. Keep moisturizer on hand and routinely use cuticle oil. You can also try this DIY gel polish recovery treatment we posted on the site. The results will surprise you.


Problem #3: Harsh Chemicals
Tidying up around the house and washing the dishes can truly affect your nails. Frequent hand washing or cleaning with harsh chemicals can cause your nails to weaken and even peel.
Solution: Slip on a pair of rubber gloves before you start your housework.


Do you have any tips on how to strengthen brittle nails?


Let me know your secrets in the comments!


Affiliate links may have been used in this post.